"…truly to enjoy bodily warmth, some small part of you must be cold, for there is no quality in this world that is not what it is merely by contrast. Nothing exists in itself. If you flatter yourself that you are all over comfortable, and have been so a long time, then you cannot be said to be comfortable any more."
- Herman Melville, Moby Dick
Tuesday night in Canandaigua, NY was, for me, Phish at its best. We took our one chance to see the band this year and went to visit dear friends and fellow .netters Captain Pookie and Memmers, avail ourselves of their hospitality and general awesomeness, and (in Ivy's case) boogie. Watkins Glen is a 20 minute walk from Pookie's Place, and you can read about his experience having Super Ball in his back yard here. Pookie basically lives in paradise, surrounded by his amazing wife, impish daughter, four cats, and extended family. And, since he is Captain Pookie, he is surrounded by art.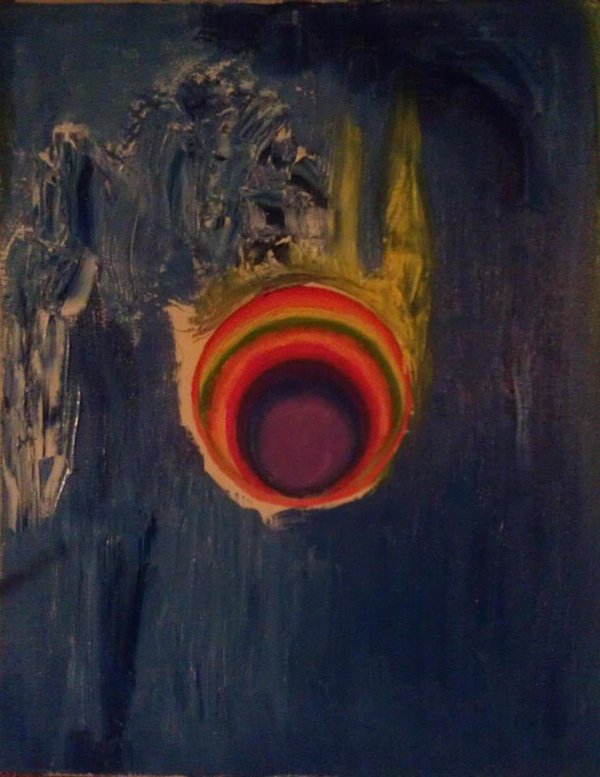 Painting by Christopher Pike (a.k.a. Captain Pookie)
Adjust my opinions for having been raised in the heart of flat, but I found the Finger Lakes to be overwhelmingly, almost impossibly gorgeous. Scenes of natural awe are everywhere. Waterfalls race leisurely down to Lake Seneca, which conceals ice from the glaciers that hewed this gallery from rock two and a half million years ago. Green towers everywhere around you, and it seems like art is seeping in to the ground and erupting back in the forms of wildlife and wind and beauty. In Pookie's home, art adorns every wall, in some places with idle joy and in others with focus and brilliance. It is inspiring, and is exactly the kind of place you'd find yourself saying, "I would love to see Phish play. Right. Here."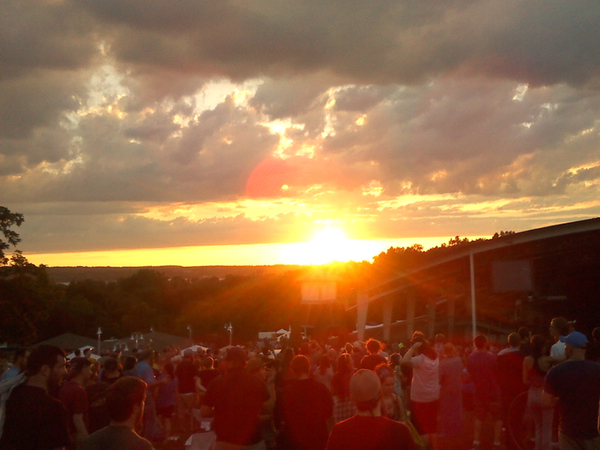 So, the show.
A "Buried Alive" opener, and it comes alive, "Twisting" and lifting arms and legs and all those "Heavy Things" up from the soil. Being born isn't something to do every day, so it may be best to make an escape before an asteroid crashes and we find ourselves returned without passing Go. Once we're settled on the train, though, we can have a drink, and I know just the concoction. A "Bathtub Gin" with an invigorating kick on the back end that will rev that rusty engine and shake it clean; that's the cheese. Now we're almost ready.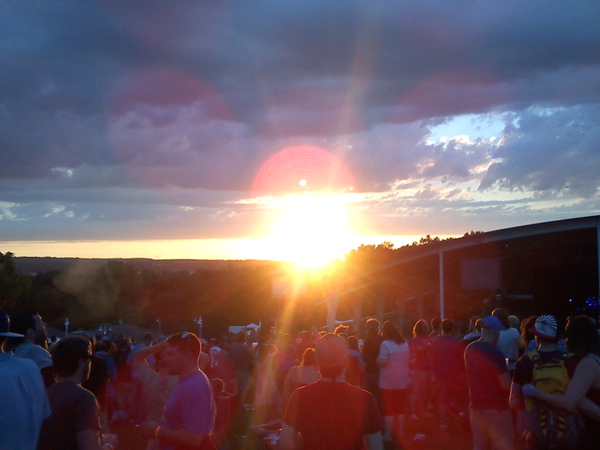 But first, let's look at the sky, take in the cool breeze, linger for a while there like the gulls, and warm our wings on the day's last golden breaths. And let's take a moment to watch the sunset, to watch the light and clouds and wind and water collaborate to paint the ceiling in vibrant silver and azure. "Divided Sky" is written for skies of all kinds, but a sunset over Lake Canandaigua as the morning's rain is waved aside is the most stunning incarnation I've seen. Achingly, deeply beautiful.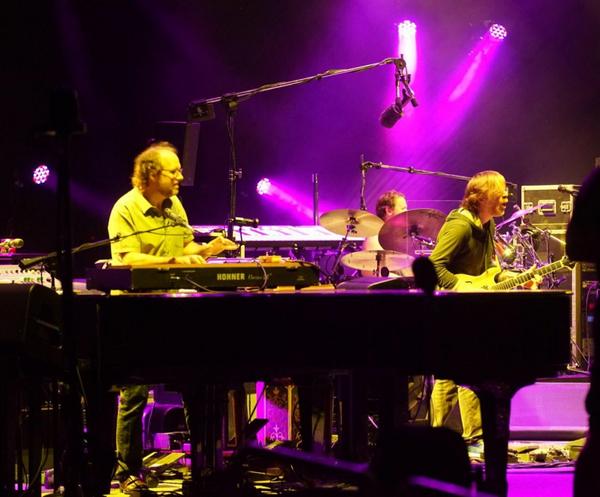 Photo © Phish – Phish From the Road
OK, we've stopped to smell the sunset. Let's dance. Let's figure out if we're gonna go forward or leave it behind. Let's ask the "Wombat." "Wombat" is good and "Wombat" is wise and "Wombat" will lead you to funkalicious love. All you have to do is let him move you. And I wish you would, because while each day needs some of the peace of the Buddha, it also needs the boogie of the "'Bat." This critter gets a little dark and mean, a little "Melty," and a lot dirty. He's the perfect set-up man for mean Mr. "Bowie" to make things just a little bit scary before we move on to the night gallery.

Photo © Phish – Phish From the Road
The centerpiece for this trip is "Disease," and it's an adequate theme. The show dug itself up from the dirt, and we're destined to come back to it eventually. In the time we've got, let's explore. Let's ride the train and sing off-key and do what we all gotta do, "Jibboo." And then, and I know it's a dark "Theme," we've got to face the fact that we're all just "Meatsticks," and subject to time, and someday it will be time to bury the meatstick. Or, if burial isn't your thing, you may go out En "Fuego." Either way, no energy gained, but no energy lost, we remain in the art that's around us. And all you have to do to remind yourself is, every once in a while, stop and look around, maybe at the beautiful things nature has carved out with a "Wedge" of glacial ice, and at the life going on around you.
And, where we started the set with "Disease," we finish again with the essence of vitality, the Runing of the "Fuegolope." Much more than just a climactic medley of teases, this "'Lope" runs with a ferocious love of the chase and peaks with the Power of "Fuego." "'Lopes" in general are amazing to watch live, bounding and leaping and crashing into bicyclists, and the "Fuegolope" is a prime specimen. I personally have seen 15 "'Lopes" in various locales and I can highly recommend this Finger Lakes fauna.
I've probably mixed enough metaphors by this point, but just to remind you, the "Zero" sum game is much of the fun. It's never truly lost, but it's never fully won.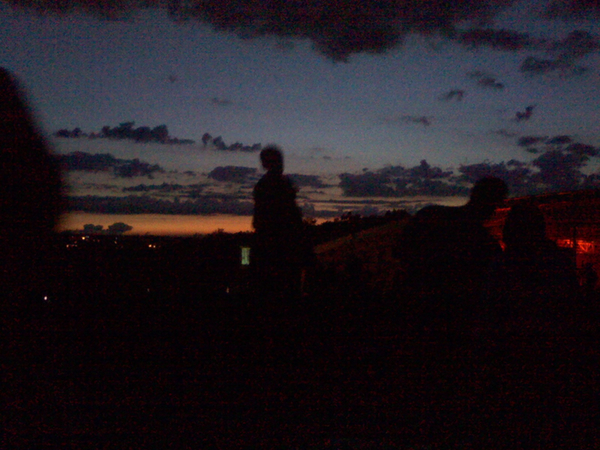 If you liked this blog post, one way you could "like" it is to make a donation to The Mockingbird Foundation, the sponsor of Phish.net. Support music education for children, and you just might change the world.