[phish.net welcomes and thanks guest writer, Alaina Stamatis, @farmhose & @fad_albert for the recap of 12/31/18 - ed]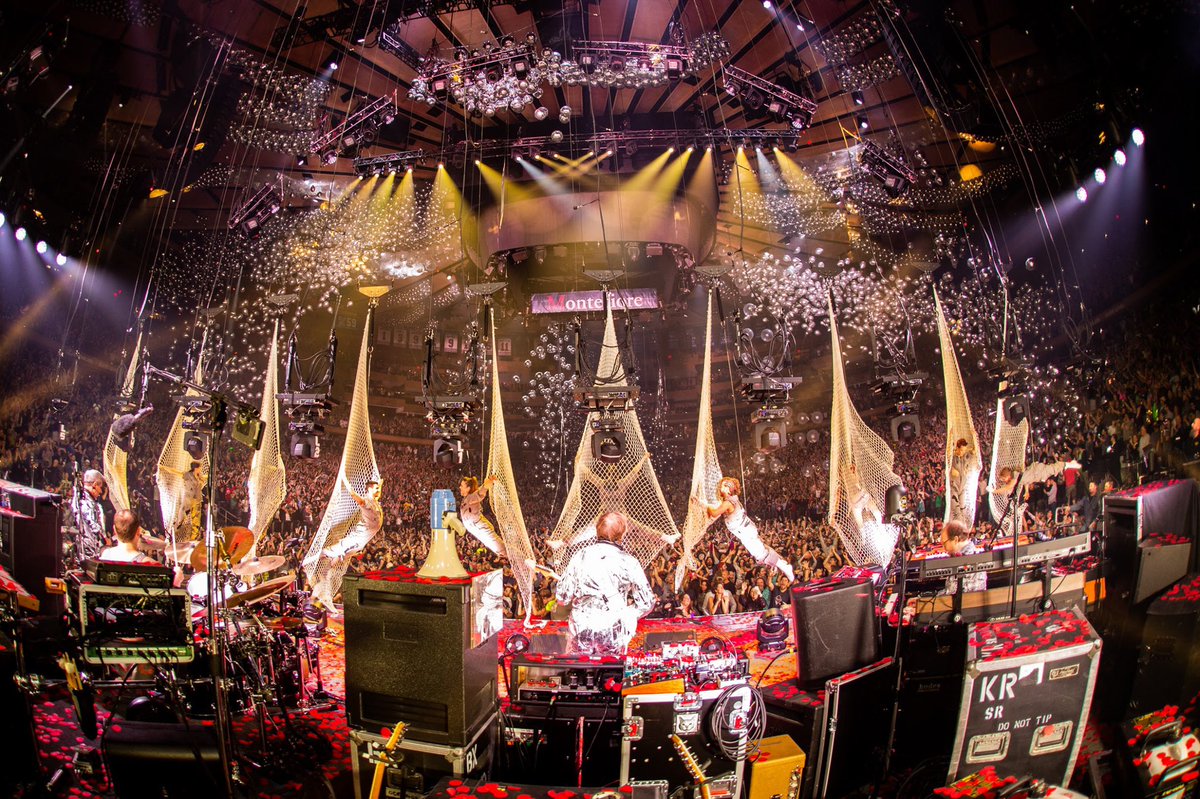 Last year at the stroke of midnight, during the first few seconds of 2018, and the very earliest notes of "Free," I immediately caught a whiff of an unmistakable scent, similar to mothballs on fire; that's right, I'm talking about DMT. I looked over and discovered that a hippie goddess with sparkling dreads and a hemp cotton dress had laced her joint with the spirit molecule. She passed the deemster doobie to a guy with floor-length dreads, legendary in his own right, but eternalized in that moment: for as he hit the DMT joint at the very genesis of 2018, he attempted to stomp on one of the balloons that had just landed in front of him, but instead he slipped on it and fell on his ass.
This year I convinced my husband @twicebitten that we should enter the venue earlier and secure a closer spot on the floor, that somehow it would be less chaotic. Outside the rain really sucked (tonight) and it was sad to see the little hunched over wookies soaked, simultaneously attempting to get miracle'd and sell more doses. Inside the scene was all glitz and glamour: flappers, prom dresses, barefoot guy giving out gummy bears, silver balloons ready to drop, Phish jocks in their chic athletic wear, young bros in bathrobes, the faux monk in his hotel sheet tunic, and the kids whose shirts spell out ICCULUS.
The first set was a strong, standard set (an average-great set) featuring two Kasvot Växt tunes, "Stray Dog" and "Play By Play," both of which won me over (harder) in their second performance. The KV material was mixed in about once a set for the entire run (nine of the 10 songs made the cut) and I felt they all worked really nicely alongside Phish's existing material.
"Down with Disease" opened the second set with a life-affirming journey. It was so effortless and natural that I didn't hear a lot of people even verbalize how "sick" it was. Some amnesia may have set in because after "DWD" we were "Farmhouse'd." I like "Farmhouse," as you can see from my handle, but I understand. They couldn't "Farmhouse "the whole set though! Wow! "Was that still 'Seven Below'?" Insane, high-speed echo jamming, with appearances of space age synths, definitely the best "Seven Below" of my concert-attending career. Trey tried to get the audience to woo. The audience kind-of woo'd.
"Twist" brought the energy way up and "Harry Hood" rode it out, went type 2 for a little bit, and while the band kept setting up to go back into the end of the song (probably because it was like 11:15 and they wanted to take a break before the countdown), Trey kept going. He reached a little plinko jam, and started searching for a way to segue into "Passing Through," another Kasvot Växt tune. They made it there after stopping and having Fishman count it off. The KV lyrics, "Sonic sea vibrations passing over you," is definitely code for, "Phish rules." Trey tried to get the audience to "Way-o, way-o," which, after the low quality woo's, is like asking to hit someone's joint, getting rejected, and then asking to borrow everything. In the future, it could be Phish's "Not Fade Away" chant, which I'm here for. The band had to pick up our slack and end "Hood," which made everybody jump up and down and throw illuminated twigs at each other. Set break ensued.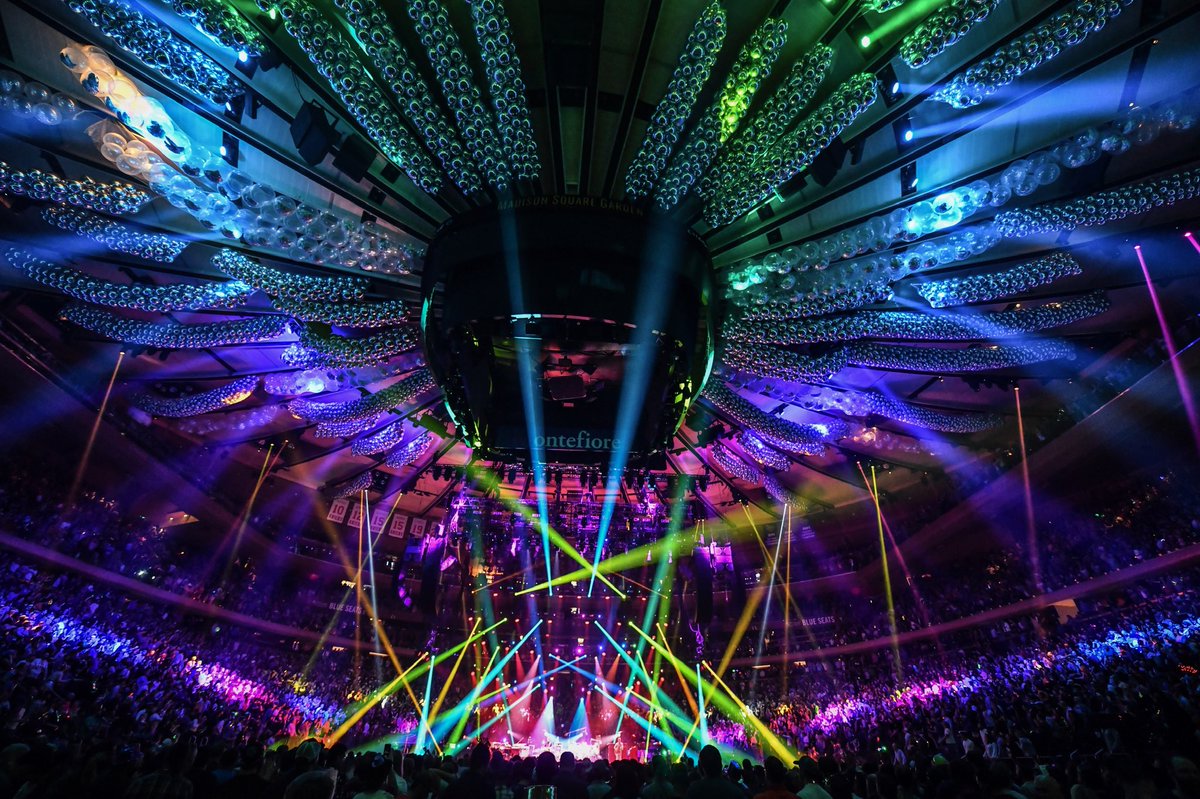 A few minutes before 11:45 the band runs on stage under a dim glow of blue light. They bust into "Mercury," and Chris Kuroda's lighting rig encircled the stage like a dome, shooting cold temperature beams downward for the big reveal: Trey and Mike are wearing really cute little silver outfits. Sick prank, guys. "Your day is longer than your year."
But then! Just as the song is describing the tomb of the red queen, a half dozen dancers in tattered astronaut jumpsuits run to the edge of the stage. And we collectively realize, "Oh snap, it's about to get Peter Pan up in this arena." They're harnessed and up they go, wearing hula skirts trailing long tendrils of silver streamers, momentarily concealing the band like a curtain for the ethereal composed ambient section. Then bam! The skirts fall to the stage and dancers' harnesses are actually little netted swings enabling them to perform aerialist stunts. "The nets unbreakable, so don't worry about (them) falling," Trey reassures the crowd. The aerialists' cords extend and retract, lowering them quickly and raising them again, all while the dancers are retaining a smile and a challenging flexible pose (that nobody in the audience is capable of replicating). Then! Individual smoke machines drop from the lighting rig in unison with the movement of the aerialists, following them around with a ghostly puff, like Charlie Brown's depression cloud only sexy. Kuroda is lighting them as a pale rainbow. Meanwhile Trey is shredding "Mercury," hosing everybody down, and giving amazing Treyface while watching the dangling people. Page's face is also in awe, and it feels like a rare moment where the band is enjoying their own show as spectators.
The countdown is verbalized by a robot (because it's the future) and then thousands of mylar balloons fall from the ceiling to our yearly, Hendrix-esque, "Auld Lang Syne." Everyone is kissing and selfie'ing and overwhelmed by all the shininess, while surreptitiously on stage Trey and Mike are getting harnessed. It's time to fly. They go into "Say It To Me S.A.N.T.O.S." (which as we all know stands for Subterranean Arctic Neuro Technology Orientation Station). The whole room is yelling, "HI HO HI HO HI HO," and slapping around reflective globes that have picked up the wetness of the MSG general admission. This is what 2019 smells like: floor beer.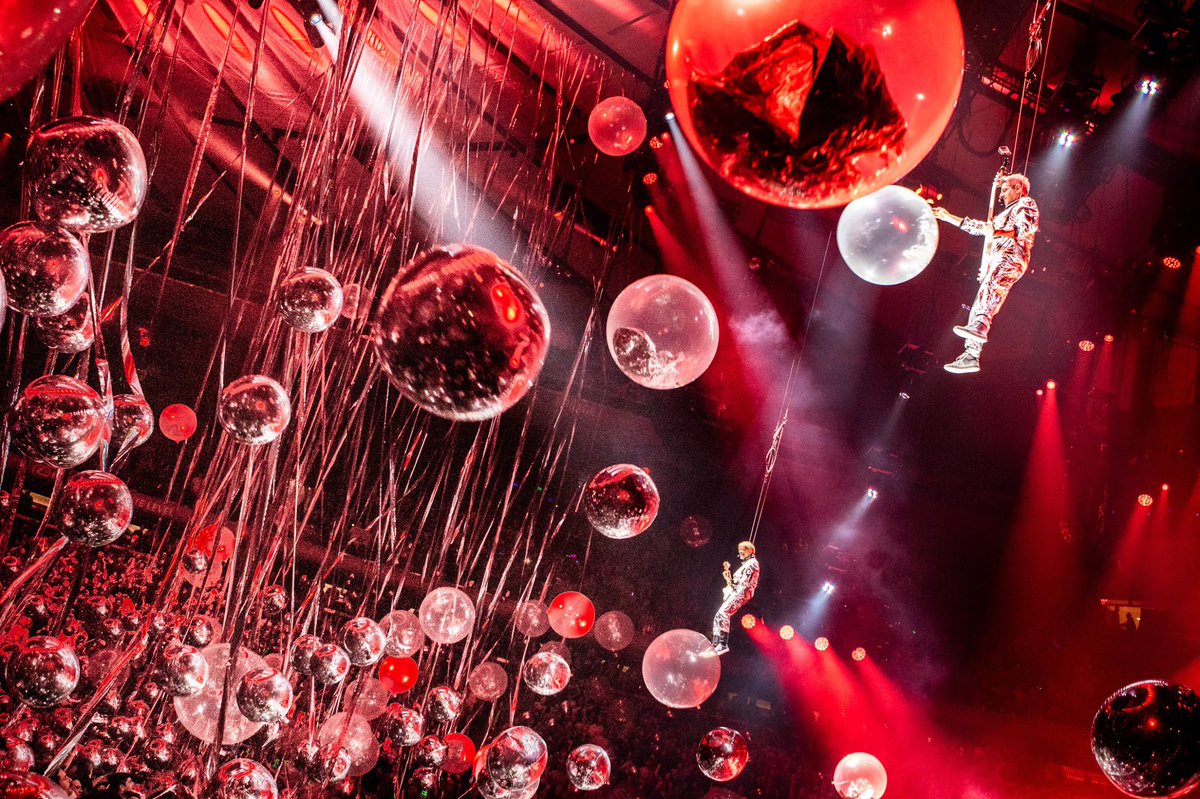 Trey and Mike are hovering high above the stage like astronaut angels. We will always remember where they were.
In years past, particularly the "Petrichor" NYE, staff has come on stage as balloon population control, brandishing some sort of blade and puncturing each puppy shaped inflatable as if it were a teen in a slasher film. Just as the balloons were at capacity and about to start floating toward the band in large numbers, the dancers came back out in huge inflatable pizza and hot dog costumes, blocking balloons from drowning the musicians (and potentially concealing behind-the-scenes staffers who were covertly stabbing the orbs).
The rest of the show was a standard, average-great show. No "Reba," no "Divided Sky," no "Fluffhead," "YEM," "Stash" or "Bowie" (all weekend). An amazing four-night run without those songs in order to focus everybody's attention on the newer material and fresher vibrations. They played "Lizards" for the "Icculus" truthers, who incorrectly gleaned from Trey's social media prescience that Phish was planning to perform Gamehendge in its entirety. On a personal level, I've seen the past 61 consecutive shows and although I don't have a lot of back history with the band, I've witnessed an amazing period of growth and rejuvenation. 2018 was the best year of 3.0, and if you "Ask Trey," the best year of their career.
If you liked this blog post, one way you could "like" it is to make a donation to The Mockingbird Foundation, the sponsor of Phish.net. Support music education for children, and you just might change the world.