What follows is the consensus Top Ten shows of 2013 as collectively determined by the phish.net working group. But first a word about the process of these rankings. Yes, we have ranked these shows in order from 1-10. But if you don't like ranking something as subjective as a Phish show then just think of this list as ten really good Phish shows from what proved to be an outstanding year for the band. That's largely how we think of the list. This composite list reflects precisely none of our individual opinions. Even if it did, I don't think any of us think a show we personally ranked #6 is indisputably better than our #7 show. And even if that were true, everyone has different things they look for in a show.
What we can tell you is that this list was put together by a bunch of people who really love Phish and anything that's mentioned below is absolutely worth your time to check out, if you're not familiar with it. Please note that no fans were harmed in the development of this list; it is entirely for fun and entertainment and should be taken in that light-hearted spirit. If your favorite show of the year doesn't appear in this list, it isn't because we didn't think it was a good show! Your list – or no list – is every bit as valid as ours. But as our resident National Treasure noted in regard to the second Gorge gig – for which he advocated strongly, but ultimately ranked #11 – "we're not handing out participation medals here, this is the Top Ten; you have to respect the science."
So without further ado, "We asked fifteen über Phish Nerds 'Name your favorite shows of 2013.' Top Ten answers on the board. Survey says..." [SP, PZ]
10. 10/26/13, The Centrum, Worcester, MA – Dan Mielcarz
In the Phish 3.0 era first sets have rarely – with some notable exceptions – contained the extended jamming that many fans crave. First sets are absolutely great fun to witness, but usually overlooked when it comes to discussing shows or deciding what to queue up on your digital music player of choice. Given the relative weakness of first sets, I've made the joke that they should sell a JadedVet™ package including admittance to the sound check and second set, but not the first. Thankfully, 10/26/13 Worcester put the lie to that notion in a way that – combined with an epic tentpole jam in "Drowned" – elevates this show into the top 10 of 2013.
Phish, "
No Quarter
" –
10/26/13
, The Centrum, Worcester, MA
Thanks to some nice work by some early-arriving .net colleagues, we carved out a nice spot on the Mike side (right side!) of the floor about 20 people back. A ripping "Party Time" started off the show and yes, the lyrics of this song are silly but also completely accurate. I've seen some complaints about Trey taking too much of a back seat in jams lately, but "Back on the Train" had a fantastic jam completely dominated by Trey's stellar work on the guitar. "Bathtub Gin" has been a high point of many 3.0 first sets, and this version doesn't disappoint, with an extended section of Trey singing along with his guitar preceding a great little jam. It was my first "Ride Captain Ride," so I was understandably thrilled, and I wasn't the only one.
In most Phish first sets of recent vintage, a rare cover and a couple good jams like those found in "BOTT" and "Gin" is about all you can ask for. The band had other ideas for this first set, though. A concise but slow building "Stash" followed, including what I think is Trey using the whammy pedal the right way. "Simple" was a huge and welcome surprise, the placement was perfect. "Simple" ended with a cool chill out jam that bled into the opening hi-hat intro to "David Bowie" with a big bass bomb from Mike that elicited a huge roar from the crowd. "Bowie" featured a relatively short and taut retro-style building jam that perhaps foreshadowed some of the playing on the NYE truck set in spirit. "Character Zero" as a set closer was probably unnecessary after the preceding series of songs, but that doesn't mean I sat there with my arms crossed shaking my head at the stage – I was dancing my ass off with the rest of the crowd.
I have already spilled several thousand pixels of digital ink describing the epic "Drowned" > "Light" – suffice it to say that this second set is must hear front-to-back. The encore with special guest Kenwood Dennard showed how much a drummer can affect the flow of a song – his beat on "Possum" made it a truly unique version. While there may have been shows with 'better' jams this year (for whatever definition of the word better you want to use), 10/26/13 was an extremely strong complete show and was fantastically fun to attend in person.
10/26/13 – Official LivePhish Soundboard * Audience Recording
9. 10/27/13 – Hartford Civic Center, Hartford, CT – Adam Scheinberg
The announcement of Lou Reed's death earlier that day had people expecting a massive "Rock and Roll," a "Sweet Jane," or maybe even a "Who Loves the Sun?" bust-out. As it turned out, Phish extinguished the tension promptly with a "Rock and Roll" opener that everyone expected to be the centerpiece of the show. But a few months later, the "Rock and Roll" is largely forgotten in favor of several goodies in – surprise! – the second set. If you're a fan of fall 2013 – and really, who isn't? – you should check out most of the second set, because if the "Chalk Dust," "Birds of a Feather" and "2001" don't hook you, the highlights of the set really should.
While the first set is generally first-set worthy, it was still perfectly enjoyable. The "Tube" is short, as usual, but with some punch. "Fee" > "Maze" satisfied the old-school cravings, but "ASIHTOS" and "Walls of the Cave" satisfied the new school. But it'll be the later offerings where you'll find the timeless gems.
"
Tweezer
" –
10/27/13
, Hartford Civic Center, Hartford, CT
Although the "Birds of a Feather" and the "2001" get some airplay and some credit in discussions about recent history and fall 2013 highlights, it's the "Golden Age" and the "Tweezer" that we'll remember. The "Golden Age" is a beautiful – a notable version in every respect. The "Golden Age" is a better "Golden Age" than the "Tweezer" is a "Tweezer," but the "Tweezer" is probably a better listen. "Tweezer" is undoubtedly one of the MVP songs over the last two or three years, and this version includes a beautiful, major-key "Drifting"-like jam that shouldn't soon be forgotten.
If that wasn't enough, the set was capped with "Fluffhead" and "Slave." As strange as it sounds, that's only happened one other time, in October, 1999. Two monsters – one a composed masterpiece and the other a gorgeous open-chorded crowd-pleaser. Such a nice way to round off a set, what a gorgeous comparison, what a beautiful buzz!
The thing about this "Tweezer" and the whole second set is that it's coming off of a few consistently strong shows. I think it would've been fair to expect this show to be a burnout, a non-starter after a few big at-bats. I've heard it said that Friday is for the fans, Saturday is for the bros, and Sunday is for the band. If that's true, count me in with the band!
10/27/13 – Official LivePhish Soundboard * Audience Recording
8. 8/4/13 – Bill Graham Civic Auditorium, San Francisco, CA – Dan Purcell
I used to hate going to concerts at Bill Graham. The first show I saw there was Beck on the Midnite Vultures tour, and we didn't get inside until after the opening act had already started, by which point the only open seats were in the upper deck behind large concrete pillars. But seeing Phish at the BGCA the past two years has been a treat. The venue is small enough that you're pretty close wherever you happen to be. The floor is short but wide; if you get there a half-hour before showtime you can find ample space 15-20 feet in front of the soundboard, with bell-clear sound, a great view of the work of Chris Kuroda and easy access to beer and bathrooms.
The first set was probably the weakest of the three San Francisco shows, but first sets at Phish shows in 2013 were fungible, with little to separate them on tape other than song selection. It's almost as if the band has consciously decided that actual improvisation is no longer permitted in the first set; the most you get is a "Wolfman's" or "Stash" or "Bathtub Gin" that rages but doesn't venture far from home base. But I love Page's Tumbleweed Connection outtake "Army of One" and could hear "Foam" and "Pebbles and Marbles" at every Phish show.
Setbreak was great. Wonderfully, in addition to two of my usual touring crew who made it out to the shows, there were a ton of phish.net working group folks in attendance. Some of them I'd met before; others I had finally been able to awkwardly bro-hug in the flesh after years of heated email debates. At halftime a couple of us wandered into the upper deck to talk to @natesdad, a new fan who'd been brought to San Francisco only through the tragic death of his Phish-loving son. He wanted to see first-hand this thing that he'd heard so much about, and judging from his thrilled smile he was starting to understand his son's obsession.
"
You Enjoy Myself
" –
8/4/13
, BGCA, San Francisco, CA
The second set – well, that was a whole 'nother kettle of fish. I had been expecting and hoping to see an "Energy," which at the time seemed like the new "Rock and Roll," the next big second-set opener. Maybe it still will be. After seven minutes or so it surely seemed to be dropping into "Crosseyed and Painless"; the dude in front of me turned around and yelled CROSSEYED!!! at me. But it never quite caught on, instead melting into "Runaway Jim."
It's easy to forget that "Runaway Jim" used to be a massive jam vehicle, the launching pad for not just the longest-ever Phish jam (11/29/97) but numerous other monsters (6/16/95, 7/31/97, 8/11/98, 7/18/99, 7/3/00). This one wasn't lengthy, but it got to the point immediately, evoking the instant-legend Tahoe "Tweezer" and pounding the downbeat incessantly like a nail gun. With Tahoe fresh in our minds we were jumping up and down and murmuring things like "historic!" and "fucking A!" to one another; my friend Richard shouted mid-jam "This is ... THE BILL GRAHAM RUNAWAY JIM!" I didn't want it to end but when it slipped into the opening riff of "Carini" I had no conceivable objection.
When "The Wedge" melted into the beginning of "Light" I figured it was as good a time as any to head for the bathroom. Once I got there I checked my pocket and realized my sunglasses were gone. Of course they were gone. I had put them in the side pocket of a hoodie I had tied around my waist, but like I mentioned I had been heedlessly jumping up and down. And so the sunglasses had flown out of my pocket and ended up god knows where.
When I got back to the floor I tried to resume having a good time. After "Bowie" our group caucused and agreed that the band should just drop the mic and walk off, 1997 style. An hour and seven minutes of such quality was plenty. The rest of the second set was just gravy, but it was mostly very tasty gravy. Since life is like this, "Silent in the Morning," a song I completely detest, offered the brightest silver lining of all. Naturally nobody dances during "Silent," so I took the tune's long build as an opportunity to look for my lost sunglasses. Bending down to scour the floor, I felt a tap on my shoulder, and looked up to see a smiling woman holding my glasses. "Are these yours?" she asked. I thanked her; I gave her a hug; I tried to give her a reward but she wouldn't take it. Phish fans are the best. Phish shows are the best. During "You Enjoy Myself" I resumed jumping up and down but this time with the sunglasses shoved safely into my pants pocket.
8/4/13 – Official LivePhish Soundboard * Audience Recording
7. 12/31/13 – Madison Square Garden, New York, NY – Phillip Zerbo
Phish's combo NYE / 30th anniversary gig at MSG finds a spot on this list owing primarily (some might say exclusively) to the JEMP Truck Set, but there was a lot of great music that took place in the sets on either side. The first set probably won't get a lot of repeat plays in my household, but in the moment I thought it had great flow and it features more than respectable versions of "Divided Sky," "Ocelot" and "Fluffhead."
The third set is trickier: amazing in the moment, but outside of the fantastic "Light" this set is best characterized as "safe." Which is understandable from a degree of difficulty perspective: you try to do your job while thousands of balloons and a truckload of confetti descend upon you! Even with front-loading the gag, the balloon drop makes for a curious day at work for the band. In the cold light of day of comparing recordings, the sum total of the first and third sets is classic "average great." Which still feels "off" to say even a month after the fact, because "average great" doesn't nearly capture the essence of the event as a whole, which was anything but average.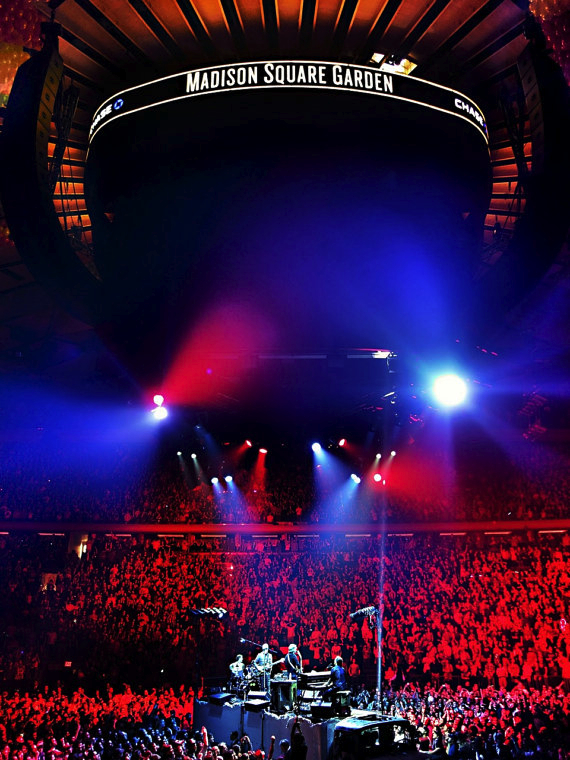 "Truck Ur Face" © Andrea Nusinov – AZNpics
Which leaves us with Truck Your Face. I wrote about my love for this set at some length and have only this to add: it was one of the most honest and unselfish performances I've ever seen, from this band or any other. Trey has spoken on many occasions about how the stage is where he is most comfortable. One of the striking things about the truck set was how vulnerable they seemed, so exposed; but like the strongest of long-term personal relationships, being vulnerable was OK with us, it was safe. The most rewarding experiences in Phish (as in life) are when they (and we) step outside of our comfort zones – it's OK, you fall, I'll catch you. Only a handful of us were around for the Nectar's days, and for the majority of Phish fans even the chance to see them in a theater-sized venue was well before their time. That they were able to evoke some sense of that intimacy in the middle of Madison Square Garden in a manner that was entirely genuine without being reductionist or cheesy was a stunning achievement.
The whole year felt like such a mutual embrace, where fan and band goals were totally aligned, every scratch itched. The sublime music and beaming smiles and warm vibes of this night – from my amazing crew of friends, to the band members, to total strangers – are etched into my personal top tier of over three decades of concert going experiences. Yet #7 in the 2013 .net top ten. Tough crowd! :-)
12/31/13 – Official LivePhish Soundboard * Audience Recording
6. 12/29/13 – Madison Square Garden, New York, NY – Phil Nazzaro
Great times, great friends, great band. The second night of the MSG New Year's run turned into a show for the history books. Following the best phish.net gathering in memory, the band seemed to really hunker down and deliver a performance full of passion and intent. Everybody can get complacent at work once in a while. And let's face it, no matter how rewarding it can be, this is the band's job. But then there's times at work where you're just feeling it. And you rip the shit out of the task before you. This feels like one of those nights at the office.
Bookended by a fairly unusual "Moma Dance" opener and "Possum" encore are competent to tight performances of seventeen songs that comprise a free-flowing setlist containing many crowd favorites ("555"!), and nary a groaner (I like "Rift"!). But the centerpiece is the "Down with Disease" > "Carini" combo to begin the second set.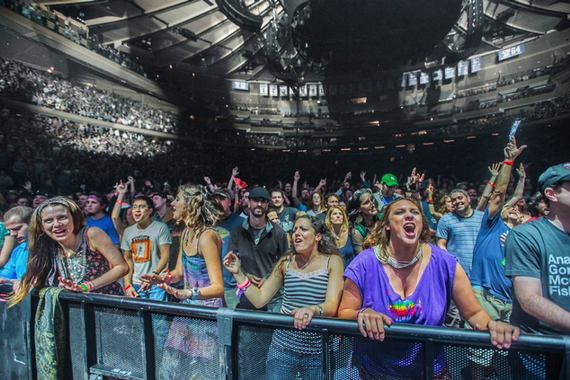 12/29/13 MSG, New York, NY – Photo by Dave Vann © Phish 2013. All rights reserved.
The tuning before "Down with Disease" is almost like an orchestra tuning up. It could almost be a jam in itself, leading Trey to say at the end (message to Billy Joel?): "Thank you, we wrote that". Then in a more serious-seeming carrion cry, his intro on the bass is like sitting on the runway with a 747 taking off. This band is on a mission. Listening to this performance it's so easy to fall down this hole. Take 17:15 for instance, when the "DwD" seems to be petering out. The band just locks in again and gallops ahead, into a truly spine-tingling full segue from the jam back into the "DwD" reprise, if you want to call it that. Brilliant. One that made me cry out in surprise and emotion. Like watching Reggie Jackson hit a game-winning home run. This is why we attend over and over.
"Carini" starts off chunky and funky, with a nice backbeat from Mike. It slowly picks up steam after a raspy and dirty (in a good way) Page solo. Then launches into space like the flying Corvette in the movie Heavy Metal. Unfortunately, it's brought back to earth and stopped fairly abruptly and prematurely by the re-occurrence of incessant audience "Woo" that it appears even the band is tiring of. What a shame, this could have been a "Carini" for the record books. Nevertheless, seek out this duo as it bears repeated listening.
12/29/13 – Official LivePhish Soundboard * Audience Recording
5. 10/20/13 – Hampton Coliseum, Hampton, VA – Tim Wade
I think it speaks to the strength of fall 2013 that none of my five favorite jams of the tour – "Carini" from Hampton and AC, the Worcester "Drowned," the Reading "Disease" and the AC "Twist" – appear in what I think is the best show of the tour. Of course, it may also speak to an attendance bias and a massive level of fluffery, but I'll let someone else sort that out. A show is more than the sum of its parts, though, and 10/20/13 Hampton boasts a second set that is fire from start to finish.
The first set is solid. There's no deep improvisation, which is not a surprise (nor is it an insult). I enjoyed it throughout, particularly the "46 Days," which I thought had above-average energy and swagger. Now, normally when it comes to rating shows, I try to separate the experience from the music, but it's particularly hard in this case. Seeing Hampton Coliseum become a galaxy of lighters during the pause in "Divided Sky" made the hair on my arms stand up. It was one of those thrilling moments of connection between the band and its fans that encapsulates the Phish experience. A group that makes a living on improvisation is surprised by a spontaneous act of participation from the audience, and there is tangible magic in the room.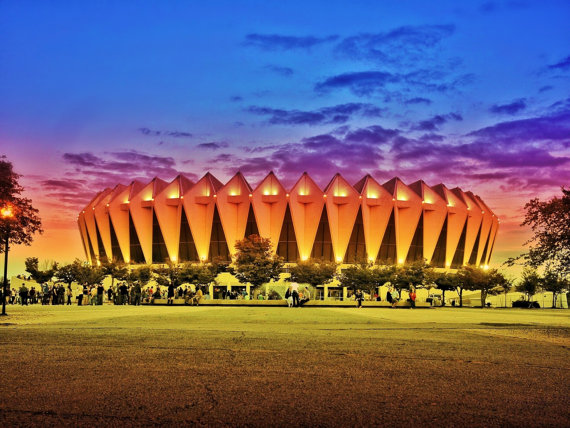 10/20/13 – Hampton Coliseum – "The Mothership" © Andrea Nusinov – AZNpics
The second set is a masterful display of Phish's versatility. Starting with bluegrass and a rare "Paul and Silas," the band moves through ominous deconstruction and heavenly ambience ("Tweezer") to funky dance party ("Golden Age") to exuberant shredding ("Piper"), execute a flawless turn into 70's arena rock ("Takin' Care of Business"), reprise the porno boogie ("2001" > "Sand") and finally climb the peak of one of their most triumphant closers ("Slave"). Each song is perfectly placed, and each jam is allowed ample space to reach its potential. "TCoB" was another moment I won't forget: goofy, cheesy, bombastic, quintessential Phish that plastered smiles from the rail to the wall. And in response, one more butane tribute from the crowd during the most delicate moments of "Slave."
This was the most fun I had ever had at a Phish show, and the buzz from it lasted me all the way to Atlantic City, which took me even higher. Halloween belongs to another world entirely, so 10/20/13 Hampton is my pick for the best show of the tour.
10/20/13 – Official LivePhish Soundboard * Audience Recording
4. 10/31/13 – Boardwalk Hall, Atlantic City, NJ – John Demeter
How much can be said about Halloween 2013 that hasn't already been said? Allow me to briefly recap much of the discussion, for those of you who may have missed it:
* It was a bold break from a hallowed tradition, surprising almost everyone, and proving that the band easily remains a couple steps ahead of the fan base in terms of their ability to keep us off guard.
* It was a "historic failure."
* It was the best possible indicator for the future of the band - that they committed to developing a bunch of new songs together - and it was a uniquely special experience to be there for the debuts.
* They "owe us" Eat a Peach/Zeppelin II/Lamb Lies Down/etc.
* There is amazing jam potential in some of these songs.
* The songs sucked and were too down-tempo and boring.
* Wingsuit speaks precisely to where so many of us are in life right now.
* Jack and Jill…? Are you serious?
Halloween 2013 was a statement show. An overused construct in sports media, but I will confidently apply it here. Continuing a theme of the year, Phish made a conscious decision to continue to do Phish their way, regardless of tradition or expectations. "If we can't please everyone, we'll please ourselves." (12/31/12) "It's pretty silly for you to try to tell us the right way to do our thing." (7/21/13) And now, "We started this cover tradition, and if we feel like doing something new and unique rather than old and expected, that's our prerogative." The statement is that they are calling the shots, just like they always have. And while they deeply respect and appreciate the fans, we're along on their ride. Same as it ever was, so lets enjoy themselves.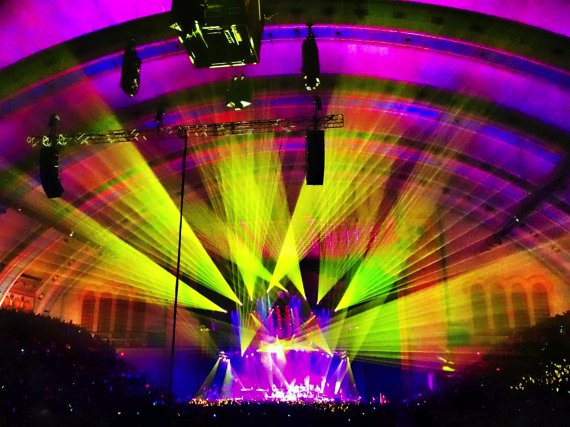 10/31/13 Atlantic City, NJ – "Wingsuit" © Andrea Nusinov – AZNpics
The tension was palpable in Boardwalk Hall from the moment we digested what the Phishbill was telling us. Mixed in with the supercharged electricity of a big-time run to cap off a stunning fall tour were noticeable elements of skepticism, doubt, and disappointment. It was weird. Was "Heavy Things" merely a bouncy opener, or an open acknowledgement that they knew they had committed to a path that would be controversial – even polarizing?
A fairly standard first set ensued. Average-great playing, Gary and team dialing in the sound. Party-people partying on. The band then donned their Wingsuits and let fly. No need for another play-by-play here, but regardless of how you received it, the fact is we got a dozen new songs from our favorite band. The lack of new original material had been one of the few remaining concerns in the 3.0 era. Consider that concern addressed. Phish is committed to each other, us, and our collective future.
I guess "You Never Know" how your fans will react to a risk or the unexpected, but precisely 15 minutes later the first chunks of "Ghost" emerged from the darkness, and it was like the top had been popped. That palpable tension exploded away into celebration mode, and Phish delivered a top-notch third set highlighted by the joyous, freewheeling Slave-within-a-Carini jam.
10/31/13 – Official LivePhish Soundboard * Audience Recording
3. 7/31/13 – Lake Tahoe Arena at Harveys, Stateline, NV – Chris Bertolet
It's hard to heap praise on a gig that nobody talks about ever, other than in the context of its marquee jam. And really, what more can be said about The Tahoe "Tweezer" that hasn't already been said many times? If you held a gun to my head, I would guess that the number of non-fans who are aware of or have listened to The Tahoe "Tweezer" vastly exceeds the number of fans who actually attended this show. That's how large it looms. So what else happened?
First, the band appeared for the first set and pretty much crapped out. My personal highlight of the first half was walking to the bathrooms during "Yarmouth Road" and seeing that melody work its magic on the crowd. Smiles for miles. But by and large, the song selection was uninspired, the playing was safe, and by the time "Stash" brought the first set to a close, the need for a redemptive second set was readily apparent. By the time the second set was over, the first set was long forgotten – and might as well have never happened.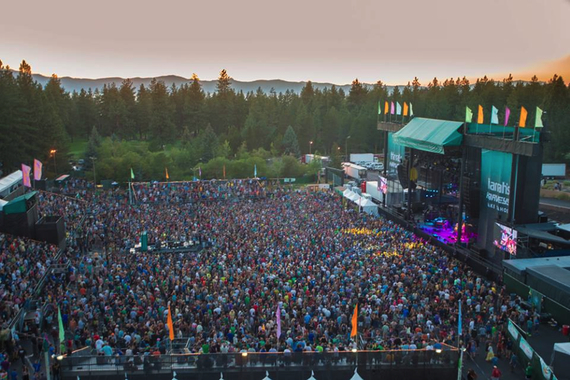 7/31/13 Harveys Lake Tahoe, Stateline, NV – Photo by Dave Vann © Phish 2013. All rights reserved.
"Tweezer" was locked and loaded, having last seen action in Toronto, but the air was charged with possibility, and the opening notes managed to seem both inevitable and exciting at once. The audience gave the band its full energy and intensity right out of the gate, and the band responded, completing the circuit. And while the "Tweezer" was over some 35 minutes later, that circuit between the band and the audience remained unbroken for the remainder of the show. On playback, you can hear it in the reprised "woo" section of "Twist," the galloping "Antelope," and the thunderous cluster bombs of "Tweeprise." In person, it was all levitation and bliss, like watching a comet sail past from a perch in the tall pines.
Next time you get a hankering to listen to the "Tweezer," let it ride. You'll find the whole second set is worth a spin.
7/31/13 – Official LivePhish Soundboard * Audience Recording
2. 10/29/13 – The Santander Arena, Reading, PA – Steve Paolini
Like many Phish fans, I find that one of the most exciting days on the Phish calendar (when there's not actually a show being played) is when the band drops a set of tour dates. I imagine my experience is similar to many considering all of the possibilities of each date and what shows I might be able to attend. Invariably, all sorts of opinions emerge throughout the community as to the prospects of each show or run and – inevitably – a show is designated as the "you snooze you lose" show. There are no doubt instances of Phish playing special shows to "reward" (or, more cynically, "punish") fans dedicated enough to make it to out of the way locations. Although those shows are well in Phish's past, people continue to use the term today even though such shows rarely deliver on their promise.
So it was no surprise that the Tuesday night show in Reading, PA, in the shadow of Halloween and not steeped in the same history as Hampton, Worcester or Glens Falls, was branded the "YSYL" show of Fall Tour. What was surprising was that the show actually delivered on that promise and is seen by most fans as one of the top shows of the year (and coming in second only to 11/1/13 in our little poll). I actually wrote the Phish.net recap for this show the day after and stand by pretty much all of it.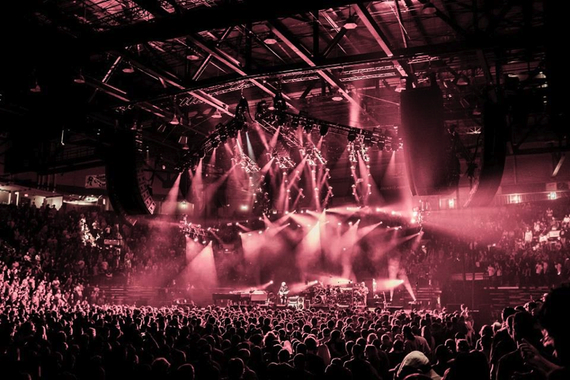 10/29/13 Santander Arena, Reading, PA – Photo by Dave Vann © Phish 2013. All rights reserved.
The first set of this show still holds little appeal for me. The "Melt" > "Julius" combo to close the set was certainly unique, but not in a way that did much for me. But, when they play a second set (and encore!) like they did on 10/29, who really cares? From Mike's "Pop Goes the Weasel" intro to "Down with Disease" through the closing chords of "GTBT" Phish delivered arguably their finest set of one of their finest years. The "DwD" is the crown jewel of the set culminating in a five minute segment that saw the HOSE turned on at full blast. After a quick "Taste," Phish unfurled their biggest surprise of the night ushering "Twenty Years Later" into the type-II club. The "20YL" jam starts as growling funk, shifts gears to a more upbeat groove and seamlessly transitions into a short but fiery "Piper." They weren't done yet, though, capping the set with a "YEM" closer and still finding time to squeeze the best "Reba" of the year into a three song encore.
Was it the best set of the year? Listen and decide for yourself. Either way, I'm glad I didn't hit the snooze button on Reading.
10/29/13 – Official LivePhish Soundboard * Audience Recording
1. 11/1/13 – Boardwalk Hall, Atlantic City, NJ – Elayne Best
The pre-show energy inside Boardwalk Hall was mixed on 11/1/13. As Phish chose to celebrate their Halloween tradition by putting their Wingsuit on for the costume; some people fully embraced the change in tradition, while others had disappointing (or worse) reactions.
Well my friends, if you look for the elements that I do in a Phish show, there would be no feelings of disappointment tonight! It was apparent from the moment "Shaft" teases started in "Runaway Jim" that the band was ready to deliver, feeling loose, and completely relaxed after being "Under Pressure."
We were blessed with so many ethereal moments in 2013, but from a cumulative perspective this show is one of my favorites. There is nothing that exhilarates me more than feeling that connection between the band and the audience. And even if you didn't enjoy Wingsuit, you have to appreciate Trey's heartfelt message of thanks for the audience's support the previous night.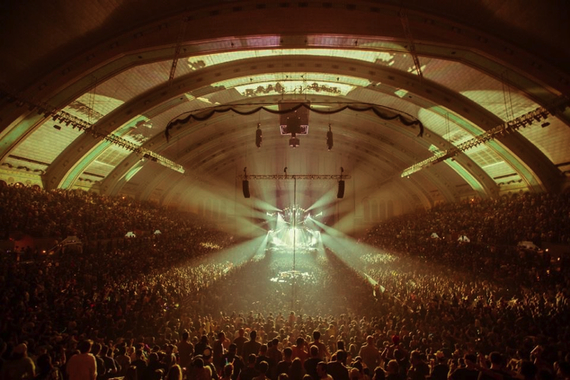 11/1/13 Boardwalk Hall, Atlantic City, NJ – Photo by Dave Vann © Phish 2013. All rights reserved.
This show had teases galore, an especially soulful "Jesus Just Left Chicago," a monster second set "Twist" opener and downright sexual silliness with O.G. Kush and Bush (and Bush, and Busch) references throughout "Makisupa," "Meatstick" and "Boogie On." Are you tired of the silliness yet? Well you are in luck because "The Wedge" follows only to be packaged up with a soul uplifting "Slave." Wunderbar! As if that wasn't enough mustard for your appetite, this show ends with the delightful dessert of a funky dance party "Sneakin' Sally" encore.
This night had all the components for why I love seeing live Phish shows: jams, zaney humor, connections between the band and audience, and simply amazing fun. The crowd energy leaving Boardwalk Hall that night vs. arriving was night and day.
11/1/13 – Official LivePhish Soundboard * Audience Recording
If you liked this blog post, one way you could "like" it is to make a donation to The Mockingbird Foundation, the sponsor of Phish.net. Support music education for children, and you just might change the world.