PORTSMOUTH, VA – On Tuesday night Phish's summer tour juggernaut found its exhale point at nTelos Pavilion on the shores of Virginia's Hampton Roads. Following a pair of powerhouse performances and packed house, frenzied big summer weekend vibes at Merriweather Post Pavilion – with the intensity, innovation and fearlessness of Sunday's "Tweezerfest" that landed from outer space, instantly slotting that gig as the 23rd highest rated show among fans in all of Phish's illustrious 30-year history – it was clear that we were due for a return to earth. Given the context of the band playing at a sustained career peak, even a decompression show was bound to produce gems.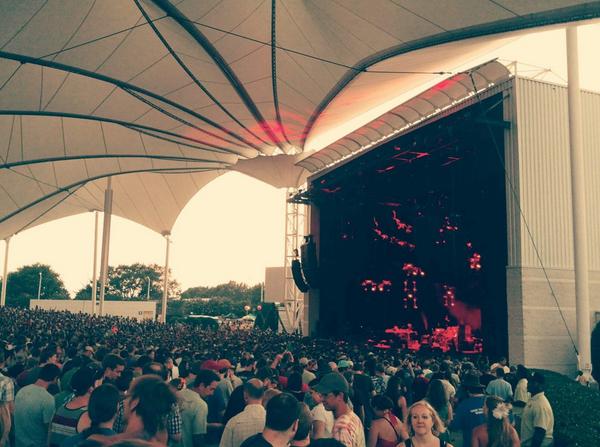 Photo © Phish, Phish From the Road
Phish again delivered the goods by exhibiting their skills through expert thematic setlist construction, mood settling, and most of all awareness of and response to the ball as it lay. Merriweather witnessed the band and crowd at its most ferocious balls-to-the-wall intensity. But one of the many tentacles of Phish brilliance and what makes them so "sticky" is that even when they downshift into a "weekday vibe" they hum and resonate at a frequency best suited for the moment. Tuesday's crowd was everything Merriweather's was not: calm, relaxed, settled, happy, comfortable and content. Phish played the right show for that crowd – little smoking, less talking, few drunks, no flying plastic debris, no nitrous hordes, no bullshit – it was time for Phish's "adult swim."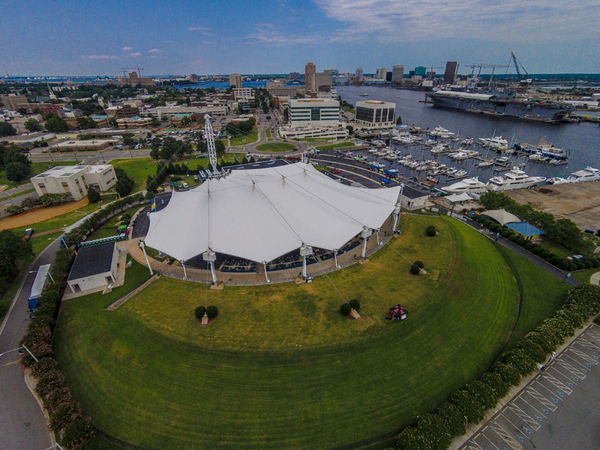 Photo © Parker Harrington
While it found a home opening second sets in the mid 90s (often in spectacular fashion, see 12/28/95, 7/26/97 and 11/16/97) "Timber (Jerry)" opened a show for the very first time in its 27-year run with Phish. Then the set settled in to a more predictable routine with compact versions of "Undermind" in its concise rendering, only the second "AC/DC Bag" of the tour, and Mike's slinky "555."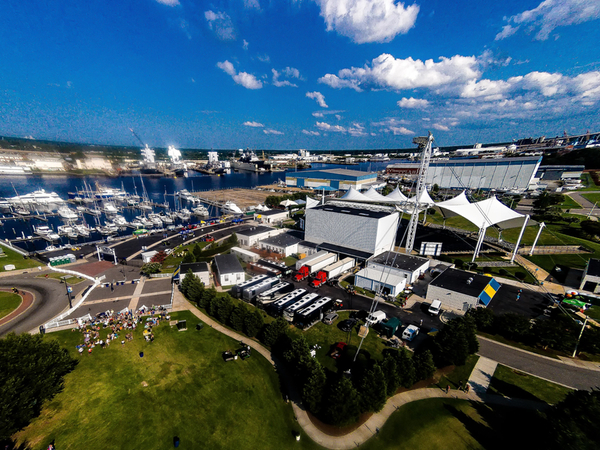 Photo © Parker Harrington
A long and flowing "Divided Sky" took place as the sun set Page side on a gloriously comfortable evening that offered easy breezes and imminently civil trappings. Trey's "Ocelot" and Page's "Halfway to the Moon" kept the first set ship gliding softly and effortlessly before upshifting into "Kill Devil Falls." The first set improvisational anchor role fell to "Split Open and Melt," and it delivered by getting weird with a dissonant minor key quickly, and then staying weird. CK5 took to exhibit his mastery with a brilliant LED display including a spectacular sequence featuring first his reverse-stage fractal projections, followed by a spotlight sequencing on the band members, culminating with unloading the kitchen sink of his seemingly never-ending arsenal of visual tricks. "Good Times Bad Times" harnessed the crowd's latent dance energy for a final throw-down before the break.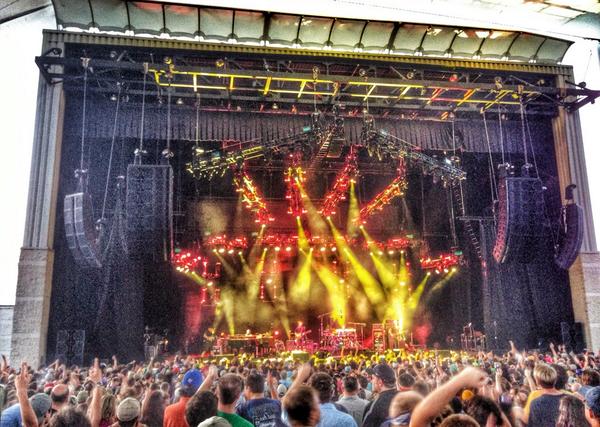 Photo © Andrea Z. Nusinov
"Chalk Dust Torture" has become the toast of the tour as a jam vehicle, an open door to the airy, spacious, floating comfort of the jamming style that took root during last fall's historic tour. At this point late in the summer tour – when they've dropped career-defining versions seemingly one after another – it becomes easy to get into the "sure, but not as good as x, y, or z" game. That game can be fun, but it can also lead one to lose sight of the majesty offered and windows opened by outstanding versions such as the one offered tonight. This "CDT" may well get lost in the shuffle of current sustained greatness for this Phish classic… but if you would have dropped this set-opening jam into almost any show from 2009-2011, it would have been a clear (even "top-10") highlight of that year. The same can be said about this show as a whole.
The first "If I Could" in almost two years (8/29/12 Oklahoma City, 68 shows) set the water theme that would permeate the set in motion – "run with me across the oceans..." and was tenderly and confidently delivered. While "If I Could" was respectfully received, "The Line" represented perhaps the only awkward mis-step of the evening where Trey's setlist direction didn't quite hit the mark. "The Line" fell somewhat flat on a crowd that despite their decidedly relaxed temperament was all too ready to dance.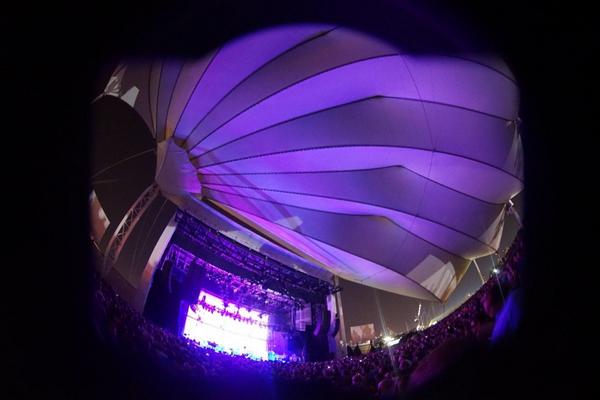 Photo © Phish, Phish From the Road
Solid if controlled versions of "Birds of a Feather" and "A Song I Heard the Ocean Sing" brought the band vibe <-> crowd vibe back into equilibrium, a wave that crested in a crunchy "Mike's Song." I was taking a rare respite from the front stage area and enjoying the show with a bunch of my JadedVet™ colleagues from The Mockingbird Foundation back by the soundboard, several of whom are the strongest proponents of the "return of the 'Mike's' second jam." (As an aside, sure, we think the return of the second jam would in fact be wicked cool, but mostly it's just a joke, a brotherly poke offered in love to our musical heroes… they can play "Mike's Song" however they darn well please, and we'll be cheerfully cutting rug in response. Every time!) So when that moment of truth came, the last held chord of the end of "Mike's" first jam, we all held our breath and…
"Waves" paid homage to our seaside locale before the band launched into a throwback ending… back to 2010, with a parade of set closers. "Weekapaug Groove" was a dance throw-down but lacked some of the spark that it had been feeding from the "Ghost-a-paug" sequence favored of late. "Cavern" > "Golgi Apparatus" > "Run Like an Antelope" took us to the finish line in solid, entertaining fashion, but the jamming guns were packed away for the night. A "Wingsuit" encore – what a perfect spot for a song that is digging deep roots early in the fan psyche, this song is loved, deeply, already – and "The Squirming Coil" brought closure to this mellow but totally satisfying affair. I'd be remiss not to note that part of Page's outro solo was marred by an embarrassing case of crowd clapping; but after that display of doing-it-wrong, the crowd seemed to compensate and became whisper quiet for the end of Page's solo.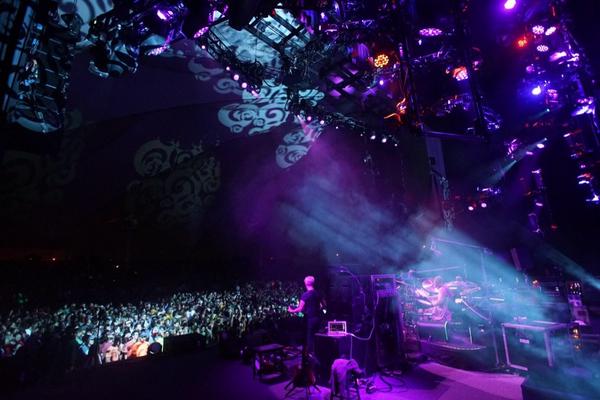 Photo © Phish, Phish From the Road
Phish is often about reactions to that which came before, sometimes writ large (albums, tours, jamming style) while other pendulum swings take place in microclimates, show-to-show. I'm thrilled beyond belief that the band plays very different types of shows: sometimes of their own accord, following the flow of their individual and collective moods and inspirations, and seeking to understand and play to the audience and mood and venue presented in the moment. Looking at the best shows of the tour, they have so many different vibes – do you like MPP2 or Randall's3 more? Ginger or Mary Ann? On this night, in this place, for this crowd, Phish performed... perfectly.
We'll be back tomorrow as we begin to round the tour's home stretch.
If you liked this blog post, one way you could "like" it is to make a donation to The Mockingbird Foundation, the sponsor of Phish.net. Support music education for children, and you just might change the world.