[This recap was a collaborative effort by some of the Mockingbird Foundation / phish.net staff, a.k.a. The Lawyers in Soccer Jerseys: @drewphish, @chrisbertolet, @cglush, @beverage_cart, @bestedog, @lumpblockclod and @pzerbo]
Phish is like a box of chocolates – you never know what you're gonna get. The first two days of the weekend run at Chicago's Northerly Island contained the usual assortment of hits and misses, peaks and valleys. Sometimes you could tell from the shape of the chocolates what you were likely to get, and that they would melt in your mouth – Friday's "Reba," "Golden Age" and "Piper," or Saturday's "Light" and "Hood." Then there were the totally unexpected surprises – that funky pink chocolate that nobody knows what it is supposed to be, but turns out amazing, i.e. Friday's out-of-nowhere type-II "Wombat." We're told to "never miss a Sunday show," so let's get to the action from the field.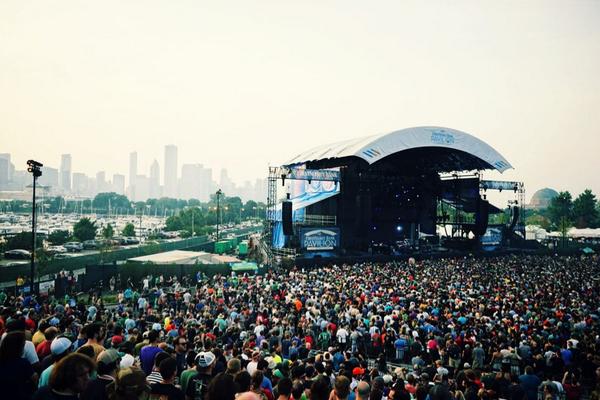 Photo © Phish – Phish From the Road
"Gumbo" kicked off the festivities, the first "Gumbo" show opener since the only other instance on 11/28/98 Worcester. Trey took to the echoplex during Page's solo, offering a more interesting "Gumbo" than usual. "Runaway Jim" was next, a solid version; you have to love in "Jim" pre-jam when Fishman is so good at laying off the cymbals to create space.
The first "Tela" since 7/31/13 Tahoe (39 shows) was next, though it seems like much longer for those who attended that Tahoe gig, as during that performance we were all re-assembling our brains after they had been pulverized by the Tahoe "Tweezer" that preceded it. Apparently the Randall's Island crew gets their wish a week later, as the chants that sounded like "Reba" were actually for "Tela." Phish, a band that plays requests… as long as it is a song they want to play, when they want to play it.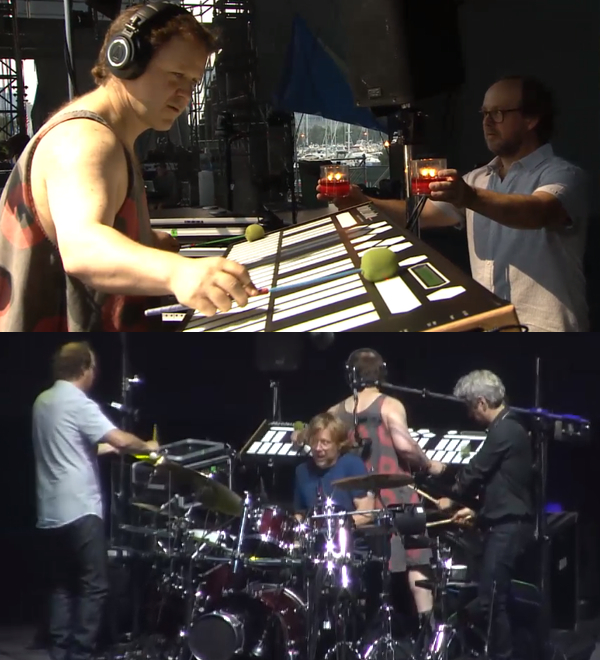 Photo © Phish
A short soap box; skip a few paragraphs to return to the music. For those trying to enjoy the show at home, "Tela" also suffered the first of many drop-outs where the LivePhish stream crapped out. Let's face it: LivePhish and their partner, nugs.net, are out of their element; they do not possess the core competencies in the tasks to which they've been assigned. Drop-outs during Phish webcasts are now routine, it's part of the package… for Phish. Yet, other bands have figured this out, other service providers offer state-of-the-art quality.
Why is this? When it comes to technology of providing live and recorded music to fans online, Phish used to lead; now, they follow, and from way behind. At some point it becomes impossible to understand how such incompetence goes unaddressed. On Saturday the big dropout came at the high point of the show, the fantastic "Hood" jam. Sure, we can replay it later, but the core value add is the immediacy of the moment. Nugs was great at the internet... in the late 90s. It's 2014. Further, the communication about the issues has been poor, at best, and cluelessly aloof and dismissive at worst. Let's not even get started about the LivePhish app, last updated in 2010. 2010! It is like the bad boyfriend / crazy girlfriend that you know is going to go bad in the end, but you just can't quit them. They know we love The Phish, they know we're going to keep coming back and buying their products; our demand is de facto inelastic.
We have a great thing going here: the fans love Phish, and Phish loves their fans. So why not address this lingering point of friction so we can get back to the love-making? The offering isn't cheap – it wasn't that long ago when $20 was the price of a ticket to the actual show. So, what do we need to do to make this a priority in the Phish org? It sure would be nice to put these issues behind us. We humbly request more attention to these matters by those in charge.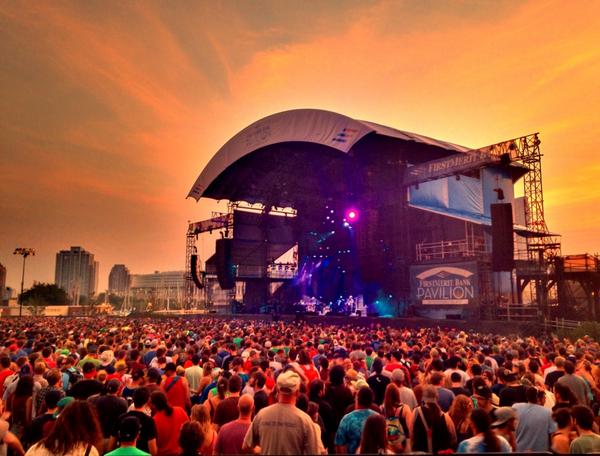 Photo by Robert Henriksen
Back to the action, we were happy to have the stream back… even for "The Line." "The Line" is our favorite Lumineers cover (j/k!) that they do, Phish's "One Shining Moment" of IT. Fishman keeps finding extra gears in this version, the rest of the band seemingly wanted to be done, but he took them on a couple bonus laps. "Scent of a Mule" started with Trey having trouble finding, whaddaya call them, "notes." Fishman just doesn't want to lay out, he's kicking so much ass and knows it. This is like '93 Fishman, when Trey finally gave him permission to change the tempo. This turned into a very spirited and deliberately weird "Mule" duel. Page walked over to Fish's Marimba Lumina and held candles over Fish. But as we all know, you can't hold a candle to Fishman. Trey joined in on drums, Mike added cowbell and cymbals, the whole affair had a ceremonial feel. A drum circle, Phish-style! This "Mule" was a real treat, showcasing a band that can still get weird and have fun.
"Bathtub Gin" brought us back down to earth a bit, following the soaring performances at SPAC and Randall's Island. Other than Fishman, Page has grabbed our attention the most this tour. He is playing better than we've ever heard him play, as evidenced in this "Gin." At least on this night, the hope of "Gin" opening up to its brilliant flowering plumage would have to wait, but a solid version nonetheless. "Silent in the Morning" was next in its now-ensconced "Horse"-less incarnation.
"Maze" is one of the few hard/fast songs that seems to be played better in 3.0. This "Maze" featured "Mission: Impossible" teasing and was well-played overall with exceptional rhythm playing by both Trey and Page, and Fish is, again, killing it. This "Maze" broke no new ground whatsoever, but how much does that matter? Not much.
"Ocelot" is so obviously "Tennessee Jed," how can you not love it? It's probably the best or at least second-best jam in many of the sets in which it is played. The only "problem" with "Ocelot" is that they haven't done more with it, it has so much potential – keeping with the Dead analogy, "Ocelot" has a huge upside, like a '73 "Playin' in the Band," or even a poor-man's/first set "Dark Star." There was a stretch in 2012 where "Ocelot" got better and more intense with every version to the point where a breakthrough type II version seemed like an inevitability. Then that stopped happening. A spirited "Walls of the Cave" closed out this solid and entertaining set.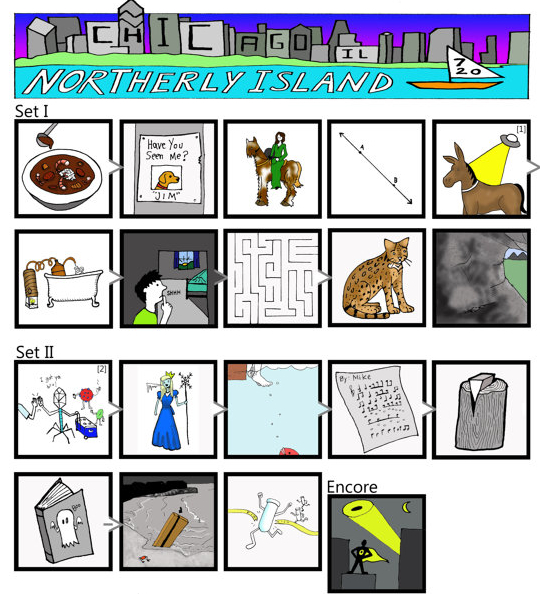 Setlist pictograms by Joseeen (available at Etsy)
"Down with Disease" stepped back into the role it knows best, launching the second set festivities. The opening of the jam contained some very "Gin"-like phrase from Trey. The Echoplex is definitely the new Whammy, in that it can sometimes offer a crutch when Trey is struggling for direction, as he did during the early phases of this jam. Finally there was something to build on with Page taking rhythmic control. While not reaching the peaks of earlier offerings during this tour, this fourteen-minute "Disease" offered high hopes for the rest of the set.
"Winterqueen" followed – a tune that has already demonstrated a much higher ceiling than many gave it credit for upon it's arrival on the Phish scene. This version however serves more of a breather and bridge role. It also included an odd missed pedal by Trey that resulted in an abrupt and jarring modem screech. "Hello! You've got mail!" "Theme from the Bottom" extended this mellow interlude with a similarly placid yet flowing vibe, gradually building and blooming while staying true to the song's foundation.
"Mike's Song" stuck to it's type-I power guns (odds of the much sought-after "Mike's" 'second jam' were taking action at 85-1 against). This is said as a compliment: this offering was more or less by the books, but infused some much needed energy into the proceedings.
When they opted for "The Wedge" there was an audible deflation in the crowd. Were we in for a rare Sunday edition of the Saturday Night Special? Sure, we love "The Wedge." It's a great tune, but one that hardly ever strays from the confines of structure – it's a classic first set song – and this set was frankly primed for some explosive release. But, Phish is like a box of chocolates.
The dreaded "box" was smashed into a million pieces, propelling the band to hitherto unexplored space from it's familiar "Wedge" retreat. This was so unexpected and great that it left many of us speechless. There were several almost-teases and jams including "Roll with the Changes" (REO Speedwagon) – "keep on rollin'" = "we keep it rollin'?" Think about it – and "Paradise City" (Guns N' Roses). Page absolutely made the "Wedge" jam, always offering an idea. He listens so well, it's astonishing. At 11:00 Fish drops back into the "Wedge" beat. But Trey won't let it go, and starts with the ascending butter riff. All four guys are contributing strongly to this jam that is indisputably the most creative take on the song to date. Much like the 7/18/14 "Wombat" or 11/2/13's "Theme" it was the element of surprise that sent this killer jam over the top. You never know what you're gonna get.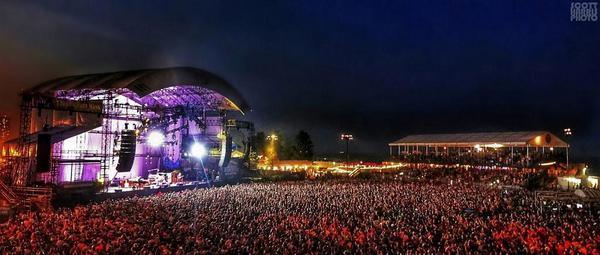 @ Scott Harris Photography
The now comfortable position of "Ghost" in the middle of Mike's Groove fed off the vibrant energy of "The Wedge." What a turnaround! It was amazing how this band can go from sounding tired to sounding revitalized in just one song; they seemingly have "the switch" at their disposal. The intensity of this "Ghost" is like playoff hockey or the best World Cup match, the latter parts of the jam were frenetic in build and excitement, total hose. "Ghost-a-paug" is a real thing, and it isn't taking prisoners. "Weekapaug" keeps it rolling with what is on first blush one of the best versions of 3.0.
Before the conclusion of "Weekapaug" – that included "Stash" and, sigh, "San Ho Zay" teases – the band returned to the "Ghost" theme for a full band… something. Is it a "tease?" A "jam?" A "reprise?" Is it "Ghost" > "Weekapaug" -> "Ghost" -> "Weekapaug?" Reasonable cases can be made for any of these, resulting in a bunch of overeducated and hyper-obsessive Phish dorks throwing their hands up. What was it? Hell if we know for sure – our crack team will figure that out at their earliest opportunity – but it was sure awesome! We're going with "Ghost jam" for now, hope that's cool with you.
The gig rounded out with a fiery "First Tube" and an added-time "Character Zero" for good measure. What a stretch they just played! Fan-fucking-tastic. After the inaugural visit to this venue last year that was marred by force majeure, the weather mercifully cooperated and the venue seemed by all accounts to work well for Phish fans. The band had set the bar incredibly high – perhaps unreasonably high for this early in the tour – at Randall's Island, a set of shows that arguably represent the Crown Jewels of Phish runs since their 2009 return to the stage. They didn't always reach those highs in Chicago, but these shows were each excellent in their own right, showcasing Phish at the peak of their game where even the "average" shows are rather great.
Finally, we'd like to drop a once-in-a-blue-moon reminder that the all-volunteer efforts of the staff here at phish.net are offered in support of our charity, The Mockingbird Foundation, that raises funds for music education for kids. If what we do is valuable to you, we'd like to encourage you to consider a small donation to support our work, which seeks to "pay it forward" to the next generation of music performers and appreciators. We'd also like to thank everyone who organized and participated in the events that benefited the foundation this past weekend in Chicago, including Surrender to the Flow Yoga, Screens 'n' Suds, The Mothership Art Collective, PhanArt, as well as our friends at Rock Bottom Brewery. It is a humble privilege and distinct honor to join with Phish and their fans in charitable endeavors, on top of all the fun we have enjoying the band.
We'll see you back here after the break, reporting from Charlotte.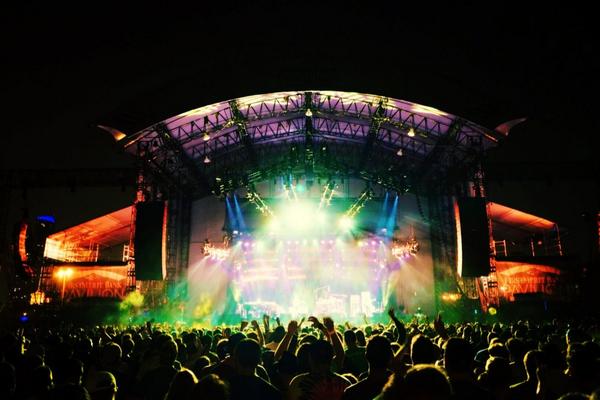 Photo © Phish – Phish From the Road
If you liked this blog post, one way you could "like" it is to make a donation to The Mockingbird Foundation, the sponsor of Phish.net. Support music education for children, and you just might change the world.