"The rain had let up and leveled out to its usual winter-long pace ... not so much a rain as a dreamy smear of blue-gray that wipes over the land instead of falling on it, making patient spectral shades of the tree trunks and a pathic, placid, and cordial sighing sound all along the broad river. A friendly sound, even. It was nothing fearful after all. The same old rain, and, if not welcomed, at least accepted — an old gray aunt who came to visit every winter and stayed till spring. You learn to live with her. You learn to reconcile yourself to the little inconveniences and not get annoyed. You remember she is seldom angry or vicious and nothing to get in a stew about, and if she is a bore and stays overlong you can train yourself not to notice her, or at least not to stew about her." – Ken Kesey, Sometimes a Great Notion
A common debate in the comments section of these recaps centers around who is better suited to offer a review, someone who attended the show or someone who has listened to the "tapes." Proponents of reviews by attendees only will generally claim that the show is an experience that can't be completely distilled to ones and zeros via the modern miracle of livephish.com. To authentically offer a review of a show, they will say, you have to have lived the full sensory experience.
I was at last night's show at Jones Beach. And I'm here to tell you that I and the other 15,000 or so folks in attendance are arguably the worst people to offer you a review of last night's proceedings. Sometimes those external factors seen as so vital to offering an accurate review are so powerful as to overshadow the music we're all there to hear. The dominant external factor last night was the rain.
It rained for six straight hours last night. From 4:00 until just before the second set started at 10:00. It was an unrelenting rain accompanied by a steady wind. As the rain started, several of us began joking about the 6/5/09 Jones Beach show that took place amid a steady rain and temperatures in the low fifties. It sucked that we weren't able to sip our fresh growlers of Barrier Money IPA (thanks for filling us up on a Friday, guys!) in the sun, but at least it wouldn't be that bad. Alas, it was worse. I'm not sure when it happened, maybe hour four or hour five, but the unstoppable nature of the rain eventually rendered my rain jacket useless. That's my ticket stub below. I took it out of my zipped rain jacket pocket exactly twice, once to get in the show and a trip to the bathroom. It was exposed to the elements for maybe 45 seconds total.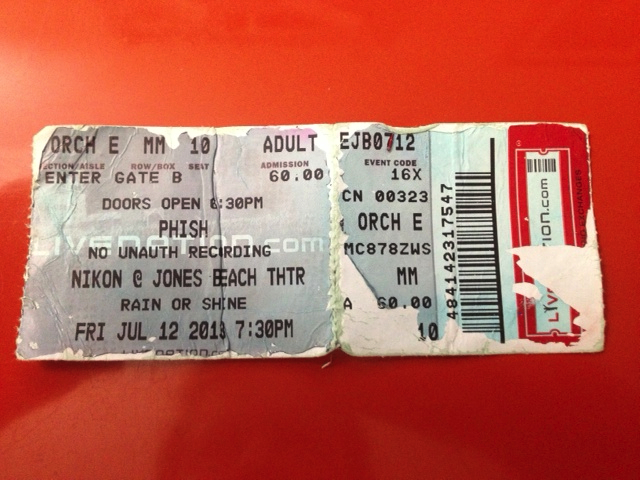 On the bright side, Phish played a concert last night that I did my best to pay attention to in the unspeakably miserable conditions. A standard "Chalk Dust" started us off. Though "Chalk Dust" is pretty much never unenjoyable, they were going to have to try a little harder than that to engage the surly crowd. They largely succeeded with a "Cars Trucks Buses" that stayed on the road for a bit longer than usual. "Ocelot" seemed to be the precise opposite of a rainy day song, though at least his stripes were safe from the "poisonous day." After an unremarkable "My Sweet One," we got our first highlight of the night in the all too rare "ASIHTOS." While all the pieces seemed to be in place for Phish to knock this one out of the park, they stuck to a standard reading of the song. Still nice to hear.
A predictable "Water in the Sky" set the stage for a somewhat puzzling run of songs. Trey first tried his hand at "The Sloth," a song they really haven't played well for years. Last night was, unfortunately, no exception, even if the conditions certainly added a degree of difficulty. "Beauty of a Broken Heart" is a song that I would welcome in nearly any other set, but neither it nor Trey was up to the task of raising the crowd up. Trey frankly seemed lost. "Sugar Shack," a song that thrives in Mike's solo shows, was sadly given its usual oven mitt treatment by Trey. If they succeeded in picking up the energy a bit with the arena rock of "46 Days," the standard "Number Line" that followed sucked it right back up.
Normally the set might have ended there, but these were not normal circumstances. Possibly trying to outlast the rain, we got our first "Reba" of the tour. While I don't know that we can call this "Reba" flub-free (or even close), Trey really came up with some nice phrases during the jam segment. "Bowie" continued the upward trend and featured a somewhat unusual (and enthralling) major key jam that was probably the most innovative thing they played to that point. While they ended the set on something of a high point, the set as a whole was one long struggle to truly enjoy (and it was no doubt difficult for the band to play). Let's be honest, though, none of the first sets have been particularly strong this tour and this first set may have been the worst of the bunch. Having said that, the first set of 11/17/97 might have been difficult to enjoy last night.
The monsoon and accompanying misery continued into setbreak. People tried to take cover where they could – at one point I counted a grand total of twelve people on the mezzanine level. Then, just after 10:00, the rain let up. No one seemed to notice at first, our bodies all collectively saturated at that point the idea that no rain was falling from the sky didn't immediately register, since – rain or not – no one was going to be dry for some time. Had this show occurred in, say, 2010 or 2011, we all would have been hoping for the possibility of a strong second set. That's not to say that there aren't some great shows in '10-'11, but there wasn't the feeling that you had a good chance of catching "it" or that "it" could happen at any moment. One of the nice things about seeing Phish in 2013, is that I expect to see greatness in the second set. Those expectations were fulfilled last night.
"Rock and Roll" (rather than the predicted "Drowned") started us off. Though Trey had some trouble entering both his first solo and the jam segment, things took off quickly and the structure of the song was fairly abandoned early on as Trey and Page explored one theme after another. I think it actually started sprinkling a couple of times during "R&R" and the rest of the set, but at this point, the music was so good (and I was already so wet) I barely noticed. Or maybe I had trained myself not to notice. This jam may not have been on the level of PNC's "Crosseyed," but it remained engaging throughout. The fact that a jam like this can reasonably be viewed as par for the course in 2013 is a genuine thrill. And the best was yet to come.
"R&R" eventually wound its way into a standard "2001." "Tweezer" followed and everyone seemed to sense that we were in for a great version. The band was clicking on all cylinders with Trey leading the way, blazing a winding path through the night. At one point, Page started raining down chords that had us headed in the same cathartic direction as the 12/28/12 "Tweezer," but rather than following him in that direction, Trey began chording in a familiar rhythm. And, just like that, we dropped in the butteriest way possible into a rare second set "Cities," recalling the 12/31/98 pairing of those two songs. "Cities" was not to receive the extended treatment we had hoped for, but was, nonetheless, a fine version, with Page leading the way this time. Trey drops in at the end and begins playing some nice ascending lines before we're treated to a second consecutive butter segue into "The Wedge." It's hard to tell who really takes the lead in initiating this transition, let's call it equal parts Fish, Mike and Trey. On the other hand, it's easy to spot the star of this "Wedge." It's Trey and he just utterly destroys his solo and we essentially get the cathartic peak that was bypassed in "Tweezer" in "The Wedge."
If this were 1997, they might have simply left the stage after that "Wedge," a less-is-more approach I wish they'd take more often these days. Instead, we got a "Velvet Sea" followed by the arena rock of "Character Zero" as a set closer. A high energy version to be sure, nothing to match the heights scaled earlier in the set. The "Monkey" encore was a bit of a trainwreck, with Trey first singing "Sample" before catching himself and – eventually – remembering the lyrics. "Tweezer Reprise" did what it usually does, putting an exclamation point on a fantastic second frame of Phish. Hopefully the high quality second sets, if not the weather, continues at Merriweather tonight.
If you liked this blog post, one way you could "like" it is to make a donation to The Mockingbird Foundation, the sponsor of Phish.net. Support music education for children, and you just might change the world.