[Phish.net thanks user @ObviousFool (Silas Cole; www.niceshades.art) for recapping the final night in Mexico. -Ed.]
We arise at the crack of noon and slowly make our way to the pool. We are foggy, rather groggy, but it's the final day in paradise and time is of the essence. We snag a couple chairs in the shade, order a couple of Miami Vices (half piña colada/half strawberry daiquiri), and make friends with our neighbors. Night four is rapidly approaching, and with plenty of bangers still on the table.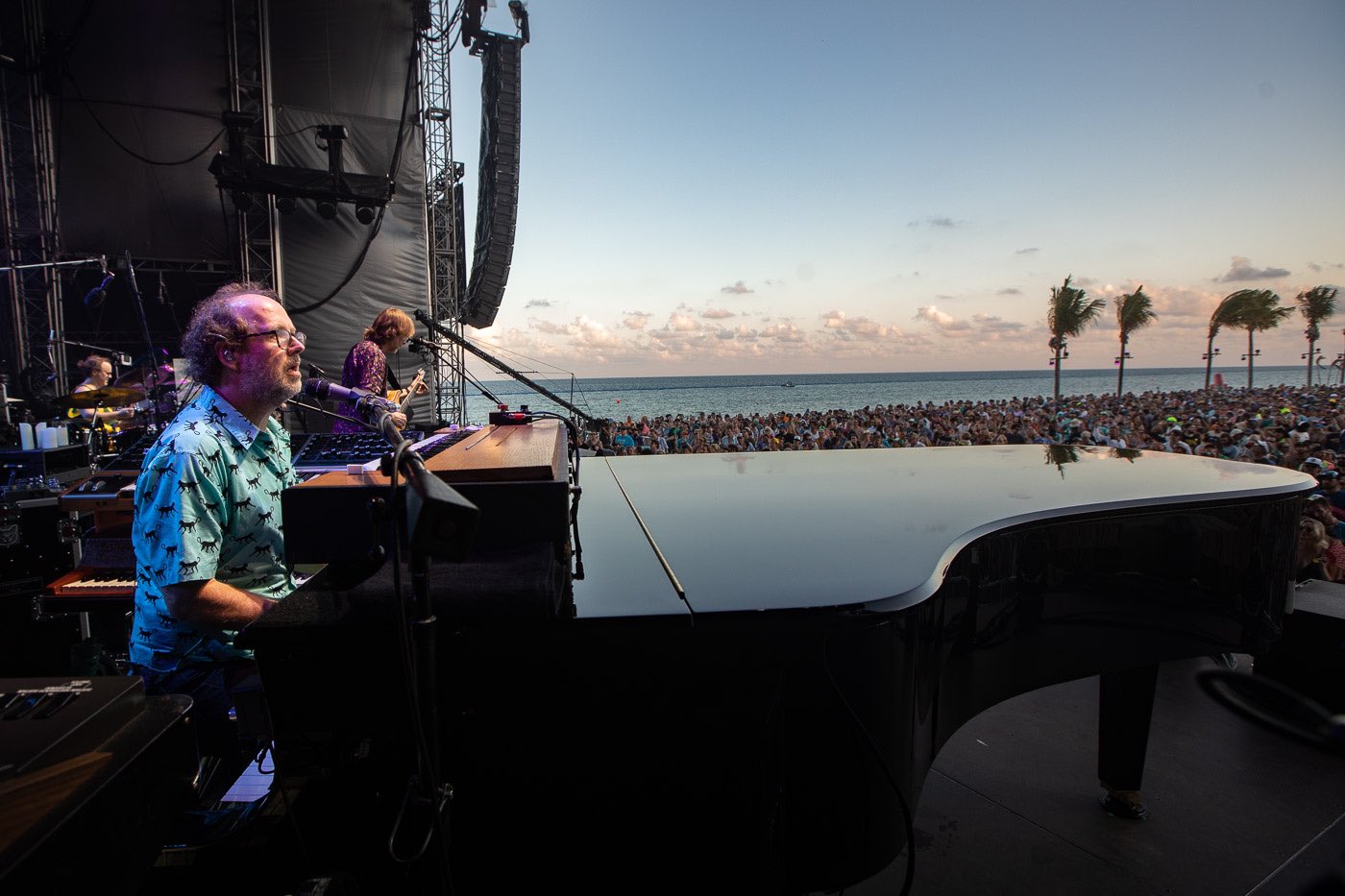 The early start time (5:30 ticket time) means we have even less time to lounge about before the show, but we still manage to swim in the ocean, eat some delicious fajitas, and even sling some Nice Shades. We retreat to the room for a quick shower and to lose the swim trunks before the show.
We enter the venue about 4:30 and find our friends at the Tiki Bar. A couple Mai Tais later, we hit the beach to find a spot. We drift toward Mike side and find a sweet patch of sand between the first and second palm trees, just at the top of the beach - an ideal location for spontaneous ocean dips, should the moment arise. There's something pretty cool about telling your posse to meet you "at the first palm tree, by the ocean."
Without lights to go down, the band arrives, suddenly, on stage at 5:37 - significantly earlier than the typical 20-40 minute delay we are accustomed to. A friend had speculated that the early show was to prevent fans from missing their flights the next morning, but maybe it's because the band is as tired as we are. Maybe the hot tubs in their rooms are even choicer than the ones in ours. Maybe so, maybe not.
My lovely fiancée, @EstherLives, had been pulling for "Brother" as the nod to the jacuzzis, but it was not to be. Instead, "Fat Man In the Bathtub" opens the show to close a 386 show gap (12/30/2010). While rife with flubs, it is certainly a welcome surprise. I've been craving more Waiting For Columbus bust outs, and we've now gotten one at each of the last 3 Mexico runs ("Willin'" in 2020 and "Spanish Moon" in 2019). Page's leads are delightful and include teases of "Linus & Lucy", helping set the stage for a playful evening.
"Mike's Song" lands in the 2-spot, and delivers some well-played rock n' roll, but never really takes off into deep space. "I Am Hydrogen" follows, and after some initial struggling to find the proper key, turns into a beautiful rendition, growing in emotion and energy before transitioning to the requisite "Weekapaug Groove". This is the first highlight of the night, and is definitely worth your time. Mike digs in early, laying the groundwork for a high-octane funk groove. Fishman continues to vie for MVP with his rhythmic genius, while Page and Trey whimsically flutter back and forth in perfect harmony. After "Paug," Trey quotes The Silence of the Lambs..."it puts the lotion on its skin or else it gets the hose again!" Likely a reference to some sunburned fan, but a creepy quote nonetheless. Perhaps some darkness is in store!
"46 Days" follows, and immediately turns up the heat. This has been a first set powerhouse lately, (8/28/21, 10/16/21, 10/28/21) and this version is no exception. Almost before the vocals end, Trey seems poised for greatness. He masterfully leads the band into some dark and crunchy grooves in a jam reminiscent of a faster "No Quarter". Fishman holds down the backbone and steers the band towards a glorious peak.
"Rift" comes next and delivers a standard version, not too rusty but not too memorable. "If I Could' arrives as the first ballad of the evening, and it's beautifully played, climaxing as the fading rays of daylight allow Kuroda to begin to open up his toybox. "My Friend, My Friend" follows and guides us into the night, into the darkness, into the evil Phish.
"Clear Your Mind" arrives as the first Sci-Fi Soldiers song of the evening, Holy Blankenstein, and only the second of the weekend. I enjoyed the 2021 Halloween set, but found the songs to be less memorable and less fun than the Kasvot Växt set from 2018. Part of that was certainly the set and setting, as the MGM Grand last year was dangerously overcrowded and unbearably hot. Needless to say, the beach is neither crowded nor hot, and is a much more pleasant place to be. Just like "The Howling" on 02/24/22, "Clear Your Mind" feels more at home outside of the Halloween set.
Next, "Split Open And Melt" brings us back into the land of evil Phish. This version wastes no time finding its legs -- melting into a swampy jam anchored by Mike's rocksteady bassplay. Trey explores the mid range with a murky effect before finding light and climbing into a soaring solo. Page maintains his status as chairman of the boards, switching seamlessly between the grand, the Rhodes, and the Hammond, creating an ethereal minor soundscape. The journey continues through the darkness, exploring and searching, with the whole band locked into each other.
Eventually they unmelt the "Melt", but not before leaving melted spunions in their wake.
After a jam of such magnitude, it must be the set closer, but nope! They're not done yet! "Suzy Greenberg" lands in the closing slot and brings the goods. Page is on a mission from god and his mastery of the organ is proof. The dance party gets turned up to 11 as the crowd roars their approval! Fishman's excitement and joy is evident in his vocal fills - "It looks like a lot of fun to swim in the ocean!" He's right. It is. "Sometimes I just don't know what to say!" Same page, Fish, same page.
After nearly 90 minutes, setbreak is a welcome event, and a thousand barefoot children head for the restrooms, the bar, and the fresh churros. Our friends depart to do some splashing in the sea, and we relocate fifteen feet to our right to boogie with another group of friends. If there's one thing that's plentiful in Mexico, it's friends. And tacos. Friends and tacos.
Setbreak is short, and it's clear the band is chomping at the bit to get back on the stage. "No Men In No Man's Land" leads the way and is a fast, rocking version. Trey take the reins and steers the ship into blissful glory-hose territory. Displaying his prowess as an axe master, he shreds the six-string like mozzarella. "NMINML" makes way for "Everything's Right", and while this version is fairly lengthy, I never really found the band to find their zone. There's a nice funk section and a decent build but it never really gels or blasts off.
Enter "Prince Caspian" in the 3 hole…a questionable choice given the already low energy of the preceding "Everything's Right". While the band has done their best to erase the moniker of "Fuckerpants" in recent years (7/31/21, 8/4/17, 7/19/17), this version is murky and uninspired, perhaps reflecting the fatigue that sets in after a week in the sun. "Beneath A Sea Of Stars Part 1" follows and continues the trend of mellow tunes, but this is an absolute gem. Mike and Fish lay down some ethereal chillness on the low end while Page tickles the ivories in a ballet with Trey, whose leads are inspired and intentional, creating a jam that's somewhere between a "Dark Star" and Pink Floyd. Bliss hose at its finest.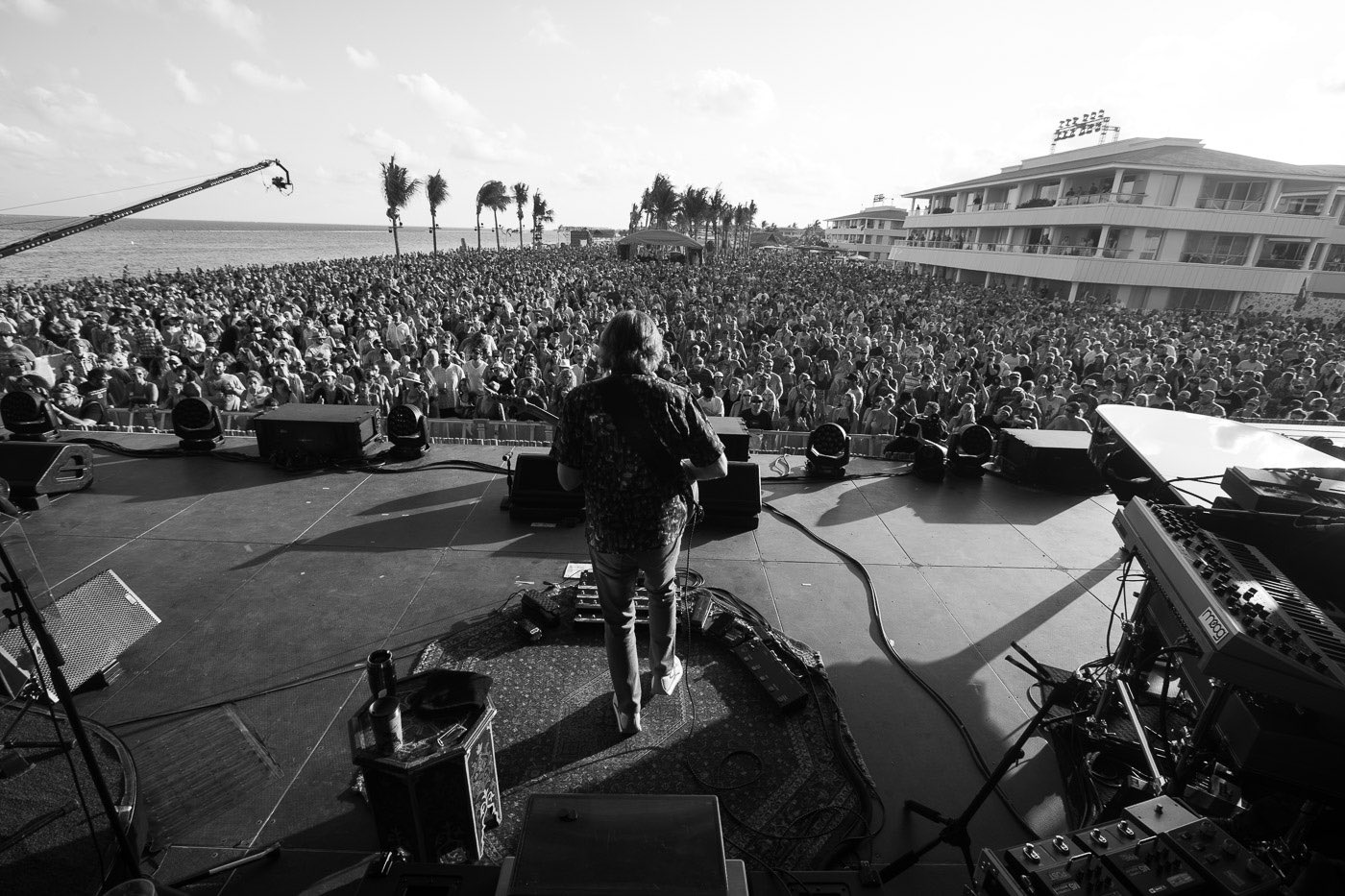 The opening notes of "Golden Age" (TV On The Radio) flow gently in and the crowd finds some energy reserves to start dancing again. This version launches immediately into a funky groove, showing the band still has some gas left in the tank. Page and Trey trade leads, driving the jam into a ripping dance party. After nearly 15 minutes of high-octane major funk, Mike steers the jam into a minor key and the rest of the band follows along, seamlessly - landing in a wonderful dark space.
"Lonely Trip" comes next as a final breather for the set. This song grows on me every time I hear it; it's a lovely ballad with an uplifting message. A standard-beautiful version leads into "Harry Hood", which closes out the 2nd set. This is an outstanding outing for the song, but "Hood" is one of those songs that's pretty fantastic every single time. A patient build, quintessential Fishman backbone, and soaring peaks, this "Hood" has it all.
"A Life Beyond A Dream" takes the first encore slot - predictable and one of the cheesiest songs Trey's written lately - but nevertheless, a well-played version. "First Tube" comes next to close out the weekend, and I'm thrilled, both because I love the song and because it means I dodged a bullet on other potential show closers.
This show had a hard time finding its flow, but, in hindsight, its two consecutive 90-minute sets, chock-full of goodies, so it's no surprise that there are lulls. While certainly not my favorite show of the run, it is not without some awesome highlights, which I think reflects where the band is right now. It doesn't really matter what song they're coming out of or going into, they're playing whatever moves them, and that brings me pure joy. Anything can become a jam vehicle, and it turns out anything can turn into a Rolling Stones cover.

Somehow seeing Phish on the beach in Mexico is even better than it sounds - I kept thinking of my friends who would love it here, and then I realized that all my friends would love it here. I highly recommend everyone add it to their bucket list, there's nothing like it.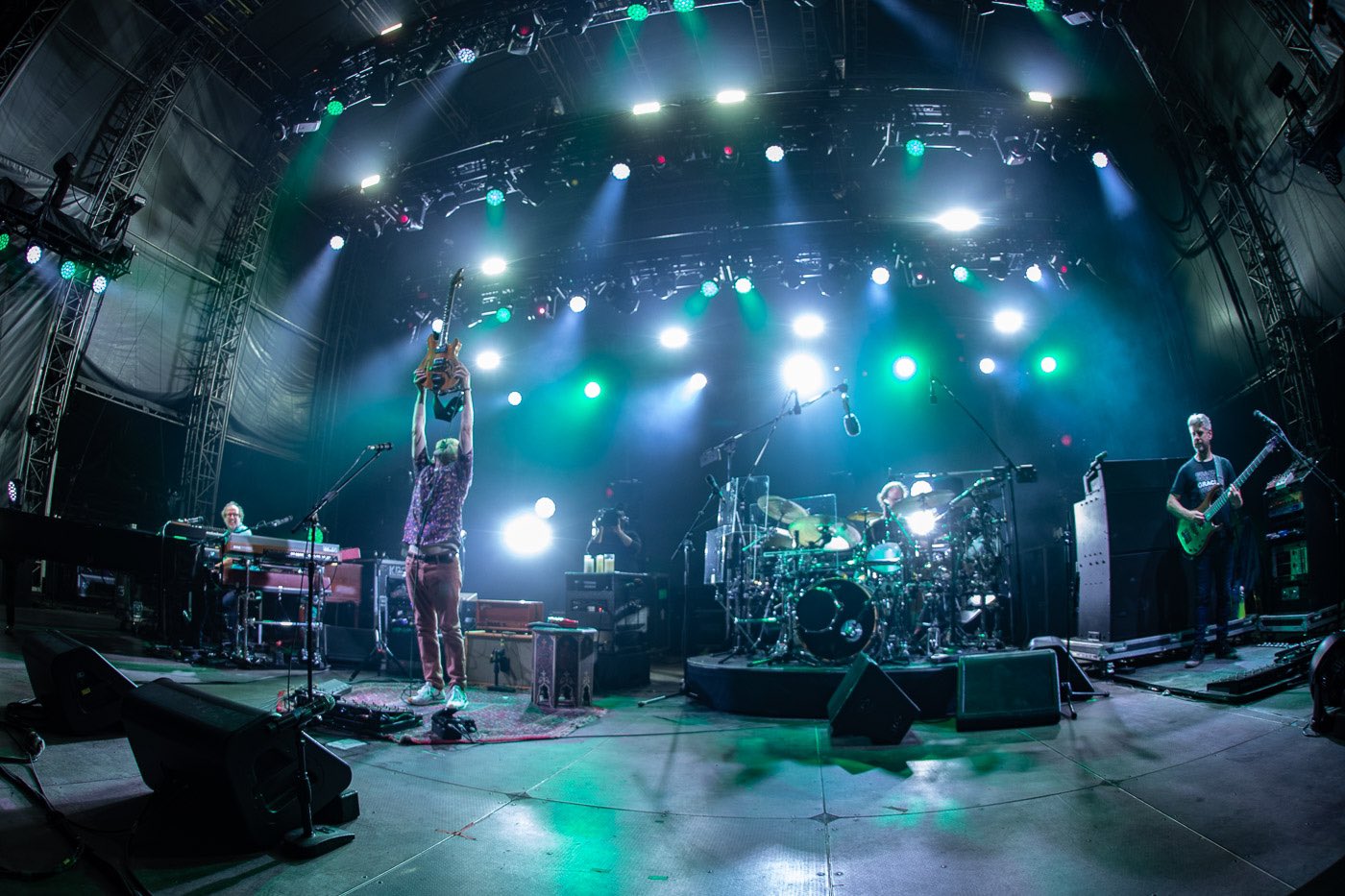 If you liked this blog post, one way you could "like" it is to make a donation to The Mockingbird Foundation, the sponsor of Phish.net. Support music education for children, and you just might change the world.