[Phish.net welcomes back guest recapper Oliver Pierson for writing this recap. -Ed.]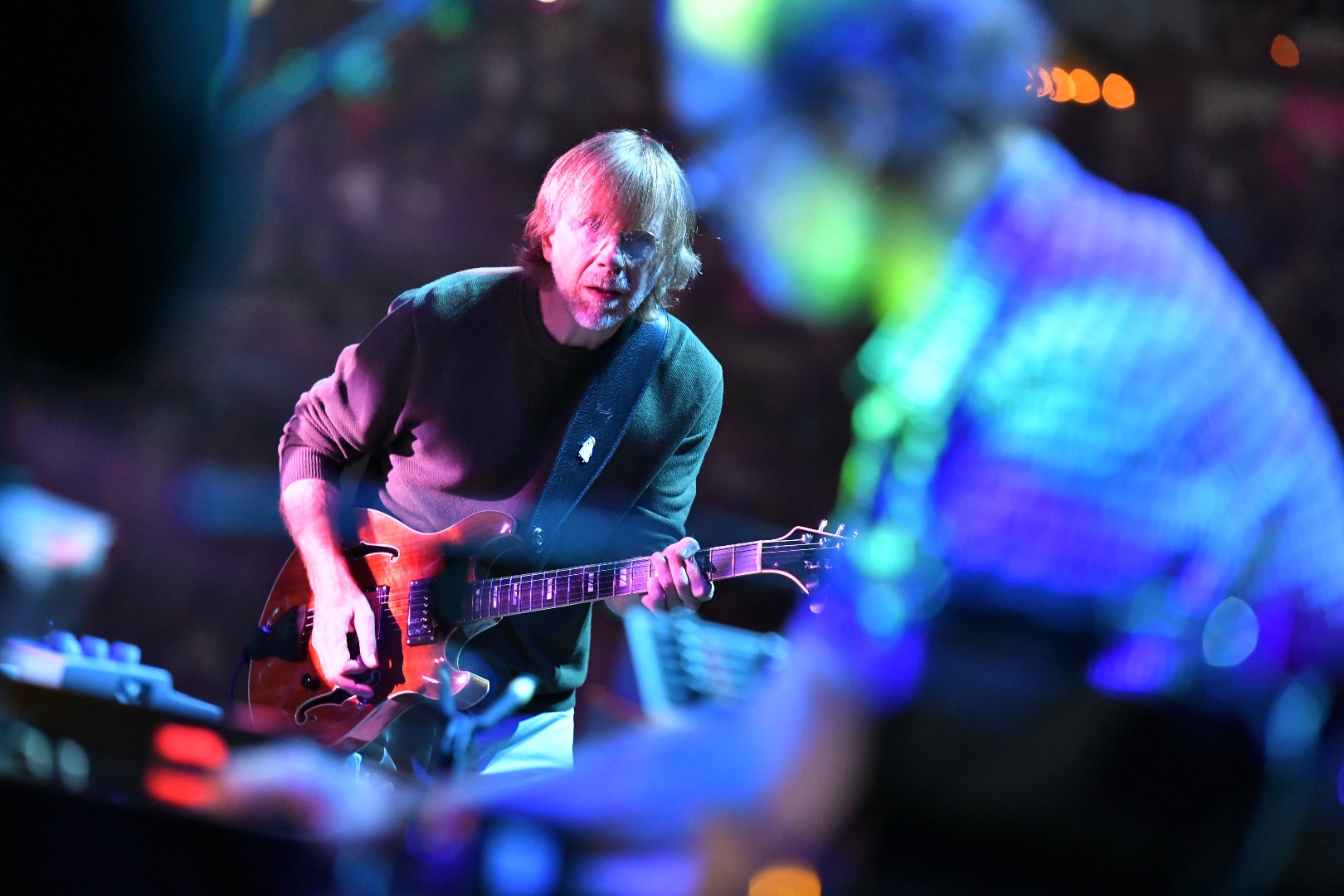 Rolling into the Saturday show at the Gorge after a beautiful day in Central Washington, I felt all kinds of excitement. Night one's patient jamming, bust-outs, and the best ever version of "Mull" were behind us, and seemed plausible that the band had now shaken off what little rust may have built up between Atlantic City and the Gorge and was ready to come out swinging. I'm a Vermonter and this Gorge run is my first west coast Phish, but I had been intrigued about seeing the band play in the pacific northwest since I first listened to the 10/13/1991 Olympia Surf Club show where Trey made a point in the Gamehendge narration at the band's second show in Washington to comment twice about the beauty of the surroundings, and the sense of awe that I always feel out here is noticeable in his voice. Coming over that last rise at the venue before Friday night's show, and reaching the spot where you first see the stage, the Columbia river, and the eroded canyon walls in the background provoked an exclamatory "wow" from me, and the guy walking next to me said "is this your first time here?" Yes, and I was stoked. Back to Saturday, our crew settled in at the bottom of the terraces Mike-side, waited for the sun to set over the ridge, and made our list of songs with a high show gap that we hoped to hear. And besides being a spectacular venue, I was impressed by the sheer number of vendors inside the venue, perhaps because the beer lines at Hershey two weeks ago required a 45-minute investment. Hello local craft beer tent with great selections and no line!
For the second night in a row, the band came on a few minutes before 8 PM, and Saturday night was on. The opening notes of "Carini" rang out, tortillas were flying everywhere down in the pit, and energy levels for all involved skyrocketed. The band quickly moved into a major key jam with Trey using that low-register crunchy filter and Page adding texture from the piano and Mike, who came through very clearly in the mix all night, banging away to propel the jam forward. As this long show opener hit its peak with ascending riffs and some serious sustain from Trey, the more mellow vibe from Friday night's show seemed a distant memory. As the song proceeded, I couldn't help but repurpose the lyrics a bit to "this review that I'm writing is a piece of shit, I'll be glad to finish it." Kuroda quickly also put some of his more impressive new light effects on display, and as the song slowed down into a page-led outro, it felt like everyone had their A-game on.
The fast high-hat beat of "Maze" kicked in, a great 1-2 punch, and we got a pretty restrained first solo from Trey followed by Page's wash of different sounds with Trey dancing and egging him on and then playing along to add some tense chords to the mix and Fishman and Mike locked in to provide a solid foundation. Trey's second solo got the crowd roaring, and the band rolled into "46 Days" in the three-spot to keep the high-energy vibe moving. After the short, composed section, Page and Trey linked up in the early part of the jam for some nice interplay, with Fishman hitting the wood block for some cool effects. The jam built slowly, transitioned briefly into a darker minor-key space, and through some "laser-gun trey" effects, returned to the light, with Trey finishing off the jam with the low register playing using a synth-like filter that we've been hearing a lot of this tour. A fun version and a rocking opening trio of songs.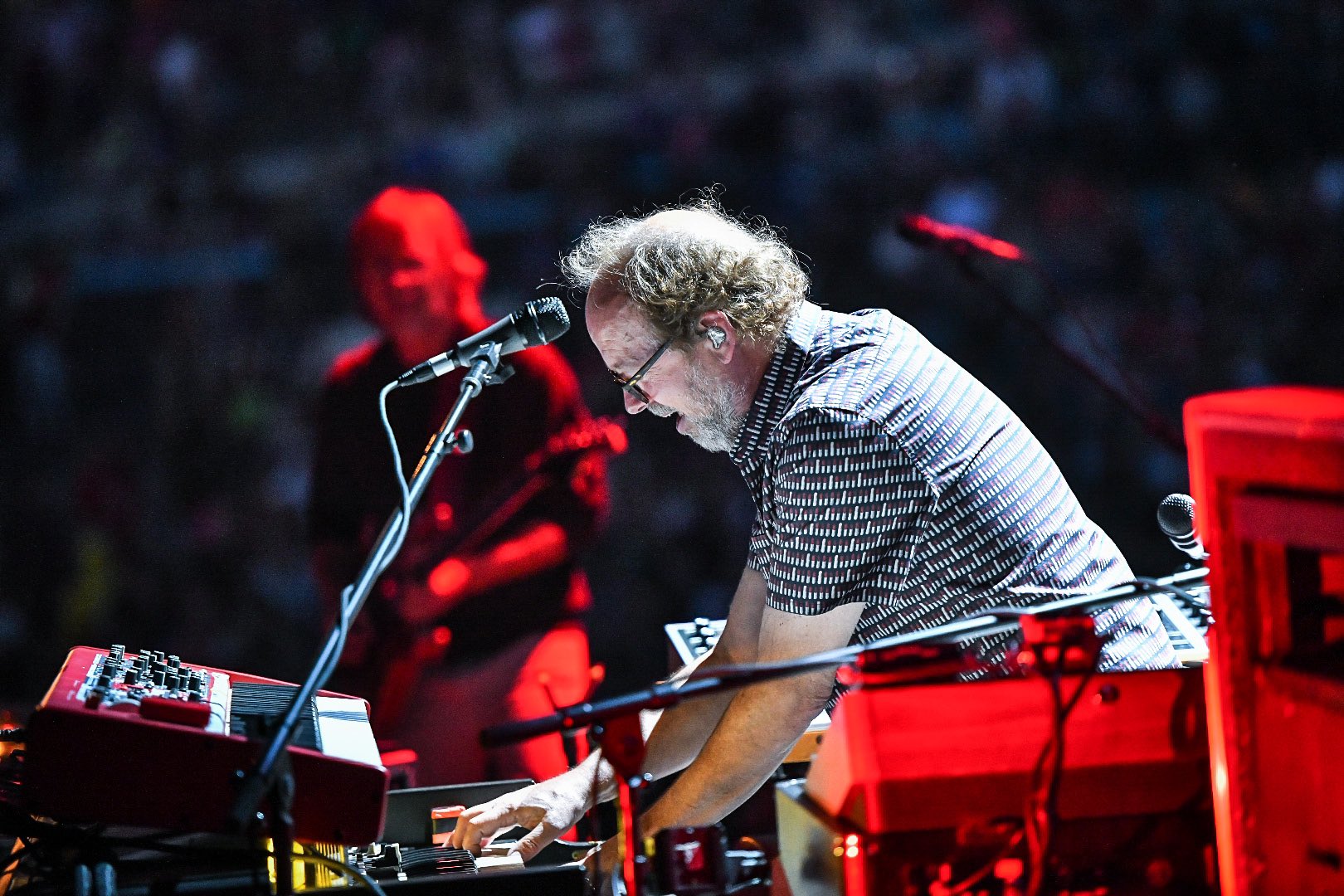 Perhaps in recognition of the very appreciative crowd, a.k.a. the frenzied congregation, the opening notes of "Esther" rang out and hundreds of fist bumps and high-fives ensued. The band nailed the first version of "Esther" since the Baker's Dozen, with Trey using the mu-tron filter sparsely and Fishman keeping things tight through the various transitions. Wonderful to hear this classic as the band continued the theme from Friday's show of weaving some bust-outs in, and I was reminded of the "angry mob of joggers" costume I wore to a previous Halloween show and also enjoyed looking out over the Columbia River and imaging the protagonist's demise. "555" followed, with Mike nearly snarling through some of the lyrics and Page quickly hopping over to the organ to bring the short jam coming out of this song into a swampier and dissonant place. So far, a super solid start to the show, and the mellow vibe from Friday had been replaced with a crisper rocking sound. Yes!
"Divided Sky" came along next, which was fitting as we had reached the point in the evening where the sky was still slightly illuminated by the setting sun, but the canyon walls had grown dark, creating a pronounced line along the western horizon dividing dark and light. Hearing the familiar early melodies of "Divided Sky" at The Gorge felt cathartic and cleansing to me, and a welcome respite from the general craziness of 2021. As the band reached the pause, the venue erupted with glow sticks and Trey seemed to be soaking it all in for a few extra seconds before hitting that long note to get things going again. The band sounded sharp for the rest of the song, and we were treated to some inspired playing, although the jam section at the end stayed pretty much within box. "Swept Away" & "Steep" gave us another bust-out, with Trey and Page linking up again early in the jam, before a slow and soaring guitar-led melody closed this combo out. Just a beautiful section of what was shaping up to be an amazing first set.
After Page and Trey had led off with their solo opening notes for "Esther" and "Divided" respectively to great effect and response from the crowd, seems like Mike may have wanted to get in the action and launched into the opening notes to "Boogie On Reggae Women," and our first taste of the upbeat funk groove that this band does so well. Trey spaced on the opening lyrics, which seemed understandable given how long it's been since they played this one, laughed it off, and we got a short murky jam where Trey returned to his low-register notes and worked with Mike to create a thick sound (I wrote "amorphous goo" in my notes) that felt a bit short of "Boogie's" potential but a welcome bust out all the same. "Say It To Me S.A.N.T.O.S." closed out the first set, with Trey shifting some of the octaves up a register and the warm tone of his new guitar was on full display in this one. An hour and twenty minute first set that had something for everyone, more blissful than swampy, and the combo of "Boogie On" and "S.A.N.T.O.S." to close it out was a real treat. I must add a note about how awesome Kuroda's new lights are, and how cool it is that he placed the new LED light bars on the lights cans themselves, somehow turning the rigging supporting the lights into part of the show.
We didn't budge from our perch on the terraces during set break, and after only about twenty minutes the band came back out (I love these short set breaks), with the donuts on Fishman's dress glowing brightly. He and Mike dropped into the tight groove of "Sand," which was on my shortlist for the evening, and we were off into the second frame. Trey and Page quickly moved the jam to an early mini-peak, after which Trey found a nice riff that shifted the sound into another major-key blissful jam. Some strong full-band improvisation ensued, and it occurred to me that from where we were sitting, Page was a bit low in the mix and perhaps as a result seemed to be taking a bit of a backseat to the other band members so far this evening. This fast-paced jam turned a number of corners, ending with more use of the mu-tron filter by Trey, before dissolving into fuzz. Mike's bass rumbled, Mike and Trey made eye contact, quick segue, and an apropos "Down with Disease" got going. The composed section was well played and the jam got off to a blistering start with some low peaks that built to a long sustained noted by Trey that had the crowd, which seemed a bit larger in number than Friday, absolutely rocking. Fishman took over and propelled this jam forward at a slightly quicker tempo. Towards the end of this jam and after a second set of peaks, Trey found this pretty and melodic 8-note descending riff, and Kuroda matched him with green led lights moving in the same exact tempo. Incredible A/V spectacle, composed on the fly, for us to enjoy.
Another super smooth segue followed into "Prince Caspian," giving us all a bit of a breather, but only momentarily as Trey and Mike quickly linked up for a gorgeous short jam that seemed good enough to have been pre-rehearsed…only it wasn't! The mellow vibe continued with the third creative segue in a row into "Mountains In The Mist." I love this tune, especially the 7/10/1999 version that follows an amazing "Tweezer", and this version didn't disappoint with impressive vocal harmonies, reminding me of a general strong vocal effort from the and on this tour. This combo of songs in the middle of the second set dropped the energy down a bit, but hearing Trey sing about how the awakened beast is on the road again gave me hope for the fourth quarter…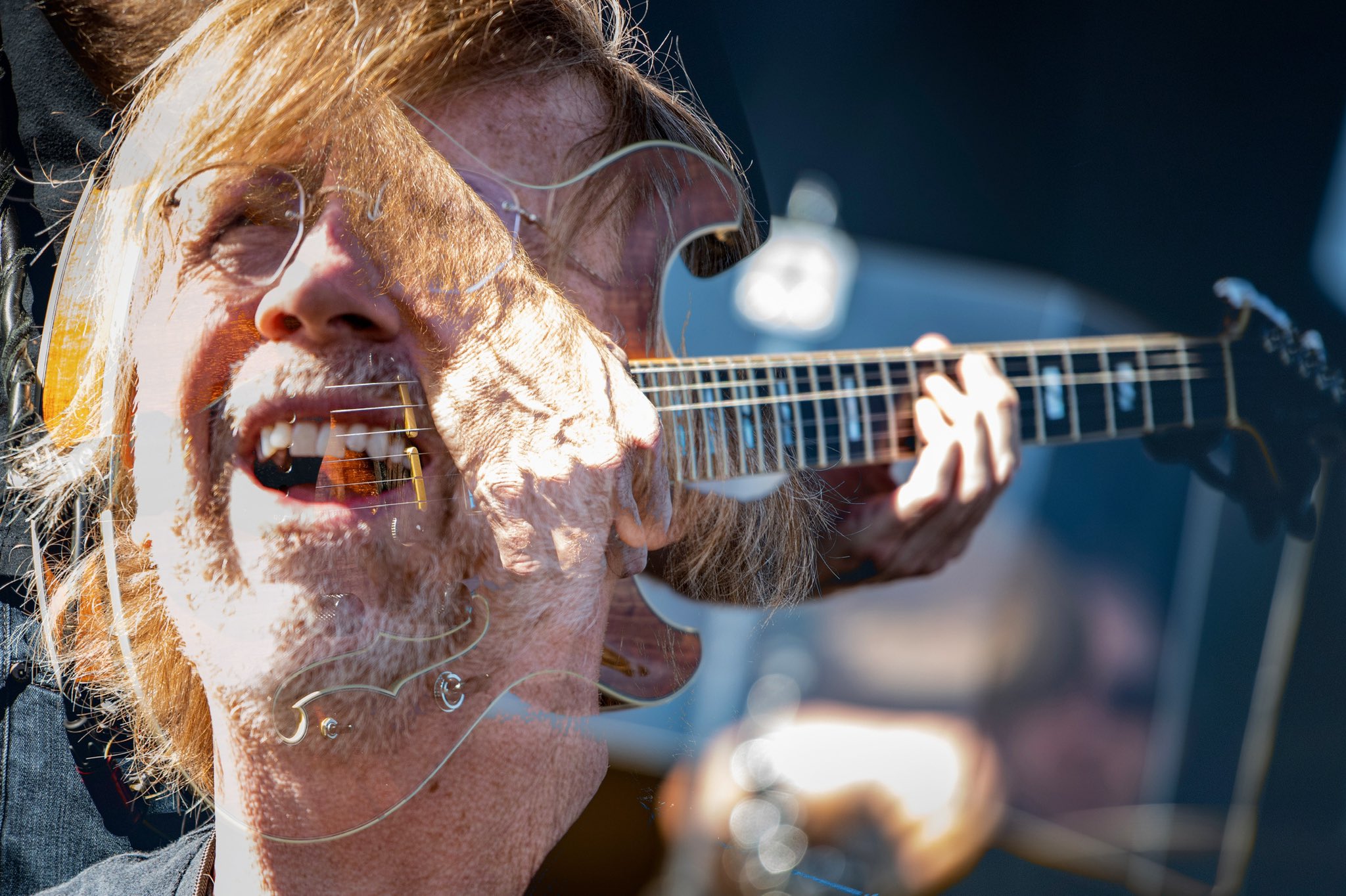 A phenomenal "Scents and Subtle Sounds" (intro and main sections back together again) began and quickly became the highlight of the show IMHO. Perhaps inspired by the high winds of Friday night or just a desire to reunite these two pieces after their recent separation in Atlantic City, the band launched into an inventive tour-de-force with many quick micro-jam sections that somehow built into a cohesive 17-minute musical journey. A patient build from Page on the synth led to some low-register honking sounds from Trey (but in a good way), playing over a Mike's fluid and range-defying bass line. Kuroda tilted the lights to the sky at one point and it seemed like the band was using the music to summon something, so that we could all be startled by the things we might find. In any event, Fishman summoned an energetic rhythm to build things up to a satisfying peak, and Page led the outro to wrap up a stellar version of this tune.
"Bug" and "Possum" closed out set 2 with a great one two punch, helping us to remember to lighten up a bit (it doesn't matter!) about things that can go wrong (your end is the road!). The strobes came out in force and being surrounded by thousands of ecstatic fans as possum raged on was just awesome. A curious but fun encore of "Bittersweet Motel," "Heavy Things," and "About to Run" closed out what was overall a very strong, unpredictable, and passionately played show by the Phish from Vermont. Indeed, tons of smiles in the crowd about what we all just witnessed, and as I walked up the hill and off into the night, I felt lucky to be seeing such great live music at a sweet venue in these unusual times, gratitude to be part of this respectful and appreciative tribe, and psyched for night 3!
If you liked this blog post, one way you could "like" it is to make a donation to The Mockingbird Foundation, the sponsor of Phish.net. Support music education for children, and you just might change the world.