[phish.net welcomes and thanks guest writer, Jeremy Willinger, for the recap of 12/30/18 - ed]
At the intersection of two Phish-y tropes, the band delivered a show for the (golden) ages. The knowledge of never missing a Sunday show, with the many standout shows played on 12/30 in past years (2016, just to name one), was a recipe that made the stars align.
Although, whereas the night prior featured a more cohesive flow with beautiful segues and a front-to-back tightness throughout the setlist, with little-to-no-breaks in between songs for banter or debate, 12/30 became its polar opposite in the best possible way, allowing the band to tap into their improvisational, devil-may-care ethos that keeps all of us coming back. Importantly, 12/29 was also the scene of an animated Trey who bounced around the stage like he was a pinball at the bumpers. His infectious enthusiasm carried over and was palpable throughout YEMSG.
The lights went down and from the opening notes of mini-bustout 'Alumni Blues,' a true Phish original from 1985, the crowd could sense we were taking the first step down what would be a unique, meandering path with past and present touchstones to who the band has become musically and what they mean to their dedicated fanbase. Sharp playing defined this 'Alumni Blues > Letter to Jimmy Page,' as they reassured everyone they came to party.
An alumni becomes a veteran as the band breaks out 'Mike's Song,' taking its repeated 12/30 slot having been played in 2017, 2015 and 2013. 2018's installment peaked with a raging Kuroda dousing the crowd in red lights as the jam takes its more sinister turn. This was a standard high-energy 'Mike's' that set the stage for one of the biggest surprises of the evening.
The opening notes would only be familiar to those steeped in Phishtory or who heard it during Trey's recent solo Fall tour. After 872 shows and 23 years, 'Glide II' was played for only the third time ever. The breezy tune made everyone's expectations "Flip Flip Flip" and was a true treat with beautiful harmonies by Trey and Page.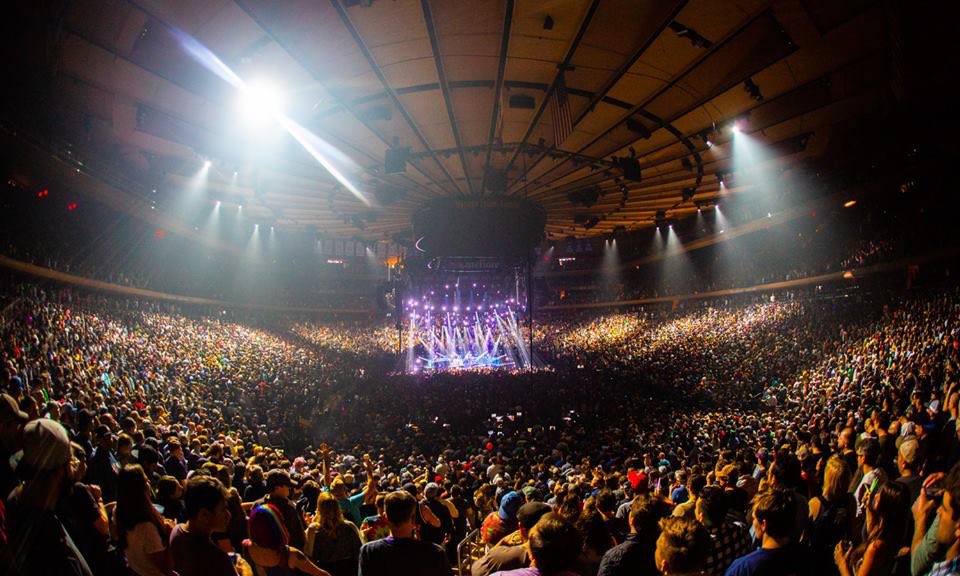 This moved into a fun 'Weekapaug,' with a driving, upbeat jam that saw Page taking the lead until Trey came in with a heavy guitar line that Mike and Page picked up to turn more electronic sounding. Fishman and Page then took the helm with little stop-start segment that left Trey grinning ear to ear. The jam comes back to the 'Weekapaug' line around 11 minutes in and smooths into a tease that transitions to a full blown experience.
What is next is like throwing a water balloon into a kindergarten classroom: pure pandemonium. The opening notes to 'Crosseyed and Painless!' There is a knowing glance throughout the rows as everyone silently, or otherwise, acknowledges how awesome this will be. Its first set placement means it will not likely be a 20-minute monster but that is of little matter as the band settles into a driven, almost island-tinged metal-like jam with Fishman's strong drumming and singing carrying them through.
At this point, both the band and the audience needed a cool down. Trey swaps out the Languedoc for an acoustic and starts strumming. If you were already an A-level student in Phish-dom, recognizing 'Bliss' qualifies you for extra credit. 'Bliss' has never been performed live- and while it is featured on Billy Breathes (my favorite album) it still took me a moment to understand what I was hearing. The 1:31 song melted into a beautiful and harmonious 'Billy Breathes' which transitioned to a bopping, roughly 8 minute, 'No Men In No Man's Land.'
Trey makes a slide whistle gesture to Mike and Fish and the funk breaks out for the first time with 'Tube.' At this point, an asteroid could crash through the roof of MSG and I'd die happy.
The middle part of 'Tube' was an extended opportunity to showcase a blocky, tetris-like jam featuring short, slightly staccato bursts. The jam circles around to 'Weekapaug' (Weekapaug Twoo-ve?) before melding back into 'Tube.' The reliable, crowd-pleasing 'More' concludes the very distinctly Phish-y first set.
The lights drop back down at 10:10pm as the band takes the stage, sans white outfits, for the other Kasvot Vaxt song still in anticipation from the Vegas Halloween Run, 'Cool Amber and Mercury.' You can tell the band enjoys these songs and they seem like permanent additions to their repertoire. This 'Cool Amber' also saw Page's integration of their "Faceplant Into Rock" line throughout. A reassurance from Phish that 'Everything's Right' came next and featured a five-note foundation that launched a blissful, spacy jam led by Page and Trey.
If Trey had sharpened his chops on 'Glide II' during his recent tour, he perfected them for 'Plasma' (also the title of his first live album) which was played for only the seventh time with Phish (and broke the tie between first and second set placement). This 'Plasma' was thick with drippy funk and a bass driven undertone that pushed the song deeply, quickly.
If 'Plasma' was goopy, 'Light' is a good contrast and this version did not disappoint. The reliable jam vehicle has made repeated 12/30 appearances including 2016 and 2017, and contained a fun and loopy beginning section to the improvisational segment that stayed in the ionosphere with triumphant guitar work by Trey.
The band takes a quick break by 'Wading in the Velvet Sea' and then makes a hard turn out of left phield to 'Split Open and Melt' (faces) to close the set. That the band chose a complicated song like 'SOAM' to wrap up demonstrates their comfort and ease at this stage in the run.
While everyone in the audience is left to ponder the six song second set that has thoroughly demonstrated their range and magic, Phish still has at least four aces up their collective sleeve.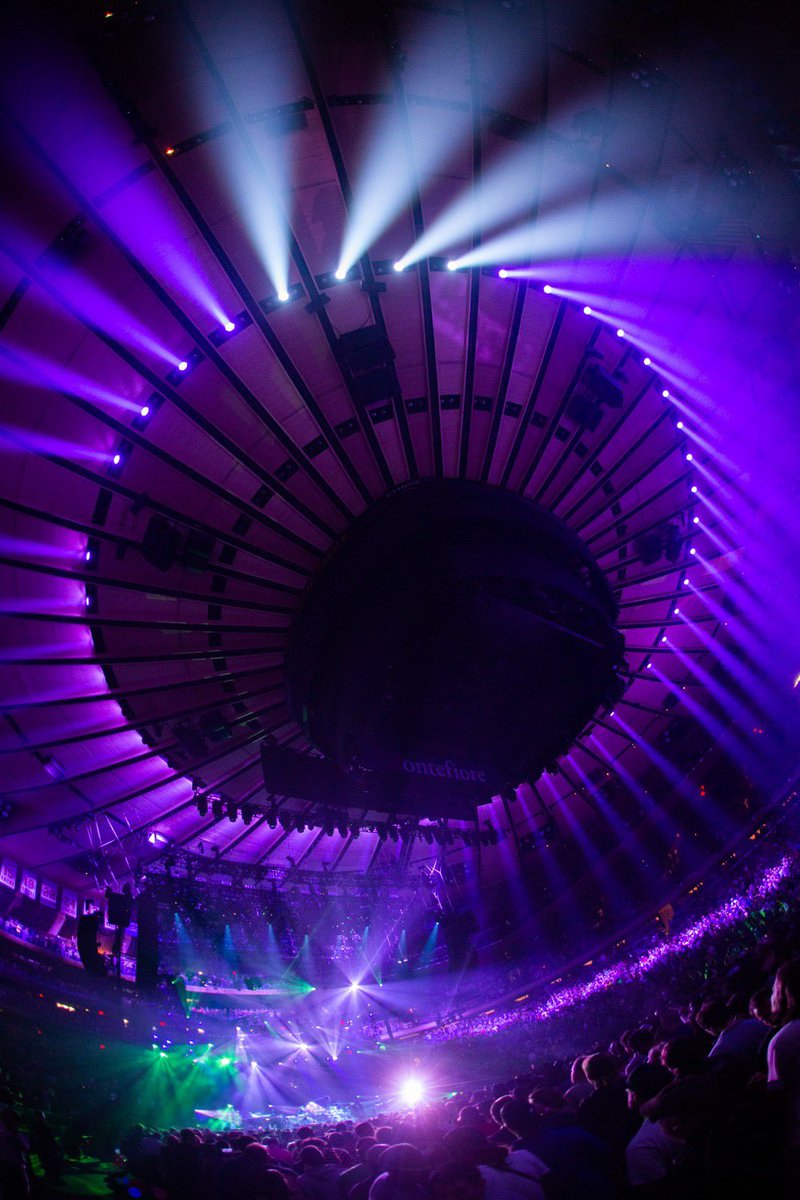 What elevates this show from fantastic to unbelievable is seen in the FOUR SONG encore that spans bluegrass to rock, covers to originals. Trey's guitar work the entire evening was beyond, and the energy is palpable as the band makes its way through 'Funky Bitch,' 'Wilson,' 'Rocky Top,' and 'Cavern.' With the reminder to "Take Care of Your Shoes" our dancing feet carried us out into the night air.
And now for a small editorial note: No matter your preferences and perspective, it has been a tumultuous year politically and socially. I believe Phish, either consciously or otherwise, delivered an important message this evening: "Everything Right, so Just Hold Tight." Despite all of the challenges in life, no matter the setbacks we witness, it is paramount that we realize we still have the capacity and desire "in a world gone mad" to "vibrate with love and light." That, to quote Alumni Blues, "He's alright" and therefore so are we. If "there must be something more than this," it is up to all of us to define what that means individually. Phish will help us do just that. May it be a 2019 of discovery, peace, and musical wonder.
If you liked this blog post, one way you could "like" it is to make a donation to The Mockingbird Foundation, the sponsor of Phish.net. Support music education for children, and you just might change the world.