Welcome to the 250th edition of Phish.Net's Mystery Jam Monday! In order to celebrate this momentous occasion, and to cap off a yearlong celebration of the release of the third edition of The Phish Companion, we have put together the greatest prize in MJM history. The winner will not only receive the usual MP3 download courtesy of our friends at LivePhish.com / Nugs.Net, but as a thank you for enduring the pop-up ads this year, the winner of MJM250 will also receive a copy of The Phish Companion and the complete set of eight (!) TPC3 limited edition prints from The Mockingbird Foundation!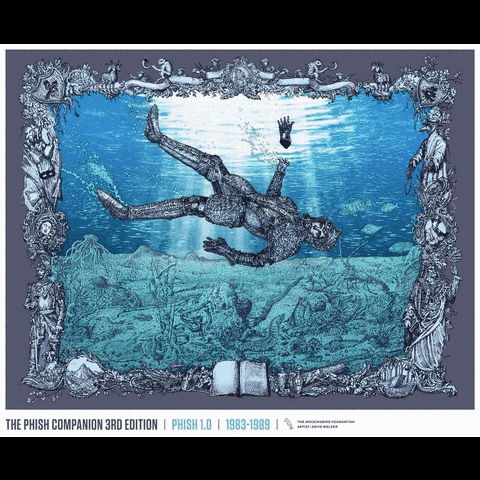 And just because we're feeling the holiday spirit, starting Wednesday, November 30th, anyone can get $5 off the book using the code MYSTERY at phishcompanion.com. This offer is good through Sunday, December 4th, at 11:59 PM PT / Monday, December 5th, at 2:59 AM ET, as long as there are still books in stock – the already limited supply is dwindling rapidly during the holiday season, so don't hold off any longer!
Regarding the Mystery Jam itself, as with MJM #100, #150, and #200, this megaclip has many songs in it that you'll need to identify. Therefore, we will not be using the comments to guess this week. Instead, send an email with your guesses (for all of the clips) along with your .net username to phish.net.mjm250@gmail.com. If you have any questions, you can post them in the comments section. Do not post guesses in the comments section, or your comment will be deleted and you'll be subject to banning from future MJM participation. Also, no "trading" of answers is allowed: figure this out on your own. The first person to correctly identify the song and the date of each of the ELEVEN jams will be the winner. These eleven jams are connected by a theme. Each person gets one guess by email – if no one guesses correctly, I will post a hint on Wednesday, after which each person gets one more guess before 9 PM PT / midnight ET on Saturday, December 3rd. In the event that no one correctly identifies all of the Mystery Jams, the winner will be selected by the Blog at its sole discretion – partial credit can take home the prize, so don't be shy. Good luck!
Note: For those thinking about not even trying until the hint drops, you may want to reconsider that strategy – the MJM Emeriti are eligible to win the prize this week too. And while this week's puzzle may seem daunting, it's completely solvable, so get to it!
Hint: This is what the hint was going to be...
Answer: But instead, MJM Emeritus, MJM230 host, and MJM Championship Edition winner, @ghostboogie, crushed the competition this week and takes home his ninth overall win and all ten prizes for MJM250: a LivePhish code, a copy of TPC3, and all 8 Limited Edition TCP3 prints. Don't say I didn't warn you! After recognizing two of the clips immediately, and following a couple hunches to identify another pair quickly, he reasoned that this MJM might spell something. Once he figured out the theme, he had all but one of the clips four hours into the contest... after searching through hundreds of Tweezers and Twists and Themes and other songs-that-start-with-"T", he found the last clip yesterday and took home the prize before the hint even dropped – @ghostboogie was definitely Takin' Care of Business, and he has most certainly READ THE BOOK:
Runaway Jim - 12/31/03
Emotional Rescue - 11/21/97
AC/DC Bag - 8/14/04
Drowned - 12/12/99
Takin' Care of Business - 10/20/13
Halley's Comet - 7/13/99
Eyes of the World - 5/3/85
Brother - 4/4/98
On the Run - 11/2/98
Olivia's Pool - 7/6/97
Kung - 7/25/03
Congratulations @ghostboogie! We'll be back next week with a quick 'n' easy single clip for MJM251 on Monday. In the meantime, don't forget about the MYSTERY coupon code you can use to save $5 on The Phish Companion – that deal ends Sunday night. By buying the book, not only are you donating to a great cause, but if you READ THE BOOK, you'll surely increase your chances at solving future MJMs. Think of it as an investment: win four MJMs and the book has paid for itself!
If you liked this blog post, one way you could "like" it is to make a donation to The Mockingbird Foundation, the sponsor of Phish.net. Support music education for children, and you just might change the world.