Hey kids, hope you enjoyed the time off since Sunday in Chicago. Last night led us back to the "Queen City" of the south. Phish has played in Charlotte fifteen times, with the recently renamed PNC Music Pavilion host to five previous Phish gigs. This shed boasts a solid track record, yielding surprise bust-outs such as "Colonel Forbin's" > "Mockingbird" and "Icculus" from 6/7/11, the glorious "Harry Hood" from 7/25/03, and the nearly 30-minute "2001" on 7/7/99. The last time Phish played here Trey made a comment that "there's just something about playing this venue." So although as a fan I try to keep expectations in check, there are certain venues where you expect great things, and Charlotte is one of them.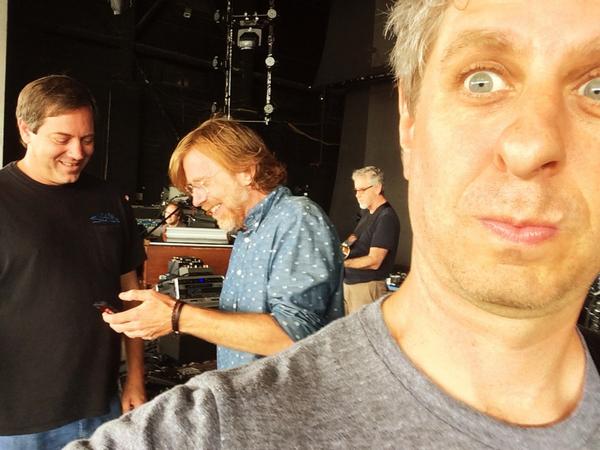 Photo by Mike Gordon – © Phish
Late in July in the south, the heat and humidity yield swamp-ass just by stepping outside. Today proved different as the temperature was in the mid 80's with tolerable relative humidity, and cloud cover to keep the sun from frying you.
As in 2011 when Phish played Charlotte, the band again opened with "Mike's Song." The energy in the room was high as all four band members looked and sounded like they were ready to take care of business. "Mike's Song" still did not contain the second jam, but was well executed and led into a solid "Back on the Train." The sandwich ended there as a super solid version of "Weekapaug" followed.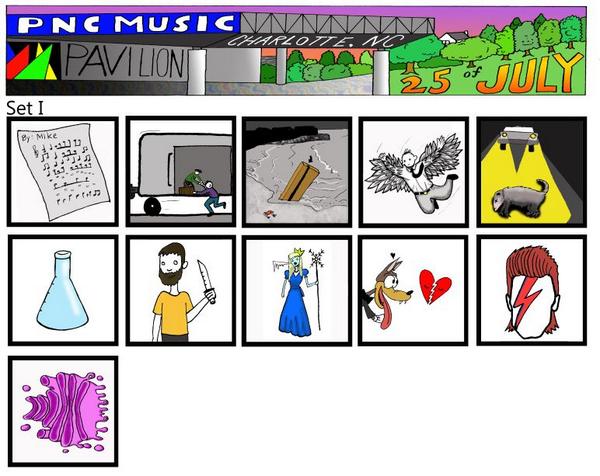 Setlist pictograms by Joseeen (available at Etsy)
One of my favorite songs from Fuego followed, "Wingsuit." The lyrics to this song ring true to my soul, "it's only you, be you cause you're the only one." Although tonight's wasn't as powerful as some of the previous versions in it's short history it was certainly played with soul. A standard great version of "Possum" spurred the crowd to begin dancing in rhythm. As the opening notes of "Tube" began I involuntarily looked at the time to see how long this version would go. The funk was deep as all four members were locked in and everyone in the audience was shaking their asses. Although this "Tube" only clocks in at 5:17, it's quite stupendous, and if you are a "Tube" fan that has been wanting for a little more, I recommend a listen.
As the beginning notes of "My Friend, My Friend" started, I looked around the venue and smiled as this first set was feeling more like a second set. When the hysterical cackles of "My Friend, My Friend" came, I wondered what would follow. Another Fuego tune was next, "Winterqueen," a song that has evolved rapidly and produces a melodic interplay between all four members. I will admit I was not a fan of this song when it debuted in Atlantic City but it was really a highlight of the set.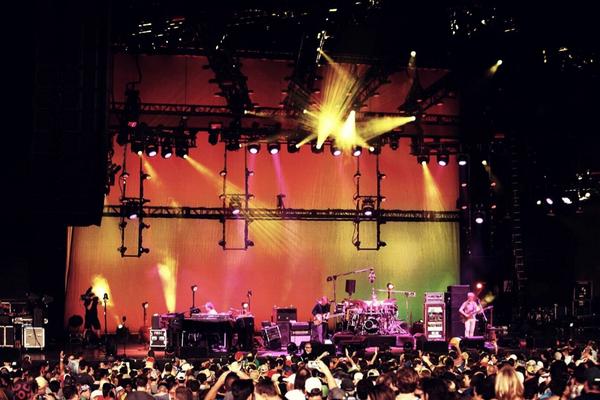 Photo © Phish – Phish From the Road
Making it's 2014 debut after a 42-show absence, Page's beautiful ballad "Beauty of a Broken Heart" followed. As Fishman began to play the opening notes of "David Bowie," my heart raced with excitement. What a great first set to see. "Bowie" has been particularly strong in the 3.0 era, and this version included a "Beauty of a Broken Heart" tease by Trey. While this version may not stand out in a ranking exercise, it was still a great "Bowie." Everyone in the venue was enjoying watching Chris Kuroda's favorite song to light up as the band raged the song that most of the audience thought was the strong set closer. Happy birthday, Chris! Phish was not done with us yet, as the first "Golgi Apparatus" of 2014 started. Unfortunately, it was evident that it was the first one in 2014, but still was a lot of fun and you could feel synergy with the band the audience.
Setbreak, whew. That set definitely had major flow, energy and engaged playing by all four members. Being a girl at a Phish show is sometimes the best thing ever, like when you go at setbreak to use the restroom and get a drink all within eight minutes. Efficiency, it rules, giving more time to see friends scattered about the venue.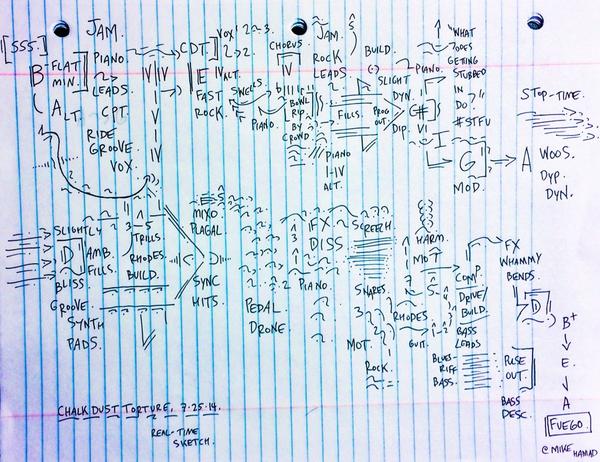 Image by Mike Hamad of Setlist Schematics
The second set began with "555." Would my dream of seeing this go type II happen? Not tonight, but it is still such an enjoyable song to see live, it just needs more room to fulfill its potential. The opening notes of my most seen song (60 times, 31%), "Chalk Dust Torture" followed. There have been some exquisite versions of "CDT" recently – Mann2 and the Randall's monster – and this version shines with Page leading the jam, complete with a spice of "woo" and was left unfinished as they kept it rolling.
True to their word – and in my opinion quite the gift – every city gets their own "Fuego!" This "Fuego" didn't have the punch that other versions have seen this tour. "Fuego" has incredible potential to become a piece you listen to and completely forget what song you're hearing. "Fuego" -> "Twist" was a beautiful segue and I heard the "Twist" coming a mile away. "Twist" was jammed short but honey sweet and certainly one could hope it would have lasted longer.
The "Twist"-> "Circus" may not have been what you were looking for but the segue is seamless. I personally love this song and associate the lyrics with the whole Phish experience. When the notes of "Piper" began, there was quite a bit of excitement in the crowd. This "Piper" was over way too quickly – bring back the slow build, please! – with Trey initiating another segue into "Rift" despite Fish's best efforts to roll with the "Piper" jam.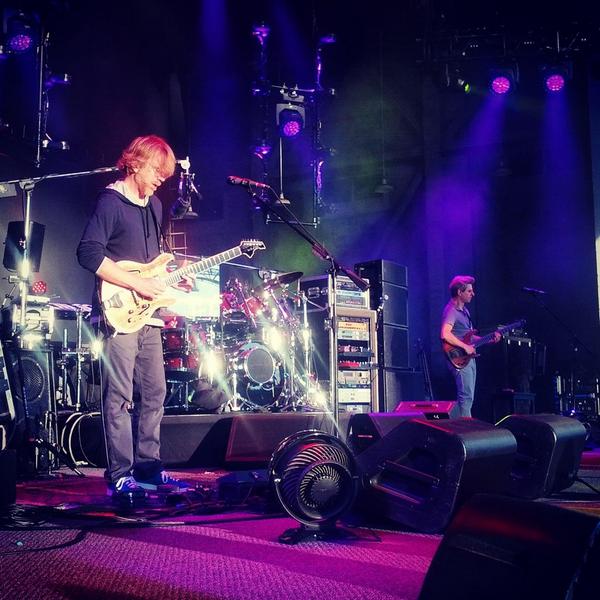 Photo © Phish – Phish From the Road
Another new album number followed, "Waiting All Night," which is catchy as hell, "just Sail On, Sail On." When the opening notes of "Reba" began, I had chills. Although a little rough in some of the composed parts, it was a beautiful "Reba." After the "Reba" I hoped we would get a "Hood" or "Slave," instead, we got "Character Zero'd." While not a favorite, you have to give it its due as a raging song. The encore was another 2014 debut, the cover "Loving Cup" which is well, always a beautiful buzz.
In summary, a good show with great segues and succinct improvisation, an excellent first set and a good second set which had high crowd energy despite interesting song choices in the flow.
Have a great time in Merriweather, guys! Remember always dance if you can, be kind to each other, and help someone if you can. And smile, dammit, you're at a Phish show!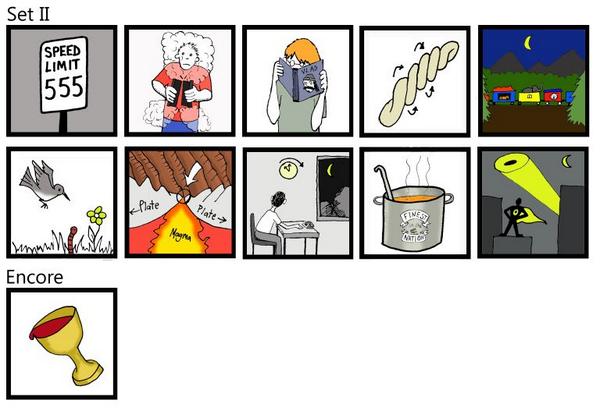 Setlist pictograms by Joseeen (available at Etsy)
If you liked this blog post, one way you could "like" it is to make a donation to The Mockingbird Foundation, the sponsor of Phish.net. Support music education for children, and you just might change the world.