[For this recap we'd like to welcome guest blogger Craig Hillwig) -PZ]
FADE IN
EXT: WAREHOUSE, CHICAGO MEATPACKING DISTRICT
AL "CORAN" CAPONE: "Red, I got a job for you."
ERNEST "RED" ANASTASIO: "Yeah Boss, you name it."
CAPONE: "We're takin' out Wilson tonight and I need you to handle it."
ANASTASIO: "Sure thing Boss, same deal as Tessio?" Anastasio pulls out a Tommy Gun.
CAPONE: "No, no, no you goombah." Capone hands Anastasio a small pistol.
ANASTASIO (incredulous): With dis?
CAPONE: It's called a Saturday Night Special. It's a compact, inexpensive, small-caliber handgun with perceived low quality, according to Wikipedia. Just get in, pop him cleanly, and get out. When you've finished him off, dump it in Lake Michigan up on the North Side.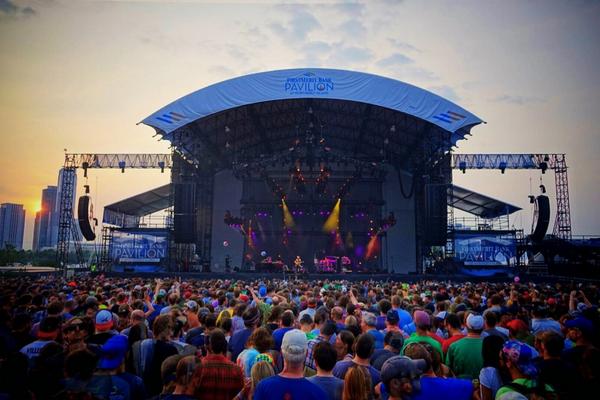 Photo © Phish – Phish From the Road
ANASTASIO: Wouldn't you prefer something more creative? I've brought my Echoplex and Ross Compressor.
CAPONE: I just want you to get the job done. I am just a businessman, giving the people what they want. All I do is satisfy a public demand. These are some quotes attributed to me by Wikipedia.
ANASTASIO: O.K., boss. Can I still use my effects?
CAPONE: Sure kid, whatever.
ANASTASIO: Anything else, boss?
CAPONE: Yeah, I want this to go down in the history books as the Christmas Massacre.
ANASTASIO: But Boss, it's the middle of July!
CAPONE: I said Christmas!! And one more thing.
ANASTASIO: Yeah, Boss?
CAPONE: I'm changing your nickname to "Ripcord."
END SCENE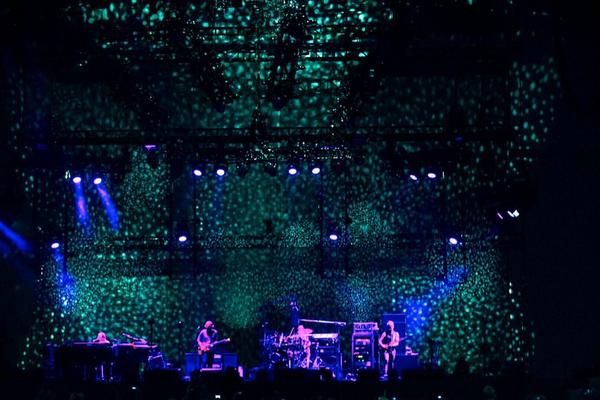 Photo © Phish – Phish From the Road
Phish dumped a classic Saturday Night Special into Lake Michigan for its second of three shows at Chicago's First Merit Pavilion at Northerly Island. True to form, Saturday night's offering featured compact, inexpensive, small caliber offerings of perceived low quality, while giving (some plurality of) the people what they want – a largely upbeat, danceable rock and funk show with little down time.
Set the First featured songs heavy in the rotation. Each of the first five: "Moma Dance," "Wolfman's Brother," "Devotion to a Dream," "46 Days" and "Yarmouth Road" were played two shows earlier at the-shed-formerly-known-as-Pine-Knob, and none of them strayed from its standard first set formulation.
"Devotion to a Dream" showcased Phish's reinvigorated ensemble vocals, perhaps attributable in part to the direction and encouragement of Fuego producer Bob Ezrin. Trey wins the most-improved award for his seemingly expanded range and more mature stylings. As a song, "Devotion" is continuing to develop, particularly the highly danceable outro jam which draws from the same boogie woogie back beat and Trey guitar phrasings that we have come to love in favorites like "Back on the Train."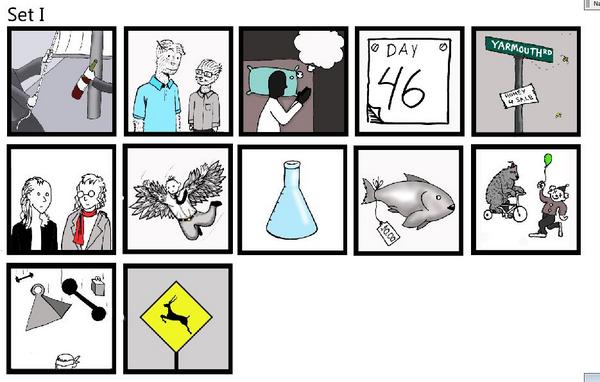 Setlist pictograms by Joseeen (available at Etsy)
Stepping back, the performance quality up to this point has been terrific – crisp and assertive, but not rushed or perfunctory. This is a night where the perceived low quality of the Saturday Night Special is misleading, because when deployed correctly, the Special is efficient but effective.
"Brian and Robert" brought the first "bust out" of the night, after a 38-show gap since Tahoe '13. While well-received, this version seemed to suffer from a lack of practice, demonstrating how even Phish's seemingly more simple numbers have complexities that need to be mastered.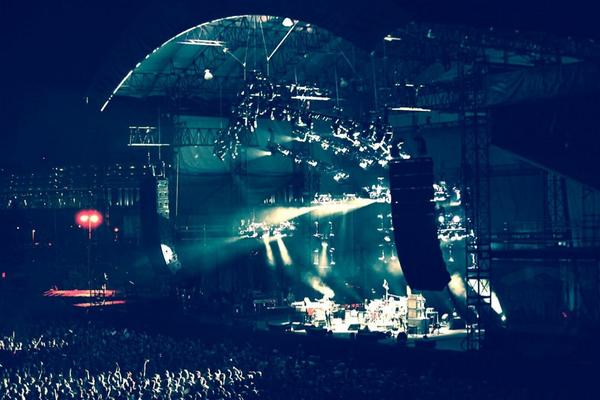 Photo © Phish – Phish From the Road
Rote first-set versions of "Wingsuit," "Tube" and "Free" came next with a gap chart average of four. The six versions of "Wingsuit" this tour have been distributed evenly between the first and second set. It's too early to tell whether "Wingsuit" is still trying to pick a team, or is merely comfortable going both ways.
"Roggae" followed as the second gap-buster (11) of the set. We love "Roggae" and so should you, but this version was a tad flubby and did not have much to distinguish itself. A solid "Heavy Things" set up another strong "Run Like an Antelope" to close the set. Antelope featured a tease that started off sounding like a botched "Smoke on the Water" by Deep Purple until the intended victim – They Might Be Giants' "Istanbul (Not Constantinople)" – was confirmed with some vocal accompaniment from Fishman.
As a setbreak aside, I want to offer plaudits, kudos, and Clif Bars to LivePhish director Eli Tishberg for the outstanding video production this tour (I was not present at the show and am reporting via couch tour). The choices of camera angles and tasteful special effects like double exposures and artistic transitions have given the webcasts a more polished feel that enhances the at-home experience.
Set two continued the theme with a great-on-paper-totally-so-fun-to-be-there setlist of songs that – with one exception – failed to realize the improvisational potential that fans have come to associate with them. "Carini" and "Waves" reprised their combination from SPAC3 with fairly standard versions. "Waves" came to a stop before the band kept Oprah's promise alive with the seventh "Fuego" of the tour. This version featured several inexplicable "Little Drummer Boy" quotes from Trey. Because Christmas in July.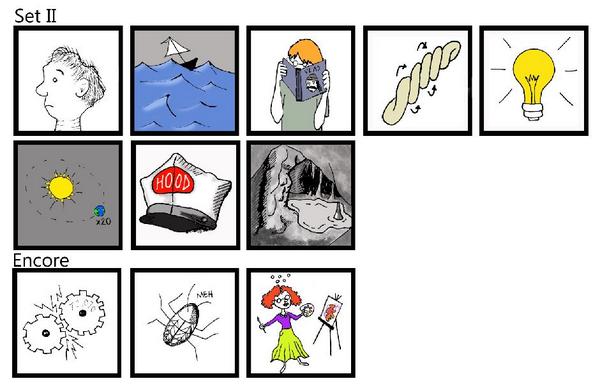 Setlist pictograms by Joseeen (available at Etsy)
"Fuego" continued to dominate the set for another 40 or so minutes. Along the way, the band teased complete versions of "Twist," "Light" (extended, with some of the only type II jamming of the night), "Twenty Years Later," "Harry Hood," and "Cavern." "Harry Hood" featured a fun hard rock jam that strayed from form just enough to qualify for a type II asterisk before getting marred by excessive video buffering.
Phish continued the theme through the encore, packing three tunes into fifteen minutes with time running out. First-of-tour versions of "Grind" and "Bug" set up "Suzy Greenberg" for a raucous, "Fuego"-inflected send-off.
Big hopes for Sunday night, amirite?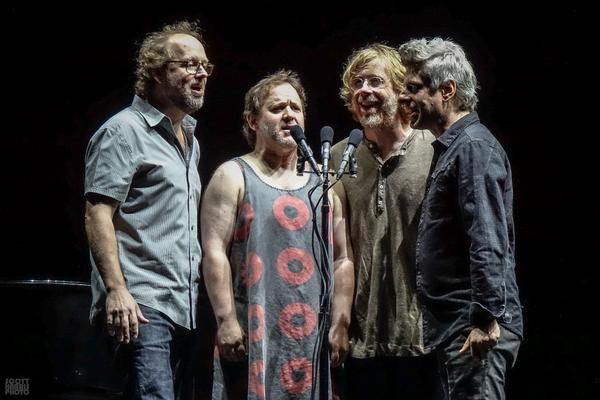 © Scott Harris Photography
If you liked this blog post, one way you could "like" it is to make a donation to The Mockingbird Foundation, the sponsor of Phish.net. Support music education for children, and you just might change the world.