[For this recap we'd like to welcome guest blogger Jake Cohen (@smoothatonalsnd)) -PZ]
The one thing Phish has proven to us after half of summer tour is that we have no idea what to expect. Which is, generally, a good state of affairs in the Phish world. At every turn they've surprised us: they threw down a paradigm-shifting "Hood" at the first show of tour, they turned "Fuego" into a jam powerhouse, they've been trying the new material in almost every possible set position, they teased us with no covers before dropping two in one set. Once we thought there was a formula – song-heavy first sets coupled with six- or seven-song jammy second sets – they gave us the Pine Knob show with its eleven-song second set and no song longer than ten minutes.
Sitting on my couch, watching the wide-angle shots as the setting sun illuminated the Chicago skyline, I was excited to see what surprises Friday's show might bring.

Sunset during Reba #phish – Photo by Jesse McMahan
The "555" opener was totally unexpected, and shows that Phish is still experimenting with setlist placement for all their Fuego material. I think this works better mid-first set than as an opener, but after hearing both "Sand" and "Moma" open shows at Randall's, a little funk to start things off is nice. The rock opener, "Kill Devil Falls," was a short, sweet version that seemed to ignite a good bit of energy, with Trey on point and direct in his soloing. "Bouncing Around the Room" continues to appear more often than it has in recent years. Say what you will about "Bouncing," but it's a quintessentially Phishy song, containing one of their signature sounds: three-part vocal polyphony along with a guitar riff.
The set really got fiery when Trey dropped into the second early first set "Reba" in a week. Since my crew is personally responsible for the Randall's version (that was us who Trey thanked "for the suggestion," even though we were chanting "Tela!" and not "Reba!"), I'd like to think we reminded the band that "Reba" works so well early in the first set. It changes the entire character of a set to hear such an iconic song, with such a powerful jam, this early in a show. This version didn't depart much from the norm, with Trey and Page setting down some textural playing during the quiet part of the jam before starting to build to the peak. Trey got into some heavy trilling before busting out into a huge peak that pushed past the point where I thought Fish might signal its end.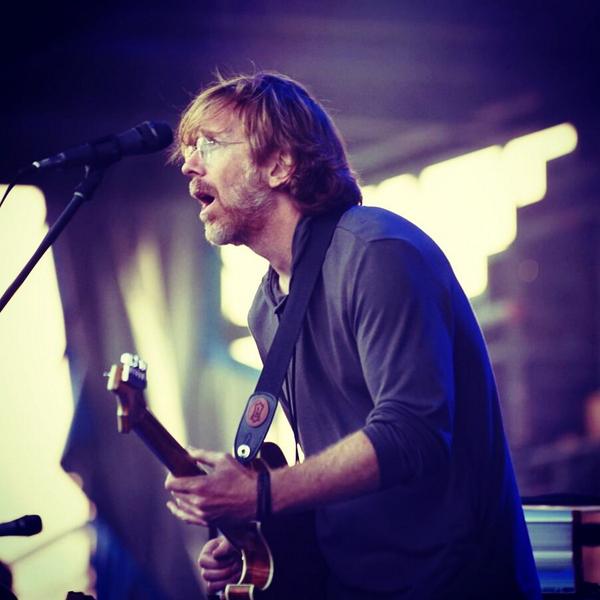 Photo © Phish – Phish From the Road
At this point in the set, I was hoping to hear some of the many first set tunes that have been missing or underplayed this tour: perhaps a "Fee," "Billy Breathes," "Guelah," or something rare like "Esther." Instead, Phish finished out the set with well-played but relatively standard versions of material that have become quite common in first sets this tour: "Waiting All Night," "Birds of a Feather," "Halfway to the Moon," "Sparkle," and "Sample." Even the once rare "A Song I Heard the Ocean Sing" received a cursory, standard treatment. Still, there was a good flow within this section, and the set never felt like it was dragging. Phish is becoming more and more comfortable with "Halfway to the Moon" and "Waiting All Night" in heavy rotation: both featured assertive solos from Trey, whereas previous versions felt like he was more reserved in his playing. As has been the case all tour, Fishman continues to push rhythms forward, which seemed to energize the sometimes plaintive "Halfway."
The other major opportunity for improvisation, the apparent closer "Stash," was a generally textbook version, but is still one of my favorite songs to hear at a show. This was something of a slow build "Stash," without the tension/release fireworks or brief type II excursions of the Great Woods or Randall's versions. But the set wasn't done, as "The Squirming Coil" appeared to send us off. Mike seems to relish the idea of singing the falsetto "scream" on the last chorus (as in the album version). I can't say I agree with his choice, but hey, Trey cracked up and it shows they're having fun. The "walk-off" Coil is one of my favorite ways to end a set, and here the webcast was perfect, starting with a tight close-up on Page and panning out ever so slowly to the entire Chicago skyline. As Page was the one to announce the cancellation last summer, it was fitting that he thanked the crowd and exclaimed "no rain!"
Set one seemed to follow the pattern that's been established so far this tour: a strong set of shorter songs but with good flow and variety of tempos and moods. With set two, they seemed to throw all setlist convention out the door a deliver one of the quirkier sets I've ever seen, with a surprisingly gorgeous type II jam where we least expected it.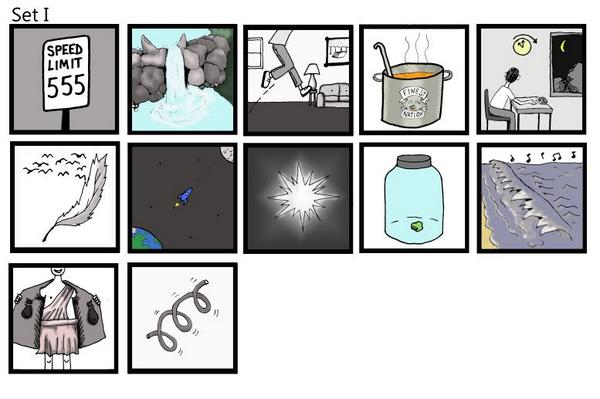 Setlist pictograms by Joseeen (available at Etsy)
One song I was particularly hoping wouldn't get ignored due to the fewer covers tendency is "Golden Age," and I was really pleased to see it occupy the set two opener role, practically guaranteeing an excursion into the unknown. Phish didn't disappoint here, with Trey introducing a slightly altered new riff partway into the highly percussive jam. Fish kept pushing the jam onward, not letting it fall into the spacey, mellow trap to which this sort of quiet groove can fall victim. Trey offered some rhythmically punctuating strumming while Page took a nice solo on the Lil Punkin organ. This jam eventually became all about Page, as Trey focused more on rhythm and timbre while Page switched over to his Clav.
Eventually, Fishman reeled in the rollicking drums and switched to a more straightforward hi-hat beat, and I thought they might spin this into a new jam segment. Instead, Fish obviated the meter and entered into some very chaotic playing. Trey matched this with lots of digital delay noise and echoplex effects, many of which weren't synced up with the just-abandoned meter, and Page too offered synth noise. The result was very trippy and weird in the best possible way, recalling the landmark versions of "Golden Age" from Hampton and Hartford last Fall.
As the dark psychedelia subsided, Trey started up the riff to "Mango Song." On paper it seems like an odd choice, but following the strangeness of the preceding jam it was a perfect call. Played relatively cleanly, this was a welcome but standard version of an all-too-rare tune.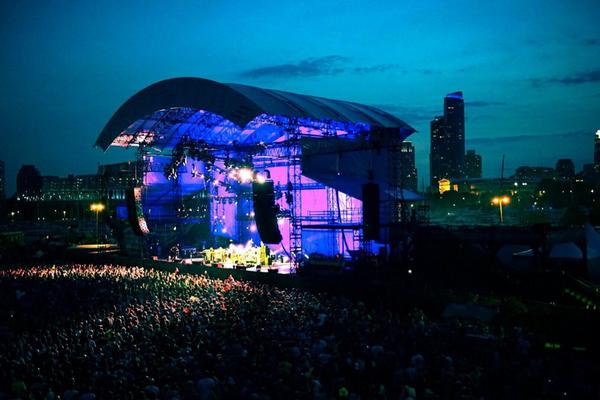 Photo © Phish – Phish From the Road
Things got back into a second set mood with the drop into "Sand," which seemed to be moving at a pretty fast tempo compared to second set versions. When the jam segment started, Trey launched full-bore into a blues-rock jam with an especially aggressive intro lick, an anomaly since "Sand" jams often begin with texturally sparse and percussive soloing from Trey. The fast tempo and unusual soloing seemed to signal that this might be an atypical "Sand," and just as Trey was beginning to hint at a modulation to a major key for a new jam segment, he aborted "Sand" and opted for "Piper."
Appearing in back-to-back shows, this "Piper" seemed like it might be the other big improv vehicle for this second set. Unfortunately, I think we all have to acknowledge that the slow build "Piper" died in 2000 – this one got right into the lyrics and quickly moved to that good, fast jam space that "Piper" often goes into. Page took a big organ solo, and then Trey moved to his echoplex, creating a very trippy and noisy space. Fishman eventually dropped the drums down to almost nothing, but then out of nowhere came back with a new funky beat, over which Trey started playing a new set of major key chords. Here's where things got really weird.
The feel of this jam was something in the fast rock/funk category, almost like a poppier version of "Sneakin' Sally" or "2001." As I was wondering whether this would turn into a song or continue into a jam, Trey signaled to Page that they were, in fact, playing "Halley's Comet!" This was a totally oddball segue, as it wasn't clear when they began this jam that they were actually playing "Halley's" (Trey had to tell Page they were doing that!), having come straight from the trippy halted part of the "Piper" jam and skipping the song's usual a cappella introduction.
After the lyrics, the band "stayed on F" just as they did during the landmark 11/22/97 "Halley's," and I thought (as did everyone, I'm sure) that we might be in for the long-awaited jammed-out set two "Halley's." Alas, the band used that brief harmonic plateau to just slow things down a bit before perfectly dropping into "Wombat." Another call out of left field, and while it was a true "->" segue, it still felt a little choppy. But oh my, this "Wombat."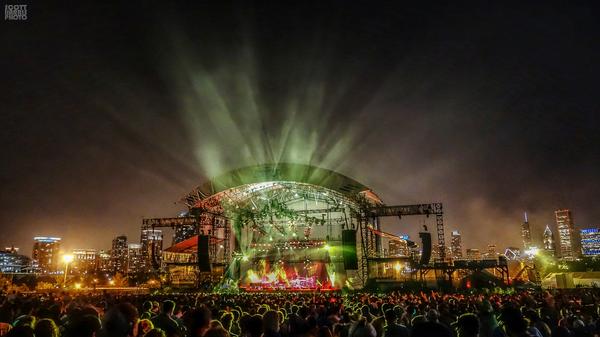 @ Scott Harris Photography
During the jam, Trey began exploring a few modal regions of melody quite early, which signals to me that he's thinking about more extensive improvisation. Fishman matched this by amazingly changing his rhythms almost every eight measures, giving variety to the stable "Wombat" jam with new feels each hypermeasure. As things began to fall apart rhythmically and melodically, Mike switched on the envelope filter and I thought we might be headed for the first "Boogie On" of tour. Instead, Mike's active upper-register deep space bass provided an accompaniment to Trey's trilling, which he pushed perfectly into the relative major key for a mellow bliss jam.
Now clearly in the first type II "Wombat" ever, Trey continued to layer delicate soloing and hinting at a build, while Fishman kept the tempo and feel very similar to a "Fee" outro jam. Trey eventually began strumming and pushing the tempo faster with an almost bluegrass feel, not unlike the last jam segment from the monster Randall's "Chalk Dust," and when the rest of the band joined it suggested shades of the quiet, mellow interlude of "Runaway Jim." I was hoping this would build and turn into something totally mind-blowing, but after seven or eight minutes of this glorious jam, Trey launched into "Chalk Dust."
Back at its normal fast tempo, this "Chalk Dust" was a standard version that gave way to the set closer, a majestic "Slave" whose "See the city" lyric was especially apt with the twinkling Chicago skyline in the backdrop. I do wish they'd dig a little deeper for encores (as they did with the "2001" in Michigan), as it's become almost farcical to hear "Julius" or "Character Zero" encore practically every other night this tour. But this was a really nice "Julius" that saw Page lead off with a killer solo.
The "Golden Age" might have been the improvisational centerpiece, but the surprise jam on "Wombat" was probably the improvisational highlight, coming from a completely unexpected and surprising place. Phish has shown us that they're having fun and equally willing to push things when they feel it's right, or willing to ripcord a jam when Trey wants something else. It's exciting to think of what surprises the rest of this weekend holds.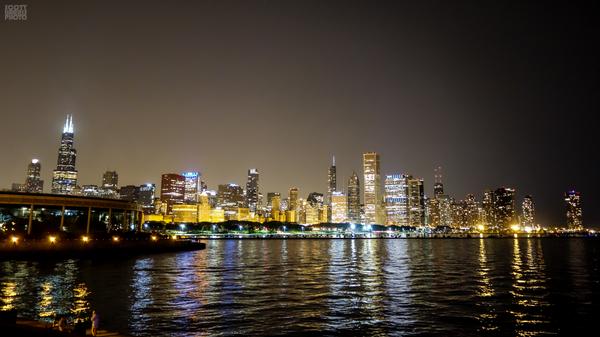 @ Scott Harris Photography
If you liked this blog post, one way you could "like" it is to make a donation to The Mockingbird Foundation, the sponsor of Phish.net. Support music education for children, and you just might change the world.