[For this recap we'd like to welcome guest blogger Ben Hatley) -PZ]
For the first time in a year, Phish has returned to the Midwest. When tour dates were announced, many were hoping for a more extensive run through this region, after just getting the rain soaked Chicago run last year. Alas, that did not happen, but many, myself included, put a big fat circle on their calendar when they announced they would be returning to Pine Knob.
I was anxious for this show, in large part, because I am still a little bummed to have missed the monster show here back in 2011. When they didn't play here again in 2012 or 2013, I was thinking my opportunity to visit this fantastic venue had passed. While Midwesterners will not be getting to visit a lot of their favorite sheds this summer, I do not think there were many complaints about this being the one.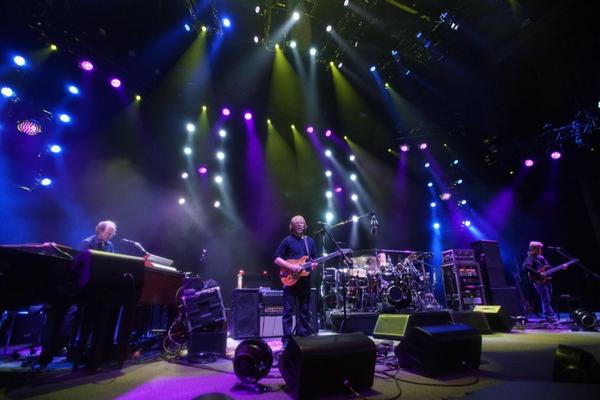 Photo © Phish – Phish From the Road
Pine Knob just may be as perfect of a place to see a Phish show as you are going to find. The inside of the venue is heavily wooded and absolutely gorgeous. Not to mention, after the brutal weather that we endured the last two years, whether it be rain or extreme heat, going to a show with the sun shining and temperatures in the 70's was a treat in and of itself. The stage was set for a great day.
After partaking in a few cold ones, it was time to hit the show. We got to our seats right as "Wolfman's Brother" started. Opening with the same song they opened with here back in 2011 raised a few eyebrows. Many took it as a sign that they were trying to conjure up some of the magic they drummed up here three years ago. Last night's version seemed to follow this songs typically funky path. Along with the "Devotion to a Dream" that followed, these first two tunes served as a good means of getting the guys warmed up.
Now that they felt a little settled in, Trey cranked up "Wilson." As always, this immediately got the crowd good and gassed up. As they stormed through the raucous that is the back end, Trey shifted shifted gears and pulled everyone into a sharp version of "Poor Heart."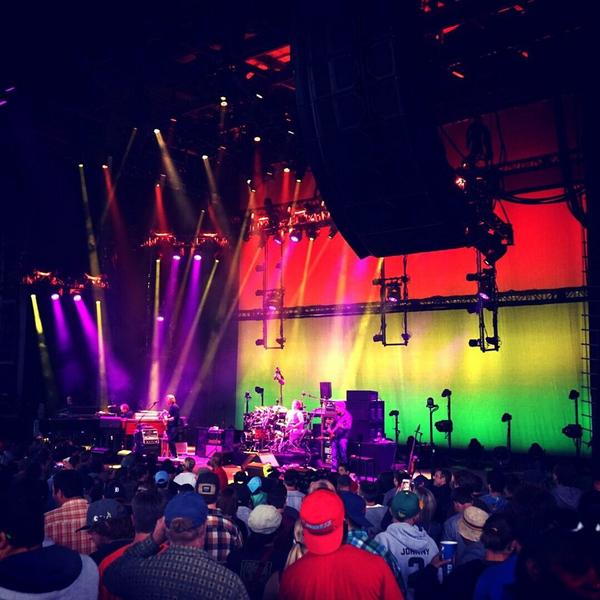 Photo © Phish – Phish From the Road
The next few songs did not deliver much in the highlight department, but the set maintained good flow and we got a decent sampling of Phish's stylistic versatility, ranging from funk to rock to reggae to lounge. The first set highlight came in the form of "It's Ice." The middle section opened up to a wildly funky jam with terrific playing from Page. This is one one of my favorite Phish songs, and I feel like it has just kept getting better over the last few years. As "It's Ice" wrapped up, Trey cranked up what would be a rousing set closing "46 Days." While it did not break any new ground, it was enough to send everyone into set break pretty pleased.
After wandering around a bit at set break, we returned to our seats right as the lights were going out. "Mike's Song" may not be the jam Goliath that we came to know and love in the 90's, but when you are seeing this song in person, it is still fantastic. Few songs can simply suck you in faster. The lights start flying, Trey starts ripping it up, and suddenly, you are in gravy town. This version did seem to have a little extra something to it. They let it have more of an organic ending than some of the screeching halts we have seen put on this song the last few years. As it wrapped up, Mike and Trey push into "Ghost," which appears to be the new favorite to be sandwiched in before "Weekapaug."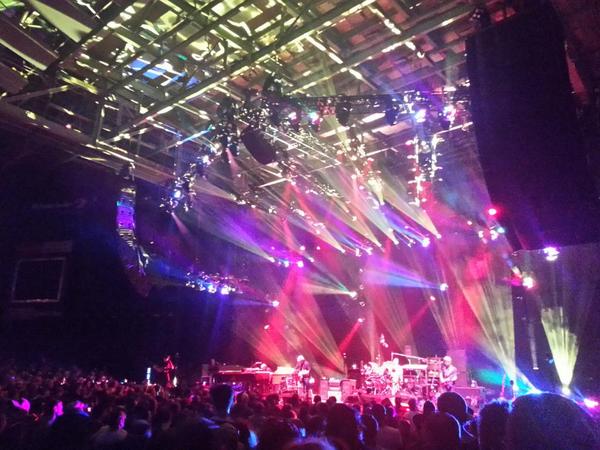 Photo by J. Maehoffer
This "Ghost" jumped out into some pretty cosmic places right out of the gate. Trey had some great playing on this jam, and he navigated everyone through some mesmerizing passages. As it wound down, he dropped right into "Caspian." Now, a "Caspian" > "Number Line" pairing is something that I would pretty much actively root against, but last night, it seemed to work alright. "Number Line," in particular, had some strong playing that led nicely into "Weekapaug."
"Weekapaug" jumped right out there and may be my pick for highlight of the show. Yes, it was short, but it sure felt longer. Page, Fishman, and Mike all were shining on this one. They put together a nice segue into "Cavern," but I feel like this created a bit of a fork in the road. Having "Cavern" in the middle of the set was a nice change of pace, but where do you go from here?
Well, they weren't quite ready to pack it in just yet. "Piper," as always, provided another opportunity to jump out into some type two jamming. Fishman held this one down like a champ while Trey, Mike, and Page came in over the top and offered up some pretty hot jamming. They moved at breakneck speed before settling this into a slow ending. As "Piper" faded into the night, Mike started "Waiting All Night." This was a standard take, but it fit well here.
After that, I was thinking we'd move in the direction of a standard closing pairing. Trey had other ideas. Let me tell you, this pavilion went bonkers when he cranked up "Tweezer." No one saw this coming. They laid a nice foundation for what could have been a big dark funky "Tweezer" jam, but instead, they moved this to "Fuego" instead. While "Tweezer" didn't go out as far as many would've liked, this made for a nice deep set pairing. Not to mention, Phish is clearly loving "Fuego." It's now been played at every venue this tour. They didn't have enough time to give "Fuego" the special treatment they gave it at the MANN and SPAC, but it was played well. It was my first time seeing it, so it was nice to get another new tune under my belt. "Tweezer Reprise," as always, brought the raucous and allowed everyone yet another chance to rock out before calling it a set.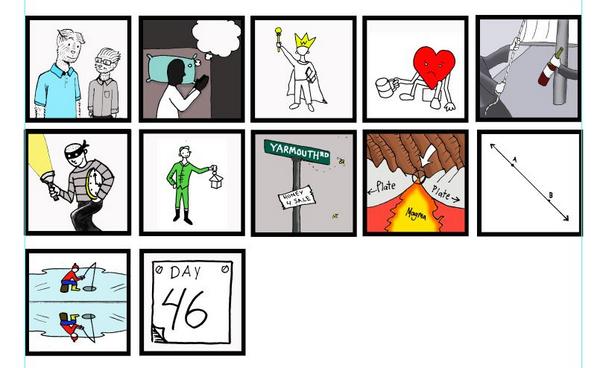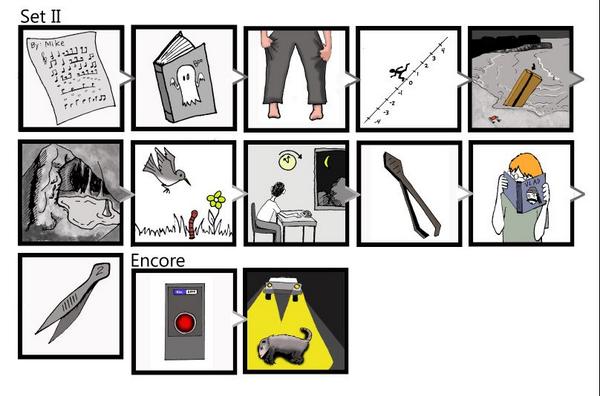 Setlist pictograms by Joseeen (available at Etsy)
Once again, I think many expected something standard out of them when they came back out for the encore. It was almost a feeling of bewilderment when Fishman dropped the intro to "2001," the first time it has ever appeared as an encore. We got one more dance party before calling it a night. There are a lot of "Possum" haters out there but I'm not one. I love it in the last song of the encore spot. How can you not leave the building with a smile after that?
Unlike almost every other show from this tour, they didn't offer up one marquee jam or hands down highlight. What they did do is create a consistently good second set with excellent playing throughout. In lieu of one 20+ minute jam, they offered up a fair amount of exploration in three or four different songs. I don't know exactly how this show will hold up over time after numerous re-listens, but I can assure you, it was a blast to attend!
If you liked this blog post, one way you could "like" it is to make a donation to The Mockingbird Foundation, the sponsor of Phish.net. Support music education for children, and you just might change the world.