[For this recap we'd like to welcome guest blogger Craig Hillwig) -PZ]
Sometimes Phish foreshadows the fireworks in its opening sequence, although it's often not clear except in retrospect and after much contemplation. Mann night two was that type of show.
As a show opener, "Glide" is an appetizer. It makes you wait for the "real" opener. My mind wandered back in time to Madison Square Garden last New Years Eve, when Phish made all our dreams come true with the Truck Set. Was it going to be THAT kind of show? Of course not – each show is its own unique expression and deserves to be received as such. There would be no follow-up "Llama." But there would be a tie-in to NYE and also to local Phish lore in the second stanza.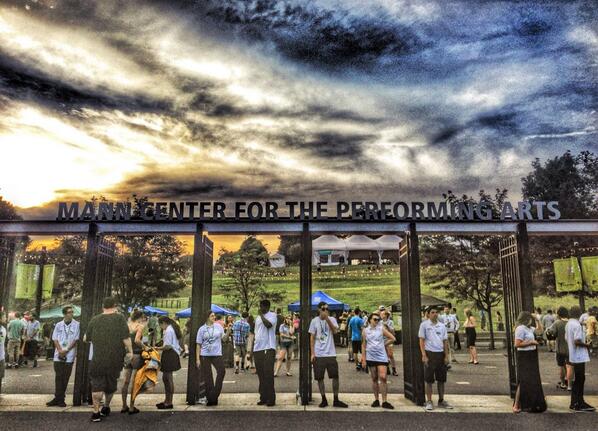 Photo by Andrea Z Nusinov
"Glide" finished awkwardly, with Trey laughing and adding, "that's our own interpretation of that song … thank you goodnight! …. we hope that rocked your faces as much as you're rocking ours at this very moment." "Sing Monica" followed, the first of the three Trey/Tom compositions from Fuego that would be played this night. It's too early tell whether "Monica" will settle in as a first set standard in light of the SPAC encore placement. However, it was not well-placed in this instance. The crowd was looking to release some pent-up excitement after "Glide," but that would have to wait.
"Birds of a Feather" and "Wolfman's Brother" followed, both of the standard set one variety. "Wolfman's" featured Trey sitting back in the pocket for much of the jam, leaving ample room for Mike and Fish to syncopate with Page's signature staccato clavinet, and the crowd was appreciative about finally being able to get their dance on. These were followed by "Sugar Shack," a tough tune to play only once a tour due to its deceptively different time signature (13/8 or 9/8 depending on who you talk to on the Twitter). It may have been the best version to date, if only because Trey nailed the transitional guitar parts that have tended to trip him up in the past.
"Alaska"...

Photo courtesy Phish From the Road © Phish, Inc.
Then we got the goods. There's a certain visceral feeling you get as soon as you hear the first chords of "McGrupp" rise out of the nothingness. It's a song that has become exceedingly rare in 3.0 (only nine played), and like most of the older composed works it benefits from practice and repetition. It seemed clear that they had practiced it – indeed, the band seemed to be toying with some very Watchful themes during the sprawling "Fuego" jam that anchored the prior night's second set. There were still some rough transitions, but all in all it was a beautiful rendition.
The second "Stealing Time from the Faulty Plan" of the tour was next. By the sixth show of the tour, we're getting a sense of which songs are heavily weighted in the rotation, and "Stealing Time" seems to be a perennial favorite of Trey's. This was followed by a gorgeous version of "Horn," a rock anthem about a human doormat with a driver's license and bad taste in wine.
The dysfunctional-love-song theme continued with "Devotion to a Dream" and "Silent in the Morning," with huge placement points for both. For those keeping count, that's nine consecutive "Horse"-less versions of "Silent in the Morning," so this trend officially appears to be "a thing." Interestingly, the "Horse"/"Silent" combination was originally conceived as a single composition, only to inexplicably be tracked separately on Rift. It's as if the song was cleaved in half, an incomplete musical thought. Any mourning for the Horse was quickly forgotten once the huge, set-closing "Run Like an Antelope" got under way.
Set two was brought to us largely by the letters "C" and "W" starting with a monster "Chalk Dust Torture," possibly in tribute to the legendary version they played in Camden nearly fifteen years earlier to the day – the same version that was featured so prominently in the emotional retrospective video played at MSG before the NYE truck set. The "Glide" opener now made a lot more sense, in context. This version of "Chalk Dust" had it all – from dark dissonance to melodic bliss. Page was the star here, starting off on L'il Punkin and working his way clockwise around his rig as the jam changed tone and structure.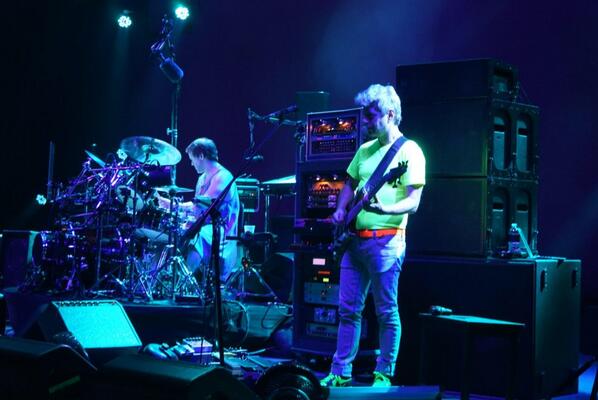 Photo courtesy Phish From the Road © Phish, Inc.
"Wingsuit" and "Winterqueen" followed for back to back W's – an odd but bold pairing of two of the moodier tracks on Fuego. Their presentation together felt like a suite in many respects, and worked well in my view. However, if you didn't want a fifteen minute cool-down segment so early in the second set, your milage probably varied greatly. A spirited "Twist" brought us back up part of the way with a standard, Santana-inflected version that clearly had no intention of blowing up and came to a virtually complete stop. The band was keeping its powder dry, and we would soon learn why.
"C" also stands for "covers," and If there were any lingering speculation about a "no-covers rule" after Tuesday night's "Also Sprach Zarathustra," Phish demolished it convincingly with compact but fiery "Crosseyed and Painless" that included a smattering of soaring echoplex and some "Birds of a Feather" phrasing by Trey. The venue instantly erupted when the song burst from the nothingness, perhaps due to a realization that any perceived shackles had been broken. Let there be covers!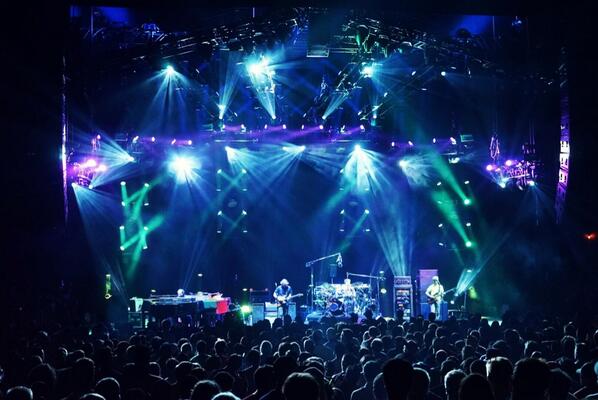 Photo courtesy Phish From the Road © Phish, Inc.
A wafer-thin "Waste" provided the second cooldown of the set, and it was just exactly perfect.
The "Mike's Song" that followed was strictly by the books, save for some additional "Birds of a Feather" licks, and seemed destined to finish with a walk-off "I Am Hydrogen" > "Weekapaug Groove." Instead, Trey abruptly dropped into "Sneakin' Sally Through the Alley" to close the set, a combination not seen since 7/24/88 at Nectar's. And then there were covers.
The choice of a "Julius" encore created more than a little doubt about whether they would play "Weekapaug." But of course, this was a set of C's and W's, and so of course they did. Final Score: C's - 2; W's-4. Next stop - Randall's Island.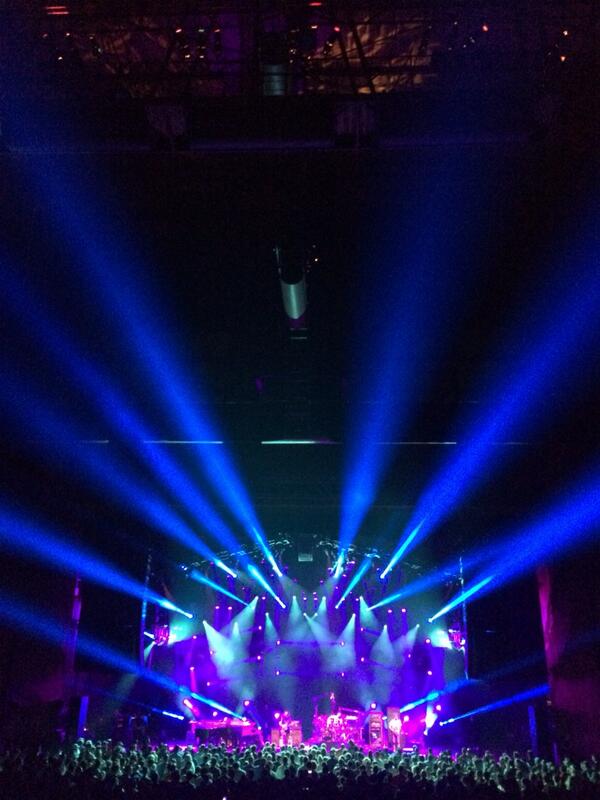 Photo by Elliot Byron
If you liked this blog post, one way you could "like" it is to make a donation to The Mockingbird Foundation, the sponsor of Phish.net. Support music education for children, and you just might change the world.