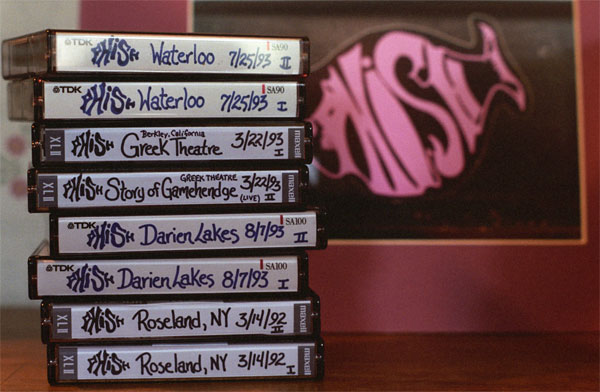 by Mockingbird Contributor Chris Glushko
I was unable to attend Super Ball IX, my first "special" show missed since Halloween 98. By special, I mean anything outside of a standard tour -- festivals, Halloween runs, holiday runs, etc. But thanks to modern technology, I did get to enjoy every minute of Watkins Glen as it happened. Following the festival, I had a conversation with a close friend who attended that went something like this:
Friend: So, what did you think?
Me: Some fun stuff, but I don't think it will hold up well.
Friend: What do you mean? It was the best weekend ever.
Me: I'm sure it was, but I'm talking about the music.
Friend: But you weren't there. The weather was perfect. The vibe was amazing.
Me: I'm sure it was. But I can't load the weather and vibe into iTunes.
Friend: They played for over 4.5 hours on Saturday.
Me: Yes, and Saturday may be the least-interesting three-set Phish show since NYE 96.
Friend: You're so wrong. You're just upset you didn't go.
Well, he was right there. I was upset that I didn't go. But attendance should have no impact in discussing the music. I'd argue that by not attending you're likely to be more objective because you eliminate your personal experience from your judgement. There are a million things that can go right or wrong during the live experience. But long after the lights go up, it's only the music on the recording that remains. If you want to have Phish nerd discussions about the best shows to listen to, then the music is the only universal currency to base these discussions on. It's about separating the music played from your subjective experience. Otherwise, you might as well argue over who has the best favorite color.

With that said, I spent the last several days re-listening to every note of Super Ball IX to see what's worthy of regular rotation in Phish listening. Here are some of the highlights and lowlights:
Thursday, June 30, 2011
● The best new jam of the weekend was a surprise to all when Phish archivist Kevin Shapiro played a devastating 30-minute Waves from the 5/26/11 Bethel tech rehearsal. Many folks have already called this the best jam of Phish 3.0. Seek it out at all costs. While we are on this topic, every Phish fan owes a huge thanks to Kevin for the three brilliant From the Archives shows, the projected archive videos Thursday night at the LivePhish tent, and other legendary nuggets of Phish history that slipped out over the weekend. We are truly blessed to have an archivist who loves Phish and loves making fans happy.
● A list of Super Ball IX highlights would be incomplete without mentioning the amazing soundcheck featuring the two outstanding pieces of improv that many fans feel are far superior to anything played during the official seven sets.
Friday, July 1, 2011
● The first set is one of the better first sets of 2011.
● Moma Dance and The Mighty Quinn are top versions with the latter arguably the best version the band has played of that song.
● Wolfman's, Gin and Crosseyed are all strong, even if none stood out from other 2011 versions.
● Peaches, Life on Mars, and Torn & Frayed provide rare treats.
● Simple contains one of the more interesting and longest jams of the weekend with a long spacey outro before segueing into Bug.
● The rest of the show features versions of songs that could best be described as "meh." It's not that they are bad. Rather, if my Super Ball IX downloads are a giant gourmet deli, these songs would be the turkey sandwich with American cheese on white bread. They get the job done, but not much more.
Saturday, July 2, 2011
● The first set features two exciting bust outs -- Suskind Hotel and Monkey Man. Otherwise, nothing else in the set stands out for good or bad reasons -- lots of turkey sandwiches to keep with the previous analogy.
● The second set highlight is the return of the original arrangement of Scents & Subtle Sounds -- one of the most well-received surprises of the weekend from fans near and far. The other high point in the second set is some very strong jamming in Stash.
● On the downside, set two has very sloppy versions of McGrupp and Axilla, and an especially brutal Mango Song. The rest of the set is more turkey sandwiches.
● The most disappointing aspect of set two is that it more closely resembles a first set in song choice and flow. Traditionally, three-set shows feature a first set and two second set style sets. The band takes the opposite approach here.
● Set three features an excellent jam out of Golden Age, probably the strongest Tweezer of the year and a goofy yet fun Twist. Unfortunately, the rest of the set features songs played at or below average compared to other versions in 2011. This isn't to say it was bad, just not something you need to hear again.
● Technically on 7/3, the late-night "Storage Jam" ranges from tedious to downright hypnotic. Although the recordings can not do it justice -- given that it was a small part of larger audio/visual experience -- this is still a must-hear, especially the second half that can be described as vintage Pink Floyd sonic layering segueing into a demented version of Sleeping Monkey.
Sunday, July 3, 2011
● If 7/1 set one is one of the better first sets of 3.0, 7/3 set one is one of the best first sets of 3.0.
● Highlight jams of set one include versions of Mound and Wilson that are among best ever, the first jammed-out A Song I Heard the Ocean Sing of 3.0, the second-best Reba of 3.0 next to Augusta 2010, and a particularly strong version of David Bowie. Rarities include a Soul Shakedown Party opener, the first Forbin's>Mockingbird of 3.0 with narration, the best Destiny Unbound since Nassau 2003 thanks to thrilling work by Mike Gordon, Little Feat's Time Loves a Hero, and The Curtain (Without).
● Set two features two exciting bust out covers -- the debut of AC/DC's very appropriate Big Balls and only the second No Quarter played. Light contains a very strong jam that is much better than previous 2011 versions, but still did not reach the heights it hit in 2010. Otherwise, the rest of the set features short and safe "turkey sandwich" versions of upbeat fan favorites, save for a spacey outro of Waves that segued smoothly into What's the Use.
So does this support the two claims I made shortly after the show?

Will Super Ball IX hold up well in future listening? The answer is better than I originally thought due to sheer quantity of music played. Over the three days, we were treated to a great number of standout versions in places normally not expected. But outside of 7/1 Set One and 7/3 Set One, I don't foresee the other five sets being on any hard-core Phish show collector's most-played list once the sugar high from the weekend completely wears off.

Is 7/2/2011 the least interesting three-set show to listen to since 12/31/96? Without a doubt, yes. If you disagree, think of some of the three-set shows that came before it -- MSG and Miami New Years, Halloween 2009, IT, Oswego, Went, Lemonwheel, and even Coventry (the vibe and flubs may have been depressing, but the improv was anything but uninteresting). Remember, if you want to have great shows, you have to have not-so-great shows. If you want to have legendary shows, you have to be willing to admit some shows are weak. Otherwise, everything is "all-hood" and there's no sense talking about this in the first place. Then again, that might not be a bad thing.

Chris Glushko is a contributor to the Phish.net and Mockingbird Foundation Working Group who has attended more than 175 Phish shows since 1994. He can be reached on Twitter at @CGlush.
If you liked this blog post, one way you could "like" it is to make a donation to The Mockingbird Foundation, the sponsor of Phish.net. Support music education for children, and you just might change the world.