[Phish.net thanks user Jeremy Willinger (.net @Jeremy8698) for this recap. -Ed.]
A warm breeze blew down the famed Atlantic City boardwalk (did you know? It was first opened in 1870, and is the oldest boardwalk in America and is the longest boardwalk in the world), pushing salty air into the faces of thousands of phans as they waited to enter the sand to hear Phish for the first of three shows on the beach. *As the esteemed reviewer of last year's AC night 1 show, I will refer you to that entry for more AC trivia.
Now in its second year, Phish's three-night stand in Atlantic City is the only option for folks unable or unwilling to go to Riviera Maya (Mexico) to dip their toes into the ocean while jamming to our favorite foursome. The hotels have, unfortunately, caught on to the cash cow that the phandom brings to local communities, and prices for rooms now reflect that suckling of the teat. Does that deter us? Of course not - in the same way that accepting gifts from strangers at Phish is welcomed but actively rebuked when back in reality.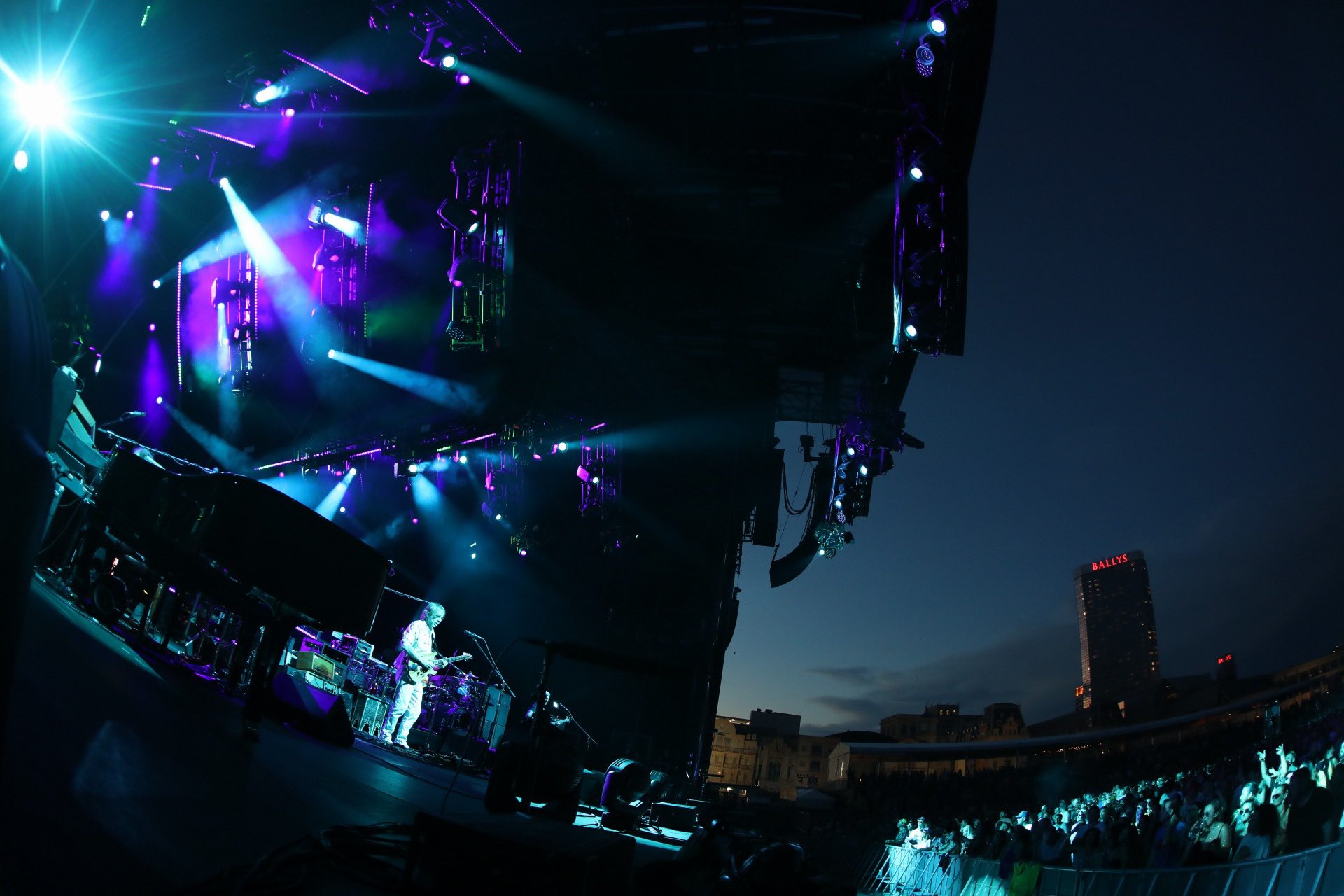 Normally, at this point in tour, Phish has already dazzled us with standout jams, a return to classic venues, and new musical high watermarks. In 2022, coming off a series of great shows and maintaining the ability to reinvent their sound, feed off the community, and surprise and delight their aging audience, Phish is both expected and subversive, able to occupy different planes of existence, simultaneously.
I occupied the same place as last year for last night's extravaganza: Page side, near pole 2. At 8:07, they take the stage and we have liftoff.
A peppy "Chalk Dust Torture" opens the show, but at seven minutes this lively version is only a lip-licker, as the smell of the main course wafts in from the kitchen. A quick shift that takes the crowd a second to catch on, but emphasized by Trey, as he gives some extra oomph on the DUH-DUH, and leads us into a fun "Wilson" that lasts for four minutes. My notes point out that Trey is asking someone (Wilson?) the same question in both songs, "Can't I live while I'm young?" and "Can you still have fun?" With this band, I think we know the answers.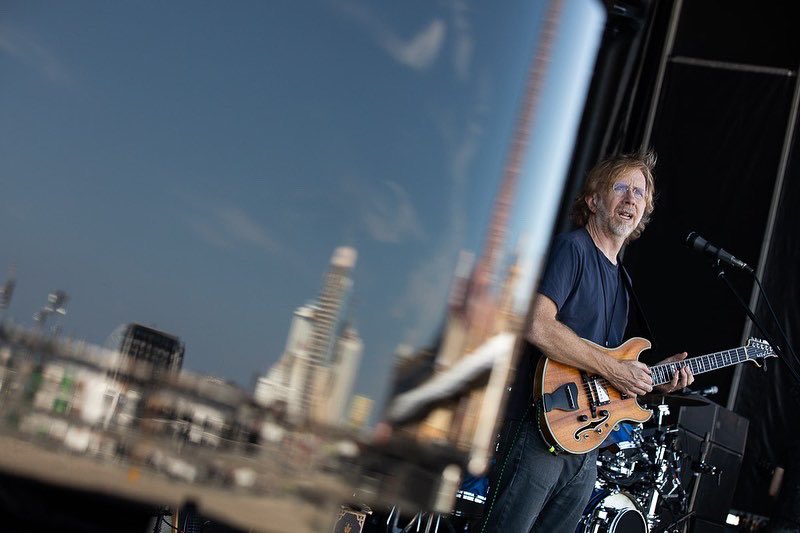 Next up is the first of many references to the seashore as they break into "Sand" - which also contains the third appearance of the word "can" in as many songs… a very important stat you needed to know. "Sand" stays in a midrange, upbeat space and transitions to an approachable and uplifting jam segment with great work by Page that seamlessly flows back into the composed section and concludes with that grindy, metallic 4.0 sound. "Sand" is also the first song of three played during night 1 AC 2021, another important fact for the obsessive record-keepers.
A crisp "Plasma" is welcomed here as Trey takes the lead on the jam, adding a flourish of notes over the top of the guitar line and builds out a nice 1-2-3 segment that should be heard. This was an especially funny placement for me, because on the drive out to the show with a good buddy with last name Wilson, we discussed his upcoming bloodwork which requires a reintroduction of plasma to alleviate a tendon-related injury. Despite this irritation, like all good phans, he numbed it and didn't let it slow him down.
Trey moves the band into "Theme From the Bottom," and while this version isn't necessarily a standout, it remains a gorgeous song that has the magical ability to transport listeners. As a Phish trendspotter, I will also point out that we get to check off both another nautical reference and pleading question, "Can I ask you why, as I'm swimming by?" Hmm, you might say Phish is continuing a theme (hyuk yuk…see me at The Showboat on Tuesday nights…try the prime rib, but not the veal).
If we were water-bound before, we travel back to the terrestrial as Phish jumps onto "Back on the Train," a version which maintains the sprightly overall feel of the set. This 8-minute version shines within a triumphant and fun space, and has a fantastic flow that includes great harmonies by Trey. The song ends quickly, as have most in this set so far.
All that changes with "Sigma Oasis." At 22 minutes, it gives us our first peek into what Phish can do when they take to the sky. To clarify, this is no Hartford 2022 "Sigma" which stretched the song to new places in less time, but this version is a nice place to live for awhile. The jam Voltrons itself together as segments, with the first being a note-filled, middle range section that transitioned into a 4.0 industrial, metal shredder envelope-heavy mini-section. This moved into an up-tempo place with layered in organ work by Page that recalled The Funky Meters, to my ears. If the first part of this jam felt a bit plodding, the back half was looser, with space around the notes.
A butter smooth transition into "Cities" brings smiles to faces. The smiles remain when Trey misses the first cue for, "Help me, I forget to mention Memphis?" At only five minutes, this ended just as quickly as it begun.
And then we get "More." Sigh. The second song played again from N1 2021 AC. Oh, also, Page did some nice work here. Did you think there should be something more than this?
The set ends and the lights go up, glinting off crushed Miller Lite cans and illuminating the crowd moving en masse towards the ocean for water playtime and bladder relief, not in the same area, thankfully.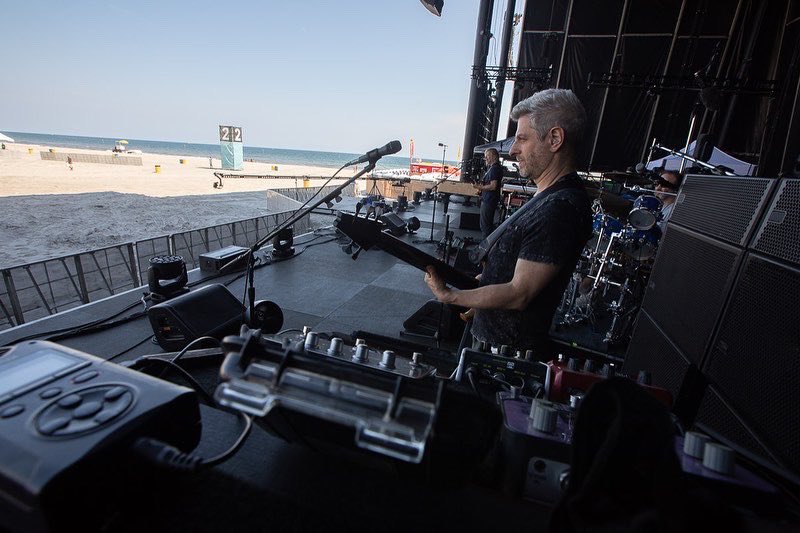 At 10:07, the go lights off and the band returns to cheers heard all the way in Margate. "Axilla II" gets the crowd going, especially during the next meta reference of "Summer, sitting out by the pool." This version felt a little reserved, though there is a nice 4-minute delving-into-the-darkside, midway through.
Not content with just a pool, Trey opens up the floodgates to a bigger body of water as they break into "Soul Planet," a song I always like after the composed section is finished. Yes, "the ocean is love." Sigh.
This "Planet" floats in a gritty galaxy but doesn't get too complex as they rein in anything that gets too far out. Fishman offers a signature "yeah" midway through - it garners a laugh. At fifteen minutes the band gets to stretch a bit and, after the "yeah," Trey moves into a call and response section that bottoms out as a guttural section that skims the surface of sinister.
The show starts to take on some distinction as the opening sounds to "Down With Disease" boil up. Trey looks so adorably happy, he is positively beaming. A thousand barefoot children outside, dancing on the beach, smile back at him. This is a great "Disease," with another instance of more "sectioned" jamming in distinct parts. While it begins with a nice back and forth between Trey and Page in a jazzy, prog-rockish way, they jam moves into a plinky, metallic, almost digital sounding second stage, where it becomes more laser-focused as Trey gets momentarily aggressive and then abandons the line for a drifty, mellow take, accompanied by nice piano work by Page.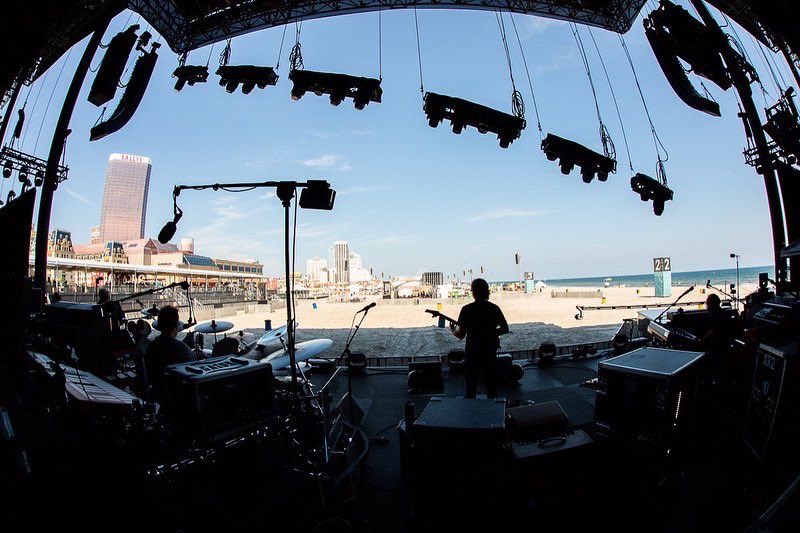 DWD moves into "Ruby Waves," which, with the reference to an "ocean of love" is a fun lyrical callback to the "ocean is love" of "Soul Planet." This is no Alpine "Ruby," so let's get that out of the way, and perhaps it serves as a model for the overall show; this was a simple and sustaining version that didn't break any new ground but felt great. There is a nice midway shift to a two-note riff by Trey that they grow into a three-note foundation that Trey loops and shreds over in the back part of the jam. A fun, one-minute return into "DWD" felt positively Phishy.
Phish gives us more love as they treat us to a second set "Ghost" which settles into a murky, underwater vibe that bubbles with globby, heavy tones. Again, no new ground broken but it is a solid entry and, at twelve minutes, gives enough space to get a little out there before coming back around. I should mention that Trey's transition back into the formal part of "Ghost" was glass smooth… like a Slip-N-Slide of musical talent.
To close, Phish offers up "Harry Hood," the third repeat from N1 2021 and, despite a false start that was 'corrected' with a Mike Bomb, they created a jam that sounded almost computerized in its origins and draped in warmth from Page. The section that climbs into 'You Can Feel Good…' is simply gorgeous. The show closes and everyone exchanges big high-fives.
The encore is a bit surprising and Phish-ily predictable at the same time. They start with "Sleeping Monkey," which gets a big cheer at the, "and take it on down to the shore" line, with a backing, 4.0 metallic simian sound. And another question is asked, "Why'd you send my monkey on the train?"
With a little stumble before the intro, the band launches into "Free," which is indeed unexpected as it was played just two days prior at Blossom. Unexpected? Yes. Welcomed? Absolutely. Is this played because of the "…splashing in the sea" line? Probably. Am I asking too many questions here? You know it.
Tonight, we got a show that fell decidedly into the B+ category of phun Phish, highlighted by velvety transitions and a series of lyrical questions that let us ponder a variety of answers. What a band.
Be safe out there and pick up your balloons.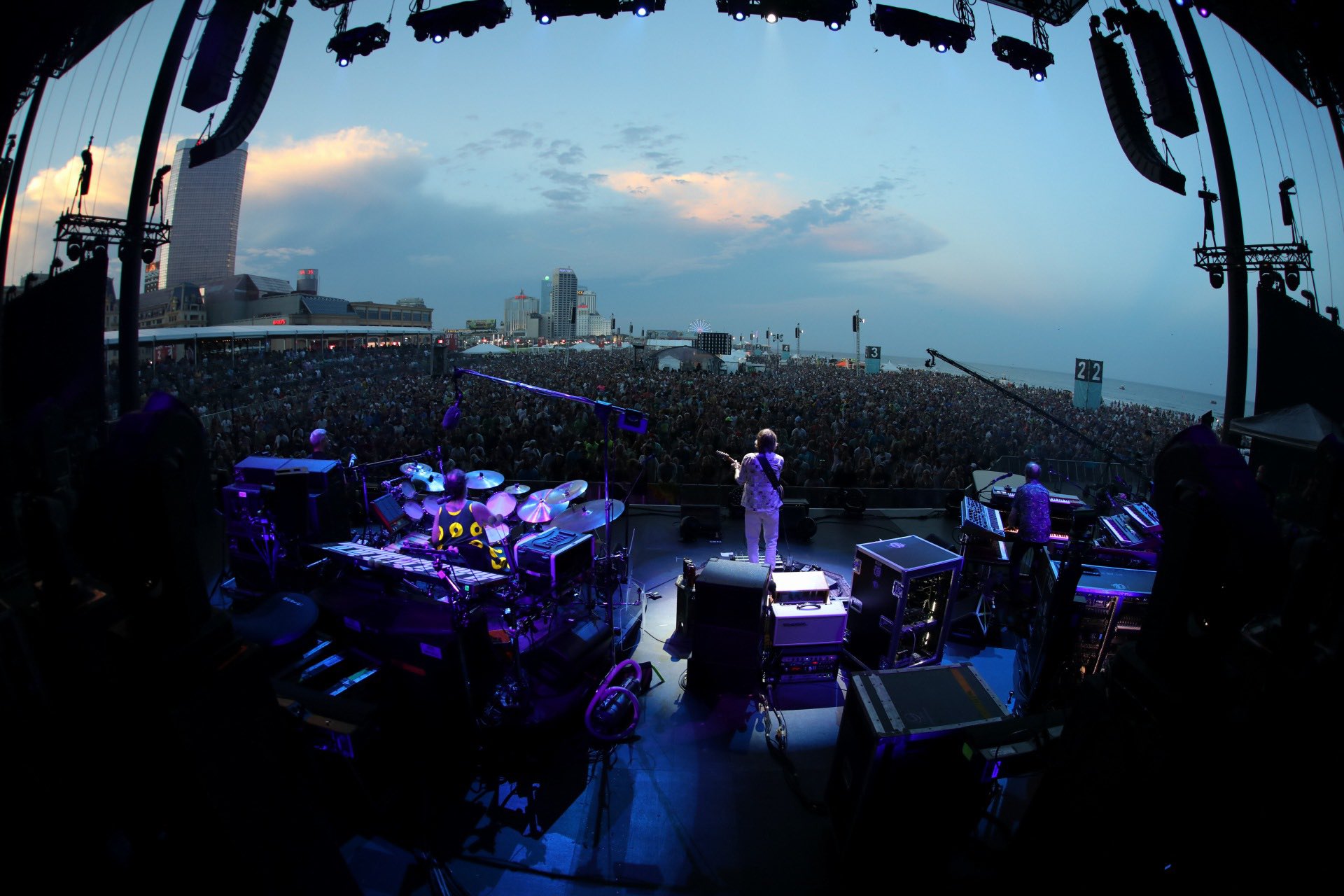 If you liked this blog post, one way you could "like" it is to make a donation to The Mockingbird Foundation, the sponsor of Phish.net. Support music education for children, and you just might change the world.