[David Goldstein, this recap's author, is a phish.net contributor and co-host of the Beyond the Pond podcast on Osiris Media. He usually wears Whalers gear on lot. -Ed.]
It could be nostalgia creeping in, but something about seeing Phish in New England in 2022 just hits a bit differently. This is especially so in Massachusetts, a state so integral to the band's evolution; The '89 Paradise gig! Multiple New Year's Shows in Boston and Worcester! They did a Gamehendge here once! And now that the nexus of the Phish kingdom has been effectively relocated two and a half hours south, they seem to play Massachusetts far less than they used to (you brahs too fancy for a heady Worcester run now?)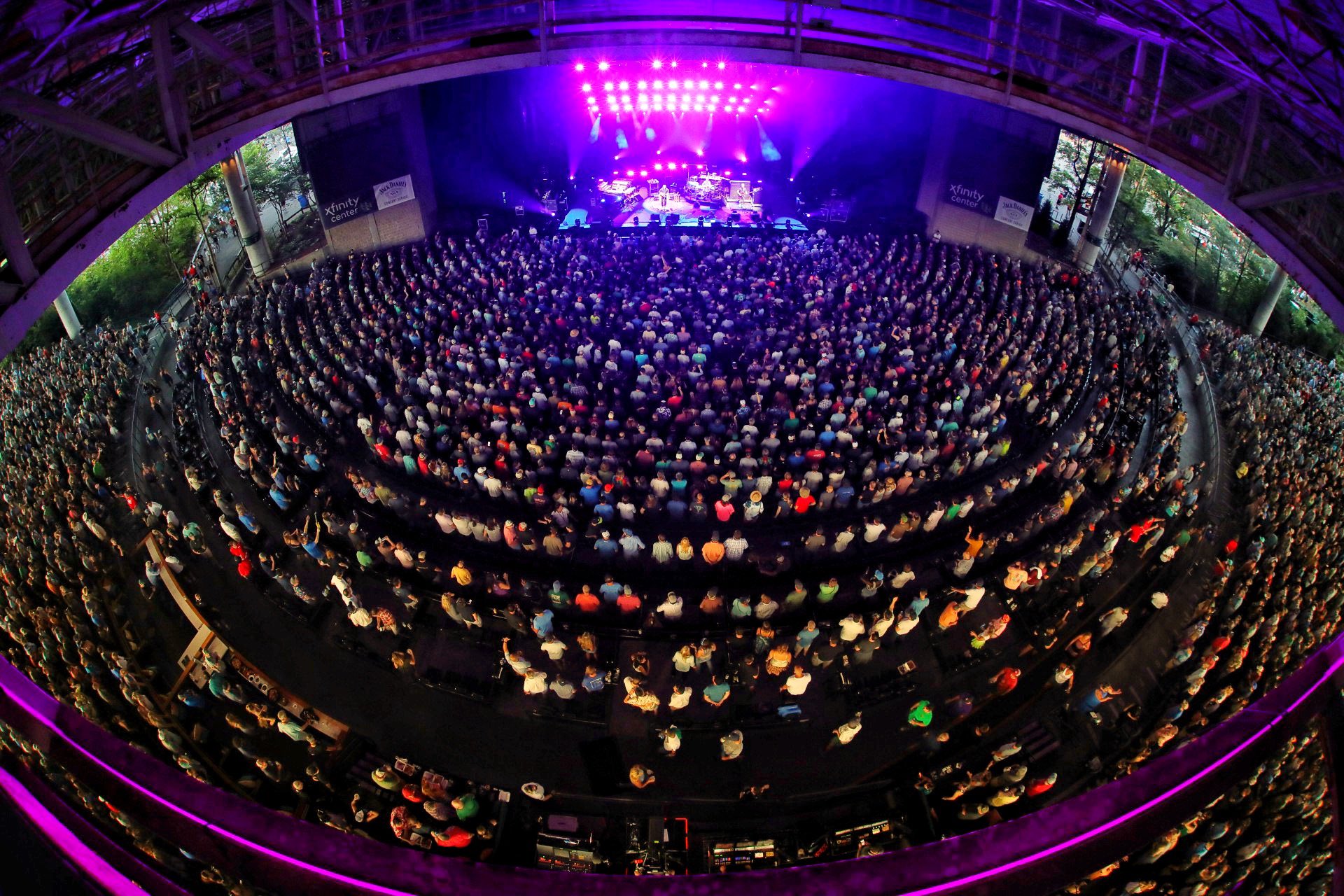 All of which is why we're more than willing to schlep to a traffic hazard in the middle of the state for a taste of how things used to be. And what the Xfinity Center lacks in creature comforts it makes up for in history; one of the earliest amphitheater gigs in 1993, the aforementioned Gamehendge show, legendary two night runs throughout the 90's, and uh…..the only time anyone's ever heard "Dr. Gabel." None of this makes the food options any less lacking, nor the roof less rusty, and if you don't make a mad dash for the lots before the encore concludes, you're probably still there. Great Woods has been here since 1986, and the ol' girl feels like it. But there's still some sort of unspoken allure about their first appearance here since 2016, so we press on!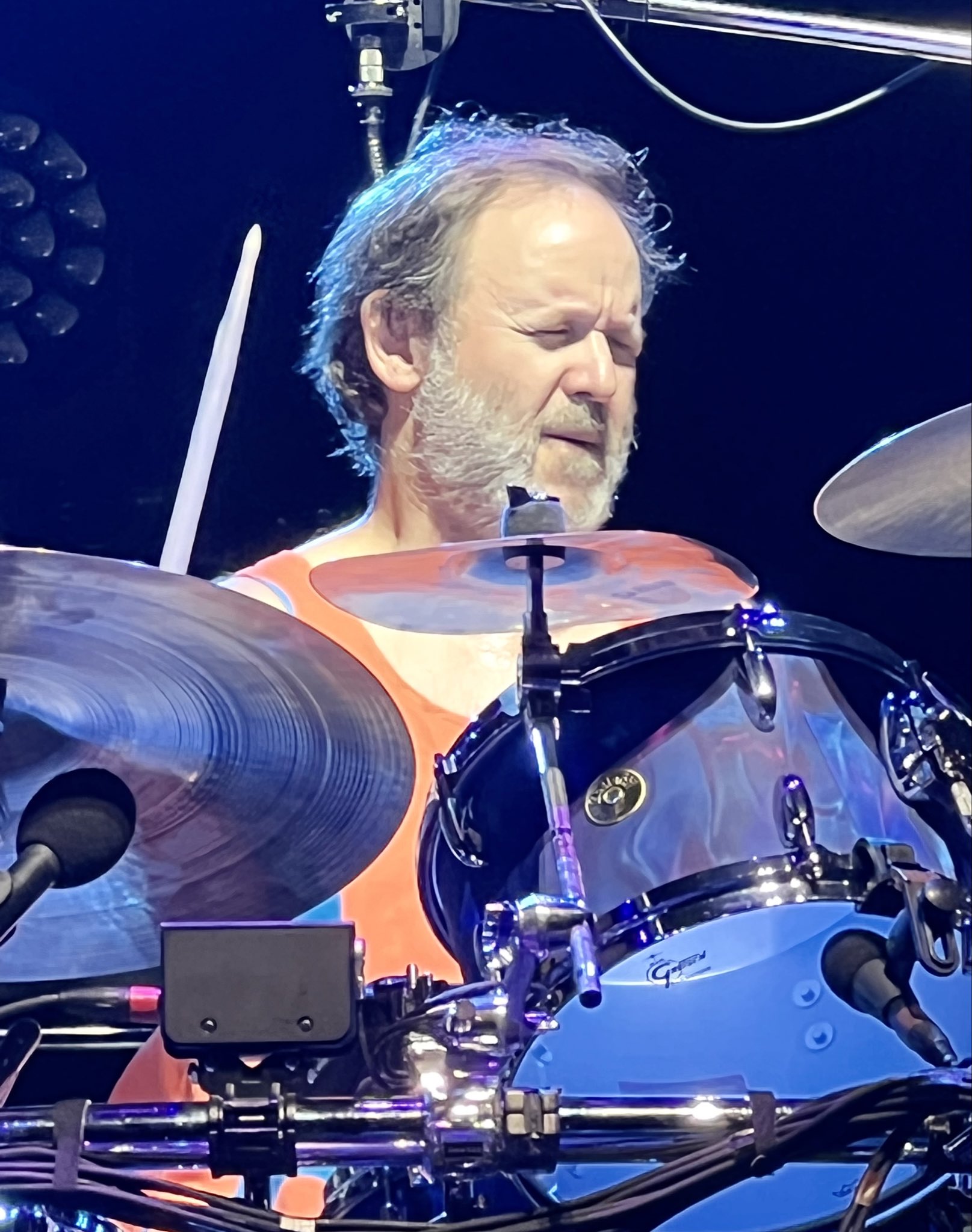 The first set of this show can be succinctly described as 'first set warhorses played very well.' There's very little not to like about a set one bounty consisting of "Everything's Right," "Wolfman's Brother," and "Bathtub Gin," in addition to a perfectly fast version of "Maze" that elicited a shit-eating grin from one Mr. Anastasio, coupled with his cheeky declaration that 'its back!' The "Everything's Right" was a particularly excellent version; modulating to the key of D for a smooth watery jam akin to "Theme From the Bottom," with Trey being an unselfish compatriot content to play rhythm guitar while Page communed with aliens. This gave way to near-"Manteca" riffage and generous radio rock peaks before segueing somewhat curiously into "Rift." The "Bathtub Gin," is both unhurried and pleasantly spacey before Jon Fishman's double time barbarism in the final three minutes, and the set featured something of a bonus closer in "Rock and Roll," because why the hell not? The latter brought back memories of the R and R encore at the Great Woods show on 7/12/99, in which my buddy got super excited that Phish was covering Jane's Addiction (who covered the song on their first album), and I didn't have the heart to tell him how extremely wrong he was.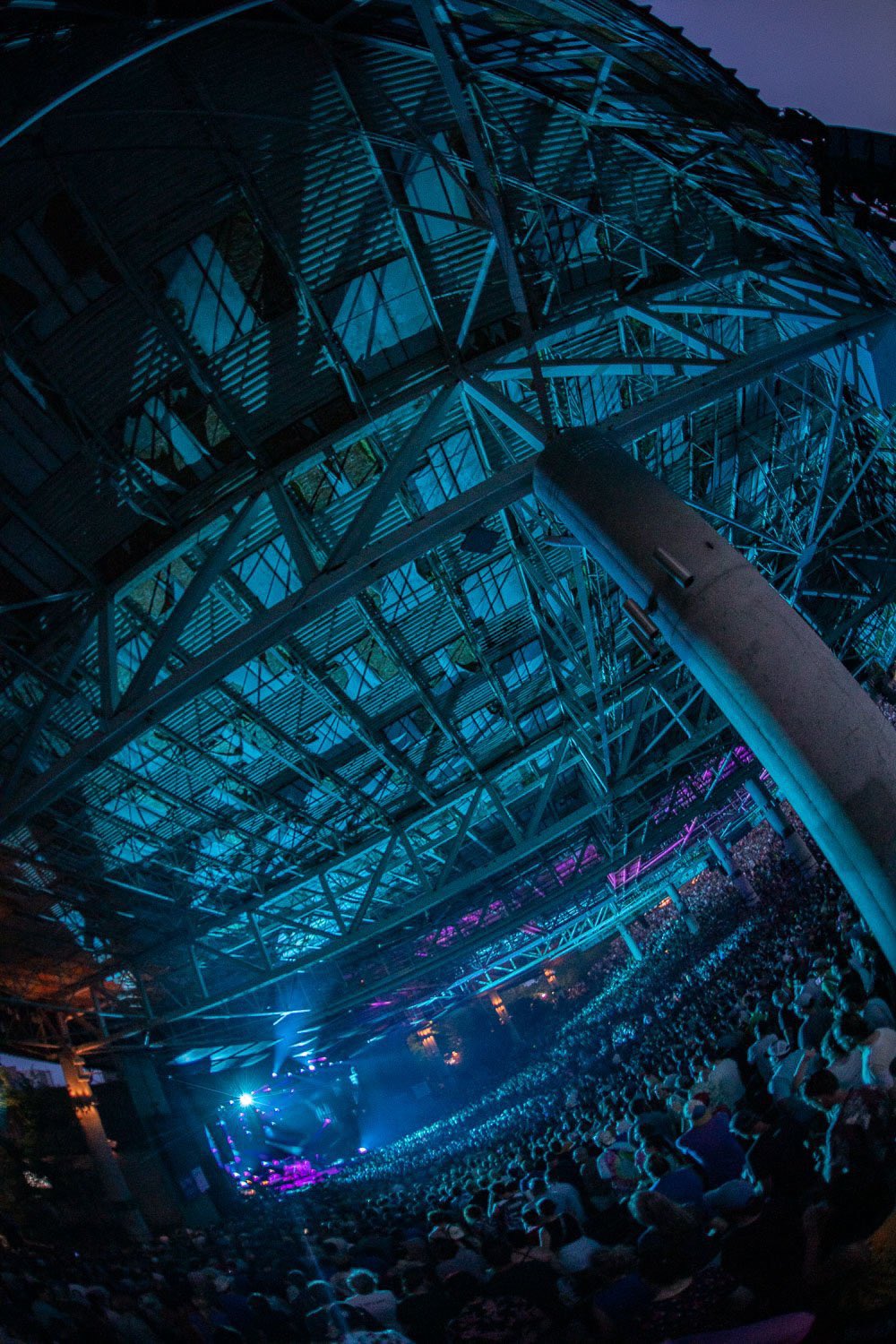 When the second set began with "Mike's Song," the setlist nerds amongst us got excited at the possibilities of a 'Paug-less Mike's, given that it's near constant companion was played as a stand-alone jam the night before. So the ensuing "I Am Hydrogen" goes into a song other than "Weekapaug Groove" for the first time since 2.0 (if memory serves!), [10/07/1999 -Ed.] thus completing a backwards Mike's Groove stretched out over the course of two nights; like these guys are taking weird inspiration from the Disco Biscuits. The ensuing "Carini" is punchy as hell, veering from "Landlady"-style calypso to demented funk, eventually seguing into "Blaze On," albeit with Mike playing an impossibly complex slap-funk bassline having next to nothing to do with a traditional "Blaze On." An early recurring theme in the jamming on this tour seems to emphasize segues at all costs, sometimes forcing Trey to fit square pegs into round holes, with the result being interesting novelties like an avant-funk "Blaze On."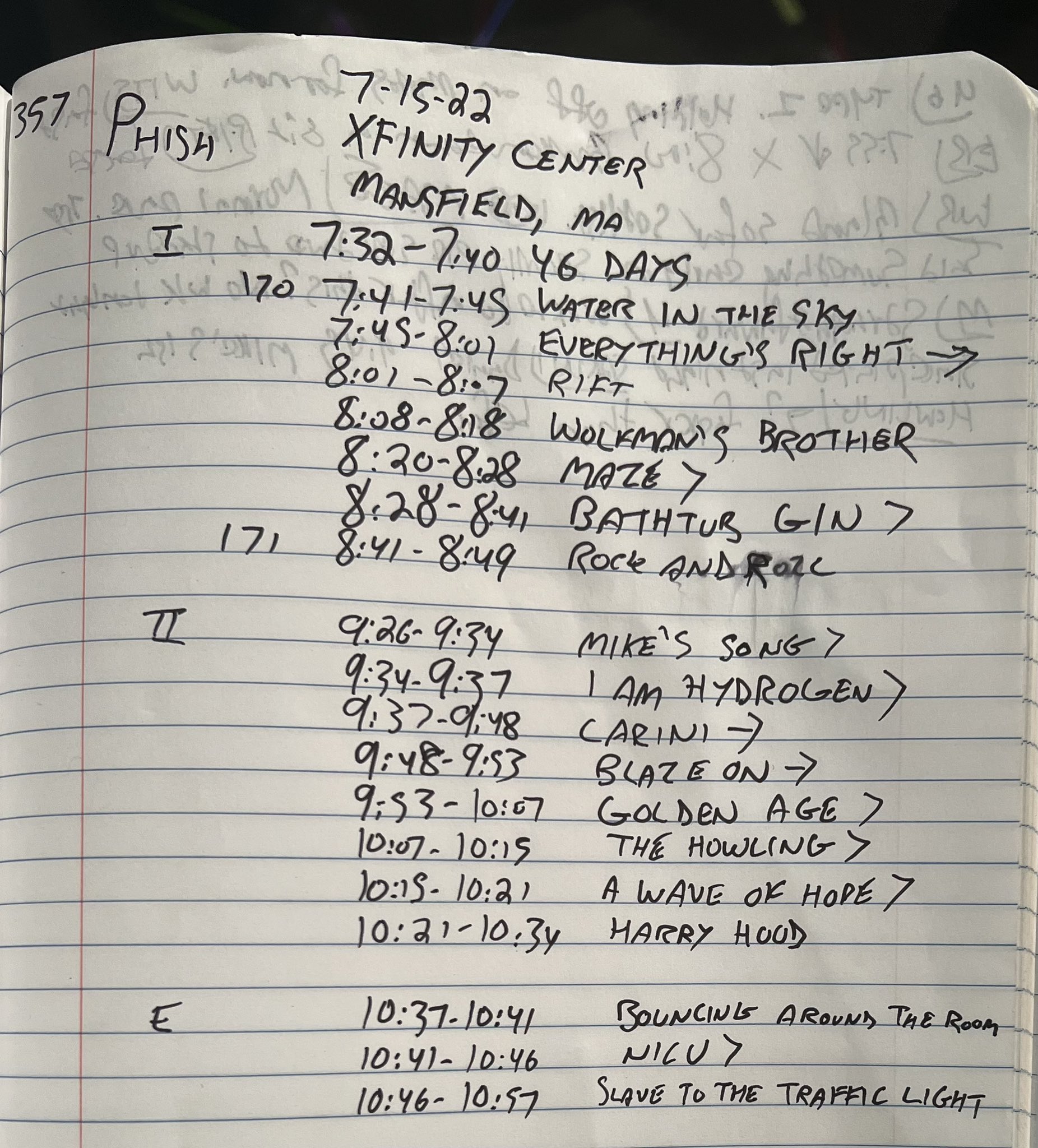 And let's talk about Mr. Gordon a little bit; whether due to new gear, or simply being placed louder in the mix, he displayed levels of rounded thump-age far more akin to vintage Les Claypool or the tones of Geddy Lee on latter day Rush albums than I had ever heard before. It's the aural equivalent of squishing ripe tomatoes, and was the impetus for the extremely fine 38 minutes of music that comprised the "Carini" > "Blaze On" > "Golden Age" > "The Howling" centerpiece in the second set. The devotion to a single groove throughout, and the band's willingness to let things marinate was rather impressive, and one of these days I'll realize that the introduction to "The Howling" isn't actually "Emotional Rescue" (though I take zero issue with the lithe '2001'-style funk of "The Howling").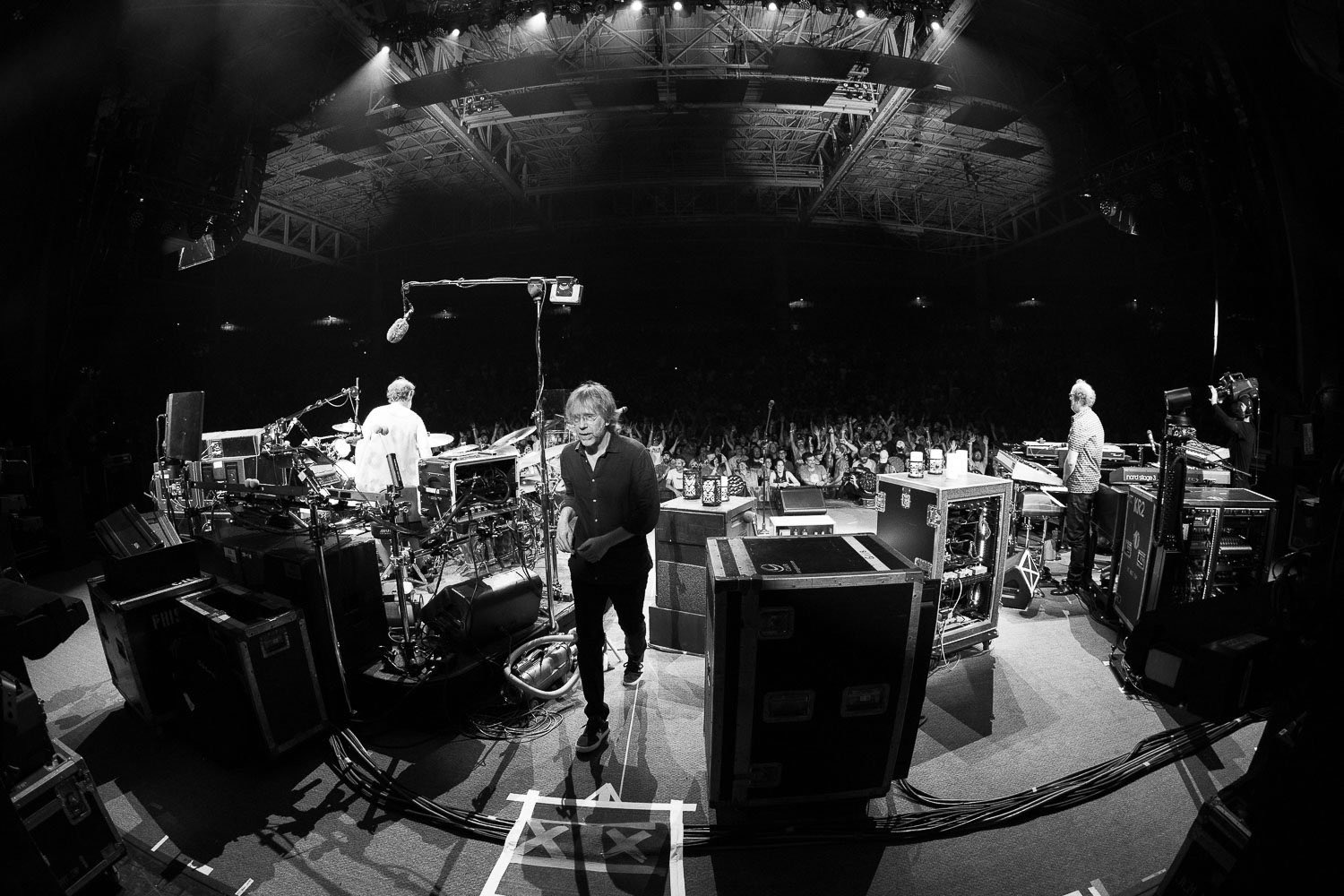 The set ending "Harry Hood," was emblematic of the show as a whole; being an old standard played very well, but short of mindblowing. The second night of Great Woods showcased a version of Phish playing at a very high level with plenty of 'good' scattered throughout, and yet it remains clear to me that they're still getting warmed up, and I can't help but think this show will likely end up a footnote by the time Labor Day weekend rolls around, which speaks volumes as to the highs they're capable of reaching in 4.0. And an encore of "Bouncin," "NICU," and an elegant "Slave" is to be celebrated, though determined to be in bed no later than 12:30, we admittedly heard the opening "Slave" chords from the inside of our car. Call it paying the Great Woods tax.
If you liked this blog post, one way you could "like" it is to make a donation to The Mockingbird Foundation, the sponsor of Phish.net. Support music education for children, and you just might change the world.