[Phish.net thanks guest recapper Landon Schoenefeld (@nomidwestlove, IG: @_colonel_mustard) for writing this recap. -Ed.]
Let me just start out by saying that I love "dirty" east coast Phish (looking at you Providence and Long Island). I'm also enamored by sweaty southern Phish and I definitely have a proclivity for the sprawling Alpine Valley Phish, but who can really ignore the majesty of West Coast Phish? And is it just me, or does California Phish, specifically, just seem to hit differently? In 1995, 2pac and Dr. Dre did confirm that California does indeed know how to party. And after only the 2nd show of this tour, Phish is already showing plenty of California love.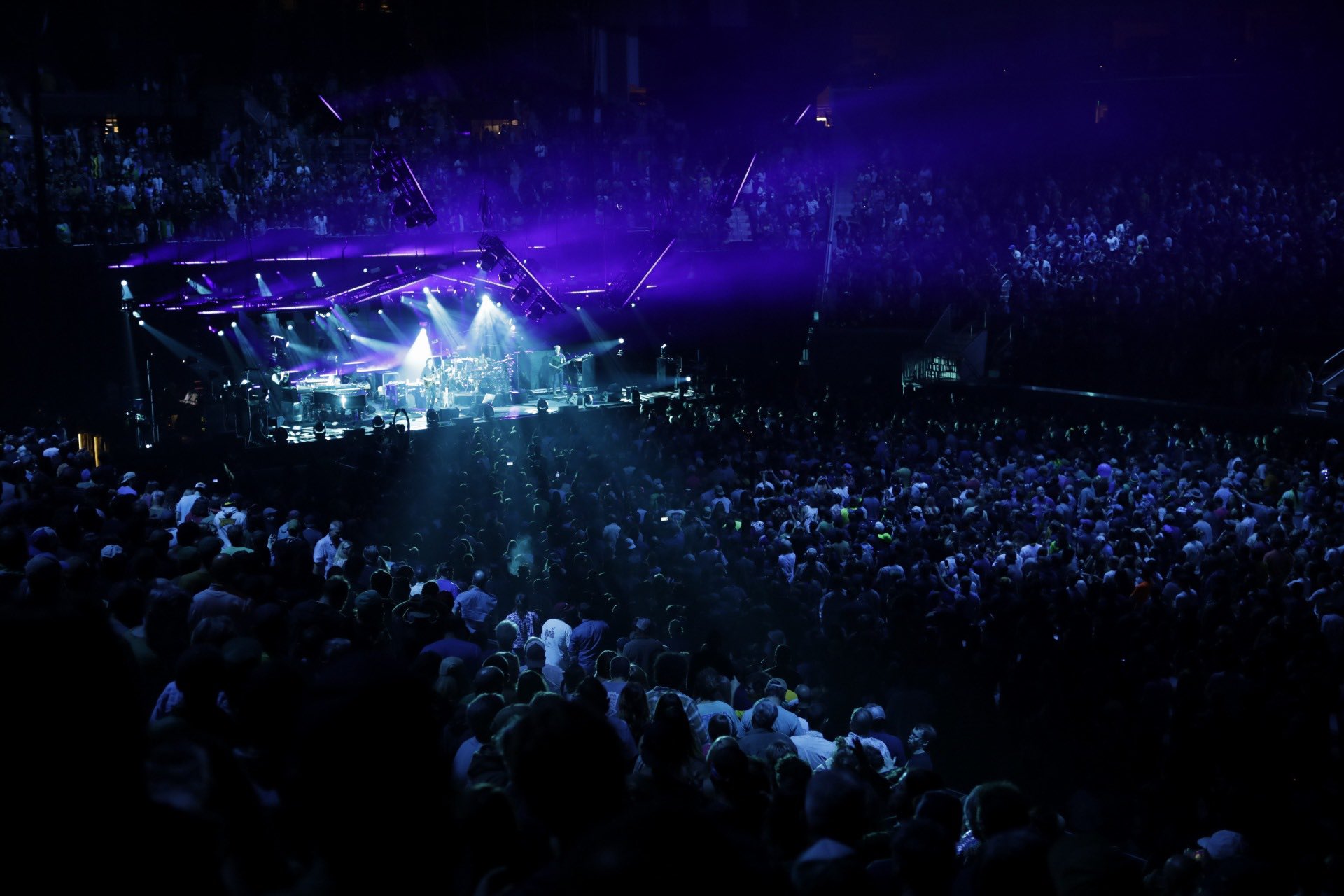 My anxiety leading up to Sacramento was through the roof, so I dealt with it my own usual and personal way—getting so spun that it left me blurting out non sequiturs to a conversation I was having in another dimension. I don't know about you, but this sure seems to work for me and it was all gravy after that. Our crew floated into San Francisco on the nose of cloud nine. With the first night jitters out of the way, I felt great all day. Cool as a cucumber. Trying not to overheat the fun meter on the night of my big assignment and donning the most ridiculous clothing in my wardrobe, we entered the virgin Phish territory of the Chase Center, secured posters, and found our seats way up top next to the spinners as Fela Kuti blared from the PA.
I have to start by conveying my most heartfelt gratitude to the four dudes in this band for walking off stage into hermetically sealed bubbles each night in order to keep the plague at bay. The paranoia of one of these guys getting COVID and cancelling the tour is real. I know I'm not speaking for myself when I say: thank you, thank you, thank you, for staying safe in order to deliver the collective effervescence we so desperately need after this past year and a half.
Alright, down to business. The lights went down at approximately 8:04pm. A classic opener like "Possum" felt like smashing a magnum of expensive bubbles on the hull of luxury yacht. Fitting for Phish's maiden voyage at Chase. A standard type 1/hose version ensued to get the crowd moving. I'm always excited to hear my favorite Nancy song, "Halley's Comet". While I'm always pushing for "Halley's" to go deep, this version did not disappoint in the second slot with almost 8 minutes in the central part of town, and some spooky jamming thrown in for good measure. From the rafters, we had a bird's eye view of the pulsating amoeba of bodies grooving down on the floor. Good stuff.
Next up was "46 Days." The jam started with some thick and murky playing from Trey. At some point there was a major key shift, and by the time Page asserted himself into the conversation, his playing resembled a living, breathing thing --- pushing air through the soundscape like some kind of mechanical lung. The outro they landed in was reminiscent of a train rolling slowly into its home station before segueing beautifully into "Slave to the Traffic Light".
No complaints hearing "Slave," ever. The jam in this rendition started with some thick basslines from Cactus, laying the groundwork for some amazing Trey tones emanating from his newest Languedoc. I love Koa 2 and Mar Mar, but my hot take is that this new Doc was built to rule them all! This is evident in the long, sustained notes by Trey, something that seemed to happen a number of times throughout the evening.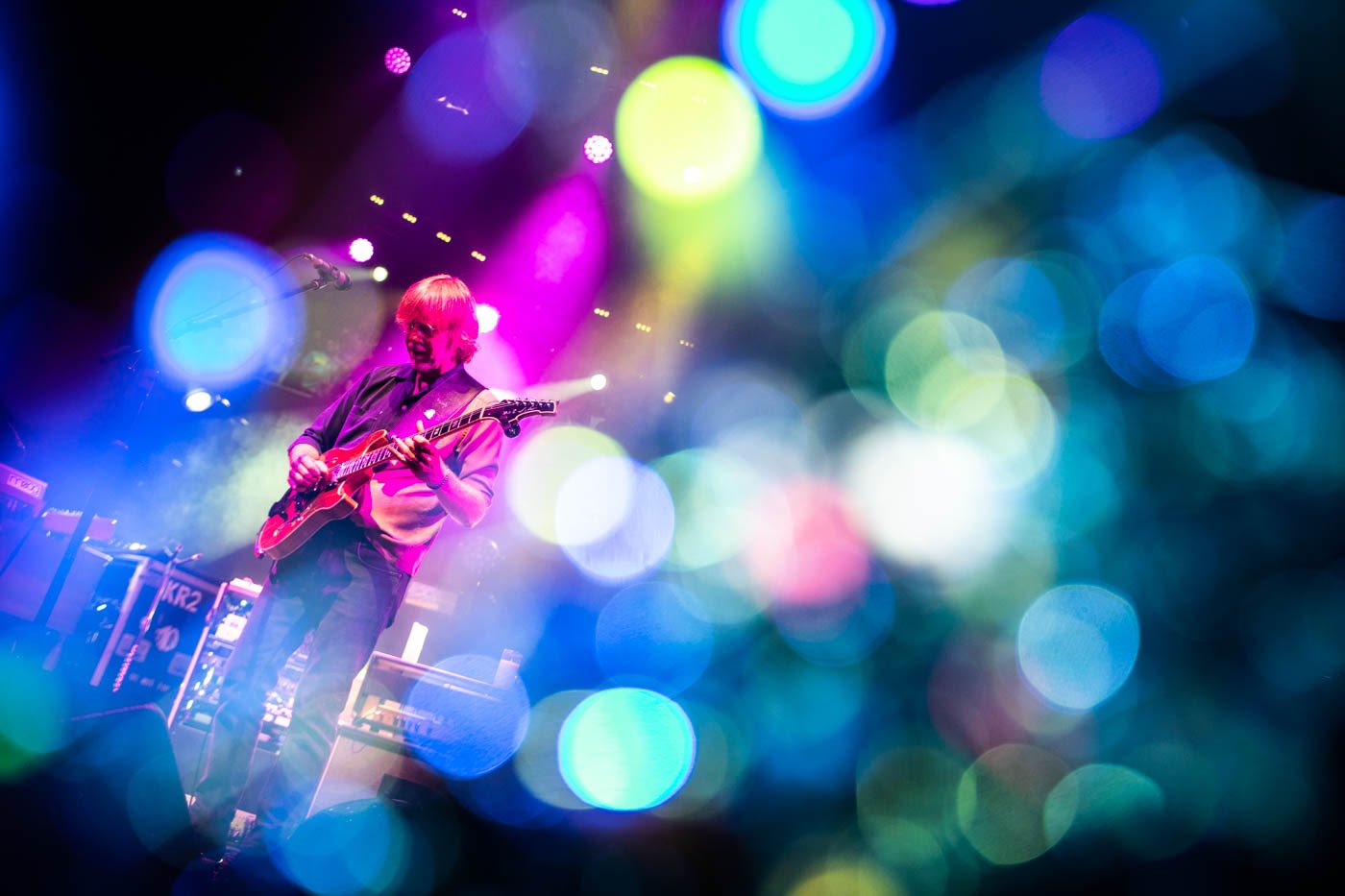 The bangers just kept coming with "Simple". I was starting to sense a big city theme… (central part of town, see the city, see the zoo, skyscrapers, etc.). I love me a good "Simple" jam, especially the melodic and ambient kind like this one started out as. Melting and fluttering under a hue of purple lights. This eventually gave way to some funky dance music and then into a crushing breakdown led by Fishman. This Simple really showcased the versatility of jamming styles that this band can bring.
Next up was a one-two punch of "Shade" and "Winterqueen". From up top I could hear the faint murmur of an arena full of chompers. Admittedly, "Winterqueen" is not my favorite, but despite that, it was still played with gusto and somehow managed to get people to stop flapping their jaws and engaged the crowd by its conclusion.
Then came a super fun "Meat". Was it just me or did I hear some throat warbling? Fishman slips in his first "yeah" of the tour, Page is standing up, and we're all getting down.
"Run like an Antelope" closed out the set with a bang. I love that they can create an intense and driving jam while at the same time being patient and slow. They seemed to really take their time with this one before exploding it with some good old-fashioned tension-and-release.
I've really been loving first sets as of late and this one was no exception. Good song selection, inspired jamming, and most important to me, great flow.
My fun meter was heating up, so I set it to "rage" during set break and the lights went down once again right before 9pm.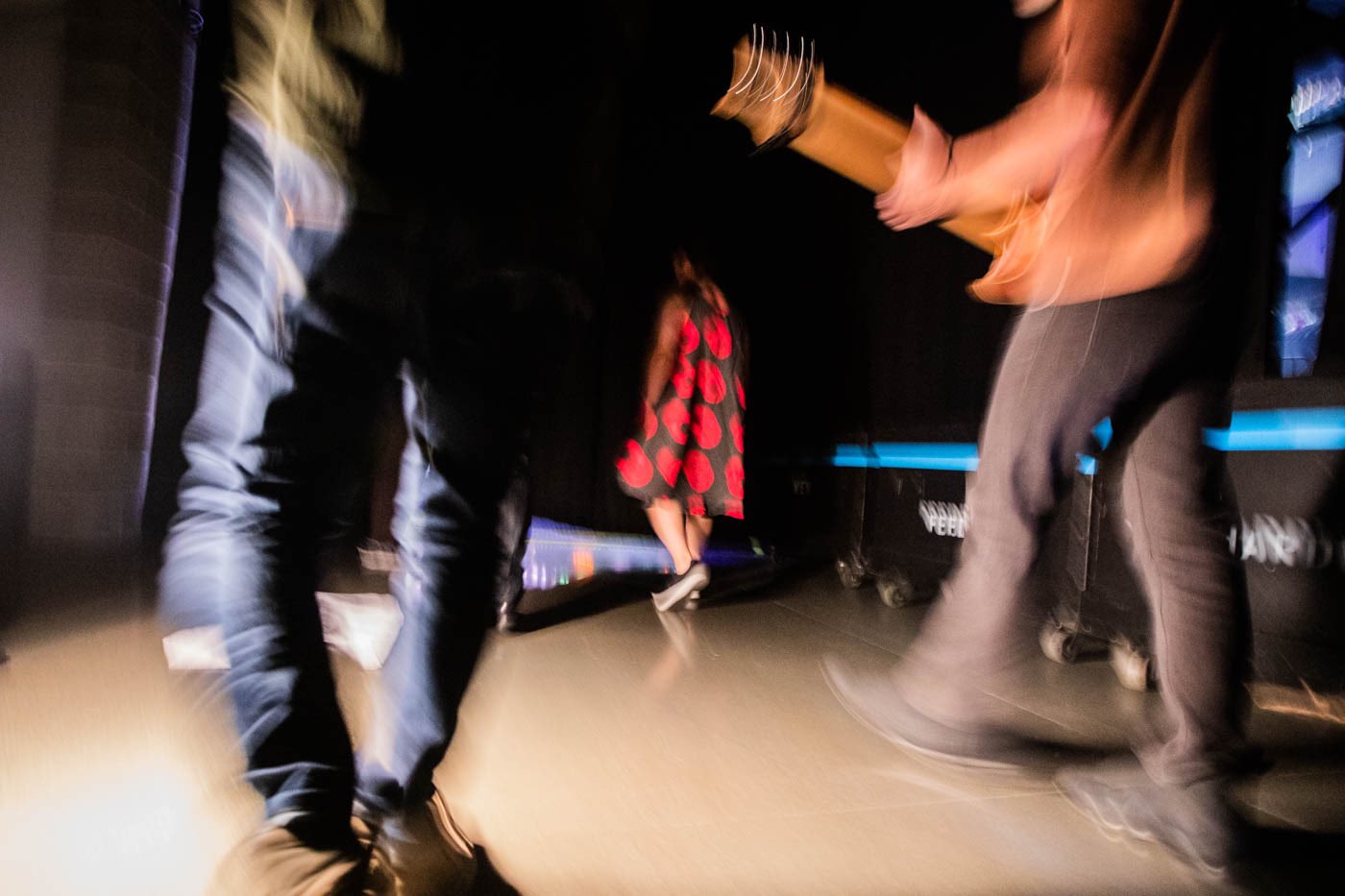 I love a good "Bathtub Gin." "Gin" dropped into the opening slot of the second set, and although this version was 18+ minutes, I found it to be more meandering than exploratory. Did I perhaps hear some "Plasma" teases in there towards the end? CK5 was blowing minds with his rig by the time they ended "Gin."
I love the mindfulness theme of lyrics in "Everything's Right" and the jam in this version was not too shabby either. Question: Is the nah, nah, nah part that they tacked onto the chorus new? I just can't recall hearing that before this one. Some more crushing rhythms by Mr. Fishman.
The highlight of the evening for me came, surprisingly, with "Frankie Says". I was just talking about this song with my buddy Kelly this summer at the Gorge, and how I wish it would make it into the rotation more. Kelly happened to be beside me this evening when they started this one and I think we both felt the synchronicity that seems to occur with this band all too often. I've long espoused the virtues of the Miami '03 version of "Frankie Says," but I'm happy to report that that version was bested this evening in San Francisco. I mean, a seventeen-minute whopper?!? Who knew? Essential listening right here, with the jam starting out warm and dream-like with some excellent interplay between Page and Trey, eventually devolving into something the crowd could "woo" about. I am not a "wooer", but I love when the band can really engage the crowd in these moments, so hey, by all means, "woo" away.
"The Wedge" that came next was delivered with the extra mustard that we've become accustomed to in recent years. I'm glad to see that extended "Wedges" will continue in the 4.0 era.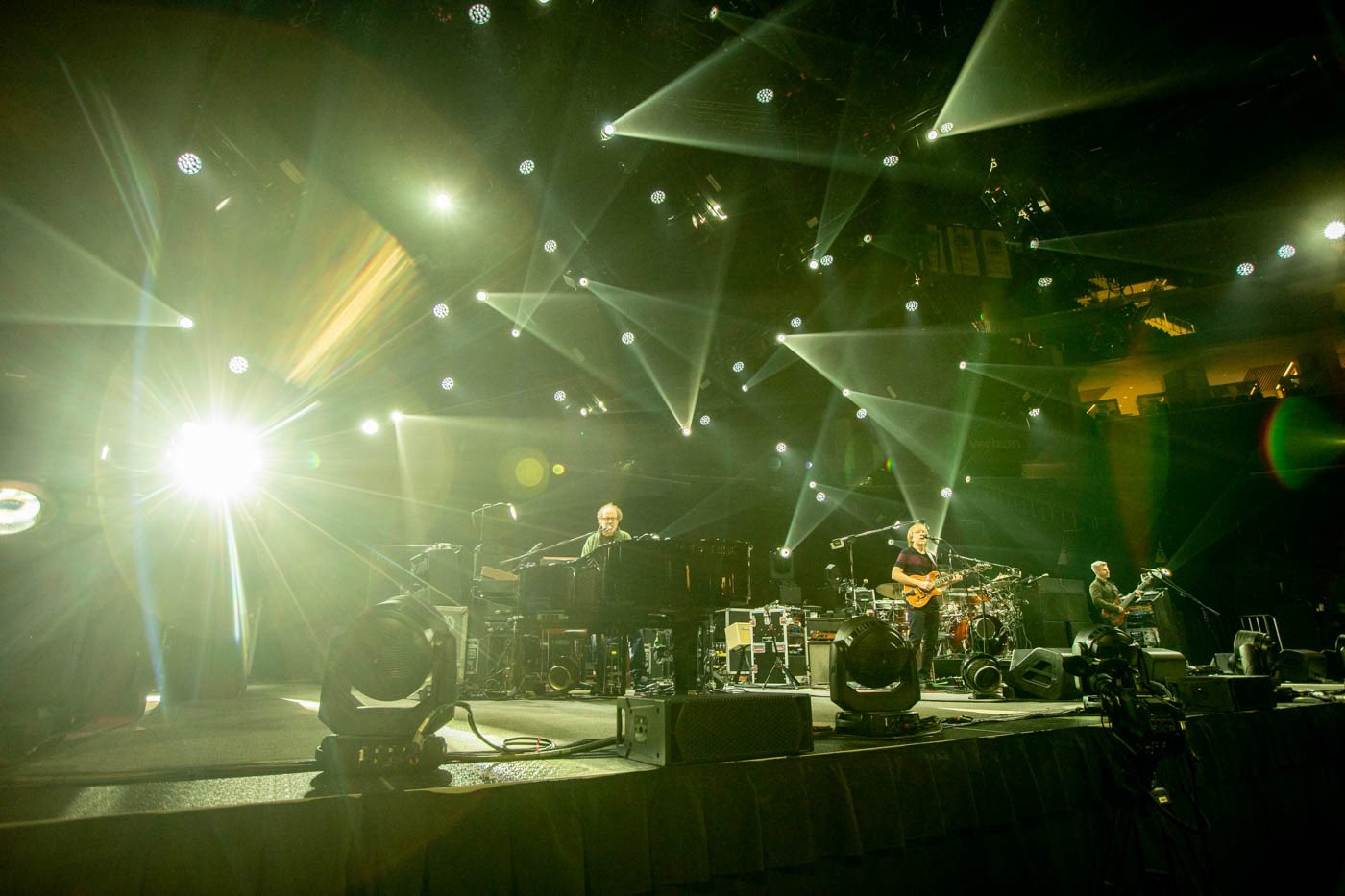 When they dropped into a fourth quarter "The Moma Dance", my thoughts went immediately to the recent TAB show where they executed a 20-minute monster. While this one didn't go quite that deep, it still managed to be the one of the best "Momas" I can remember in recent history and a set-closing, top-tier version, for sure.
What seemed to me like a short second set, I thought would give way to a 2 to 3 song encore. I was a little caught off guard by the opening notes of "Carini", but again, no complaints here. And at 19 minutes, this "Carini" became the longest jam of the night. I loved the juxtaposition of dark and light that this one brought us and seemed to send all the kids home smiling.
What a night! What a show! If these first two shows are a precursor of what's to come later in this tour, well, hot damn, I cannot wait. We all know the ancient wook proverb about Sunday shows, so let's see if the second evening ever at Chase can best a stellar night one. Let's keep that California love flowing! Thanks again for having me .net, and thanks to everybody for reading my ramblings. Love and light to all!
If you liked this blog post, one way you could "like" it is to make a donation to The Mockingbird Foundation, the sponsor of Phish.net. Support music education for children, and you just might change the world.