[Phish.net thanks first-time volunteer recapper Sterling Diesel (@sterlingpiper83) for writing this recap. -Ed.)
So this all started back at Shoreline, I met a platypi guy. We talked about how much we loved the band, I mentioned how I would love to write a review of a show, and bam, here I am :-). Thank you all for having me, it is very much appreciated.
After 2,252 miles I am ready to be out of my Volvo. I love it, but I got snowed in for about 15 hours at a rest area just outside Cheyenne on the way here and I am so ready to be out of it for a while. It is almost that time, the map is telling me the venue is just 3 minutes away, finally, it has been a long drive --- I see You Golden 1 Center, I will be there directly, just let me find a place to park first. I do just that and stroll up to the gate at 2:38pm local time and find myself to be just the 5th person in line. I meet a very nice gentleman named Michael, we talk about pyrokinesis, many smiles are created. I see Rosie coming from across the way; I met her a few weeks back on the rail in Pittsburgh at TAB, I am very glad to see her shining today. We talk about Trey's 4 song smile from that night. It's almost that time, here comes Rick with the wristbands now. Ahh, yeah! Looks like I'm gonna be the 8th person in tonight :-)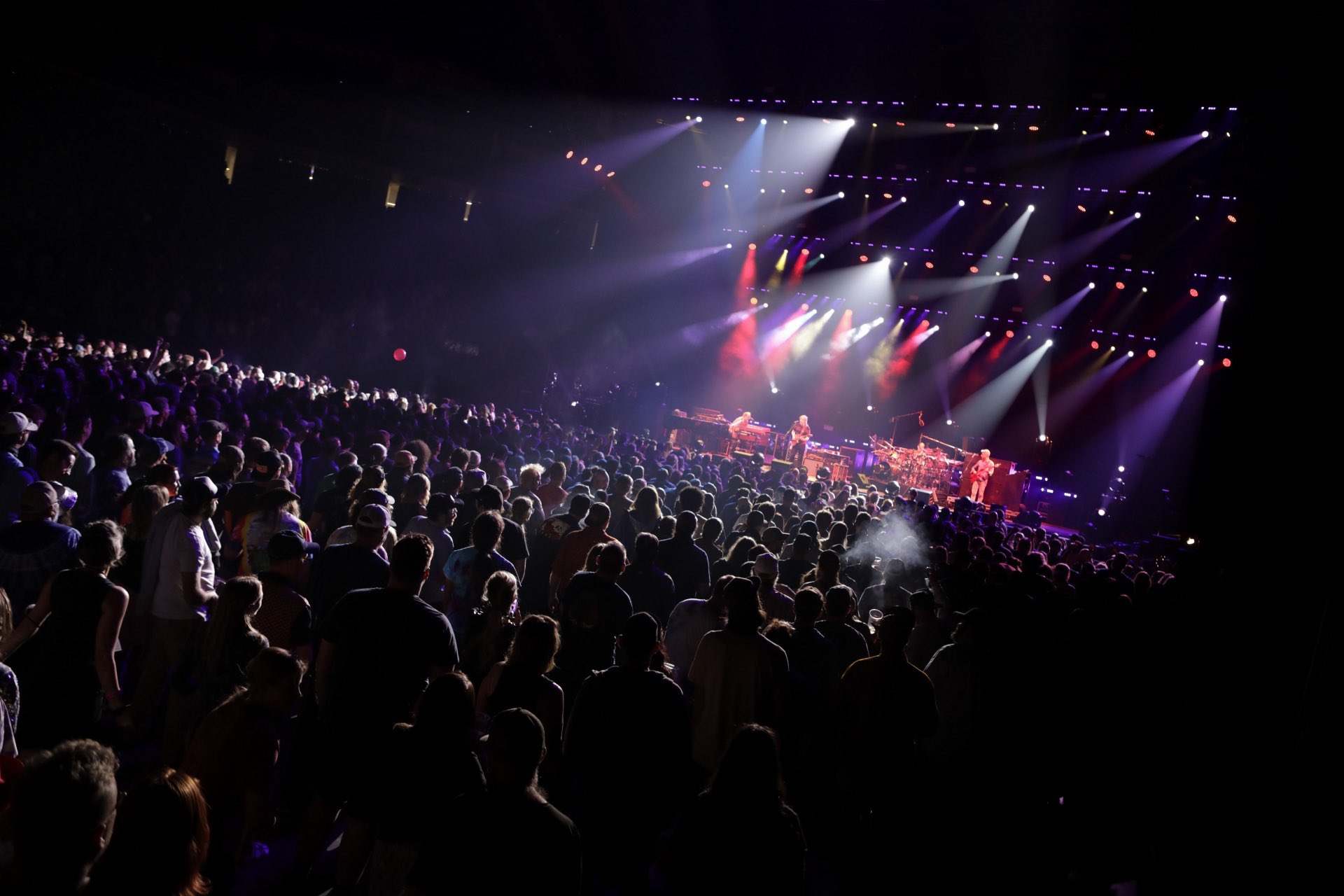 "The Final Hurrah" begins and I am grooving Page side, second row, and from my vantage point he is looking very happy tonight, as is Trey. I love watching Trey picking his way up and down that new Languedoc of his, and I find this to be a very good song for that. You know, if you are into that sort of thing, that is. It seems to me that this is another joke, opening Fall Tour with "The Final Hurrah", maybe so, maybe not; either way, this is a nice, laid back groove for us to get settled in to, and many are still coming in. It is very well-played, nothing to write home about, but the love is there. I am so glad to be dancing and not driving right now. "Harry Hood" starts, Page stands up, it's about time to get down, people around me are very happy about this decision, as am I. But is this part of the joke? It, to me, feels like a late second set song, or an encore. The numbers might back me up, I'm not checking right now though. I'm a noob, I've only been around since 2009, I've never seen "Hood" this early in a show, but l love it. I love the sounds at around 1:54, Trey almost whispers into the mic when he starts to sing finally. Page is smiling, the clavinet is coming through clearly now, I'm loving it, the crowd is loving it. Trey and Page are clearly loving it as well. A very well-played version throughout, I love the space age sound effects around 11:48 - 11:54.
"Corinna" comes on - no one is expecting this to show up here, not now, and if you were, I love you, because this song is phenomenal. I love it. I first saw this way back on 06/24/12 at Blossom (Go Team! I hope to see you soon, Dominic). I loved it then, and I love it now. This is a perfect placement for this song. Trey seems to really love playing it and I very much appreciate this. "Got a rainbow round my shoulder, shine like silver, baby look like Klondike gold."
I love this song. Now, before I say this, just know that it is perfectly okay for you not to say it, okay? I promise, don't say it, there is no need, I'm better now ;-) Life happens, we make plans, we do what we think is our best, and sometimes it works out, sometimes it winds up better than we could have ever imagined, other times though, well, this is the story of "The Squirming Coil". In 2017 I was trying to have a baby. I wanted a family, and despite all the planning and preparations, I wound up delivering my son myself, at home, when 911 didn't answer. He was born to soon, though, and about 27 minutes after he took his first breath, he took his last. I would play "The Squirming Coil" for him every night before he was born because Page's piano solo at the end was everything I wanted to tell him about the world, all wrapped up in a really fantastic song. I'm thinking about 07/18/17, the day that I got my baby's ashes back, on my way to the show in Dayton, where they just so happened to close the show with the one song I would play for him. I love this band, I love the light they shine, I love that they are playing this right now. So glad I met that platypi guy back at Shoreline. Is this show being played in reverse? Seems like it to me, but what the hell do I know? "And the squirming coil, it got away..."
"555" is now being played, I have always liked this song, I love the lyrics, and the groove is very nice. I am always hoping to see this take off into Type II territory. It, to me, at least, seems like a perfectly fit jam vehicle. I really like the tone of Trey's guitar right now. Mike's grooving, I know this because his head is bobbing, I just saw his tongue come out, are we about to jam? Fishman is coming through clear as day, there is Mike's tongue again, and as quickly as it came, it is over; I will have to keep hoping to hear this jammed another day. "Army of One" rises out of the ether and begins to play. It takes me a moment to recognize the tune. I really like the introspective nature of these lyrics. I love hearing Page sing it to us, I love seeing him rock his back when he hits the higher notes, I think about what he sings, "Soak it in while you can, winter is on." I'm all sponge Page, I'm all sponge. "Beauty of My Dreams" is up next. It is a fun pick-me-up after the somewhat macabre outlook of "Army of One". It is but a standard run through, it does its job and gets us dancing again, then gives way to "Mercury".
"The moments are mine, if I could just seize the day," I am very happy to hear these words. I love the spooky sounds around 1:08. If you are a fan of the band's weird sounds you might also enjoy this. Then "Mercury" gets weird --- around 3:35 I hear the first notes burble up of what is to come, and I'm all in. The weirdness goes away, the regular composed interplay is back in as quickly as it left, and I'm waiting. I heard it get weird back around 3:35, more is coming, it takes about 4 minutes to get back to the groove of this "Mercury" jam and it is just delightful. I'm hoping to hear it turn dark and nasty though, but bliss is what we get, so I groove. The notes Trey is playing around 13:40 are interesting to me, around 14:38 I hear what I think is Trey about to go dark, but it is more bliss, then around 15:40 or so it gets a little weird again, I like it, they seem to as well, but it doesn't go anywhere really and it winds down without ever covering much ground, a very well-played "Mercury" all in all. "Character Zero" comes on and those around me a very happy.
Adam The Man is nodding approvingly, the folks to the left of me are smiling like it's Christmas or something, and I am loving the smile on Trey's face right now. Very well-played version to close the first set. During set break I have a conversation with the gentleman that is front-and-center on the rail tonight about how easy it is to get lost in the darkness of depression, brought on by isolation, or whatever else life throws at us, and how it is hard work to be happy and healthy. I say a couple things that, judging by the way his eyes light up when I say them, resonate quite deeply with him. So I want to take this time out for a friendly reminder to check on the mental health of those you care for, they just might need to hear your voice today.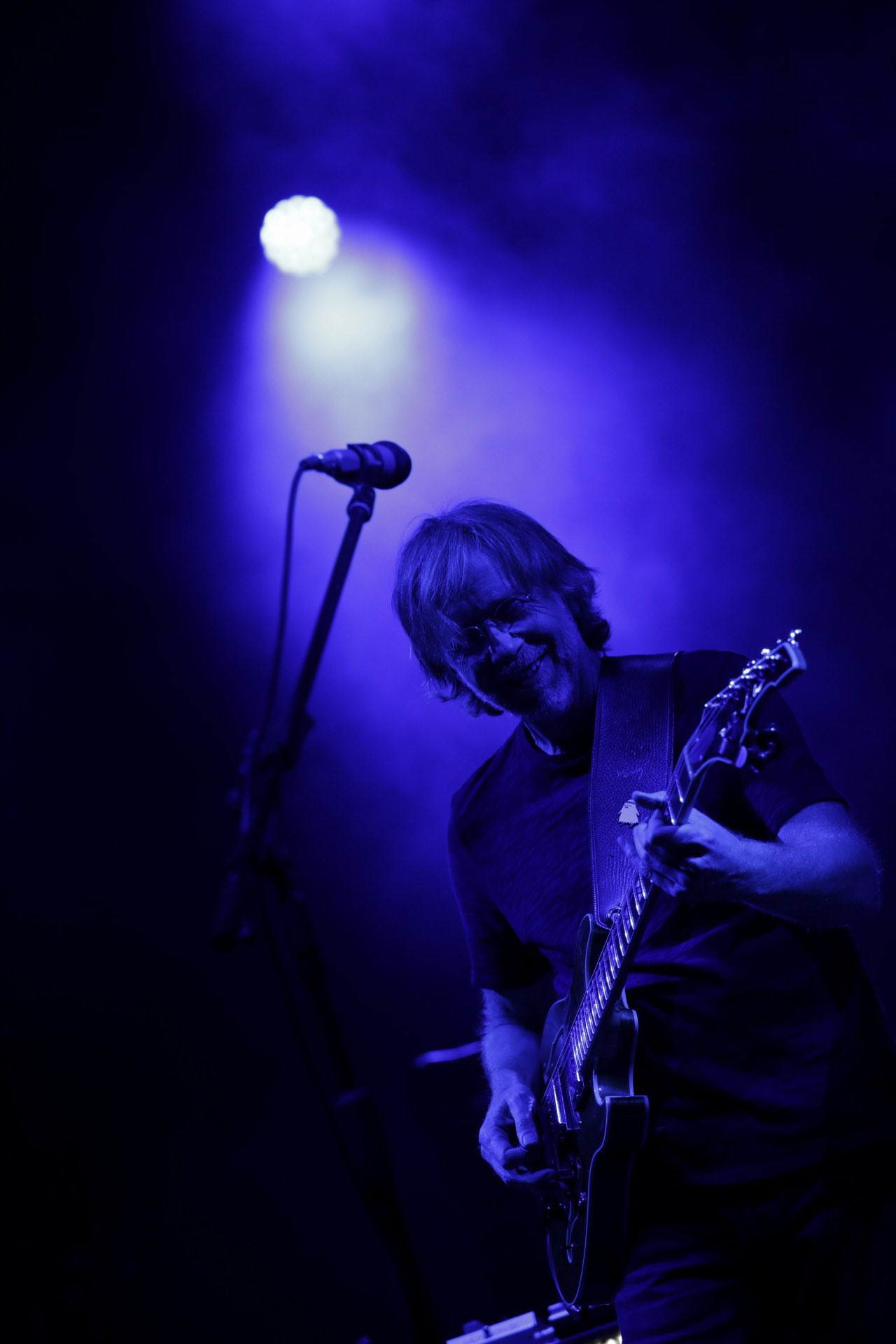 No sooner than this conversation has met its end do the lights go down; it's that time. And what song greets my auditory canals? "Scents and Subtle Sounds" I am a huge fan of this song. "If you would only start to live," seems like a very appropriate hint of wisdom to be telling us right now. It is very well-played, gone much sooner than I want it to be, as "Scents" often does, right? It seems to me, almost criminally underplayed here tonight, but it gives way to "Plasma," and I dig it. I love the smile Trey is wearing right now, check it out if you can, it's great. Around 2:38 it gets a little off, in a good way, before settling in a nice groove, around 6:35 or so it gets odd again - for a moment, then its gone - loving this groove they found, though. Trey is fingering his guitar in ways that could, in some place, probably get him arrested. It is almost perverted how much he is getting off on playing this for us right now, I fucking love it.
"Free" fits nicely and the segue from "Plasma" is very smooth, well-earned ">." I'm a big fan of "Free" jams. The beat is fantastic to bounce to, as always, and I'm locked in ready for this to go skybourne... and I'm still ready. While they did find a neat pocket of sound in this groove, nothing more than average (great) is what we get. "Billy Breathes" follows and is just that, a breather, great piano, great soft singing, love the beauty of it all --- is it gonna get dark and twisted in here though? "Piper" is next and while it is not a slow build, it does get really good, really quick. Now, from here on this set gets fucked up for some of us. If you were on the rail tonight, then you know what I'm talking about. Tonight was my 75th show, and my first time ever seeing someone escorted out by security, I miss much of this jam, while Trey has a Languedoc attack cruiser strapped across his chest (check out the TAB Columbus print, you'll see it) and he is starting to fire off little shots of sound that fit perfectly into this machine groove, because of a belligerent and combative individual. I really love it towards the end, spooky stuff, laid over a nice groove, I'm loving it. I like how Trey can barely sing the song, he is laughing, smiling, hardly able to speak, I love it.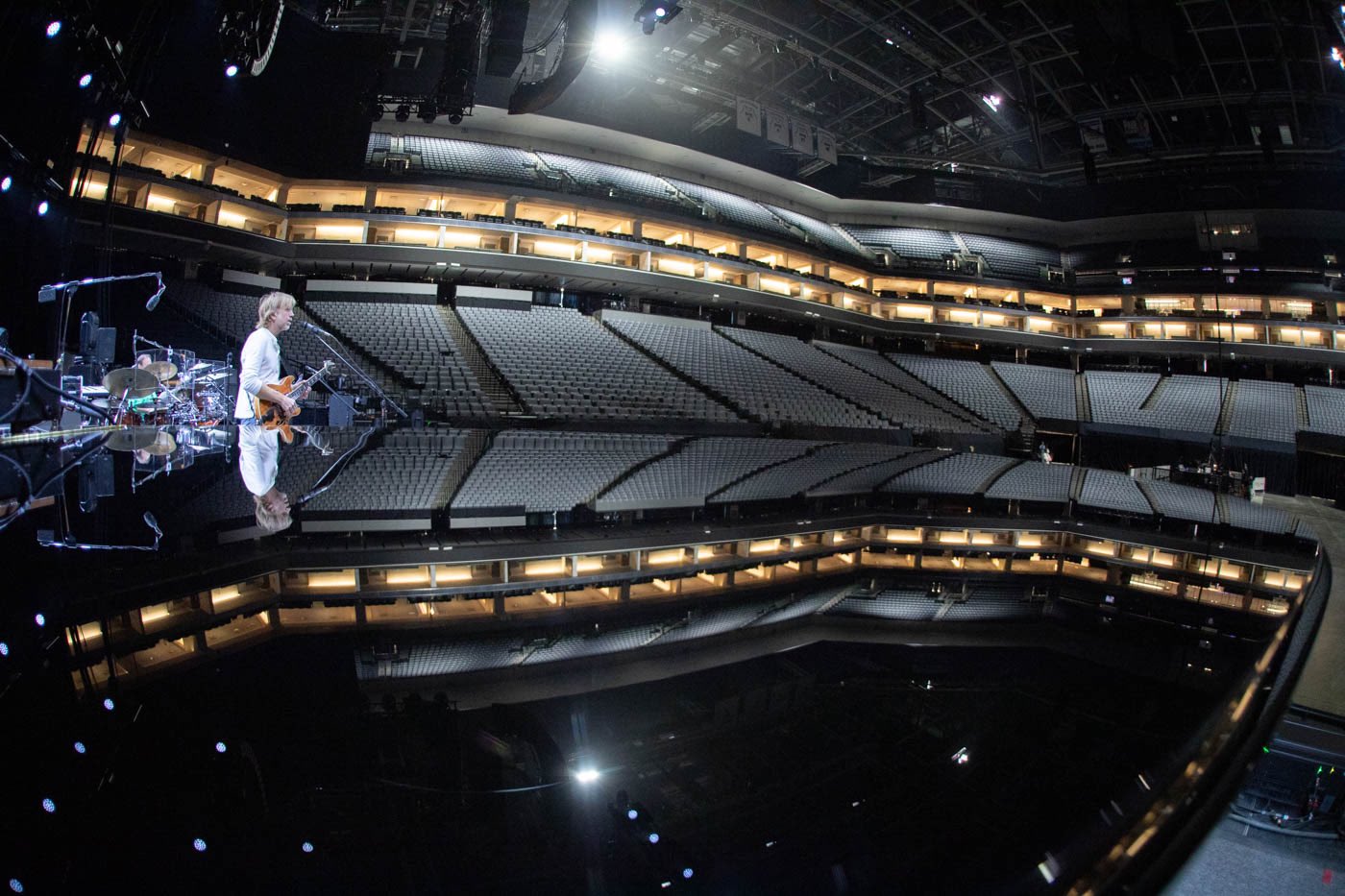 I do not listen to songs until I've seen them live, since this song "And So To Bed" is new, I have never heard it before. Nicely played, in so far as I can tell. I like it, the people around me are smiling, all is good. "Sigma Oasis" is upon us now and I am loving how Trey can barley speak, let alone sing. He is such a people pleaser, those around me love the flub as well. "Tube" comes up out of the primordial ooze that "Sigma Oasis" just left behind and gets right down to it. This is the most fun dancing I had all night, for sure. It doesn't go deep, and it ain't long, but it is good. Remember earlier about me saying I don't listen to things until I see it live? Well, the crowd clearly loves and knows this song they are now playing, it is "Brother," and I have no clue what is going on.
Great jamming groove, this time signature is fun, I like it. The song ends with a trivia question, Trey asks what other song ends with them grabbing their throat and warbling it, to which Page replies "Rift," Phish gets it right, we are down 1-0. Seems like a rigged game, but what do I know. From this we get "When the Circus Comes" it is very well-played --- lots of happy faces, lots of loving embraces. I love the way Trey songs this tonight, the love is there. "Golgi Apparatus" is a great closer. Tons of energy, lots of fun to sing along to, and it does not disappoint anyone that I can see. Very well-played second set, that was broken and disjointed like a first set warm-up, but whatever, I loved it. This seems even more like a weird joke the more I think about this setlist. "Sand" is a really nice way to end the night. This is very nice version to groove to, for sure. It is high energy and just what I needed to get me through the drive to the ocean, where I am now sitting, on the beach, in San Francisco, watching the sun come up across the bay, getting ready to do it all again, because it's just the greatest thing ever, served up nightly.
If you liked this blog post, one way you could "like" it is to make a donation to The Mockingbird Foundation, the sponsor of Phish.net. Support music education for children, and you just might change the world.