[Phish.net welcomes back guest recapper Alaina Stamatis (@farmhose; Twitter: @fad_albert) for writing this recap. -Ed.]
A Phish fan purchased a cheesesteak and a small container of fries and then looked for where she had left her friends and loved ones on the beach. But she was being watched. Without warning, a seagull that was hovering above landed feet first onto the hand holding the fries, obliterating their container and her desire to eat them, and while she mourned her side dish, a colony of seagulls (the collective noun for seagulls is 'a colony') swarmed on her long sandwich, colonizing it as their property. We truly became one with the ecosystem of Atlantic City.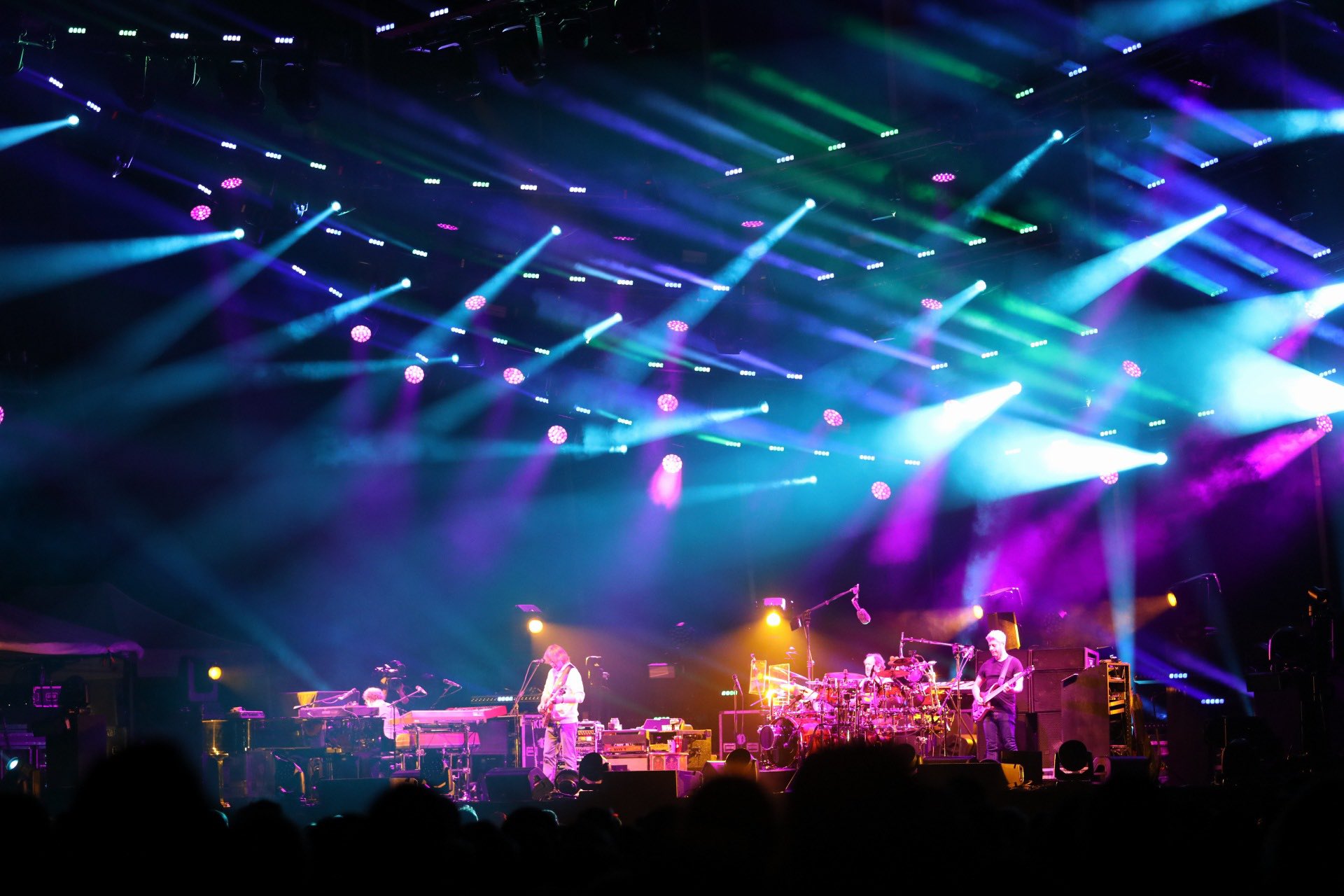 In its natural state, Atlantic City is a haven for people to engage in public intoxication while being hustled to buy t-shirts that make no sense and food that makes you instantly poop - it's a lot like Phish lot! And while your tried-and-true Phish fan vendors were relegated to peddling their wares in the lobbies of hotels, the unregulated presence of nitrous mafia made us feel right at home.
After a nearly-endless choppy sea of sweaty and overburdened Phish fans navigated the uneven and malleable sand, Phish took the stage and struck up what is colloquially referred to as "Slow Llama," which gave us all a first attempt at dancing in the sand and a better chance at deciphering the lyrics. "Tube" was next to speed things up and laid bare for a lot of people how difficult it was going to be to move their feet; arm gesticulations increased 150%. "Destiny Unbound" next because, "where the f--- are we? And are we really going to stop seeing Phish after this weekend? Are we really hopping off the train when the band is playing so well?" Good luck getting rid of this everlasting itch.
Pro-tip: If you're wading in the velvet sea and you hear a drunk guy say, "Does anybody know where the bathroom is?" you're approximately two minutes away from him taking his dick out in front of you and peeing into the ocean.
"Ya Mar" was next, which meant double-duty singing for Mike and a song that was leagues more appropriate for sand dancing. Play it for the Jersey Shore, Leo!!! The "46 Days" took off its shoes and wiggled its toes in the urine-saturated water with the first ripping solo from Trey of the night. "Reba" was exceptionally challenging for dune grooving and it was sort of unfortunate to view so much suffering beneath the smoggy moon. Seems like Trey may have came in late for the most challenging part of the composition and Page corrected for it by leading their playing-in-the-round, but sharper ears than mine could confirm or deny.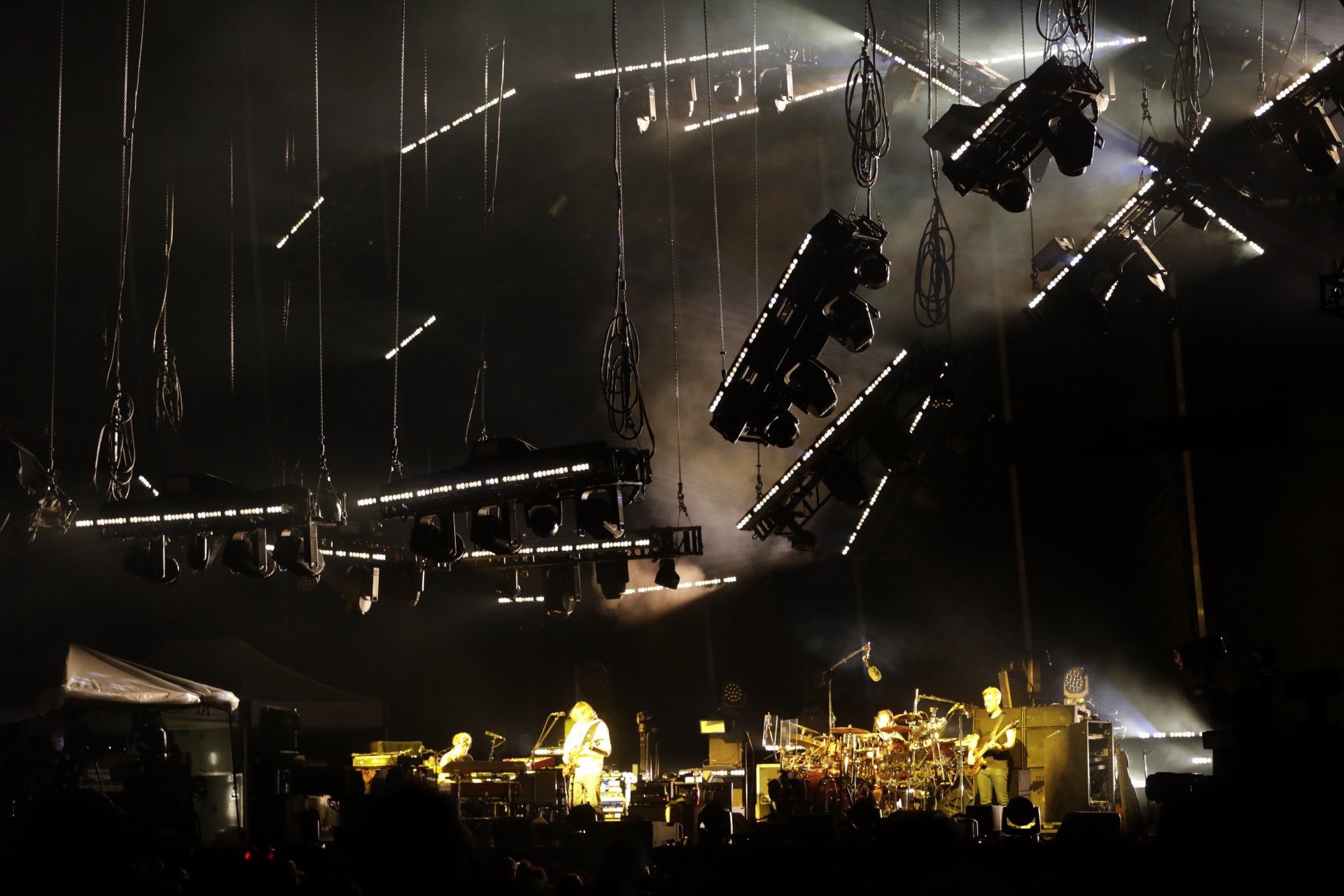 "Soul Shakedown Party" solidified set one as a party set and gave everyone the impression that they had conquered the shore with a two-step, only to be tested (read: humiliated) by "Split Open and Melt." In fact, "Melt" would be a perfect song to walk straight east and let the murky waves slap you repeatedly in the face as you begin to drown, but the teen lifeguards with the big, red Baywatch thingies were patrolling so nobody could go in deeper than their thighs. "Melt" featured some particularly evil vamping and a heavy driving polyrhythmic beat from Fish. For a second it almost seemed that Trey was going to shift to a major, life-affirmative jam but NO, that wouldn't be right! Saturday night's all right for evil!
Next was "The Squirming Coil!" I saw Satan on the beach! More evil! A haunting hint of moon through the celestial sludge! No stars, just those cackling hyenas of the sky flocking for more freshly purchased junk food as sexy Satan emerged from the Atlantic Ocean dripping wet. It got away! The moon was re-engulfed and a lone pigeon flew towards Caesars as Page was abandoned on the beach.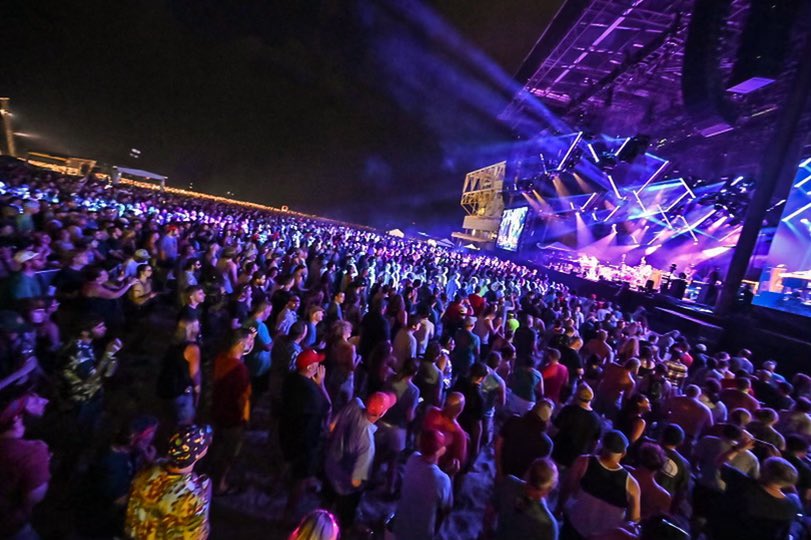 Second set opened with literal fireworks and Trey tearing up "I Never Needed You Like This Before," which has been in heavy rotation to show his gratitude for the fans and his ability to perform again. A purple haze formed around the stage from Kuroda's LEDs interacting with the fog from the fireworks' smoldering embers.
Fireworks continued and peaked during "Drowned" which was an exciting call because second songs of the second set tend to take off their pants, shoes, socks, and rip off their skins like some kind of berserk Alex Grey painting and run into the ocean. The "Drowned" jam quickly went major and laid the potential for a full-on explosion of bliss, all the while leaving room for exploration and experimentation and the goodies of Trey's new rig. The jam found its way to a quiet place rather than a bliss peak and Trey found his way to "Ghost." Not a goofy "Ghost," like the "Ghost" in Deer Creek. A menacing "Ghost." A "Ghost" with lightning! A spacey, menacing "Ghost" with funky bass that was gonna electrocute the audience. Treys demonic melodies and CK's lights opened a portal for sexy Satan to climb back to Hell.
"Trey is the dungeon master," my husband whispered in my ear.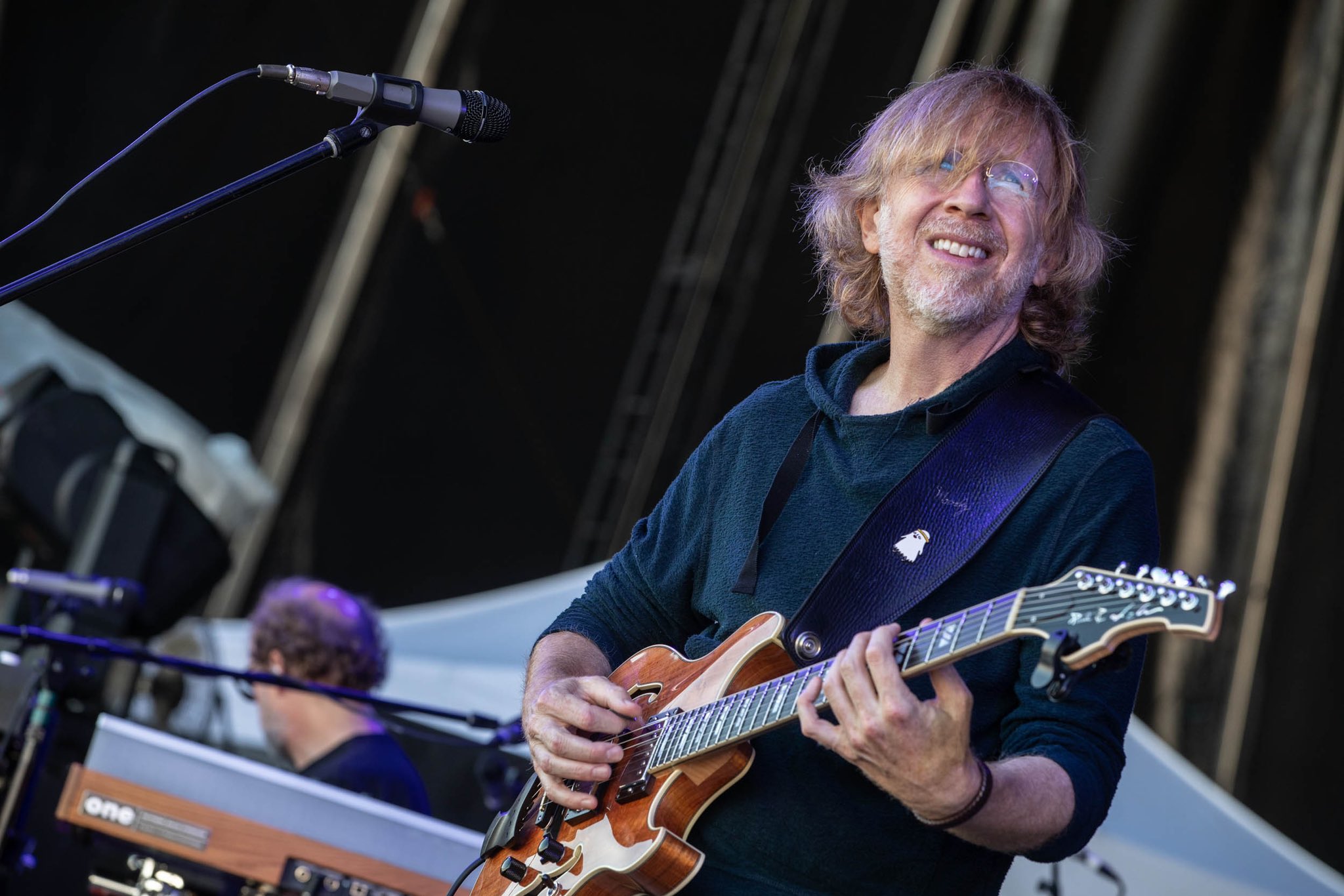 Once Satan was securely down below, "Scents and Subtle Sounds" crawled up. "The wind will lift you up into the sky!" Helicopters and more lightning populated the muggy sky, along with a drone being colonized by seagulls squawking at it: "Friend? Friend??"
Before things could get too spacey and introspective we are treated to our first ripcord of the night and rewarded with the raging intro to "Chalk Dust Torture." Headbanging as far as the eye can see, but that quickly devolved into free jazz which surely confounded the NJ crowd looking for a night of good ole rock and roll. Out of the morass of skittering rhythms comes "No Quarter." Fiery lights and smoke from everyone lighting up in excitement became the marine layer. Satan comes back and starts shredding guitar. Oh wait, that's Trey! And he's wearing a sweatshirt with a cat on it! And the cat is hissing with flames in its eyes!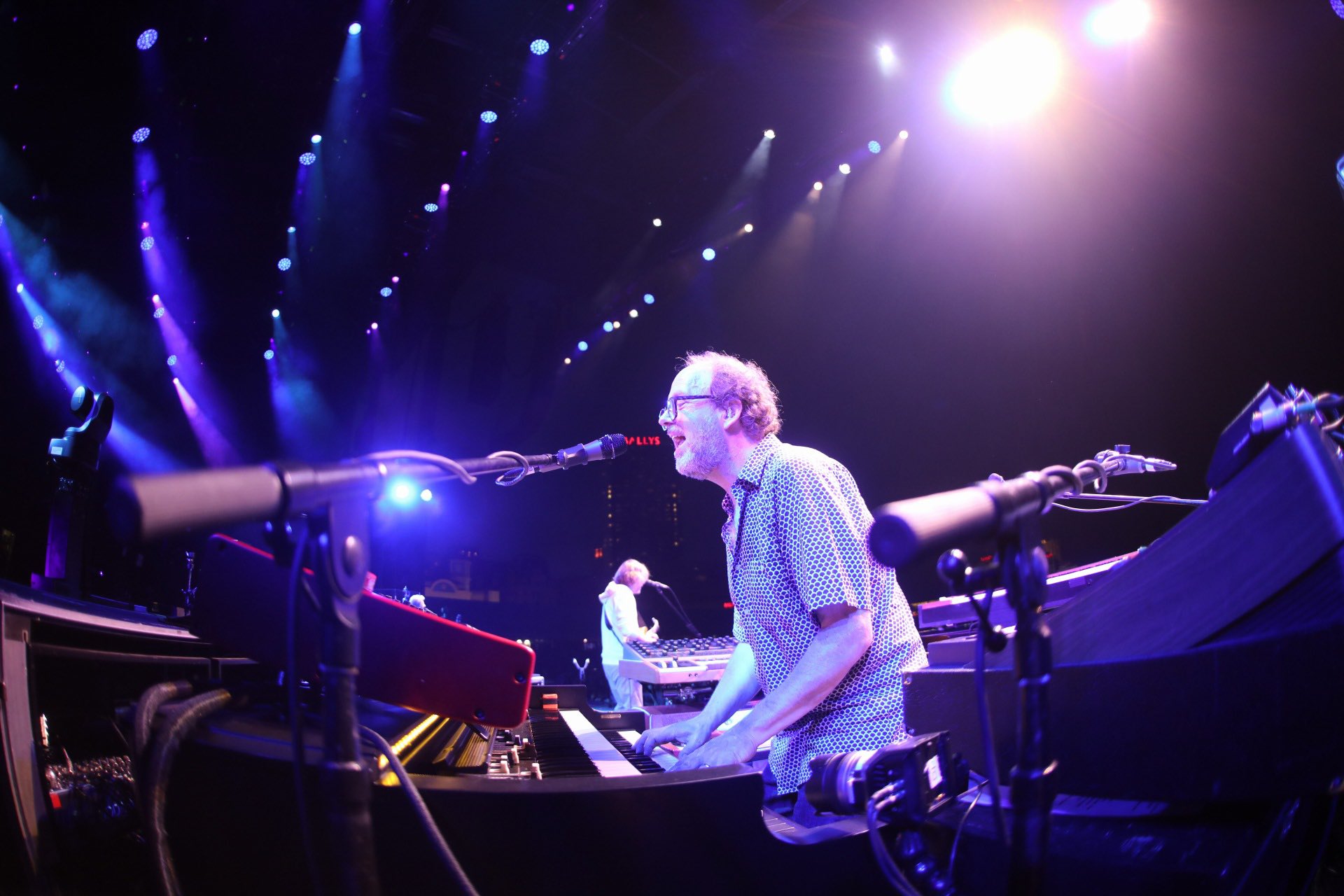 "Slave to the Traffic Light" brought the breeze and some buffalo cauliflower tacos from the Phish Taco booth near E, and then the hum of a lady song was in the air, but "Sally" visited recently so it had to be "Suzy!" As a new Phan and a woman I was perplexed by "Suzy Greenberg" - what is this song about a head caved in? But finally I came to understand that I *am* Suzy Greenberg; that bad b—— about town that everyone wants to be and be with. (If you think the song is simply about a woman that you wish to brutalize then you better first get checked by a neurologist).
"A Life Beyond the Dream" hosed us down with an uplifting sea breeze (pee breeze?) and then Phish closed the Freezer, sneaking up on us (as "Tweezer Reprise" has a way of doing) and leaving tonight a complete mystery. We left our sandy enclosure and upped the biodiversity of the boardwalk.
If you liked this blog post, one way you could "like" it is to make a donation to The Mockingbird Foundation, the sponsor of Phish.net. Support music education for children, and you just might change the world.