[Phish.net welcomes back guest recapper Jeremy Willinger (@Jeremy8698) for writing this recap. - Ed.]
Ah Atlantic City...immortalized on screen (Boardwalk Empire), in childhood (who wants to play Monopoly?), in song (Springsteen), and cemented in popular consciousness (as in, "Will I step on a hypodermic needle if I go barefoot on the beach?"). For phans, however, AC has been an armpit of a pit stop as tour chugs along, convening many of us in the early 2010s for standout shows at Boardwalk Hall (the Led Zepp show immediately comes to mind) and the 2012 weekend at Bader Field. Now, after a year of waiting, Phish returns to this seaside hamlet of gambling, history, and urban decay, becoming the only artist aside from P!nk to play on the sand parallel to the Boardwalk.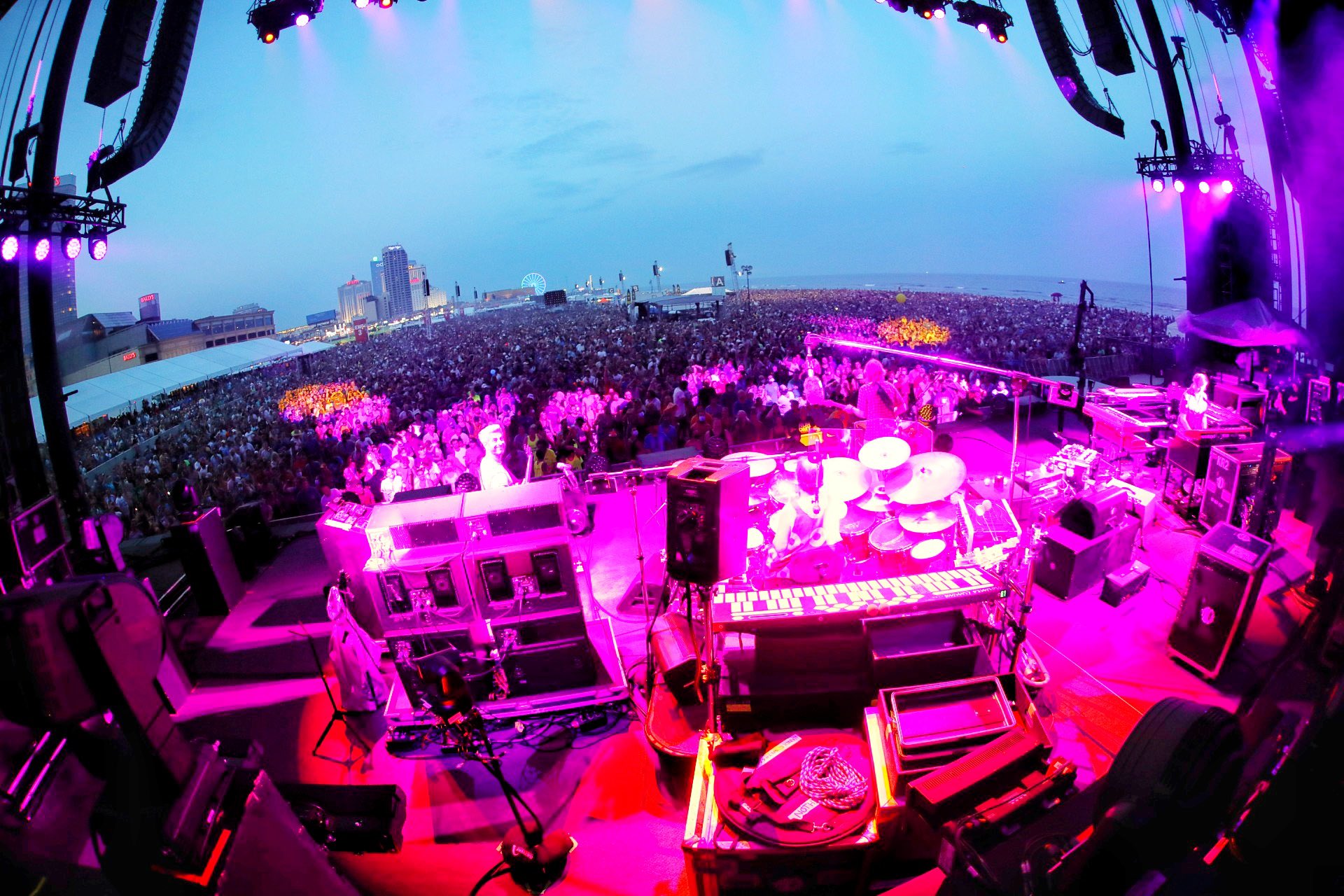 At this point in Summer Tour, Phish is usually a well-oiled machine. At this point in THIS tour, it is known that Phish is firing on all cylinders with a slew of standout shows, marked by tight playing, a happy, energetic Trey, and oh those new lights...just wow. So we enter the last leg of the East Coast and the wrap-up to the first section of the Summer run with anticipation and excitement.
Walking onto the AC beach, the first thing you notice is that the sand is soft and you will struggle to gain traction. So remove your footwear, and "try not to step on your best friend's feet" as you make your way inside. At 8:03 PM, the band comes on to subdued fanfare as there are no lights to darken and the beach illumination is only from CK5.
The band opens with the jazzy "Cars, Trucks, Buses," perhaps as a nod to the many modes of transport all of us took to get here. Fun fact: the four railroads in Monopoly are named for the four train lines that one could take in 1933 to get to AC- but the Short Line RR is a misreading of the old Shore Line train. Right from the start, Trey deploys a little reverb effect and Page inserts some very upbeat fill-in notes to make this an engaging start to the weekend.
After this peppy version of "CTB," the band jumps into "AC/DC Bag" and Trey cheekily changes the lyric from, "Put em in a field," to, "Put em on a beach," eliciting a laugh. Big Red also implores Page to, "Play it Leo!" in the first chorus...cute.
Our favorite foursome smooths into "Blaze On" after this tight "Bag," with Trey making reference number 2 to the uniqueness of the weekend's venue as he swaps the lyrics, "And we'll be dancing in the fields," to, "And we'll be dancing on the beach," ...also fun because the next line includes the lyric, "Buried near the shore." While Phish did this exact two song combo one week ago in Deer Creek, this sonic two-step differs in that these versions take on a more jazzier tone. This is a standout "Blaze On" and one of the best jams of the night, as Trey takes the lead and in what sounds almost a little 2.0, moves through the improvised portion with a triumphant tone and driving high peaks. At mid-point he gets into a 1-2 1-2-3-4-5 section that really shines. But then, just when you think you are in the clouds, the jam shifts into what I describe as an 'ugly funk robot' with all sorts of metallic, choppy notes that call to mind Optimus Prime choking on a chicken bone, musically. My notes at the end of this jam read, "This band is glorious."
Out of "Blaze On," we get the third "Wolfman's Brother" of Summer tour (and another repeat from last Friday). This was a slower "Wolfman's" than usual---a theme repeated again this show---and felt ever so slightly plodding, but did feature some lovely harmonies from Trey both note-wise and through complementing mouth sounds. This version is worth a listen for the drippy funk that spilled off the coat of this wolf.
Interestingly, this performance showcased the band's very 4.0 sound, achieved through Trey's newest guitar and effects rig: an, electronic, prog-y, even guttural vibration of funk, but played with extraordinary crispness and craftsmanship. Short take: I ship it.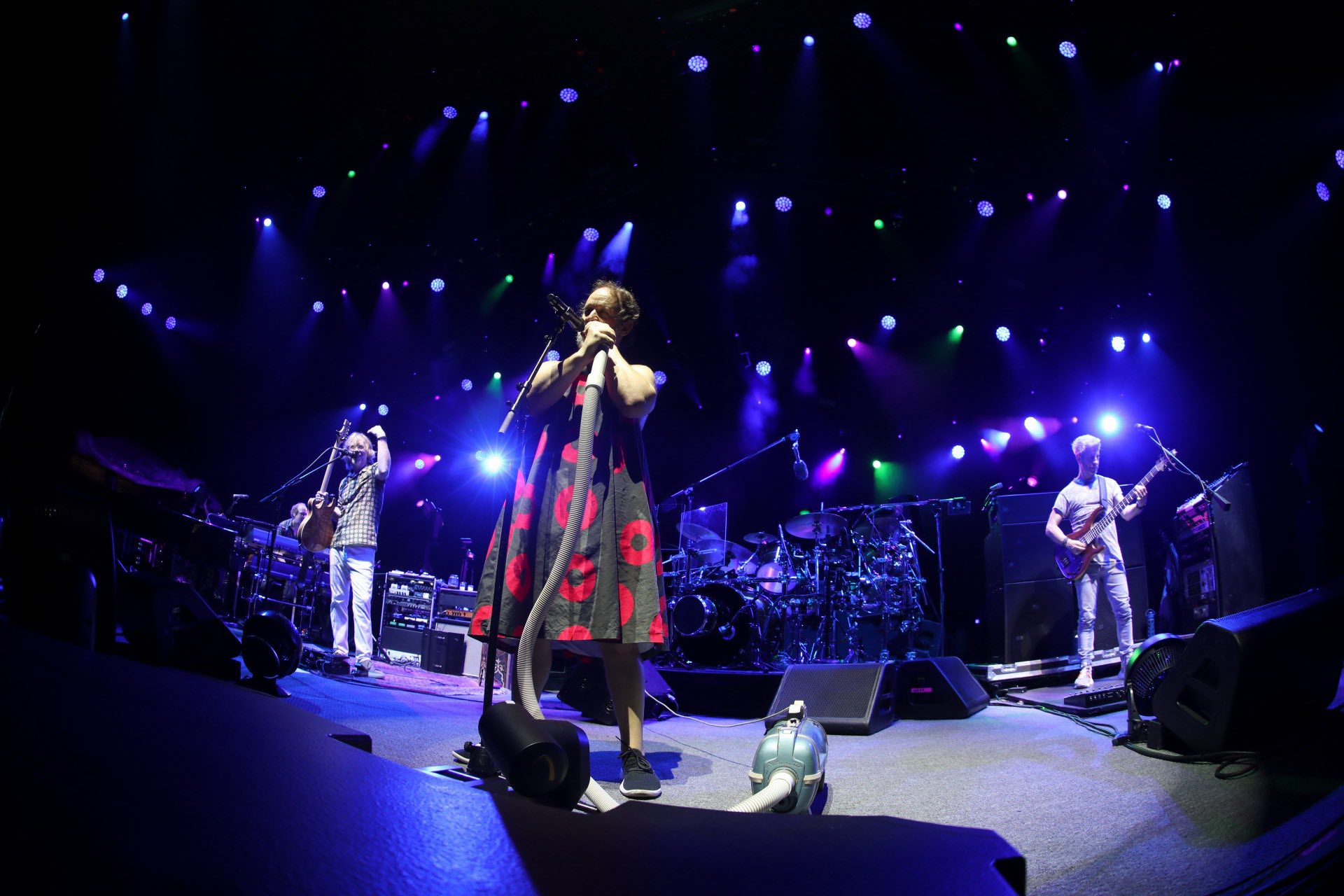 For a cool down, the four Vermonters cue up the first "I Didn't Know" of the tour and Trey introduces Fish as "Moses DeWitt" for a wet-sounding solo on the Electrolux. In case you weren't smiling hard enough, they jump into "Funky Bitch," which features some nice playing by Mike. "Rift" is up next and this version shines for its crispness and flurry of playing by Page. The crowd is all energy as Phish tears into "Sand," which has nice rock star moments by Trey as he builds the peak with masterful enthusiasm.
While the song ends a bit abruptly, the first set of the AC weekend is marked by remarkable, talented playing, and environs resembling a Dollar Tree version of Riviera Maya. Another note about these shows: with no beach lighting, set break time is dark. So is the walk out, especially under the pier shuffling in the humid dankness.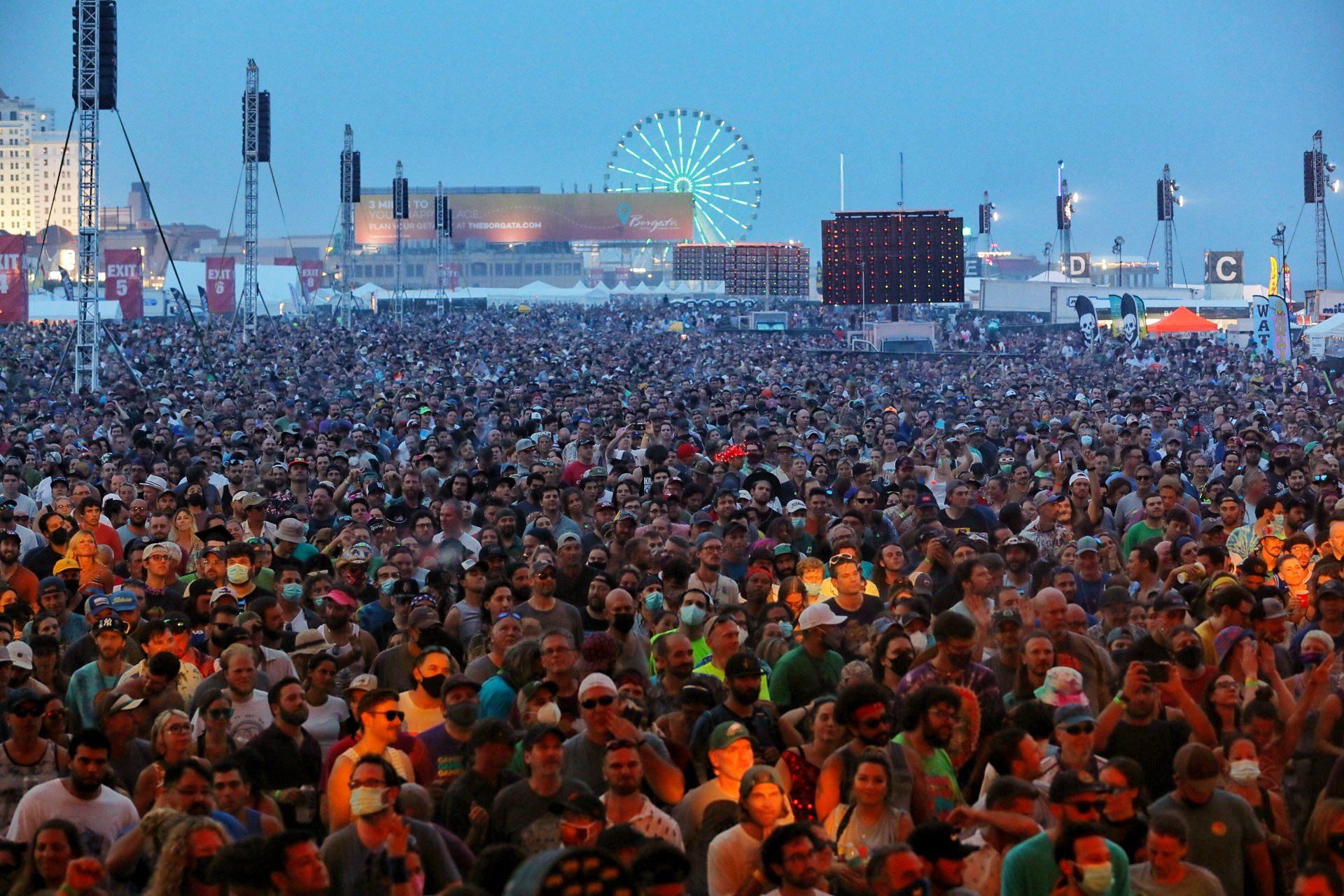 When Phish retakes the stage at 9:46 PM, many aren't even aware they did so until a ripple of applause rolls through the crowd. But if they didnt know then (Bess Truman?) they definitely did as soon as the opening lick to "Tweezer" was heard...or should I say felt because when you open Set 2 with this song, you know the floor will be jumping and the collective energy goes into overdrive.
Ok, this is no 12/30/19 or even Alpharetta N2, but it is a most solid step into the freezer as it highlights the 4.0 sound I mentioned earlier: a feedback-heavy, sharp razor of a tone that vibrates your innards as it cooks your brain. Trey deploys a pedal effect that gives us a little Peanuts-teacher wah wah wah which is deliciously fun as they build intensity with a sound I describe as aluminium, i.e. thin but still metalic and bright. Mike and Page settle into a really funky section with Page drawing out some really drippy organ notes. Trey slows things down to almost faucet-drips of notes and fades "Tweezer" out and reopens with "Bathtub Gin."
This "Gin" is stripped down and cooking, and there is a 12-note lick about 10 minutes into the jam that is simply gorgeous. Listen for it in the replay. Also: my thanks to the person who unleashed a torrent of bubbles near the front of the crowd.
After our firehose of "Gin," the vibe continues with "Everything's Right" which segues into a rollicking "Possum" that features a lot of tension-release and a boogie-woogie middle section. The fun doesn't stop as the foursome slides into a "2001" with Fishman driving the pace and Trey doing a call and response with himself that gets progressively more guttural.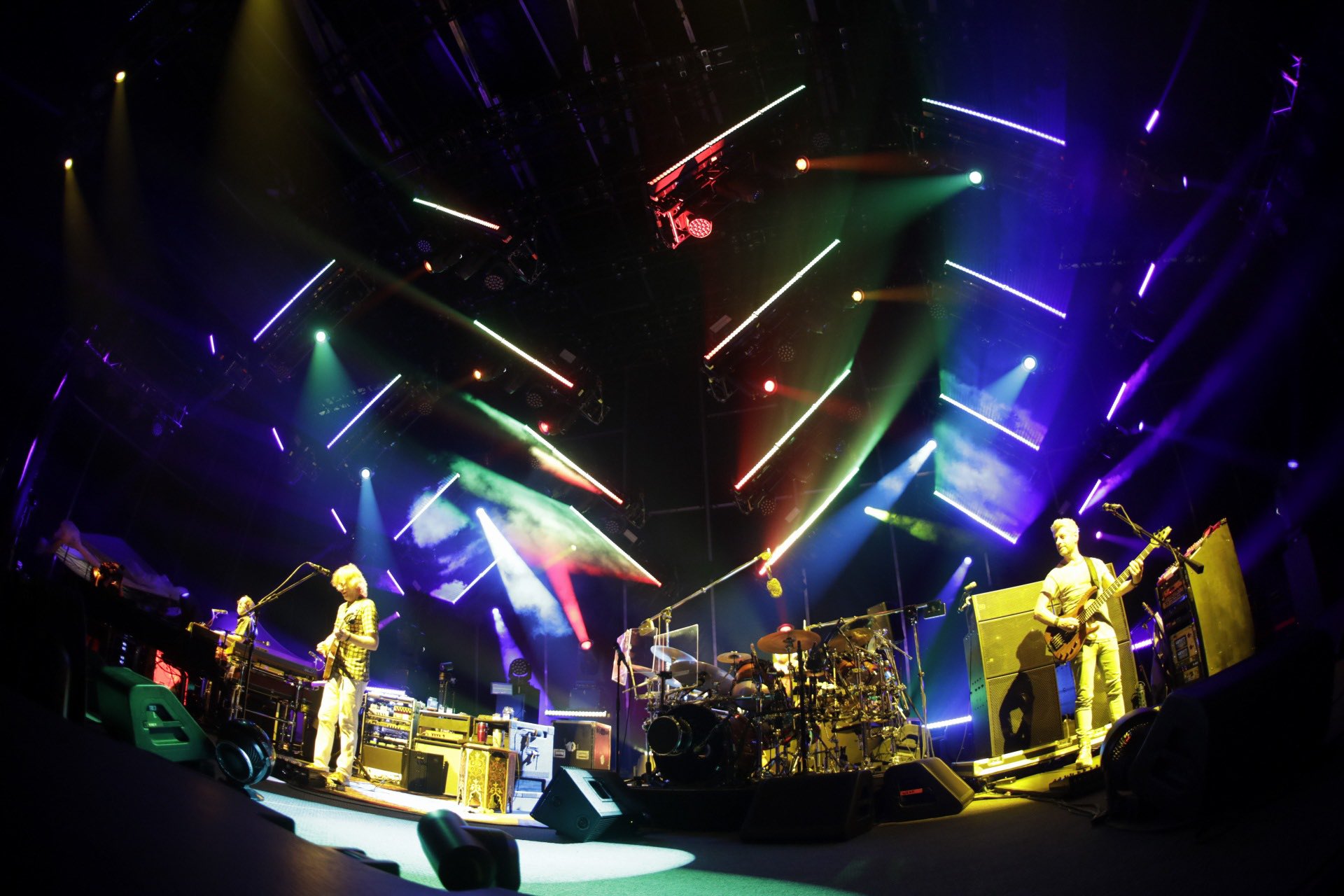 Trey pulls the band out of space and drops us back down to terra firma as they move into "Rise/Come Together," which is sung enthusiastically by both band and phans. And then they blast off back to more traditional Phish (tra-phish-ional?) with the appearance of a one Mr. "Harry Hood." This is a standard, spirited "Hood," differentiated by the lack of glowsticks on the beach.
Now, this show could have ended here, but we get "More"'d; albeit a nice version with an enlivened Trey. After a quick break, we get a rousing "Loving Cup" encore that closes night one with really nice harmonies and gusto that, given the quality of playing on this tour, is sure to carry into the remaining weekend shows and then further out West.
Be safe and be well all!
If you liked this blog post, one way you could "like" it is to make a donation to The Mockingbird Foundation, the sponsor of Phish.net. Support music education for children, and you just might change the world.