[We would like to thank Jeremy Willinger, @Jeremy8698, for recapping last night's show. Please note that the opinions expressed by a recapper for a show on this blog are not necessarily those of any volunteer who works on Phish.net. We are all fans with varying opinions, just like you. -Ed]
Let's assume that when Noah built the ark, assembled the animals and launched the ship, it was a fairly wet and humid period. The animals came, on four legs, trudging through the thick, heavy air to reach salvation. The contemporary version took place in the gorgeous (?) confines of Camden, New Jersey, as wooks, bros, fans, phans and vets, walked two by two into the BB&T Pavillion amidst a greying sky and a rising temperature.
The skies, like the hearts of most Phish fans, were open. A massive storm came through and delayed the official (o-phish-ial?) start of the show till 8:40 PM EST but if anyone thought a momentary downpour would stem the flow, they would be sorely mistaken. Clothes may have been soaked but it didn't damper the anticipation.
The lights drop and the boys, without any pre-noodling, launch into "Set Your Soul Free"- a song that I personally always welcome, especially after the 7/25/18 Bill Graham release. Perhaps this was chosen because of the "Feel a little rain…" part of the lyrics, which brought a rousing cheer. The song felt crisp and after a brief conversation between Trey and Fishman, the crowd was treated to the rare "Strawberry Letter 23." First played at the Baker's Dozen, and then at Hampton on Fall tour 2018, this was the third time ever heard. The crowd, predictably, went wild.
The foursome then pulls out the first "My Friend, My Friend" of the tour and everyone gets ready for evil Phish. A short and tight version with the MyFe ending, and then we are treated to "Halfway to the Moon" for a little cooldown. This version is one of the highlights of the show as Page and his funky shirt settle into an accelerated jam with him and Trey doing a call and answer in the middle portion.
Another on-stage convo between Trey and Mike leads to another tour breakout, and one of my personal bluegrass favorites, "The Old Home Place." This version was a little more jazzy but still maintained its roots on the plains. More Mike Gordon is never a bad thing and we are treated to the absolutely lovely "Train Song," yet another tour breakout and last played at the BB&T Pavillion on August 8, 2018. Trey and Mike start a verse at the same time which leads to a brief period of just instruments as they regroup and Mike comes in for the "…drink a little wine" line which gets the requisite reaction. Trey then sings Mike's next verse to further mess around with poor Gordon.
"Train Song" treats us to our first segue of the evening, as it blends into "Horn," which is the first time played this Summer. Trey slightly flubs the intro but no matter as this short version delights.
We all know Phish is one the most humorous bands out there and what happens next flips the crowd on its collective ear. Page starts up the effects for "The Birds" and just when you think they are going to jump into it, they switch at the last second to "Birds of a Feather!" While it didn't quite measure up to the absolute smokeshow of the 6/19 Blossom "Birds," this version was a lot… funnier. Page absolutely broke Trey's concentration inserting the "They Attack" sound effect, and Trey misses part of the first verse as he is laughing at Page's attempts to make him lose composure. Trey capitalizes on the opportunity and inserts a "Faceplant into Rock" line which brings a collective smile to both the band and the audience simultaneously. Is this band not the greatest? The Blossom version was tighter but this is a loose flock of birds that is just a lot of fun with a light midrange section and cymbal heavy work by Fishman. Trey takes over the jam midway through and accelerates the tempo, building to quick peaks with high notes. A final "They Attack" effect punctuates the song.
You'll notice I mentioned animals in the title of the review and if "Birds" was the first mention, a wolf becomes the second. The boys jump into a standard "Wolfman's Brother," that builds triumphantly in a mid-range space with Trey employing the looping pedal and wailing near the conclusion. Behind this howling wolf, comes a "Wombat," you know with Abe Vigoda. This "Wombat" was thick with dense fur and a drippy funk that felt heavy like the humidity hanging in the evening air. It is absolutely worth a listen, especially as the song becomes a bit rare, having been played only 17 times since its debut at Boardwalk Hall in 2013.
Perhaps now you are thinking, what animal follows a "Wombat?" Clearly that would be a mule, but not one you smell. "Timber (Jerry the Mule)" comes seguing out of "Wombat" and was a solid version that offered just a bit of exploration. The set closer originates from Ghosts of the Forest as "Drift While You're Sleeping" is played for just the third time by Phish. A more upbeat version than Ghosts of the Forest's version, this has a twang to it and the opening lyrics, "We move through stormy weather…" took on new significance, given the delayed start.
This 12-song, hour-and-12-minute first set was marked by several tour bust outs and a juxtaposed crispness in playing versus looseness in lyrics that is a hallmark of Phish and keeps all of us coming back for more.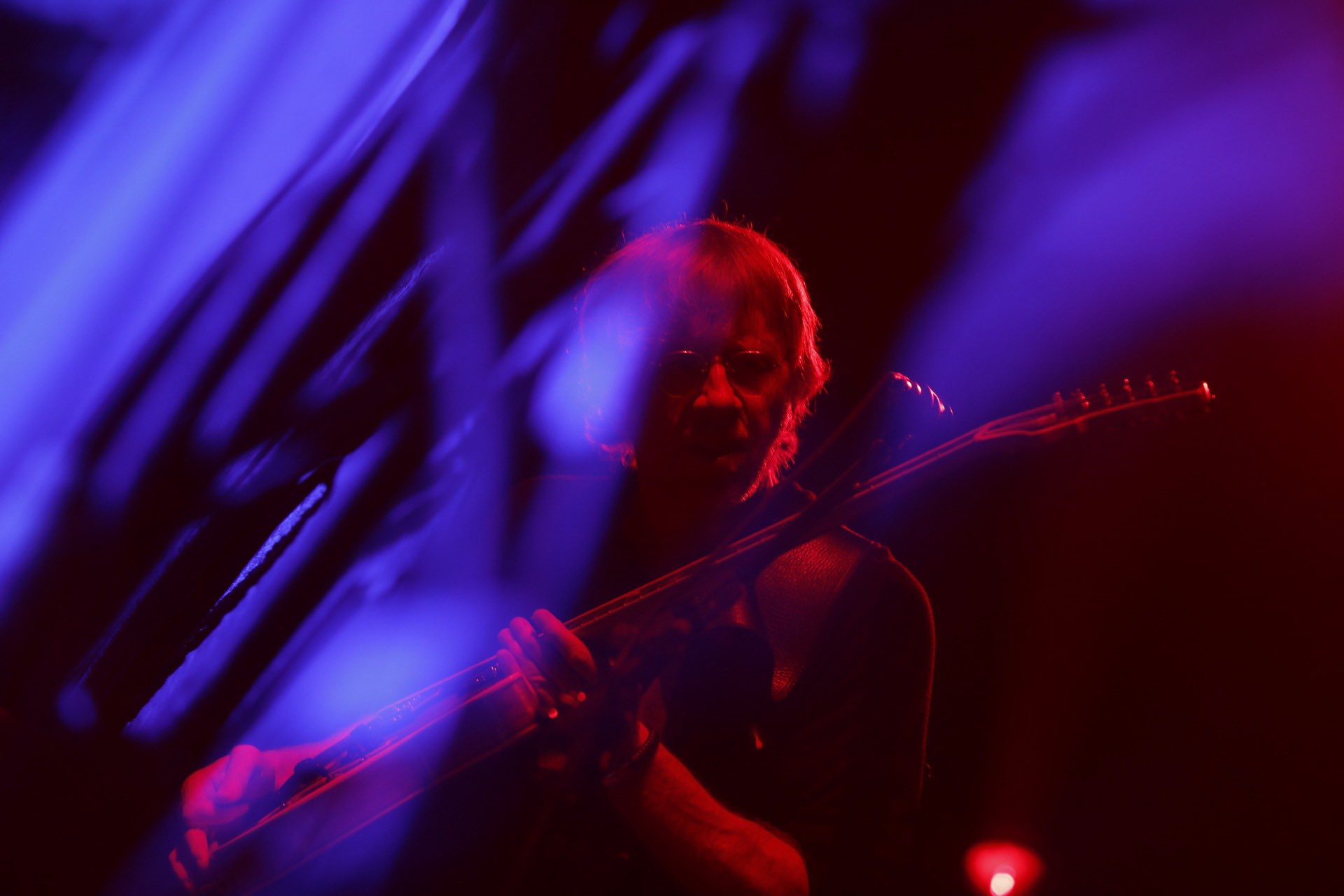 A shortened set break and we are back at it with "Mercury" opening the second set. Trey was all over this jam, with staccato sounds and light tones that hovered in the atmosphere. A jazzy section moves us into "No Men In No Man's Land" which maintains Trey's jazzy notes in an up-tempo groove that has a chattery/jumpy feeling. We are treated to several Mike Bombs, after which Trey moves the jam back to extended high notes delivering a sunny, positive feeling. Fishman drives this jam well, ensuring it never gets slow, as the band segues into the positively delicious Kasvot Vaxt cover, "We Are Come to Outlive Our Brains," played only the second time this tour. Page gets his synthesizer working hard with electronic sounds that get the place bopping.
Page was trying to push the band into what I thought would be "Rock and Roll," but Trey pushes them into "About to Run" (which I didn't recognize) and then a fun "Light" which had more Kasvot Vaxt teases and a "Faceplant into Bluegrass" shoutout from Trey. Cute. Yet another animal gallops out from the stage as "Run Like an Antelope" comes screaming out of "Light." This "Antelope" was a fast-paced banger from start to finish and gives the audience a drink from a firehose of energy.
A quick encore break and they take the stage at 11:43PM for what will become a 1-2 punch of one last animal, a "Sleeping Monkey" with a Trey changed lyric of "Take it on down the shore" in a Jersey reference that elicited widespread shouts of joy. We conclude with the Bob Dylan cover "Quinn the Eskimo," after a 62 show gap, which always prompts a fun singalong.
At ten minutes to midnight, the show concludes and we put an exclamation point on night 1 at Camden that never failed to bring the heat from the band and the humidity from Mother Nature.
If you liked this blog post, one way you could "like" it is to make a donation to The Mockingbird Foundation, the sponsor of Phish.net. Support music education for children, and you just might change the world.