The margaritas were strong. The enchiladas were spicy. The sand between my toes was… very coarse. Oh wait, that's cat litter. ::sigh:: Sadly, I'm reviewing this show from Portland, OR. ::bigger sigh:: But don't worry, I consulted with my friend in Chicago who hung a piñata for authenticity, and I looked at lots of Instagram stories from people who were there – all while wearing a Hawaiian shirt, so I think I got this. Maybe. ::exasperated sigh::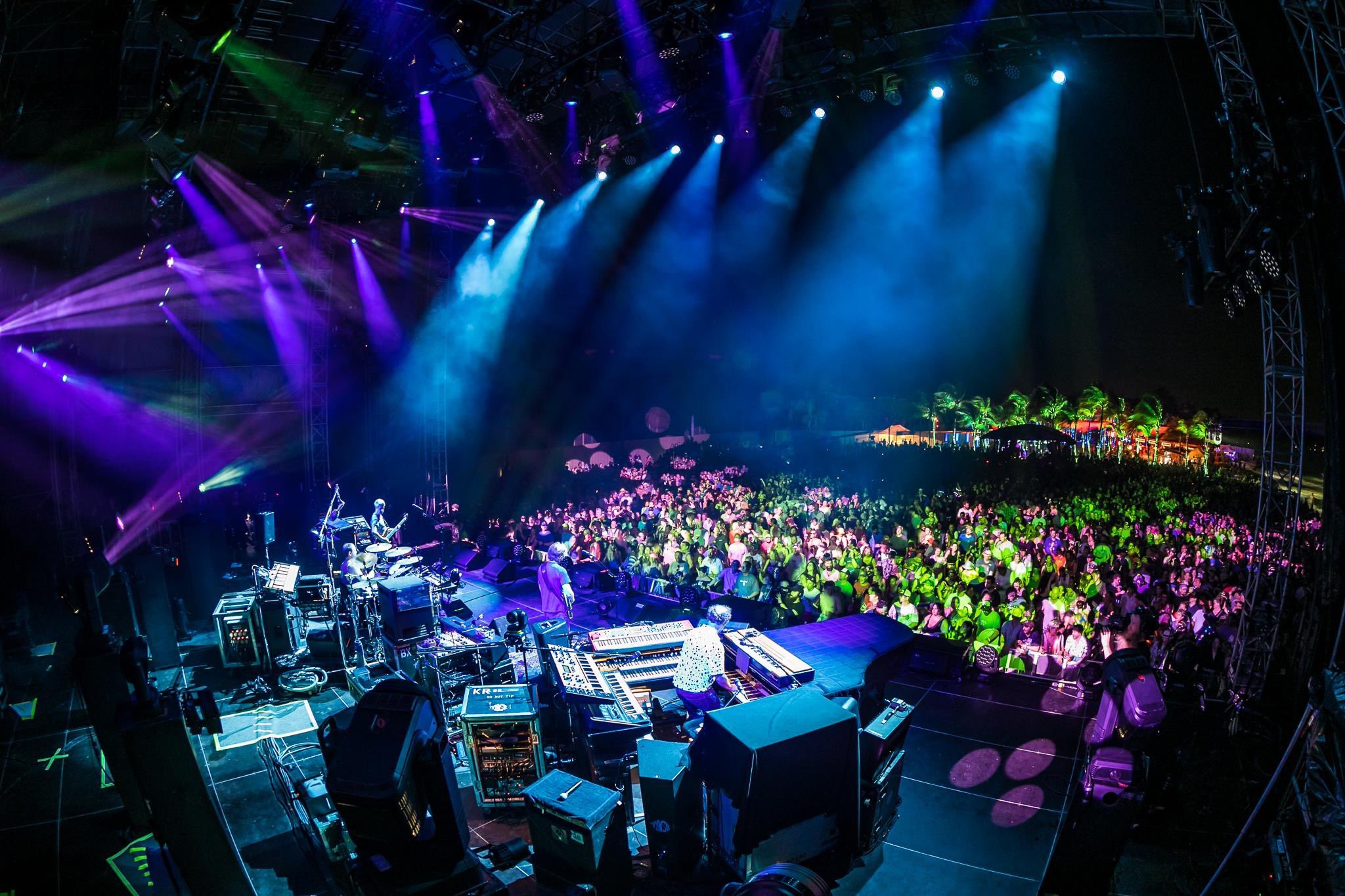 It is a sin indeed to recap a show one was not at, good thing I'm not religious. But, seeing as how all 4,000 tortured souls in attendance are nursing a collective hangover from dancing and drinking and carrying on with much merriment and wonder, I am left with the task of spelling it all out for you, and them… buncha lushes.
Set one started out with a couple simultaneous themes that threaded all three nights together: flubs and energy. Depending on the type of fan you consider yourself to be, this is either extremely irritating or rather delightful. Trey stumbles his way through "The Curtain With" as though his brain was on vacation, but who could blame him. The backdrop of lit-up palm trees, swaying listlessly, guided the jam through breezy passages that reflected only the most tropical colors. A soft climax relents.
Eager to refocus his chops, Trey jumps into the opening scratches of "Punch You In The Eye." More flubs, more smiles, and less caring tie this version together while old school purists are now two for two with regards to major complaints: the flubs, and the guy writing about the flubs who wasn't even there. Yes, I, too, know how much this all sucks, so let's just get through this together so we can go back into winter with no Phish shows to look forward to for the next five months… hmm, maybe this doesn't suck that much after all, taking that into consideration. Maybe I'll dump more cat litter on the floor to really enhance my experience. Maybe I'll have another pitcher of margarita.
"Blaze On" keeps the high-energy song selection moving right along. Fish's punchy drumwork propels Trey into a solo with just a bit of attitude and sass. Trey flames out trying to hit the peak and reels the song back into the chorus. But, as sneakily as our cat pawing at the enchilada tray (I see you, you heathen), Trey downshifts beneath the chorus and into an echo-y, underwater, jello jam. Thick as molasses, the jam drips down into a dark blue abyss before stopping altogether. A pleasant treat this early on.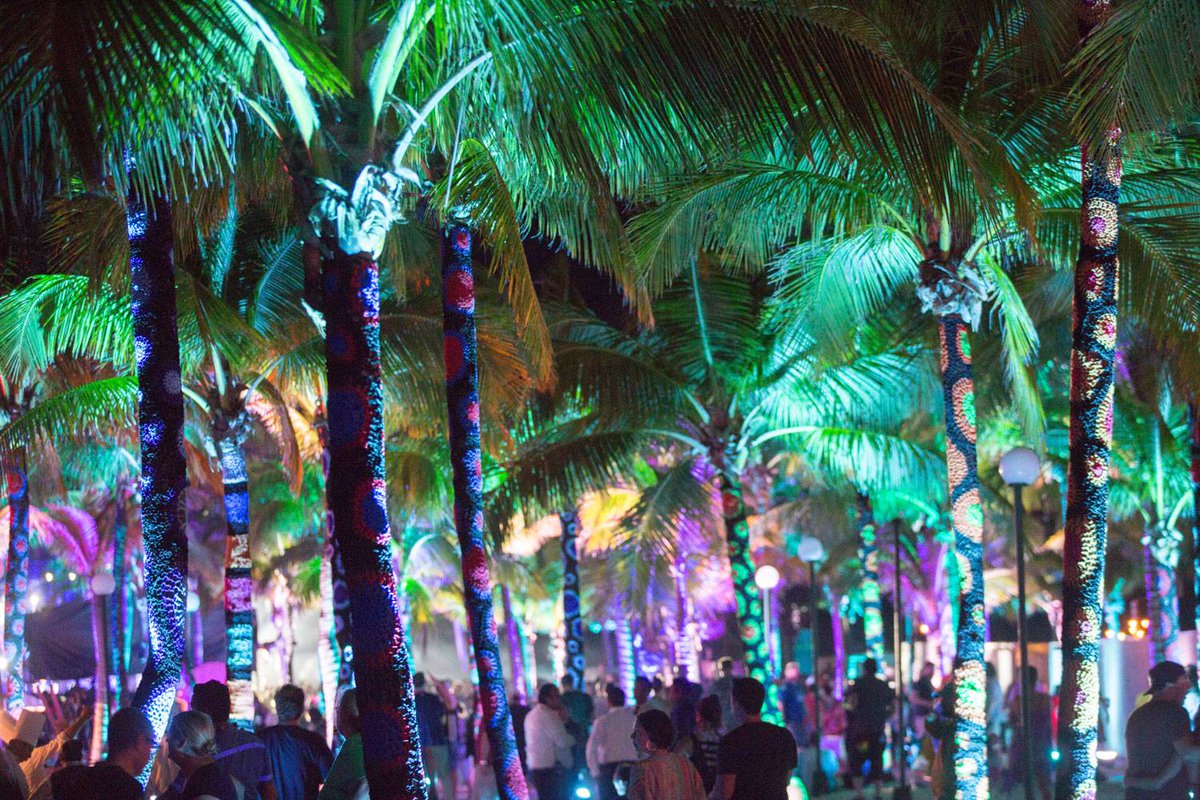 "Destiny Unbound," a song often flubbed, was played rather cleanly with Page's scratchy clavinet and Mike's hammer-like bass carving out dance grooves. The energy was so real that one could almost feel the sand shifting underfoot as seismic low notes orbit Page and Trey, dancing around each other like sandcrabs chasing the receding surf.
An underutilized and ever-crowd pleasing Page tune, "Most Events Aren't Planned," continues the swell of sunkissed energy. Bright colors wave like wildflowers from Page's organ, which launch this jam into the atmosphere, easily the strongest collective playing of the show so far. A latin dance party, extra spicy.
"Divided Sky," a perfect placement, captured the remnants of scattered sunlight skipping off of the mellow shore break. Breezy and delicate, this version takes on a calm, deliberate feel. As the camera pans over the crowd, slow sways and fast smiles envelope everyone lucky enough to be witnessing this experience. How calming and peaceful it looks, so much so that your author stops dancing for a brief moment as I am taken, however momentarily, to that beach, with all my favorite people, doing all my favorite things. How lucky we all are. Especially them.
The light is receding quickly now, as if running away. From what? The buoyancy of "Divided Sky" is swallowed by the abyssal snarling of a demented "Steam." Demonic and haunting, this version screeches and groans, extinguishing any remaining sunlight and expelling opaque, gnarled vibrations. Night time has arrived. Darkness settles in. "Steam" exhales the last gasp of daylight.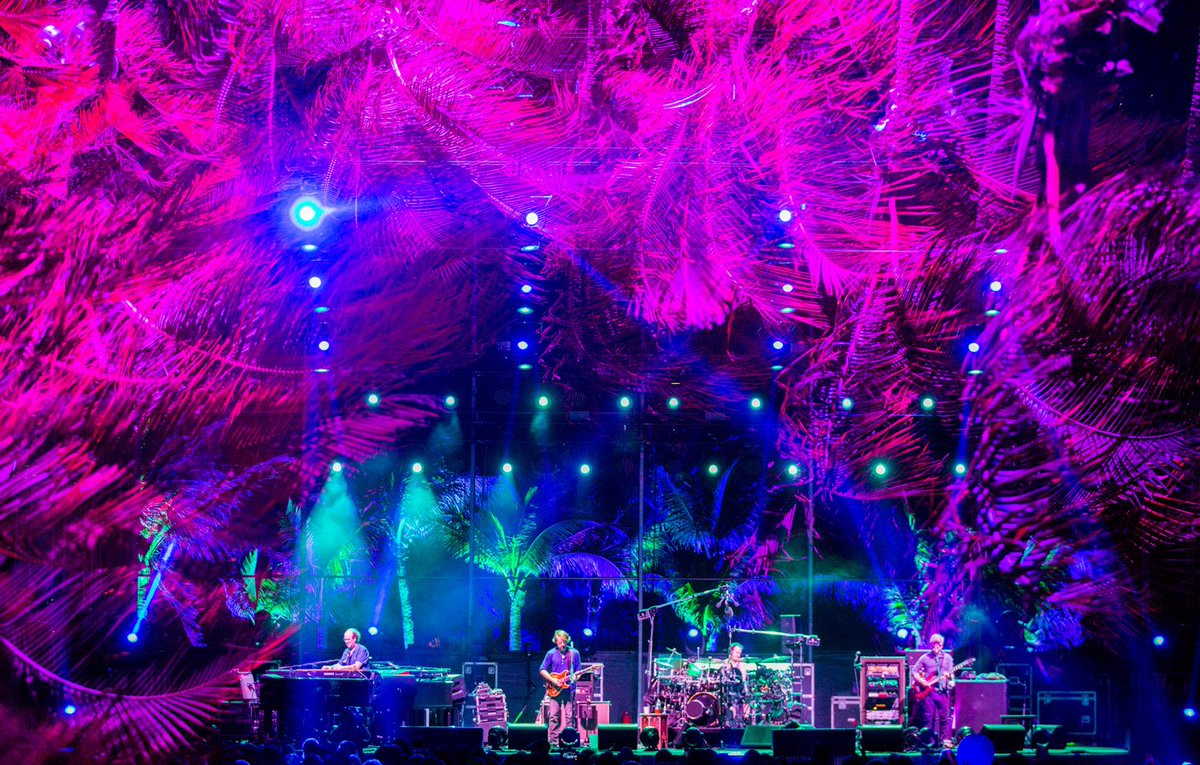 "Chalk Dust Torture" swings into action as a perfect retort to the maelstrom of "Steam." Trey immediately smoothed out the jam into a cosmic, soft, rolling affair. Mixed ideas with conflicting directions give this "CDT" an off-balance feel, unsure whether to be jammed out in a "Type 2" fashion, or to sprint into the peak. Trey attempts to choose the latter, but struggles to climb the scales and strike like we all know he can. Nonetheless, a hearty chorus of "Can't I live while I'm young" is sung from those young of age, young of heart, and young of spirit … 4,004 of them by my count.
Moonlight checks in, sunlight checks out, yet suntanned energy continues to radiate. A rollicking "First Tube" sprints out to start the second set, almost literally, as Trey is running around onstage like a first grader ready for recess. With motor skills rivaling that of a first-grader, Trey promptly faceplants (onto the stage) but does not miss a note. Full contact music! Trey was fine, but after a brief call to my local ER to make sure I was okay (I had a heart attack watching this) I was told to drink a margarita and relax. Check and mate!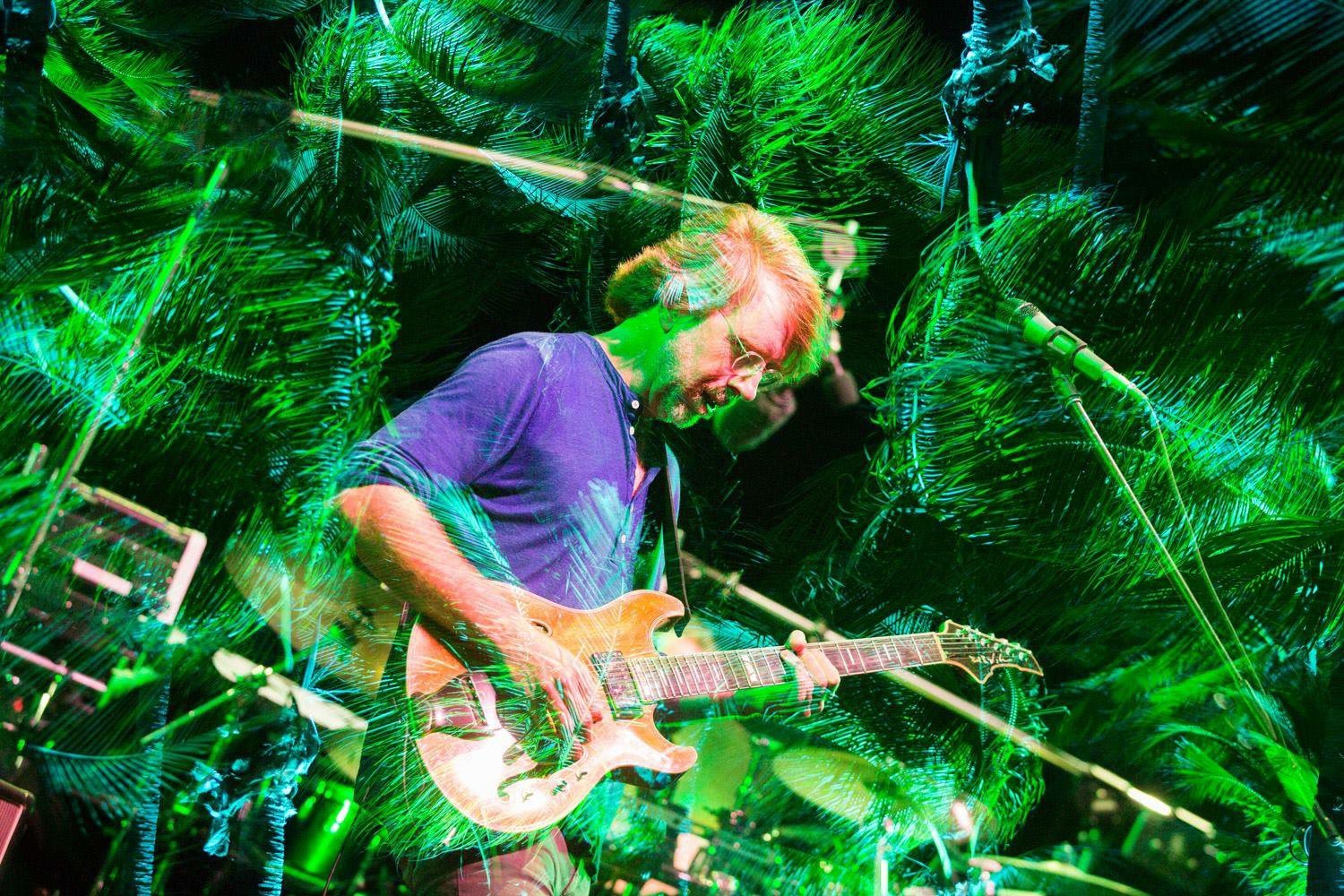 "Mike's Song" flares the fire, licking its way into a peppy and punctual climax. The energy, still, unrelenting. For the first time since the hallowed and breathtaking-beautiful 7.17.98 Set 2, "Weekapaug Groove" follows up "Mike's Song." The reaction from the pasty white Portlanders at our house rose to the occasion of reflecting the reaction of our tanned friends on that beach, as the dance party got real serious, real fast. Shirts, absent. Shoes, cast away. Pants, vaporized. Had we been trying to enter a fine dining establishment, we would have been asked to leave, with haste! Our kind is better served elsewhere anyhow, a place where palm trees dip and seagulls swerve… and, huh, well I guess we're there aren't we? Man, do I love Phish.
"Fuego" rolls into the set like a wave to surfer. The singalong chorus plastered smiling faces to my TV screen, and my envy reaches uncharted heights. Seeing people rolling in the surf, literally, while Diego keeps it rolling was just too much fun. I ran to the sink and splashed myself with water. The effect was disappointing. And cold. Not nearly as fun.
"Fuego" evaporates into "Tweezer" and this is when Phish got serious. The set preceding "Tweezer," in hindsight, acts as a fuse to the explosion that comes in the next pairing. Trey is patient and contained, at first, but quickly pushes in like high tide. The moon is on our side tonight. The power of the ocean providing all the electricity running through his amp, Trey flies like an archer's arrow, hitting the jam true. Bullseye! Cascading notes of happines rain down on the exuberant crowd who couldn't be more happy with how hosed down they were getting.

A swift drop into "Carini" causes Richter Scales from Cancun to Cabo to squiggle with delight. It slinks into a minimalist, clockwork, Jackson Pollack smattering of light notes and colorful patterns, random, but aesthetically pleasing. The jam soars back to where "Tweezer" left off and volcanoes everywhere erupt to show their appreciation. The sand underfoot begins to heat up, as the dance moves border on illegal – and we're talking Mexican laws here – yeah, I know. They were that controversial. Well done, fans.
A brief funk-outro from the "Tweezer" riff, proper, gets derailed by Trey lurching into a deep set "Ghost." What a call! The hits just keep coming and plate tectonics just can't keep up. With the earth failing underfoot, the song takes us to space! Not a minute's worth of jam, instead, Phish sails into a smoooooooth -> "Say it to me S.A.N.T.O.S." then blasts us off into the cosmos, leaving the beach, and our pants (long gone by this time), as distant memories of fun we once had. Now, however, we are experiencing super-fun. The layered lyrics of "S.A.N.T.O.S." propel the fierce guitar of Trey and thunderous rumblings of bass. Page and Fish are made of gasoline as the set closes with fury and starlight. What a ride! A cacophony of colored chaos, Phish ends its set with a flourish.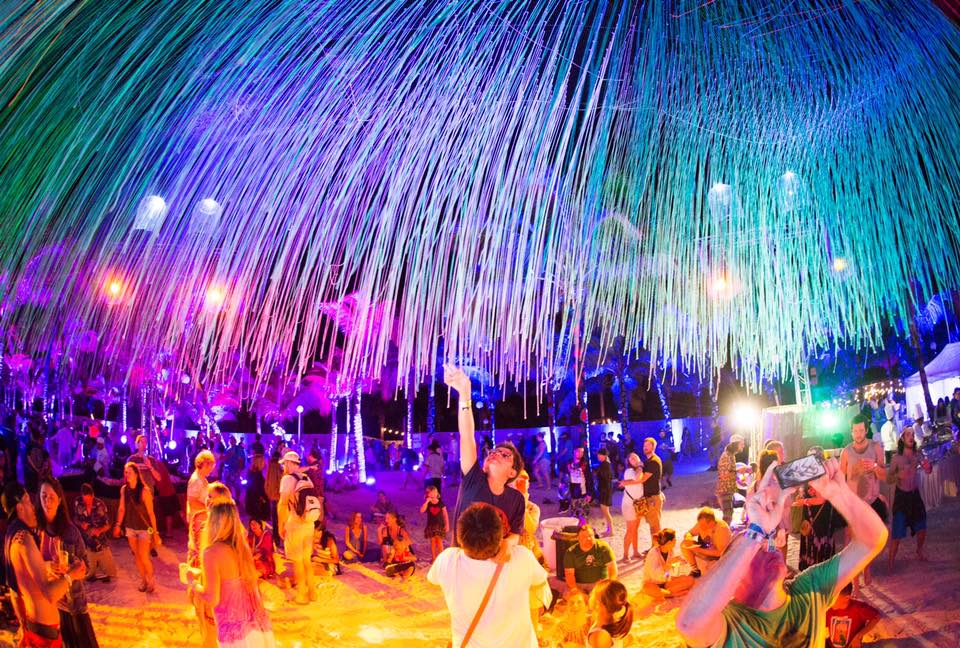 "Simple" opens the encore and gels into a peaceful, placid soundscape. A perfect re-entry to send us on hom… uh oh, not so fast. NASA must have finally gotten around to reading our resumes because YOU HAVE BEEN SELECTED AS THE FIRST ASTRONAUT TO EXPLORE THE PLANET MARS. The rockets burn and gravity gives up as "Martian Monster" shoots us back into space. What a party! Not-so-coyly making fun of himself, Trey's trip was short, and weird, as a hilarious rendition of "Kung" is threaded over the "Martian Monster" jam. Forever the jokester, Trey falls into "Big Black Furry Creatures From Mars," no doubt asking himself while reminiscing of "First Tube", "Why am I running?" Why. Are you. Running. ONETWOTHREEFOUR shot like canon ball from a marauding pirate ship we are swung back into full-time party mode, working overtime now. Do we get paid for this, orrr...?

The night wouldn't be complete without Page's, and, really, all of our, favorite singalong tune. "Sleeping Monkey" cradles us with laughter and lighthearted fun, really encapsulating the downright party that happened this evening. Not every Phish show needs to have "highlighted jams" or "best evers" for it to be an absolute blast. This is a quintessential example of just how great Phish can be, even when their jams are just good. Just good, ha, only a Phish fan could say that with a hint of the pejorative. How lucky we are.
"Tweezer Reprise" fries our skin and our brain one last time, well, one last time for now, as the next time we see Phish our sunburns will have faded to a warm, vibrant tan. Phish gave us just enough to hold us over until summer, just enough to get us through winter, and always enough to keep us saying, "Man, I can't wait to see what they'll do next!" I for one, with complete lack of attendance bias, simply cannot wait to see what they'll do next. The light is growing brighter now. The sun is shining in Mexico today. The sun is shining in Portland today. And the sun is shining on Phish, every day. See you real soon, everybody.
If you liked this blog post, one way you could "like" it is to make a donation to The Mockingbird Foundation, the sponsor of Phish.net. Support music education for children, and you just might change the world.