As far as we know, Phish didn't play any Monday shows their first two years. And except for some regular gigs in 1988, Monday (and the first half of the week) remained less likely to have a show for most of their history. I know, you're not surprised... But there are two interesting twists in the pattern.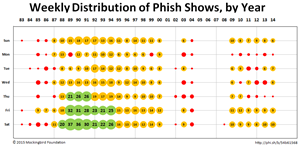 First, the distribution of shows across the week became more even throughout the 90s. Thursday, Friday, and Saturday were played 2-3 times as often from '89 to '94. But by '97, Wednesday was just as common as Saturday; and by 2000, even Monday tied with Saturday! Gone were the days of booking weekend gigs at clubs in college towns; Phish could play anywhere, any night of the week.
But since the breakup, weekend shows are, once again, twice as likely as Monday. And now, even Thursdays are slipping away. The aggregate pattern now is fewer weeks, and 5 shows in each of them: Tues/Wed and Fri/Sat/Sun. (Two coming graphs will delve more into the related shift towards multiple-night runs in each venue.)
Methods Note:
Red dots indicate 5 or fewer shows; green are 20 or more.
Note that while previous infographics (1, 2, 3) had been posted on Saturdays, we've shifted... to Fridata.
If you liked this blog post, one way you could "like" it is to make a donation to The Mockingbird Foundation, the sponsor of Phish.net. Support music education for children, and you just might change the world.