IT thrills you, IT inspires you, IT enthralls you, IT fulfills you! IT flowns your balls! When a Phish show does IT for you, you experience a joy so profound that most if not all of your life's most significant events seem small by comparison. You may even consider changing your life to prioritize music, or at least your love of it.
Phish's music had this power for many fans in Portsmouth, and it continues to have this power right now, even after several decades and over 1600 performances—particularly as those of you fortunate enough to be at MPP four days ago know! For those whose love of Phish includes an appreciation of Phish's most widely-acclaimed shows, and an interest in why one seemingly-amazing show gets more praise (or less praise) from some fans than another seemingly-amazing show, this post's $0.02 are for you. Because in light of your 100+ wonderful comments to Jeremy Goodwin's excellent MPP2 post, it's apparent that many of you aren't too upset when "recaps" are about more than just last night's show.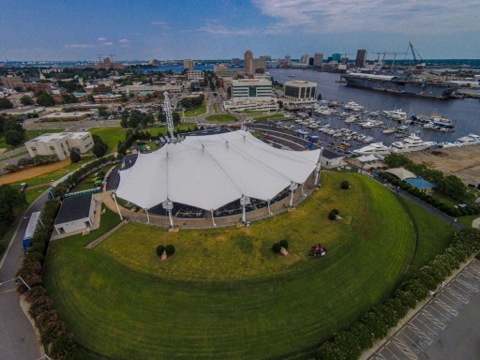 Photo © Parker Harrington
It is precisely because every Phish show is GREAT, on multiple levels for many reasons (e.g., your usually kind fellow fans; band<->fan interaction; number of songs played over multiple sets; the lights, sound and "vibe;" the volume of drug smoke), that the "average" show is necessarily GREAT. Indeed, all or nearly all of the Phish shows you have attended have had good if not excellent sound, stupendous lights (Kuroda's light-designing is genius), as well as an energizing "vibe" preshow, if not also throughout the set break, second set, and encore. And over the course of their history, Phish has performed well together routinely from the start through the (e).
Differentiating one show's characteristics and highlights from another, and positing one show over another for whatever reason(s), is thus an easily-criticizable, intensely-subjective, often silly hair-splitting exercise. Every Phish show is GREAT in often many ways, and even in COUNTLESS ways if you incorporate the depths of the souls of those forever inspired by the music. Think about that for a second.
Every show. Every show moves SOMEONE in a transcendent manner, at least in part if not for several hours. But, at the same time, the music of any given song, when compared with versions previously performed, is not always as "great" as it has been. It may even be flawed in ways that are objective, and not subjective (such as missed lyrics, notes, chords, changes, etc.).
What constitutes an above—or below—"average Phish show" in your view?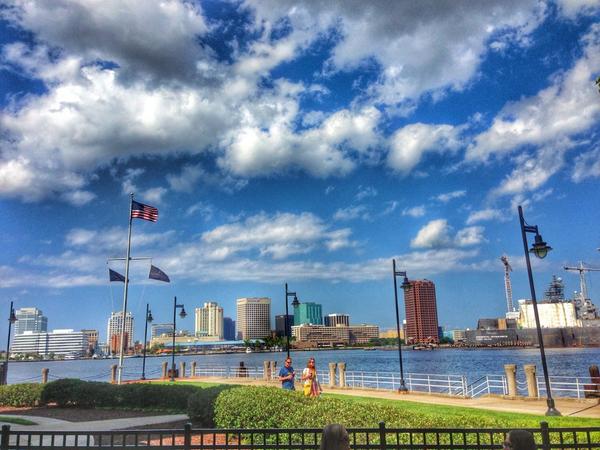 Photo © Andrea Nusinov
Some fans prioritize tightly-played, mostly-if-not-wholly composed songs over songs that improvise and the improvisation that they contain—improvisation that can either "click" and "gel" like melodious, composed music (see, e.g., the jam in the 7/26 MPP "Ghost"), or aimlessly meander, as if in a fetid pool, teeming with faeces of unusual size. In fact, some fans couldn't care less if a song that doesn't jam is played well or not, because they claim not to care for such songs, and it's only Phish's improvisational risk-taking that matters to them, even when the jams do NOT "click," because the band still deserves immense respect for taking the risk. Indeed, some fans don't even "count" Phish's first sets at all, unless something noteworthy occurs, because they view only second sets as typically containing any music worth hearing again in them.
Is the fan who prefers tight songs to improv wrong? Is the fan who largely disregards first sets wrong? Is the fan who only cares about jams wrong? Is the fan who loves everything unconditionally in the moment at the show—who couldn't care less about ever hearing the show again—wrong? Of course not! We love what we love, be it Phish-related or not, and all that matters is what music means the most to you. And as for me, I'm somewhere in the middle, or under, or above, all of those viewpoints, more or less. Why?
Because an "average-great" Phish show to me is one that is generally well-played start-to-finish by all four band members. They are brilliant, extremely experienced musicians, and near-perfection is "shooting par" for them if you examine their history performing together (even their performances together in any given tour). Differentiating the "below-average" from the "above-average" GREAT Phish shows, for me, really comes down to answering the questions:
(1) is any song's jam truly "must hear" or at least highly recommended, when that jam is compared both with that particular song's improvisational history, and with Phish's glorious improv historically;
(2) are there any songs that have jams that compare favorably with the so-called "top versions" of those songs historically (say, top 20%, unless the song has a short history, in which case, maybe that percentage is higher or lower, as you deem fit);
(3) how are the segues, since they're the most obvious characteristics of Phish sets that demonstrate potentially excellent "flow";
(4) what is the show's "average song gap," an objective measure signifying the average number of days between when every song performed had since been performed (the higher the number, the more likely there were significant "bust outs," regardless of whether you like the songs that were busted out, or not); and,
(5) are there are any other unique characteristics of the show, such as guest musicians, three sets, stage banter, nudity, or Gamehendge?
Analyzing shows in this manner is subjective and imperfect, of course. We can't conjure up every minute of Phish's improvisation over 30 years. But everyone taking the time to read this has at least some sense of the terrain, having explored it before. You may be the "Phish expert" among your friends, or one of them. And all one need do to find an excellent example of why the foregoing guidelines are imperfect is to check out 7/27/2014 MPP: an exceptional, well-above "average-great" Phish show with a strong first set and a spectacular second set, with tight playing and flow (number 3 above) and a few bust-outs (number 4 above) that is also extraordinarily entertaining, but arguably has no "top" or "must-hear" versions of songs (numbers 1 and 2 above), except perhaps the third "Tweezer" jam and the jam out of "NICU." Yet the entire second set is nevertheless "must hear"!
In any event, this depth of experience with Phish's music doesn't make you or me "better" at exploring this terrain than anyone else, but it does give us a perspective on it that isn't necessarily "average," or even "great"—except perhaps in terms of years. The "average" Phish fan has seen the band multiple times and is generally knowledgeable about the music, and is at least somewhat opinionated about it, too, in that they probably have certain musical preferences. It is remarkable and to our credit as a fan base that while, on the whole, the band's most mind-blowing performances over several decades tend to be widely lauded, it is nevertheless true that fans with very similar Phish experience can disagree strongly when it comes to which shows, or which versions of songs (often among the "best" or "top"), they prioritize over others.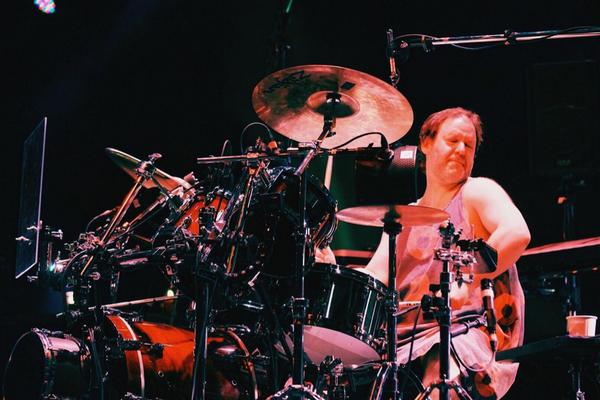 Photo © Phish
Last night's Portsmouth show featured no covers at all, and six tour debuts ("Guelah Papyrus," "Mountains In The Mist," and "Meat" in the first set, "Billy Breathes" and "Seven Below" in the second set, and "Lizards" (e)), as well as a fair amount of improvisation, perhaps a bit more than the "average" show when you consider them all over the course of 30 years.
"Gin" opened the show quite well, with Trey leading the way through the jam segment (as he typically does), and with Mike employing a tone with some extra-Lesh in it. Other first set highlights included the jam segment of "It's Ice," a Page-driven clavinet-heavy groove; a soulful "Mountains in the Mist," which had not been performed in nearly four years; the tour debut of "Meat" (requested by a number of fans Page-side who held a variety of creative meat-signs); and a fairly tight "Bowie" set-closer. I say "fairly tight" because, for those who care about such things, Trey was not nailing every note all night. He was batting about .947, which is to say, still pretty good.
Summer '14, like fall '13, has been very strong on the whole, with many recommended jams (see, e.g., the 7/1 Great Woods "Hood," 7/8 Phili "Fuego," 7/13 Randall's "CDT>Light>Tweezer," and both 7/26's and 7/27's second sets). Nearly every show this tour has had something worth hearing from it. Last night's second set only improved on this remarkable record, with inarguably the third most improvised "Fuego" in history. It is yet another "must-hear" version, and it opened Set Two masterfully, thanks in no small part to Fish and Page.
Following a timid "Jibboo," a John-Holmes-sized "Meatstick"—easily the funkiest version since the Gorge in 2011, and NYE 2010 for that matter as well—bedazzled the crowd. It is a "top five" version (up there with Cypress and 12/5/99 Rochester, for example), that you should download and listen to as soon as you can, even if you're not a fan of the song, to hear it for yourself. "Piper" was similarly quite good, before it was abandoned somewhat abruptly into the first "Billy Breathes" since Bader Field in 2012, ninety-five shows ago.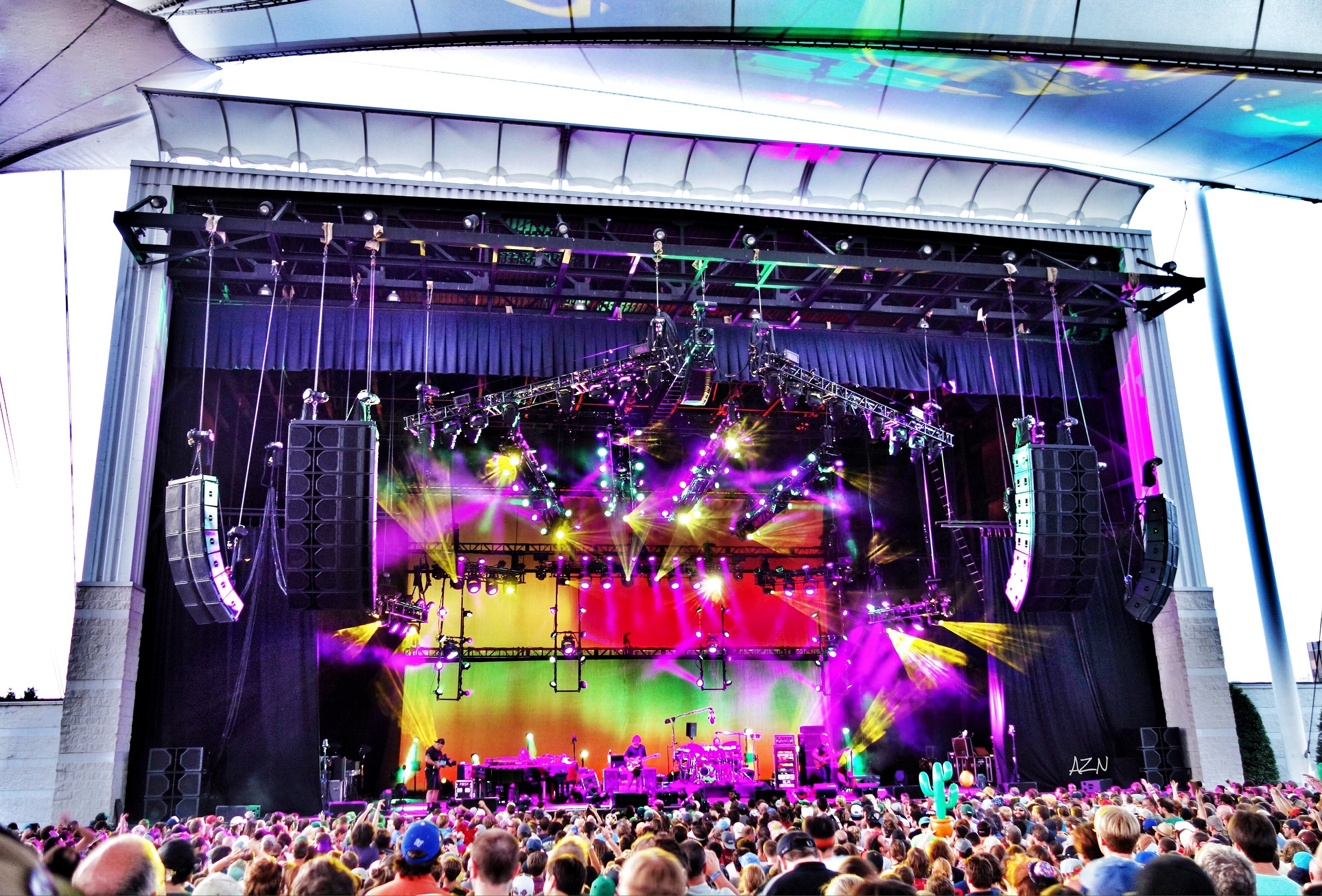 Photo © Andrea Nusinov
The second set concluded with a "solid" 4th Quarter: "Seven Below" (tour debut), "Waste," a pleasant "BDTNL" (definitely check this version out if you're a fan of this song!), and a typically good "First Tube" closer. The "Lizards" encore was an old school (and Gamehendgian) treat, much as the "Timber Ho" opener in Portsmouth had been on Tuesday night. Only a sociopath would be disappointed by a "Lizards" encore.
In short, both Portsmouth shows had plenty to love and enjoy, and for those of you who quickly skimmed to the bottom of this piece: check out the "It's Ice," "Fuego," and "Meatstick" from last night's above "average-great" show. $0.02.
If you liked this blog post, one way you could "like" it is to make a donation to The Mockingbird Foundation, the sponsor of Phish.net. Support music education for children, and you just might change the world.