Picked up pieces from the first night at Randall's Island from PZ and LMo.
PZ: Only a little over a week ago I noted in this space that the functional role "Fuego" would assume in Phish's ever-expanding repertoire was still very much an open question. Opener / early set compact rocker? A launching point for set-defining improvisational exploration? Late game / set closing heroics? The question seems almost silly now, because in that short time we've learned the answer rather decisively: much like Phish as a whole currently, "Fuego" does it all. "Fuego" is the tabula rasa onto which Phish's creative muscle is currently being flexed, joining the likes of "Ghost," "Tweezer" and "Down with Disease" as the canvass of legacy. Not bad for your new single, right?
LMo: This was a most excellent first set. I could hear the urban city vibe I love so much throughput the concert. "Bathtub Gin" went absolutely over the top of excellence. Trey takes it out of the park and into the sky with Page fast supporting the flight. Page is carrying sound into some very interesting places these days, the piano just soars into unique melodies invented in the moment, improvisations confidently and gloriously asserted.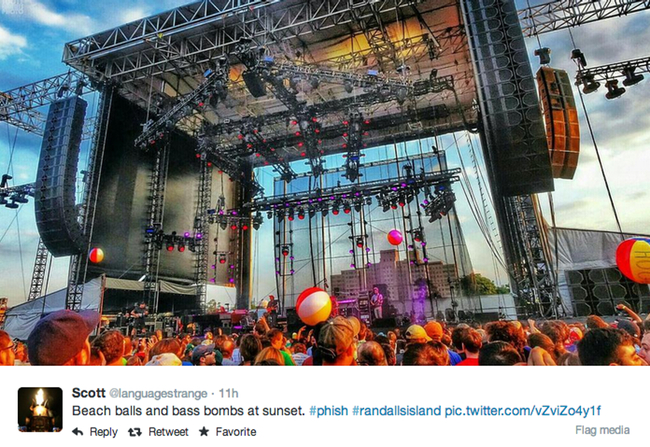 PZ: When me and my buddies shoot the shit about the Phish, geek-ing it up comparing shows and eras and versions of songs – as we will sometimes do for no better reason than to simply amuse ourselves – the only factor that puts any distance between where Phish is currently versus past eras is the quality and volume of improvisation in the first set. Example, the amazing fall '13 tour, which was as good as any… you want to say since Big Cypress, or at least I do. But that's a hard case to make based on the differentiator that 2003 in particular had so many shows where they fired all cylinders throughout the gig. The prime output from current shows is demonstrating Phish playing at a career peak, but often times there is a sense of a bifurcation where the first set is the "compulsories" and the second set is the free skate.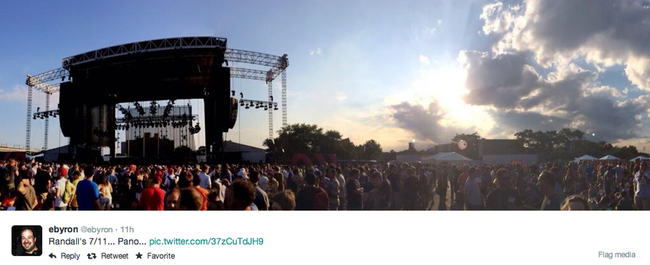 So when Phish starts to peel off epic (I chose that word carefully, not flippantly) versions of "Bathtub Gin," as they did during Friday's first set, and follow it with the second soaring, flowering of "Stash" in the first ten days of tour, the "not as good as [whatever]" argument starts to get wicked flimsy. First blush, the "Gin" is right up there with Gorge '09 and the Bethel Gin-Teca as the best of 3.0.
LMo: I love to be as close as possible to the stage but there was scarcely room to plant my feet in our spot close in front of Mike. There was not much space for dancing in this crowd but everyone around me was quiet and I like that. "Steam" was truly wonderful and amazing, a lot of brilliant moments that seemed as if they could go on and on... the shift into "Down with Disease" was seamless. The "Dwd" jam was over the top wonderful. We really all went out there to the sound space many of us are looking for with the Phish. Sadly, I was brought to a full stop with the crowd chanting "woo." So, oh well... I will just say it knocked me out my own auditory flight and made me fall back to earth for a little while. So I took a moment to write a sidenote poem in my notebook about something not related to the event.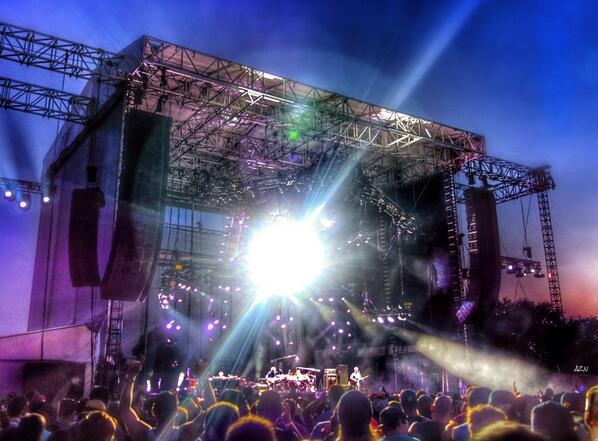 Solar garlic #stash #phish #randalls – Photo by Andrea Z Nusinov.
Page rocks the "Golden Age" with sweet piano riffs throughout. Awesome Page-side love, thank you. "Limb by Limb" got interesting too. "Fuego" is our summer song this year, just rocking the house every time, big time. I personally enjoyed the experience of sharing this song again after the Atlantic City introduction of it with my buddy Marco, who aptly said to me, "if you build it they will come," just as the "Fuego" started to build the momentum. "Fuego" is "Tweezer" in another outfit.
"David Bowie" was all about CK5. I so enjoyed Kuroda's lights. I tend to close my eyes a lot at a show and just listen to the huge sound, but the lights in "Bowie" really got me last night and I noted a glorious full lightbulb of a white moon hovering over our dear gathering at Randall's. The moon and CK5 were really in sync last night. Cheers to Chris Kuroda for always bringing the best effect. The "Character Zero" encore rocked it out for the finale of a beautiful magic night in New York City and we are right where we should be at this juncture. I felt truly free, let loose of all cares and worries.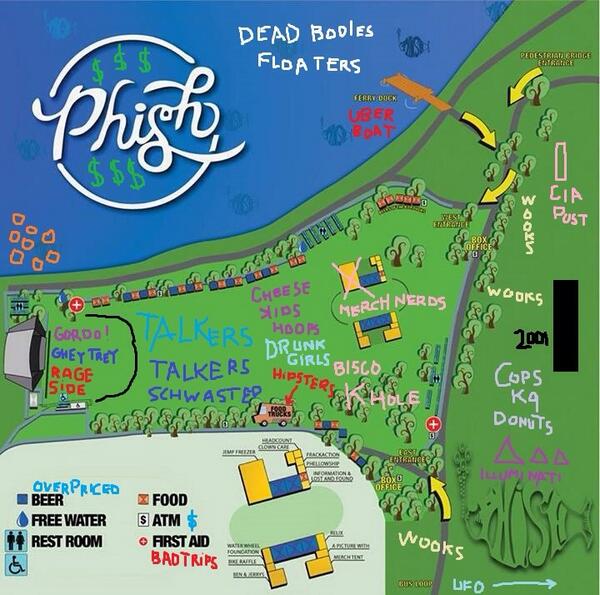 Updated MAP! Saturday Randall's Island #phish
Image from Coventry Music
PZ: The reason Phish is better than any other Rock and Roll band is because our band's drummer, Jon Fishman, is better than your band's drummer. If your drummer sucks, your band sucks, no matter who you put around him or her. Our drummer doesn't suck. As good an example as any of this Fish Drives Phish phenomenon is the Randall's "Down with Disease" – when you get a chance, listen to this version, and focus just on Fish. Follow him, listen in awe as he simultaneously anchors and drives and cajoles, then retreats and listens and ponders as the next idea percolates, like the most engaging conversationalist.
The remainder of the set was incredibly balanced with no meaningful downtime, comparatively compact versions of songs that flowed with balance, ease, grace, charm and power. "Steam" ended kinda oddly but seemingly because they had better ideas with the "Disease." The "Golden Age" jam offered tons of mind candy in a compact package. "Fuego" saw its first fourth quarter action, where it simply works, big jam or otherwise. "Limb By Limb" was elegant and perfectly placed. The set construction was masterful, so much so that stock footage "Cavern" and "Character Zero" were enjoyable even for the JadedVet™.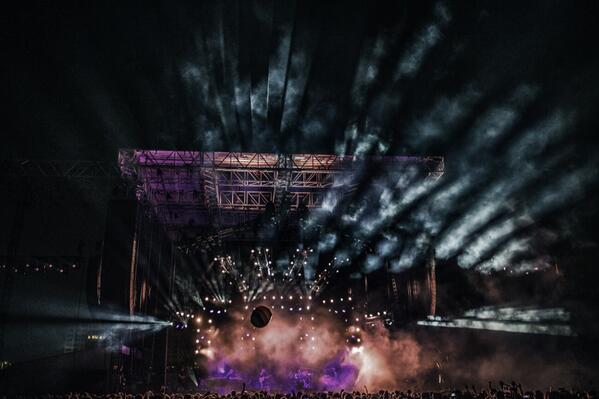 Randall's Island last night. Photo by Dana (distortion) Yavin.
Photo courtesy © Phish From the Road.
Phish plays again tonight and tomorrow, same time same station. They are a great band offering a high quality adult entertainment experience and playing at the peak of their powers, so if you are driving around the stadium, think about popping by. Lots of trippy stuff, festival-level entertainment everywhere, build some time in before or after to walk the grounds, you are sure to find something unique and cool. While the New Yorker OCD Phish fan crew was hysterically flummoxed by the logistical idiosyncrasies of this venue, all in all it was pretty awesome and easy experience by most accounts. Walk the bridge if you can, at least once – it is really quite something, a vantage point that most of us have sailed over hundreds of times without much thought, yet one that is well worth a moment of your time and reflection.
Gotta run, we are in our spot 20-ppl back straight in front of Mike, if you are in the neighborhood by all means stop by and say hey. Go Phish!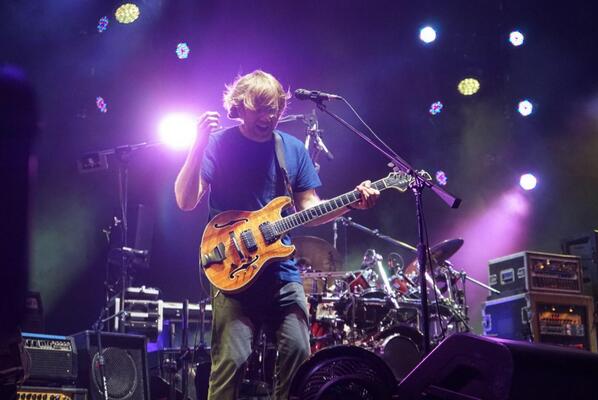 Photo courtesy © Phish From the Road.
If you liked this blog post, one way you could "like" it is to make a donation to The Mockingbird Foundation, the sponsor of Phish.net. Support music education for children, and you just might change the world.