Since we here at Phish.net dropped the ball in pulling together a NYE recap, I thought I'd make up for it (just one month later) by giving you one fan's opinion on the best moments of 2012. These are not the opinions of Phish.net, just my own thoughts. If you agree or disagree, I'd love to hear about it in the comments.
Best Jam: 9/1/12 "Light." The last seven or so minutes of this jam aren't just best-of-2012 good, they rank among Phish's finest improvisational passages. To those who would criticize the first few minutes of this jam I'd point out that not every note of even the 12/29/94 "Bowie" is pure gold either and, more importantly, ask how you even remember that by the time this is over. You'd think a show with the best jam of the year, an "Antelope" opener, a first set "Tweezer," a 13-minute "Golden Age," a jammed out "Caspian" and a set closing "Mike's" > "No Quarter" > "Weekapaug" sequence would be a contender for best show of 2012, but it turns out it's not even the best show of the Dick's '12 run. In fact, it's not even close...
Best Show: 8/31/12. Ok, let's get this out of the way: Phish's music is inherently subjective and nobody's opinion is any more valid than anyone else's. Having said that, if you think another show belongs here you couldn't be more wrong. No other show from 3.0, let alone 2012, can match the five (FIVE!!!) top-shelf jams they played on the opening night of the Dick's run. If you disagree, Fuck Your Face. The only real debate here is...
Best 8/31/12 Jam: This show is so good it gets its own category. I've gone back and forth on this one for the past five months, but will stick with my original answer as I walked out of Dick's that fateful night – "Chalk Dust." The last five minutes are pure hose. Of course the same can be said of the "Undermind," and the "Runaway Jim" may be the best start-to-finish jam they played that night. I'd place the "Carini" and post-"Farmhouse" jams a step below the Big Three. And, yet, as good as the "Jim" and "CDT" are, I still don't think this is the best second set of the year...
Best Set II: 8/19/12. The "Crosseyed" > "Light" -> "Sally" -> "Crosseyed" segment has pretty much everything I look for at a Phish show: thoughtful, contemplative type-II playing in "Crosseyed," an insane peak in "Light" leading to a thrilling segue into a funky "Sally" with a surprise second helping of "Crosseyed." Throw in a perfectly executed "Theme" and a cherry on top in the form of a "YEM" closer and meet your best second set of 2012. Now, about that segue...
Best Segue: As good a year as 2012 is, it really wasn't that strong a year for segues. The 8/19/12 "Light" -> "Sally" is certainly on the shortlist of contenders, but the prize has to go to the 9/2/12 "Sand" -> "Ghost." By the time the end of summer tour rolled around, "Ghost has only been played once, on 8/15/12, the opening show of the second leg of the tour. So, most fans figured it would make an appearance at the last show, making for "Ghost" bookends of the tour. Somehow, the smooth transition out of the 24-minute "Sand" opener still managed to catch fans by surprise. So, we've talked about the 8/19 "Crosseyed," the 8/31 "Runaway Jim" and the 9/2 "Sand." Fantastic jams, every one, and yet none can call itself the...
Best Set II Opener: 12/28/12 "Tweezer." Doubling as the best "Tweezer" of 3.0, this version serves as a shining example of Trey's rediscovered patience, as it takes its time building up to two glorious peaks. His entrance at the 17:10 mark is quite possibly my favorite moment of the year. Of course, when Phish played "Tweezer" to open the second set of the NYE run, most of us were expecting big things. On the other end of the spectrum...
Best "Surprise" Jam: 8/28/12 "Limb By Limb." When "LxL" started halfway through the second set, it's hard to believe anyone was expecting greatness. Though the set was promising up until that point, "LxL" isn't exactly a typical jamming vehicle. On top of that, Trey began leading the jam in an oddly dissonant, almost aimless direction. All of which made the jam's sudden transformation into a focused 4/4 tour de force a complete shock. Other unexpected gems include the 7/1/12 "Fee," 6/28/12 "McGrupp" and 9/1/12 "Caspian." Speaking of surprises...
Best Bustout: 7/3/12 "Skin it Back." At 1,417 shows between performances, this is literally the biggest bustout in Phish history. Honestly, that would probably be enough to win this coveted honor in and of itself, but what makes this a runaway winner is the execution. They didn't simply go through the motions here; this was the full jammed out treatment, among the highlights of leg one of summer tour. You remember the first leg of summer tour, right? Lauded at the time as the most consistently strong run of shows in the 3.0 era, it was largely forgotten in the wake of the even stronger leg two and NYE shows. Any 'Best of 2012' list would be incomplete without mentioning some of those highlights, such as...
Best Leg1 Jam: 7/8/12 "Piper." This one isn't really close. A transcendent version that has the unfortunate circumstance of living not just in the shadow of the aforementioned leg two jams, but also big brother and first ballot Phish HOF inductee, the 6/19/04 "Piper" (a.k.a. the original SPAC "Piper"). Let's round out this list with some other jams (not mentioned above) that shouldn't be forgotten...
Best Antelope: 7/3/12
Best Birds: 6/15/12
Best Boogie On: 6/7/12 (arguably the most underrated jam of the year).
Best Bowie: 12/28/12
Best Carini: 12/30/12
Best Disease: 12/30/12
Best Ghost: 8/15/12
Best Gin: 12/29/12
Best Golden Age: 7/3/12
Best Hood: 8/15/12
Best Reba: 6/17/12
Best Rock and Roll: 8/15/12 (honorable mention to the nearly as good 8/24/12 version)
Best Sally: 7/6/12
Best Simple: 8/18/12
Best Slave: 12/30/12
Best Stash: 8/22/12
Best Twist: 6/22/12
Best Wolfman's: 12/28/12
Oh, ok, one more...
Best Encore: As I see it, there are four contenders here: 4. 6/23/12 "Lizards." A perfect exclamation point to an outstanding set. Alas, points deducted for the lyrical flub. 3. 7/8/12 "YEM." Sure, it's been a long time since Phish played a truly original version of "YEM," but it's still a pretty big deal as a tour-closing encore. 2. 12/30/12 "Harry Hood" > "Show of Life." This "Hood" is so damn good it might have taken the top spot, if only they hadn't followed it with "Show of Life." Phish giveth, Phish taketh away. 1. 12/31/12 "Driver," "Iron Man." This pretty much does everything an encore should. The only way they could have improved on it was to cap it off with the one golf joke they left on the table: "In a Hole."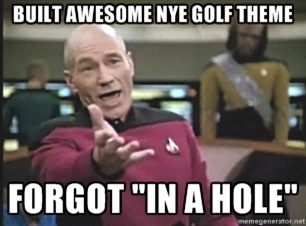 Meme Credit: @pzerbo
If you liked this blog post, one way you could "like" it is to make a donation to The Mockingbird Foundation, the sponsor of Phish.net. Support music education for children, and you just might change the world.