Icculus
Music/Lyrics: Anastasio/Marshall
Vocals: Trey (lead), Fish, Mike, Page (backing)
Albums: Junta, Colorado '88, Live Phish 10, Live Phish 14
Debut: 1986-04-01
Historian: phish.net song history staff
Last Update: 2015-02-12
"Icculus" is one of an elite handful of Phish songs (a category which also includes "Harpua" and "Colonel Forbin's Ascent"), which features a spoken-word performance by Trey. It is a soothing, faux-ethereal, testimonial monologue to the greatness of the author of the Helping Friendly Book, which escalates gradually before bursting into a frenzied spatter of shouting. Throw in a ten second composed ending that hints at a jam before ending abruptly, and you've got a quirky epic.
"Icculus" (like "Divided Sky," "Llama," and "Punch You in the Eye") is a Gamehendge-related song, but not formally part of The Man Who Stepped Into Yesterday. This paean to the author of the Helping Friendly Book has not appeared in any of the five full performances of the Gamehendge saga. Even though Trey and Tom wrote it as early as 1984, Trey declined to add "Icculus" to his Senior Study, perhaps because the song didn't show off his compositional skills the way "Tela" or "Lizards" did.


Phish, "Catapult" -> "Icculus" – 8/14/09, Hartford, CT
"Icculus" is first known to have been performed on 4/1/86 (audio) at Burlington's Hunt's and the essential song framework hasn't changed in close to three decades. Always fun and interesting, some standout versions include 8/10/87 (for then-soundman Paul Languedoc's mother - audio), 8/12/89 (with Steve Drebber on vocals, on his wedding day - audio), 5/2/92 (with amusing ARU references - audio), 6/22/94 (O.J. "Simple" sandwich, released as Live Phish 10 - audio), 10/27/94 (out of "Slave" encore! - audio), 11/20/94 (references the O.J. Show - audio), and 7/18/99 Oswego (with "Smoke on the Water" and "Cat Scratch Fever" jams - audio).
Like "Sanity," "Icculus" made it to disc by a curious twist of chance. On 4/20/92, following a Napa Valley vineyard tour during a break between shows, Shelly Culbertson (at the time a fan, later a Phish staffer) amused the band by loaning them her tape of 7/25/88, which included the aforementioned two songs. This version featured Trey hilariously screaming the U2 refrain "THIS IS RED ROCKS, THIS IS THE EDGE!" (audio), that was more famously reprised at Red Rocks on 8/6/96. The band happened to be looking for material to fill space on the second Junta CD, and decided that including the two wacky tracks would be a kick. Shelly tracked down the guy who had taped the show and borrowed his master, a 90-minute tape with some of 7/25/88 on one side and some of 5/3/88 on the other. When Elektra received the tape, they messed up the dates, which is why your Junta CD booklet features the wrong date for those two tunes.


Phish, "Icculus" – 6/17/11, Charlotte, NC
One of the oddest versions of "Icculus" occurred on 10/31/95 (audio), when Trey announced: "the Book is getting its ass kicked!" by the evil Halloween spirits. The prospect that Icculus may indeed be fallible is surely a distressing thought within the universe of Gamehendge, or for those fans who take the saga too seriously. In any case, this only instance of an "Icculus" show opener was a powerful statement to kick off one of the most important shows in Phish history.
"Icculus" always varies from show to show, but in vocals rather than music, a rare exception to the usual Phish rule. Never a common tune, despite existing in the repertoire for almost the entire 30-year history of the band, it has been performed a total of only 25 times. After the aforementioned Halloween '95 gig, it wouldn't surface again until Oswego nearly four years later, when a babbling Trey segued from an endorsement of literacy to some old-style Icculus worship.


Phish, "Icculus" – 8/30/13, Commerce City, CO
After an absence of a full decade, "Icculus" came roaring back in Hartford on 8/14/09 out of a bizarre "Pong"-inspired "Catapult." As was the case in Oswego, the Hartford version again focused on the wavering literacy of the current generation, with Trey admonishing the crowd to put down their iPhones and DVDs and asking "when is the last time one of you picked up a fucking book?!" "Icculus" returned just under two years later on 6/17/11 (audio) in Charlotte where Trey revealed the actual face of Icculus as printed on shirts that he and Mike were wearing – that of musician David Mayfield.
Another two years and 82 shows would pass before "Icculus" made a rare appearance in the (distant) shadow of the mountains, at Dick's. The 2013 Friday night Dick's performance – the now traditional "spelling" show – was "MOST SHOWS SPELL SOMETHING," backwards. "It's Ice" would have been the safe call, "Izabella" would have been bold, but this was a night for "Icculus." A group of fans had organized to hire a skywriter, but settled on a trailing sign from a small plane that indicated we all should READ THE BOOK. Trey referenced the plane, the youth and upbringing of the band members, and all of our deep and layered love for Dick's in this stirring and just-rare-enough admonition to READ THE FUCKING BOOK!


Phish, "Icculus" – 12/31/13, New York, NY
Despite this high-profile admonition to read the book, apparently some of us... still aren't getting the message. And it's pissing the band off! On 12/31/13, the JEMP Truck Set transported the assembled revelers in space and time to a simpler place, the land of Gamehendge, making even the cavernous confines of MSG an intimate setting. So as the band enters its second thirty years, isn't it about time we got the message?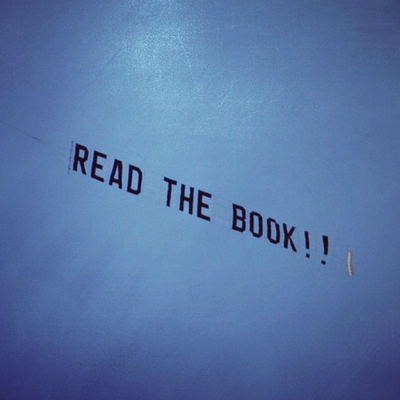 Contributors to this history include
Jeremy D. Goodwin
,
Steve Paolini
, Mark Toscano and
Phillip Zerbo
.