Harry Hood
Music/Lyrics: Anastasio/Gordon/Fishman/McConnell/Long
Vocals: Trey (lead), All (backing)
Albums: A Live One, Hampton Comes Alive, Colorado '88, Vegas 96, At the Roxy, Live Phish 02, Live Phish 09, Live Phish 17, Walnut Creek, Coral Sky, Hampton/Winston-Salem '97, The Clifford Ball, Ventura
Debut: 1985-10-30
Historian: Phillip Zerbo (pzerbo)
Last Update: 2014-01-18
Anyone living in the Northeast US over the last few decades is likely familiar with the Hood dairy company's advertising campaigns and it's signature character, Harry Hood. The little animated milkman in the fridge would proudly rattle on about his company's dairy products when the "unsuspecting" folks opened their icebox doors.
During the fall of 1985, Mike, Fish, and Page lived in a big red house with friend Brian "Miles" Long. The house was situated on King Street in Burlington, at the time directly across from a regional Hood bottling plant. The plant's pair of huge milk tanks bore Harry's smiling face, his grin illuminated at night by streetlight. Harry being lit up at night inspired Brian Long to first ask the question that has passed the lips of virtually every Phish fan. "Harry! Harry! Where do you go when the lights go out?"


Often-fantasized but never-realized Phish Hood commercial.
Earlier during that summer of '85, Trey and Fishman had traveled to Europe with their friend Pete Cottone. In Greece the two band mates experienced a tumultuous series of events involving a sea storm, a capsized raft, and lots of super-clean "chemists' reserve" LSD (visit The Phish Book for a fuller explanation). Following their return to safety, Trey wrote several chunks of new music inspired by the adventure.
Back at the King Street house, a former tenant apparently named Mr. A. Minor was still receiving mail. One piece caught the band's collective eye, a form letter bursting at the seams with Minor's name, telling him, "Thank You, Mr. Minor."


"Harry Hood" – 5/20/87, Shelburne, VT
It is from these relatively nondescript circumstances that one of Phish's most beloved songs was born. "Harry Hood" was the song, and it debuted at Hunt's on 10/30/85. Understandably a little sloppy and unpolished, 'Harry" nevertheless debuted with a promising jam. "Harry" is certainly one of Phish's most enduring songs, having never been out of the live concert rotation for any significant interval. While consistent in the repertoire, musically the song has by no means been static.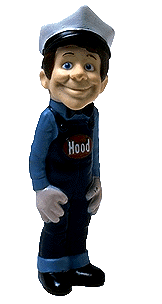 Early versions are – ironically – usually more exploratory in the "intro" than in the section now known as the "jam." The epic Ian's Farm (8/21/87) outing took over seven minutes to get to the jam itself. Fans of early Phish will also certainly want to visit 5/20/87, 5/28/89, 4/22/90, and 11/4/90 to see what "Harry" was capable of in the early years.
Continuing to grow as a song and jam vehicle, "Harry" reached higher and higher peaks until it truly soared on the fall 1994 tour. The most notable of these – 10/23/94 (on A Live One) and 11/12/94 (stunning) – continue to thrill listeners. Other excellent early-'90s versions of "Harry" include 3/31/93, 12/31/93, 7/9/94, and 12/30/94. One "Harry" from this era that simply cannot be missed is 4/18/92, the beautiful and now legendary "Linus and Lucy" version, the jam of which contains an extended homage to Vince Guaraldi's famous Peanuts music. Great versions abound in the middle '90s as well, including 7/1/95, 10/7/95, 12/5/95, 11/16/96 and 8/10/97.


"Harry Hood" – 3/24/92, Richmond, VA
"Harry" carries a special significance to some fans for the level to which band-audience interaction has been taken with its performances. For the 1996 Red Rocks run, enterprising fans circulated fliers detailing audience participation activities for the crowd to engage in during particular songs. Though most of them didn't work, the resounding success of the project was definitely "Harry." On the flier, fans were encouraged to follow the band's shouts of "Harry!" with a response shout of "Hood!" During an electrifying thunderstorm on the third night of the run, 8/6/96, the band broke into "Harry," and appeared to be caught completely off-guard by the successful crowd chant. The band was noticeably pleased, especially Trey, who responded with a mile-wide grin. The success was not short-lived, either, as the chant became regular practice at most every show afterwards.
Not all fans appreciated this fundamental change in the song's flow, and missed the resounding echo of the "Harry" call – or simply don't like people shouting in their ear during otherwise blissful moments. Still others mocked the audience participation by responding to the "Harry" call with a response of "Balls!" Regardless of how one feels about this call and response, it is a fixture all but certainly here to stay.


"Harry Hood" – 11/2/96, West Palm Beach, FL from the Coral Sky DVD
Far more incredible was the night of 8/17/97 at The Great Went toward the end of an amazing second set. Fans' spirits were already in the skies, as the band had introduced the now-legendary art-sculpture and its vision as a true artistic collaboration between the band and fans. The fans reciprocated during the awesome "Harry" with an indescribable shower of glowsticks. Earlier on that tour at The Gorge (8/2/97), Trey had Chris Kuroda turn off the stage lights during "Harry" in order for everyone to enjoy the jam in the beautiful, unadorned, natural surroundings. This was repeated on 8/17/97, but then the unexpected happened. A few fans began to toss their glowrings and glowsticks around, creating beautiful colored arcs of glowing light that danced above the crowd. More fans began to take notice of this and followed suit, until there were so many glow things flying around the crowd that the air above peoples' heads looked like the Northern Lights. Hundreds of phosphorescent streams flowed and fluttered through the air, many landing on stage. The band was noticeably energized by the display, and played ecstatically as they watched the colored light fly all around them. As the crowd went wild, the band went wilder, playing a majestic "Harry," inspired directly by the crowd's cascades of color, to close an already historic set. In The Phish Book, Trey remarked that he almost "lost it" during this jam. Though fans attempted to recreate the magic that occurred that night in the north Maine woods – the tossing of glowsticks became a regular (and controversial) practice at subsequent shows – this night will remain special to all who were there to witness that miraculous phenomenon.
Indeed, many fans felt that after The Great Went and up to the band's hiatus, "Harry" suffered from a mid-life crisis of sorts. The virtual certainty of a glowstick "display" seemed to place limits on the spontaneity of the song's jam segment, to the point where renditions of the song would sometimes seem perfunctory and rote. While certainly taking on a different – perhaps muted – character from the more excitable versions of years past, nevertheless many interesting and notable versions exist from this period: 11/22/97 (follows a strong "Mike's Groove" show opener); 12/13/97 (in a fun but perhaps short-sighted twist, Trey started throwing glowsticks back at the audience); 10/17/98 (acoustic, with Neil Young, jamming into a haunting rendition of Neil's "Helpless"); 12/31/98 (throbbing digital-loop intro); 7/18/99 (with fireworks); 12/11/99 (a rare show-opening appearance); 12/30/99 (Bliss City); 12/31/99 (an early-morning fake-out drum intro abandoned in favor of "2001"); 6/22/00 (highly irregular version book-ending "Dog Faced Boy" with fiddles, mandolins, and banjos); and 9/9/00 (with Michael Ray).
The period between the hiatus and the long post-Coventry "break" was a period of renewed vitality and experimentation for "Harry." Less frequent were the glowstick "battles" as fans seemed to have collectively outgrown the phase, allowing a renewed focus on the potential majesty of the jam. The return gig on 12/31/02 at MSG had fans marveling at the song's revitalized presence. The next version capped off a set of extended bliss on 2/15/03 in Vegas, and its next appearance at the same venue on 4/16/04 was of similarly stellar quality.
Almost every version in 2003 had a little extra spunk compared to the last few years leading up to the hiatus, and excellent versions can be found on 2/28/03 (punctuating one of the most popular shows in Phish history), 7/25/03 (nearly a half-hour long and widely considered to be the most experimental version ever), and 7/31/03 (twenty-four minutes and highly innovative, if not universally praised). Sitting alongside "YEM" as the quintessential signature Phish songs, "Harry" assumed its prominence opening the festivities at the 20th anniversary gig on 12/2/03 in Boston.


"Harry Hood" – 3/6/09, Hampton, VA
Returning to the stage in 2009 saw "Harry" in its usually prominent position in the repertoire. Played in roughly one of every four shows in Phish 3.0 to date, most versions were strong, if comparably interchangeable and straightforward, with some notable exceptions. 6/2/09 at Jones Beach that featured an extended ambient-space jam before the final resolving theme; while not loved by all, this segment is notable if only to comfort those who enjoy seeing "Harry" pushed to realize its majestic potential. While not necessarily transferring to the recording, the version from 10/30/09 at Festival 8 will be long remembered by attendees for the floating Borealis that meandered its way from the Page-side stage back to the Coil during the jam. Other strong versions in early 3.0 include: 8/7/10 Greek Theatre; 10/19/10 Augusta; 12/28/10 Worcester; 6/4/11 Blossom (with a "Have Mercy" sandwich); and 9/4/11 at Dick's in Colorado.


"Harry Hood" – 10/30/09, Indio, CA
Recent "Hoods" of note include 6/20/12 Portsmouth (unfinished and dissolves into ambient space before a slick segue into "What's the Use?"); 8/15/12 Long Beach (the forty minute second set opening suite of "Rock and Roll" > "Ghost" gets most of the attention from this gig, but keep with the set as the "Hood" is simply sublime); 9/2/12 (concluding a brilliant second set and putting a cap on the most highly-regarded three-night run of 3.0); 7/13/13 Merriweather (with "Birds of a Feather," "Dog Log," and "Divided Sky" teases); and 7/26/13 at The Gorge (as an encore paired with "Fire").
The magnificent west coast swing of summer 2013 concluded at the Hollywood Bowl on 8/5/13. The band was firing on all cylinders, having delivered seven spectacular performances at The Gorge, Tahoe and San Francisco, each in their own distinctive way worthy of considerable praise. The Hollywood Bowl gig was the sixth in seven days, and for the vast majority of the show it seemed as if the band was, frankly, out of gas. The gig was fine – typical "average great" – but it lacked much of the overall spark and vitality demonstrated up and down the left coast, much less the peaks that were capped by the Tahoe "Tweezer" five days earlier. But down five late in the fourth quarter, at midfield with six seconds on the clock, Phish went for and completed a Hail Mary to save the day, dropping a 22+ minute "Hood" – the fourth longest ever trailing only 7/25/03, 8/14/97, and 7/31/03 – getting out of the way and allowing The Hose to satiate the eager crowd that had thirsted for most of the show. This "Hood" was a stunning capstone to a tour that in so many ways represented a new, higher plateau for the band, one that enters its fourth decade at a time when we can all feel good!


"Harry Hood" – 8/5/13, Hollywood, CA
Recommended Versions: 1987-11-19, 1992-05-17, 1993-03-21, 1993-08-15, 1994-05-27, 1994-11-12, 1995-07-01, 1995-12-05, 1996-11-23, 1997-03-18, 1997-08-10, 1998-07-09, 2003-07-25, 2003-07-31, 2010-12-28, 2013-08-05