Harry Hood
Music/Lyrics: Anastasio/Gordon/Fishman/McConnell/Long
Vocals: Trey (lead), All (backing)
Albums: A Live One, Hampton Comes Alive, Colorado '88, Vegas 96, At the Roxy, Live Phish 02, Live Phish 09, Live Phish 17, Walnut Creek, Coral Sky, Hampton/Winston-Salem '97, The Clifford Ball, Ventura
Debut: 1985-10-30
Historian: Phillip Zerbo (pzerbo)
Last Update: 2015-10-02
Anyone living in the Northeast US over the last few decades is likely familiar with the Hood dairy company's advertising campaigns and it's signature character, Harry Hood. The little animated milkman in the fridge would proudly rattle on about his company's dairy products when the "unsuspecting" folks opened their icebox doors.
During the fall of 1985, Mike, Fish, and Page lived in a big red house with friend Brian "Miles" Long. The house was situated on King Street in Burlington, at the time directly across from a regional Hood bottling plant. The plant's pair of huge milk tanks bore Harry's smiling face, his grin illuminated at night by streetlight. Harry being lit up at night inspired Brian Long to first ask the question that has passed the lips of virtually every Phish fan: "Harry! Harry! Where do you go when the lights go out?"


Harry Hood "commercial."
Earlier during that summer of '85, Trey and Fishman had traveled to Europe with their friend Pete Cottone. In Greece the two band mates experienced a tumultuous series of events involving a sea storm, a capsized raft, and lots of super-clean "chemists' reserve" LSD (visit The Phish Book for a fuller explanation). Following their return to safety, Trey wrote several chunks of new music inspired by the adventure.
Back at the King Street house, a former tenant apparently named Mr. A. Minor was still receiving mail. One piece caught the band's collective eye, a form letter bursting at the seams with Minor's name, telling him, "Thank You, Mr. Minor."


"Harry Hood" – 5/20/87, Shelburne, VT
It is from these relatively nondescript circumstances that one of Phish's most beloved songs was born. "Harry Hood" was the song, and it debuted at Hunt's on 10/30/85. Understandably a little sloppy and unpolished, 'Harry" nevertheless debuted with a promising jam, for the era. Early versions were ironically often more exploratory in the "intro" than in the section now known as the "jam." The 8/21/87 Ian's Farm outing took over seven minutes to get to the jam itself. To hear what "Harry" was capable of in the early years be sure to visit: 11/19/87 Hunt's; 7/23/88 Pete's Phabulous Phish Phest; 11/10/89 Hamilton College; 5/6/90 Toad's Place; and 11/30/91 Capitol Theatre.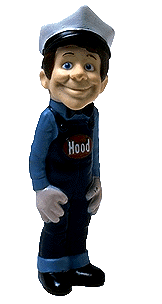 The gig on 4/18/92 at Stanford University brought us the beautiful and now legendary "Linus and Lucy" version, the jam of which contains an extended homage to Vince Guaraldi's famous Peanuts music. The version from 5/17/92 in Schenectady, NY offered a strong contrast of darkness and an explosive peak of light in one of the strongest versions to date. 1993 was a critical, transformative year for Phish, yielding incredibly strong versions including 3/21/93 Ventura, 8/8/93 Cleveland, 8/15/93 Louisville and 12/31/93 Worcester.
Continuing its growth as a jam vehicle, "Harry" truly soared in 1994 in 1995, a time in Phish's career characterized by a peak overlap of their early precision fused with the opening of the expansive wormhole of deep jams. Notable versions dot the spring and summer (visit 4/10/94 Buffalo, 5/27/94 San Francisco, or 7/9/94 Great Woods), while the performances that fall are the stuff of legend – 10/20/94 St. Petersburg, FL, 10/23/94 Gainesville, FL (on A Live One) and 11/12/94 at Kent State are all essential Phish listening. Literally every version from 1995 is worth a visit, though if this terrain is unfamiliar one might start with 6/17/95 Bristow, VA, 7/1/95 Great Woods, 10/7/95 Spokane (unusually delicate, with Trey playing at times unamplified), 12/5/95 UMass, or 12/30/95 MSG.
The mid-90s brought two structural changes to "Harry." First, 1995's fall tour witnessed a change to "Harry's" then-iconic ending. First introduced on 9/27/95 Cal Expo, the band ditched the closing "you can feel good" chorus and punctuated ending in favor of a gradual concluding wash. The traditional ending chorus and exclamatory ending returned to Seattle on 10/3/95, then the fade-out ending was again employed on 10/7/95 in Spokane, WA. 10/15/95 Austin saw a cool hybrid, with Trey offering the closing refrain in a hushed spoken voice over Page's piano. The traditional ending held on through the balance of the fall tour, but the final punctuated ending would occur on 12/11/95 in Portland, ME, the famous "Dog Log" night. Subsequent versions would almost always contain the ending chorus (those without are noted in phish.net setlists as "unfinished"), but would then settle on a sonic plateau, resolving either with a soft gradual conclusion or another song. Fans of advanced vintage often yearn for a return to the exciting concluding builds and punctuated ending, though after two decades it seems decidedly to be a thing of the past.


"Harry Hood" – 3/24/92, Richmond, VA
The second change was initiated not by the band, but by the fans. For the 1996 Red Rocks run, enterprising fans circulated fliers detailing audience participation activities for the crowd to engage in during particular songs. Though most of them didn't work, the resounding success of the project was definitely "Harry." On the flier, fans were encouraged to follow the band's shouts of "Harry!" with a response shout of "Hood!" During an electrifying thunderstorm on the third night of the run, 8/6/96, the band broke into "Harry," and appeared to be caught completely off-guard by the successful crowd chant. The band was noticeably pleased, especially Trey, who responded with a mile-wide grin. The success was not short-lived, either, as the chant became regular practice at most every show afterwards.
Not all fans appreciated this fundamental change in the song's flow, and missed the resounding echo of the "Harry" call – or simply don't like people shouting in their ear during otherwise blissful moments. Still others mocked the audience participation by responding to the "Harry" call with a response of "Balls!" Either way, the change stuck.


"Harry Hood" – 11/2/96, West Palm Beach, FL from the Coral Sky DVD
The signature moment for "Harry" took place on the night of 8/17/97 at The Great Went, toward the end of an amazing second set. Fans' spirits were already in the skies, as the band had introduced the now-legendary art-sculpture and its vision as a true artistic collaboration between the band and fans. The fans reciprocated during the awesome "Harry" with an indescribable shower of glowsticks. Earlier on that tour at The Gorge (8/2/97), Trey had Chris Kuroda turn off the stage lights during "Harry" in order for everyone to enjoy the jam in the beautiful, unadorned, natural surroundings. This was repeated on 8/17/97, but then the unexpected happened. A few fans began to toss their glowrings and glowsticks around, creating beautiful colored arcs of glowing light that danced above the crowd. More fans began to take notice of this and followed suit, until there were so many glow things flying around the crowd that the air above peoples' heads looked like the Northern Lights. Hundreds of phosphorescent streams flowed and fluttered through the air, many landing on stage. The band was noticeably energized by the display, and played ecstatically as they watched the colored light fly all around them. As the crowd went wild, the band went wilder, playing a majestic "Harry," inspired directly by the crowd's cascades of color, to close an already historic set. In The Phish Book, Trey remarked that he almost "lost it" during this jam. Though fans attempted to recreate the magic that occurred that night in the north Maine woods – the tossing of glowsticks became a regular (and controversial) practice at subsequent shows – this night will remain special to all who were there to witness the moment.


"Harry Hood" – 10/17/98, Mountain View, CA
Indeed, many fans felt that after The Great Went and up to the band's hiatus, "Harry" suffered from a mid-life crisis of sorts. The virtual certainty of a glowstick "display" seemed to place limits on the spontaneity of the song's jam segment. While certainly taking on a different – perhaps muted – character from the more excitable versions of years past, nevertheless many interesting and notable versions exist from this period: 11/22/97 Hampton (follows a strong "Mike's Groove" show opener); 12/13/97 Albany (in a fun but perhaps short-sighted twist, Trey started throwing glowsticks back at the audience); 10/17/98 (Bridge School, acoustic, with Neil Young, jamming into a haunting rendition of Neil's "Helpless"); 12/31/98 MSG (throbbing digital-loop intro); 7/18/99 Oswego (with fireworks); 12/11/99 Philadelphia (a rare show-opening appearance); 12/31/99 (an early-morning fake-out drum intro abandoned in favor of "2001"); 6/22/00 Antioch, TN (highly irregular version book-ending "Dog Faced Boy" with fiddles, mandolins, and banjos); and 9/9/00 Albany (with Michael Ray).
The period between the hiatus and the long post-Coventry "break" (a.k.a "2.0") was a period of renewed vitality and experimentation for "Harry." Less frequent were the glowstick battles, as fans seemed to have collectively outgrown the phase, allowing a renewed focus on the potential majesty of the jam. The return gig on 12/31/02 at MSG had fans marveling at the song's revitalized presence, and the next version capped off a set of extended bliss on 2/15/03 in Vegas. Almost every version in 2003 had a little extra spunk compared to the last few years leading up to the hiatus, and excellent versions can be found on 2/28/03 (punctuating one of the most popular shows in Phish history), 7/25/03 (nearly a half-hour long and widely considered to be the most experimental version ever), and 7/31/03 (twenty-four minutes and highly innovative, if not universally praised). Sitting alongside "YEM" as the quintessential signature Phish songs, "Harry" assumed its prominence opening the festivities at the 20th anniversary gig on 12/2/03 in Boston.


"Harry Hood" – 10/30/09, Indio, CA
Phish's return to the stage in 2009 saw "Harry" in its usually prominent position in the repertoire. An early notable "3.0" version took place on 6/2/09 at Jones Beach, featuring an extended ambient-space jam before the final resolving theme; while not loved by all, this segment is notable if only to comfort those who enjoy seeing "Harry" pushed to realize its majestic potential.
While not necessarily transferring to the recording, the version from 10/30/09 at Festival 8 will be long remembered by attendees for the floating Borealis that meandered its way from the Page-side stage back to the Coil during the jam. Other strong versions from this period include: 8/7/10 Greek Theatre; 10/19/10 Augusta; 12/28/10 Worcester; 6/4/11 Blossom (with a "Have Mercy" sandwich); and 9/4/11 at Dick's.


"Harry Hood" – 8/5/13, Hollywood, CA
"Hoods" of more recent vintage can be found in: 6/20/12 Portsmouth (unfinished and dissolves into ambient space before a slick segue into "What's the Use?"); 8/15/12 Long Beach (the forty-minute second set opening suite of "Rock and Roll" > "Ghost" gets most of the attention from this gig, but keep with the set as the "Hood" is simply sublime); 9/2/12 Dick's (concluding a brilliant second set and putting a cap on one of the most highly-regarded three-night runs of 3.0); 7/13/13 Merriweather (with "Birds of a Feather," "Dog Log," and "Divided Sky" teases); and 7/26/13 at The Gorge (as an encore paired with "Fire").
The magnificent west coast swing of summer 2013 concluded at the Hollywood Bowl on 8/5/13. The band was firing on all cylinders, having delivered seven spectacular performances at The Gorge, Tahoe and San Francisco, each in their own distinctive way worthy of considerable praise. The Hollywood Bowl gig was the sixth in seven days, and for the vast majority of the show it seemed as if the band was, frankly, out of gas. The gig was fine – typical "average great" – but it lacked much of the overall spark and vitality demonstrated up and down the left coast, much less the peaks that were capped by the Tahoe "Tweezer" five days earlier. But down five late in the fourth quarter, at midfield with six seconds on the clock, Phish went for and completed a Hail Mary to save the day, dropping a 22+ minute "Hood" – the fourth longest ever trailing only 7/25/03, 8/14/97, and 7/31/03 – getting out of the way and allowing The Hose to satiate the eager crowd that had thirsted for most of the show.


"Harry Hood" – 7/1/14, Mansfield, MA
Phish wasted no time setting a high bar for "Harry" in 2014, unleashing a monster 18-minute version near the conclusion of the tour-opening gig on 7/1/14 at Great Woods. The two major "big field" events of 2014 saw "Harry" deliver in the biggest moments. 7/12/14 Randall's Island saw "Harry" go fearlessly into type-II to conclude a deeply satisfying six-song second set. The following Saturday, 7/19/14 in Chicago, "Harry" was an anchor of bright light in a gig that was otherwise a bit of a Saturday Night Special. The exceedingly rare west coast edition of fall tour offered perhaps the year's best "Hood" on the middle night of the Bill Graham Civic Auditorium run in San Francisco; concluding the second set on 10/28/14, "Harry" went for a thrilling – chilling! – exploratory ride through multiple themes including "Party Time" and "The Dogs," a song that wouldn't debut in earnest until later in the week in Vegas. Aside from the list-toppers, 2014 was such a strong year for "Harry" that the honorable mentions are honestly notable, with quality innovative versions to be found on 7/8/14 Philadelphia, 8/3/14 Alpharetta, and 8/29/14 Dick's.
As Phish and "Harry Hood" enter their fourth decade, it is clearly a time when we can all feel good!


"Harry Hood" – 10/28/14, San Francisco, CA