Tonight's recap is coming to you from couch tour; if that makes you angry I suggest you look for other, more important things to be angry about. Follow me on Twitter if you want to yell at me: @mielcarz
I started this summer in a weird place with Phish – even though the Baker's Dozen residency was a new and novel concept for the band, for some reason I had low expectations that they would do anything truly groundbreaking. Of course, Phish exists to defy expectations. The first five shows of tour featured no repeats, and four of the five had jams of longer than 20 minutes, one of them a long wished-for bustout of an epic "Mr. Completely." Only the most jaded fan could listen to the tour so far and not be salivating about what was to come in the next 13 shows. Building on the Baker's Dozen theme and highlighting the uniqueness of the run, the band announced that there would be a different donut for each show served to early arrivers. Prior to lights, speculation was running rampant in the Phish universe - would there be no repeats all tour? None in the 13 MSG shows? One repeat? One song they play every night? Special guests? Trolling Billy Joel? Like they say in the song (that will only be played once during the run, Icculus willing), the only rule is it begins!
Taking a cue from the special donut for the evening, the band opened with a quirky pop song by Danish band Junior Senior called "Shake Your Coconuts" – a hilarious way to start the evening. A crunchy and funky "Martian Monster" followed, putting theories of a no-repeat tour to rest, as it had been played four shows earlier in Chicago. As if they weren't ready to leave the cosmos yet, "Timber" lifted off into a blissful major key (?!?) jam, with some fantastic guitar work by Trey as Kuroda's new light rig twisted and turned, thrilling the crowd. After a swampy but standard "555," Trey jokingly asked the crowd "Are you guys tired yet?" "Pigtail" featured an aborted start for which Trey humorously blamed Fishman, but otherwise felt like a lot of TAB songs played by Phish – cheerful but perfunctory. A day after the anniversary of Apollo 11 getting all the way, Page took us "Halfway to the Moon," with a surprisingly nimble solo by Trey playing counterpoint to Page's piano work.
Perfection was not to be found in the composed section of "Reba," but Trey's lyrical guitar work in the jam was thick with emotion. Not to be outdone, Mike found lines of his own to pursue, creating a shifting landscape for Trey's extended solo which soared to finish a great "Reba" jam. No whistling, but instead an extended pause/discussion that ended in the opening notes of "Moonage Daydream," the first appearance of the song since its debut as part of the Ziggy Stardust musical costume. Trey ripped a godlike solo that showed he could have been an entirely different kind of guitar hero if he had a mind to. "Walls of the Cave," with its chill first section and volcanic build is – in my opinion – the perfect set closer, and this version proved the point, with a frenetic light show by Kuroda adding to the intensity.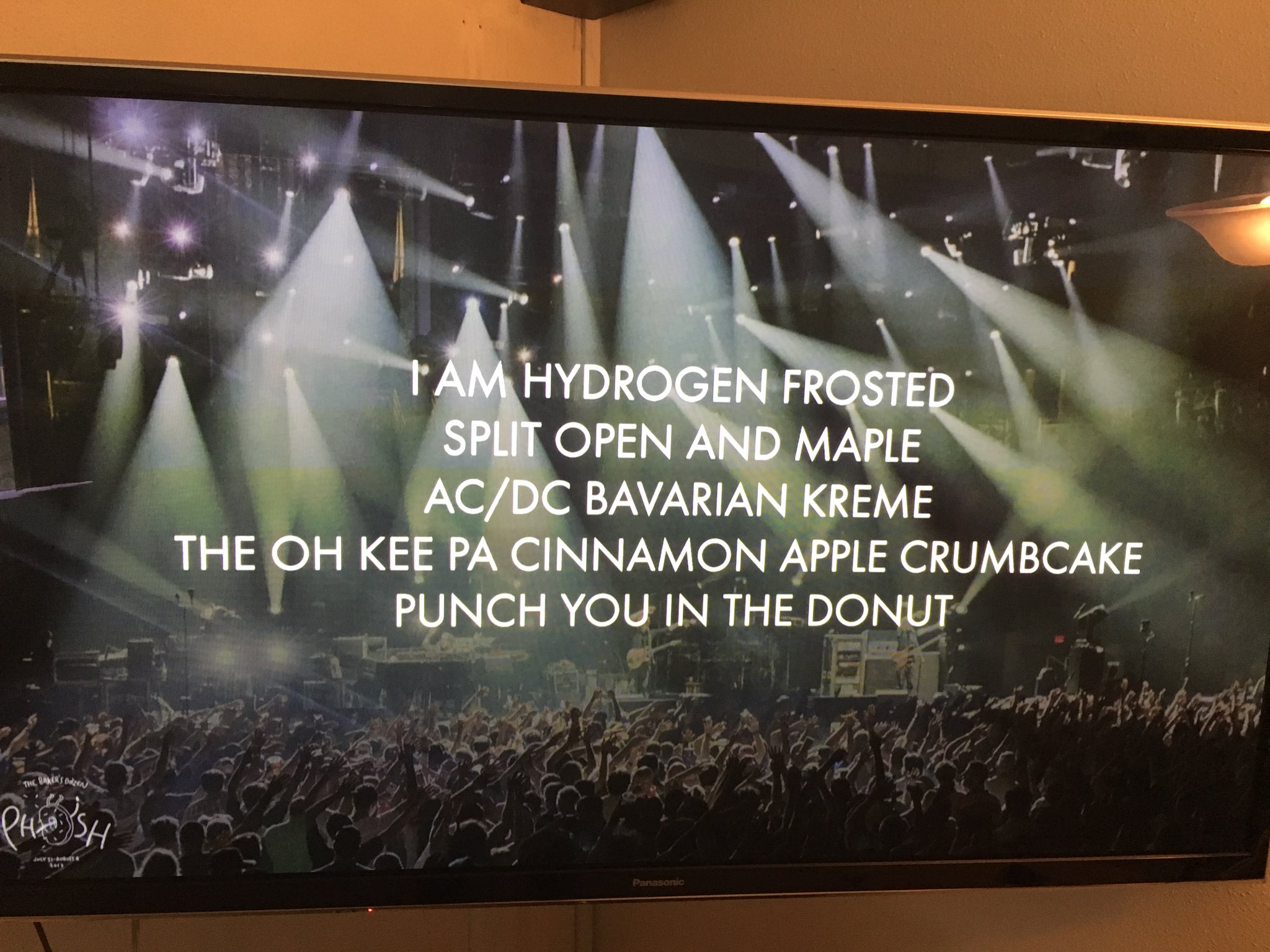 A fantastic first set, highlights were the amazing and unique major key "Timber" jam, a gorgeous "Reba" jam, and the "Moonage Daydream" bustout. On the couch we were treated to the triumphant return of the setbreak jokes, this time with a donut theme. Also, the relative rarity of some of the songs argued for the no repeats for the Baker's Dozen theory, but confirmation would have to wait.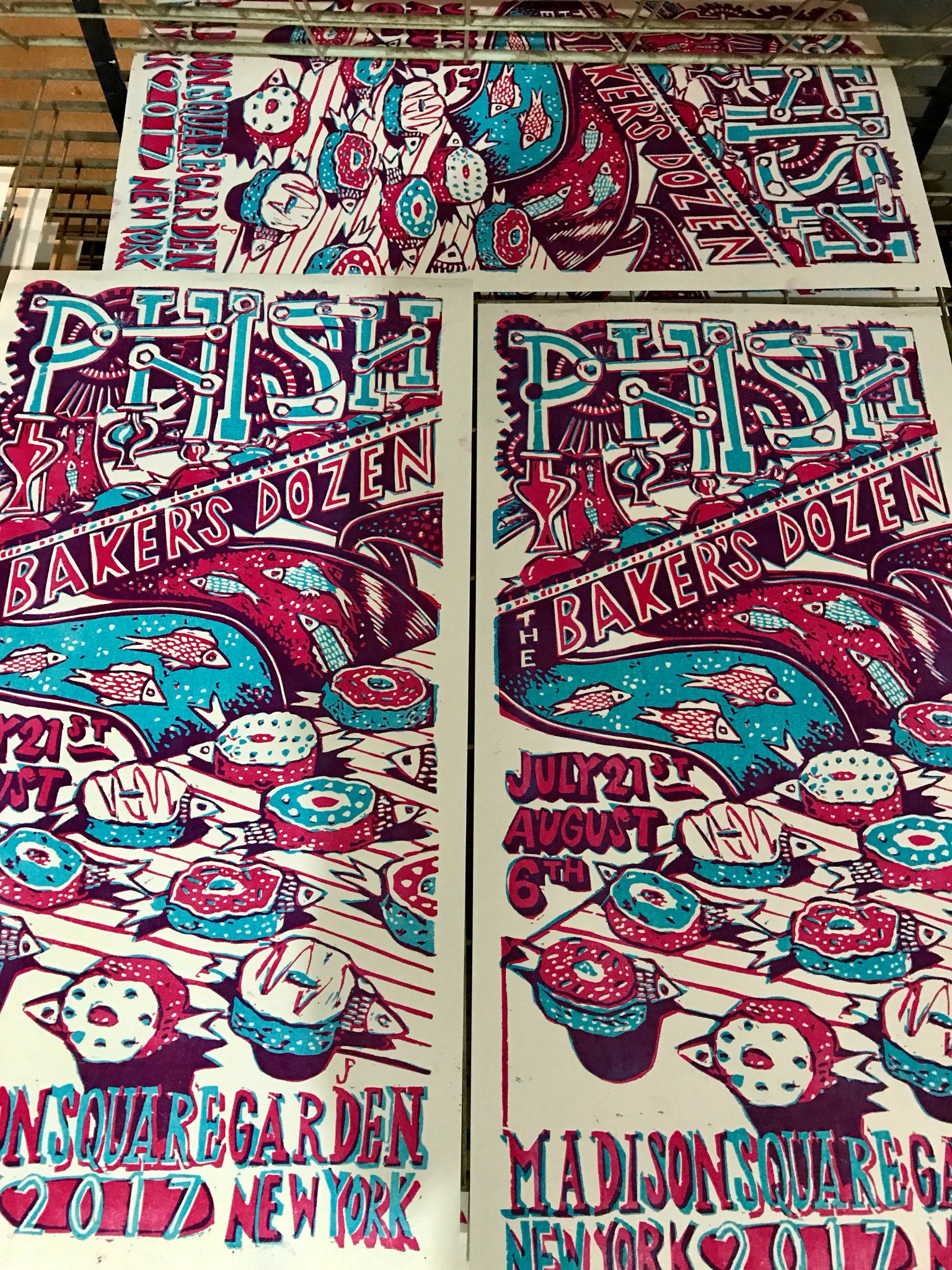 Set two opened with the long awaited first "Tweezer" of summer tour. The jam began underwater, with Page leading the way with some atmospheric work on keys. A slight shift in Fishman's drum beat signaled a return to the surface and a return to Trey in the lead role. Slowly, but with a distinct purpose, Trey led the way higher and higher, riffing as he bounced up intervals. Reaching a plateau, a "Gin"-like jam followed that segued smoothly into a lugubrious "Seven Below." This jam quickly found itself not quite in outer space, but somewhere in the exosphere where the aurora dances and shimmers. A patient descent into major key bliss saw the four members of the band locked in with a specific destination in mind - a huge tension and release build punctuated by a blinding white light show from Kuroda. After the peak, a quick resolution, then a tender entry into "Billy Breathes." After an unremarkable "Billy," "Sparkle" followed, leading to worries in some corners of the internet that the fourth quarter of the show would be a let down.
"Everything's Right" – still a welcome novelty – proved these worries wrong, with a jam that started off in cow funk territory, with Page riffing on the clav. Trey then found some lower register notes that took the jam for a left turn into a more textural mossy pocket that Mike and Fish lined and kept from collapsing. The groove slowed and morphed to a near-segue into "Slave." Twelve more shows, and none of them can end with "Slave"? That might be tricky. Not the best "Slave" ever, but Trey was exuding feeling on guitar all night and this was no exception. "Suzy Greenberg" was next, with an inventive and energetic piano solo by Page, seemingly in the set closer spot. But no! "Coconut" by Harry Nilsson made its highly entertaining a capella debut, in another nod to the official donut flavor of the day. The encore began with the unusually placed "Mango Song" and ended with the not so unusually placed "Good Times Bad Times," the latter of which featured Trey melting 20,000 faces.

A very solid show (slightly better than "average-great" to use the parlance of our times) to kick off the residency. The "Tweezer">"Seven Below" sequence contained some fantastic and creative jamming, even if neither song reached the length of some of the jams from earlier in the tour. "Everything's Right" is shaping up to be a promising tune that can lead to some funky explorations, and the two coconut songs bookending the show gave a taste of old school Phishy fun. What will the rest of the Bakers Dozen hold? If tonight is any indication, we can look forward to more songs about donut flavors. A "Foreplay>Long Time" opener with a "White Room" closer on Boston creme day, perhaps? "Peaches and Cream" by Beck? "Strawberry Fields Forever"? "Cinnamon Girl"? The no repeat speculation remains an open question, but will surely lead to some interesting setlists by the end of the run, especially if the other early shows are as conventionally constructed as this one. Whatever happens in the next dozen shows, be sure to expect the unexpected!
If you liked this blog post, one way you could "like" it is to make a donation to The Mockingbird Foundation, the sponsor of Phish.net. Support music education for children, and you just might change the world.