Tonight, Oak Mountain Amphitheatre hosts the 21st and second-to-last show of Phish's 2014 summer season. Tomorrow's capper in Alpharetta will close the books on a tour that has left smoking craters in its wake and paid off with a consistency that rivals fall 2013. With one or two minor exceptions that are probably better left unnamed, the band has played with purpose, patience, and fire at every stop this summer, spinning ideas into moments and moments into grand, cathedral proclamations.
On a few of these nights (like the second night of Merriweather, which is by now a shopworn reference) it has seemed as if Phish could do no wrong. The band's own social media stream suggests that they are doing a whole mess of rehearsing out there on the road (as distinguished from sound-checking), which would certainly explain in part the confidence and surefooted execution we have seen so far.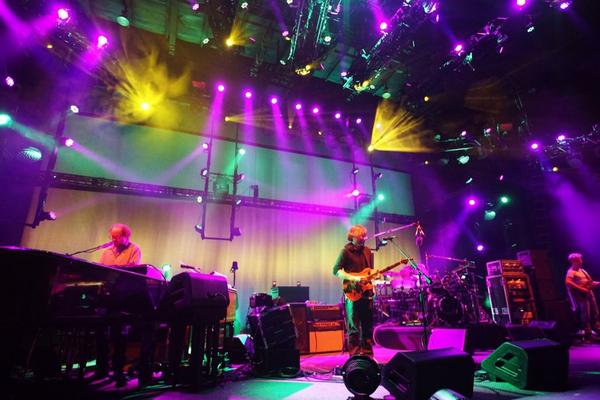 Photo © Phish, Phish From the Road
Other forces are probably at work as well. Dropping covers out of the repertoire almost entirely (an extrapolation of the winning strategy the band adopted over the holiday run at MSG) has made room for them to focus on and celebrate their original material. Sure, this tradeoff cuts both ways (because who doesn't miss seeing "Drowned," "Rock and Roll," and "Crosseyed and Painless" in the rotation?), but it does appear to net out as a positive. To these ears, JEMP is in their happy "tight but loose" place that makes them Jedi-level dangerous.
Out here on summer tour, there is no try, only do.
The circuit is complete.
Signs point to "yes."
So let's get this show on the road.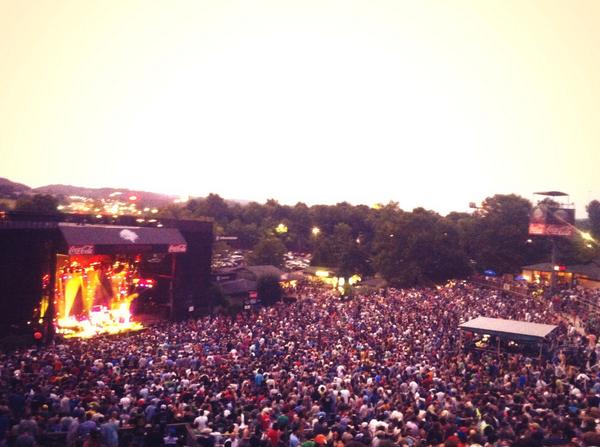 Photo © Peter Burrage
"AC/DC Bag" proves a suitable introduction for what will prove to be a straightforward but satisfying first set full of bangers. Trey fires off some stinging chicken-pickin' licks en route to a quick climax before we tumble hastily into a ragged-but-right "Poor Heart." Trey begins the first "Cities" of 2014 on the C# instead of the D, but recovers nicely and goes on to delight the crowd with a Birmingham reference and improvised lyrics. It's a dank and laconic version appropriate for a warm southern evening. Welcome back, "Cities"!
A surefooted but short "Kill Devil Falls" follows, then Trey atypically introduces "Reba" before playing it. Like every other "Reba" this summer and every "Reba" since the truck set at MSG, this one is dealt face-up and flawless. Short? You bet, not unlike a 1992 version, and every bit as spic-and-span.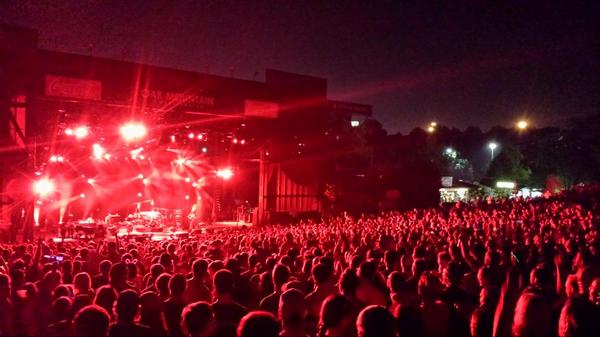 Photo © Pete Mason
A very forward-leaning theme has emerged by this point: short, sharp shocks, one after the other, all in the service of a proper Saturday night rock and roll show.
"Possum" is tonight's nod to Skynyrd-style boogie, and features some unconventional tones from Page during his solo. "Sample in a Jar," often clam-baked in recent years, comes off without a single hitch, and with some surplus oomph. The ensuing "Funky Bitch" is nice and hot, too.
But the first bona fide exclamation of the night comes courtesy of Page, who simply manhandles his organ break in "Maze." His solo section has been the highlight of many recent versions, and not only for his playing; Trey really seems to dig the comping role in this part of the jam as well. The Chairman earns a titanic peak in this version as the band gathers yet more momentum.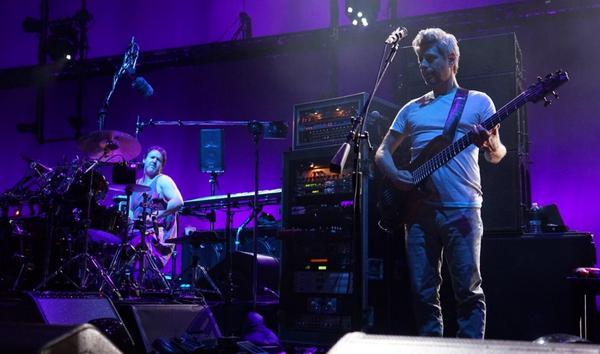 Photo © Phish, Phish From the Road
"Maze" is followed in rapid succession by a syrupy, bluesy "Ocelot," then "Sparkle" and "Cavern" (which implodes to the band's apparent amusement when Trey biffs a lyric in the second bridge and everybody, like, stops playing and stuff). By this point the set is already running north of 80 minutes, and most action is on the "end of set" outcome.
Instead, we're treated to "Wingsuit," which works remarkably well as a first set walk-off. Its lyrics promise adventure ahead, and its outro section combines root chakra thrust with emotional depth. One of the unique and memorable moments in this version arrives courtesy of Mike Gordon, who lays down a bed of rolling thunder during the typically-silent section just before the jam. The song serves as a dramatic capstone to a first set that bodes well for the remainder of the night.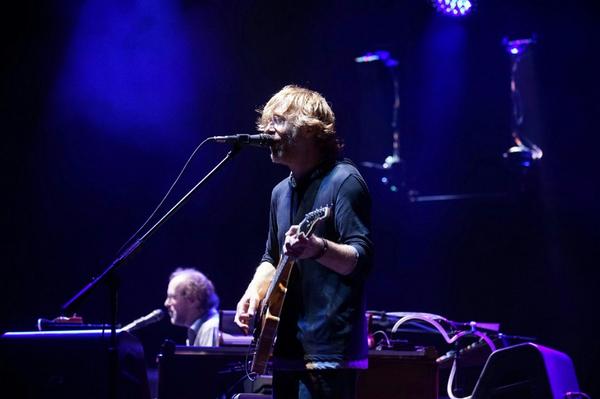 Photo © Phish, Phish From the Road
The second frame kicks off with "Carini," whose gangster lean may have developed just the slightest hitch after 2013. In fairness, this is probably the result of a deliberate attempt to spread the jam around to other songs a bit after letting it dominate nearly every show in which it appeared last year. "Ghost" surfaces next, sans segue, and like nearly every song played tonight, it does not fuss around. This "Ghost" cuts straight to the high speed chase, almost like a first set version from 1997, and beelines to a majestic and white hot peak. Went "Gin" is bandied about as a reference point during this jam, which (it should be stressed) is more an allusion to the approach and structure rather than its majesty or durability. This outstanding "Ghost" evokes a "Drowned" jam in places and glances past "Simple" on its way to "Mike's."
In keeping with the theme of the show, "Mike's" is launched out of a cannon. Trey scurries to his Echoplex almost immediately once the verses are done, and for the next several minutes simply breathes fire from his cabinets. This might be one of the shorter Mike's in history, even as compared with the truncated 3.0 standard, but it is nonetheless blistering, spine-tingling, electrifying. It egresses predictably into the "Simple" that has already been teased, and which churns up a quite a nice dust cloud itself. Very cool "Simple," this, driven along by the rhythm section and awash in weirdness in a way most are not. According to several accounts from the show, "Simple" is accompanied by a meteor burning up in the atmosphere above Pelham, which serves as an apt metaphor for the show itself.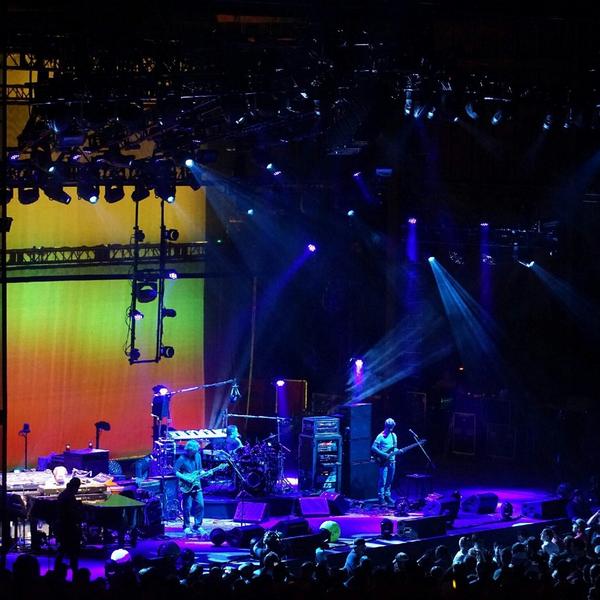 Photo © Phish, Phish From the Road
Now "Joy" steps forward to occupy the power ballad spot. Placement will always be the hobgoblin of songs like this, but this "Joy" comes across as a well-earned and well-executed palate cleanser, not deflating in the least. Not so with the "Weekapaug" that follows, which nearly ends before it begins for lack of a compelling direction. So it is on a Saturday, very often, and so it is with "Julius."
Phish reclaims nearly all of its lost momentum with "Sand," which like the "Mike's" and the "Ghost" before it wastes no time accessing interstellar space. Mike pushes against harmonic boundaries here while Fishman holds down a rock solid pocket. Trey escorts "Sand" to a smoldering climax before resolving it quietly, then Page turns to the grand and introduces "Wading in the Velvet Sea." On paper, "Wading" suggests ballad overload, but it's hard to deduct points when Phish has been charging so hard all night long. And it's not like they're about to limp across the finish line; the set closes with the first Alabama "YEM" since 1999. It's a classic version with a scorching solo from Trey and a percussive and evil vocal jam.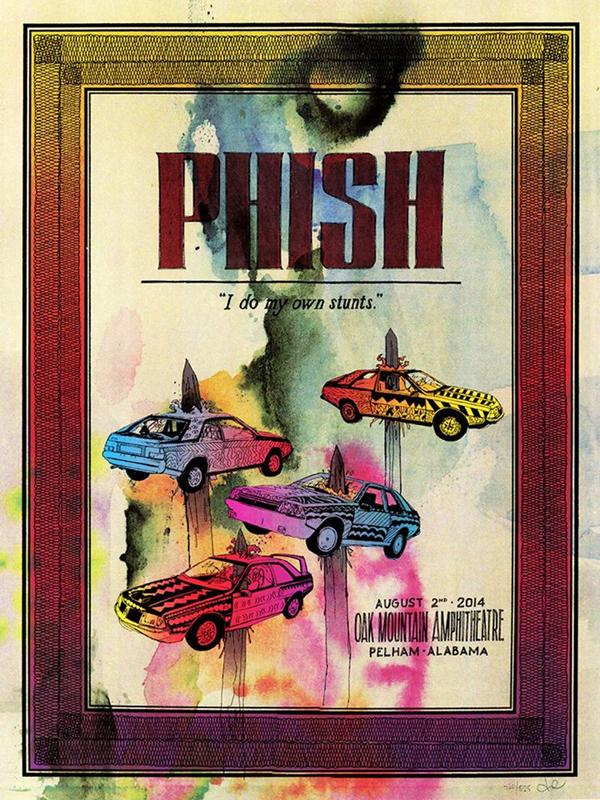 Pelham, AL LE poster by Michael Gaughan, with Dan Black from Landland
Encore chatter centers around "Fuego," which has been performed at every other venue on this tour, but it's not to be (which is perfect if you're the sort of fan who likes to see the band confound expectations). Instead, we're treated to "Quinn the Eskimo," a song I'd gladly hear at every single show, and which probably punctuates this gig more fittingly than would a prog opus.
A jam purist who glances at the setlist and timings might be tempted to skip over this show. Big mistake. There is a time and a place for a show like this, and I can't think of any better time and place than a summer Saturday in the south. Give it a spin, and cinch up your seatbelt just a little for "Maze," "Wingsuit," "Ghost," "Mike's," "Simple" and "Sand."
See you all Sunday in Alpharetta!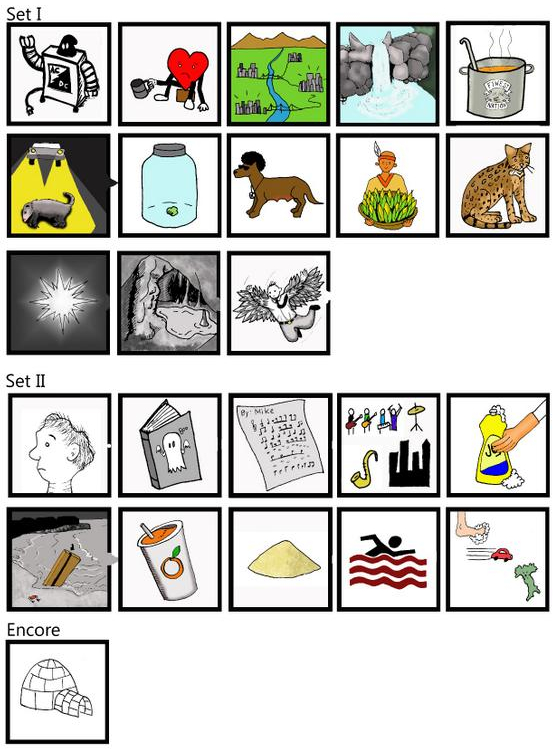 Setlist Pictogram © Joseeen (available at Etsy)
If you liked this blog post, one way you could "like" it is to make a donation to The Mockingbird Foundation, the sponsor of Phish.net. Support music education for children, and you just might change the world.