In 2013, it was a very good year in the Phish world, one when you felt like "IT" could happen at any time. I had the privilege to see the band on nineteen occasions across eight venues – Bangor, Tahoe, BGCA, Dick's, Worcester, Hartford, Atlantic City and MSG – and wanted to reflect on some of the highlights of each, touching on historical context where relevant. These thoughts are not intended as any sort of "best of" list; rather, they represent simply one fan's journal of notable moments, reflections and personal experiences from the past year of Phish.
7/3 – Darling's Waterfront Pavilion, Bangor, Maine
The open air riverfront insta-venue in Bangor was light on creature comforts, but afforded a prime opportunity to catch soundcheck. As I scurried from the local casino to get on the front side of the stage, I missed the first few songs, but en route caught what we'd later find out to be Mike's new "Yarmouth Road," an early attempt at Trey and Tom's "Frost" and the soundcheck staple "My Soul." As I found a comfort zone with a few friends in some shade, the band found theirs and ripped through a fifteen minute jam, letting out the engines on the new analog soundboard mix with a decidedly loose, funky groove that was way beyond bonus. It was one of those perfect moments – dancing under a tree, more or less by myself, like nobody was watching, in the mid-summer Maine sun with my favorite band flying off the cuff… it was the highlight of my day.
The show itself was the epitome of "average great" for 2013 and features highlights of its own, including more than respectable versions of "Wolfman's," "Antelope" and "Hood." My distinctive visceral memory from Bangor will not be the music, but the smell. As was the case at Coventry, this Phish performance took place upon a field of cow shit. The comparison stops there – Bangor was no Coventry – and the extremely laid back Maine crowd took the muddy inconveniences in stride. No, The Bangor "Tweezer" (the famed version captured on A Live One) wasn't walking through the door on this day, but it was a swell time, as is always the case with Phish in Maine.
"
Wolman's Brother
" –
7/3/13
, Bangor, ME
7/30, 7/31, Lake Tahoe Outdoor Arena at Harveys, Stateline, NV
Lake Tahoe is in many ways the perfect venue for Phish, a dreamy hybrid of Telluride and Vegas: stunning natural beauty affording endlessly diverse opportunities for outdoor play; an intimate venue that feels even smaller than the 7,000 stated capacity; a wealth of accommodations at every price point from camping to mom-and-pop 50's-era motels to high-rise full service casinos and pimp-suite rental homes surrounding this stunning geologic wonder; predictably perfect weather in late July; and the more adult-oriented entertainment offered by the collection of casinos, bars, clubs and restaurants. Despite being nothing more than an overflow casino parking lot, Harveys is among my favorite places to see Phish, ever. Put it on your Phish Bucket List!
Tahoe offers the best soundcheck access around: standing outside of the rear fence of the venue is the equivalent of rear floor at many hockey rinks, offering pristine sound. The 7/30 soundcheck started with uneventful run-throughs of "My Soul" and "Ginseng Sullivan" before veering off on a roller coaster adventure. Completely untethered from anything resembling the "proper" form of a Phish show, the band set out on a 25-minute free-form excursion that featured highly entertaining and engaged jamming, interludes into hysterically funny versions of soundcheck anchors "Dog Log" and "Buffalo Bill" (the latter a mash up with Wings' "Jet"), and concluding with a shoestring take on "Power of Soul." Bonus set, woo!
Whenever Phish lays down a creation as monumental as The Tahoe "Tweezer" it tends to suck up most of the air in the room, but don't sleep on the first Tahoe gig because it is chock full of win. 7/30 is a classic sum-greater-than-its-parts show, yielding "typically great" versions of "Wolfman's," "Jibboo," "Gin," "Golden Age" and "Ghost." There is no single song or jam that is likely to find long-term residence in any "best of" lists, which means precisely nothing because the show was awesome with great flow and confident energy.
Wednesday, July 31 was pretty darn close to a perfect day for this fan. The Phamily Classic III charity poker tournament took place in the afternoon, an event that I shoulda-woulda-coulda won but was still thrilled to take second place. I played on behalf of The Mockingbird Foundation, netting over $1,300 for music education for kids. Woo! The first set was pleasant enough, and as a group we were totally stoked with beaming attitudes all around, super close and with an absurd amount of space – arms extended space – so much that "Tahoe Space" became a standard unit of measure for the rest of the year. Usage: "the floor sure is roomy tonight, about two-thirds Tahoe Space."
"
Tweezer
" (min ~24 through end) –
7/31/13
, Stateline, NV
The Tahoe "Tweezer." Three transcendent moments of this special 36-minute journey stick out for me. The first was about ten minutes in – I thought they were going to leave it unfinished, it was over. I had been toward the rear of our pack of friends and used what I thought was a transition to another song to change up the energy a bit and moved toward the front. As soon as I settled, Mike dropped that massive bomb (10:30) that grabbed the attention of everyone in attendance as it reverberated through all our bodies, setting the stage for the transport that would lift-off at ~11:30. "Guess they weren't done" whispers my buddy. Guess not!
The second was around 18:30, when I was certain it was over, and would have been plenty satisfied if it was. After a brief meander, the flowery interplay between all four members was so patient, so lingering, so touching in the wake of the power of the previous segment... but this wasn't cuddle time, it was still money time. The icing for me comes at minute thirty-one. They've already done everything one could hope for in a jam, alternately producing, juggling and then getting out of the way of their own brilliant ideas, one after another. As Trey sows the seeds of the concluding jam segment that would reunite the "Tweezer" theme, the moment was so charged, the crowd pin-drop quiet with breathless anticipation. In retrospect you can see Trey thinking five steps ahead, but in the moment, wow… six months later and it still gives me a chill.
Everyone who attended gets an assist, but the "woo" was only the release, a natural byproduct of the visceral shared experience of tension through the band taking risks, with the greatest musical (and emotional) reward. I don't go in for the unicorns and rainbows very often but for long stretches of this masterful creation, everyone was so deep in the heart of the moment where the energy wasn't band -> audience but rather completely circular, it was among the powerful shared emotional experiences through music I had ever been party to. To suggest that the Tahoe "Tweezer" is among the most rewarding improvisations in Phish's thirty year career is not only appropriate; it is a trivially easy call. It was that good.
8/2, 8/3, 8/4 – Bill Graham Civic Auditorium, San Francisco, CA
With due respect to Berkeley's Greek Theatre, there was great rejoicing when the summer schedule was released and included BGCA instead of the rumored Greek. The Bill Graham has its quirks, notably the obstructed views of support poles and iffy sound on the side balconies, but everything else about the venue fits the Phish crowd like a glove, and to have shows in the heart of America's most beautiful city is a priceless gift. The first two BGCA shows certainly had their moments, both inspiring ("Down with Disease" and "Seven Below" on 8/2, the "Maze" and "Rock and Roll" from 8/3) and highly questionable (the gangland style slaying by both "woo" and crowd clapping of the 8/2 "Reba"). As was the case in 2012, the big win from the San Francisco run took place on Sunday.
For well over a decade, I wanted no part of the rail at a Phish show. The last time I had been on the rail was 12/13/97 when the front row was my assigned seat, which was fine with me. A close friend I was touring with wanted to spend a set on the rail, and in a last-minute change of plans I joined her, a bust-a-move made possible by the ease of getting a spot a little off to the side without enduring a day-crushing wait in line. You have to appreciate the fact access to the prime spots is a meritocracy: want to see Phish in the front row? The only additional price is a little of your time, and with minimal effort you can get really close.
The rail birds have a host of idiosyncrasies, most notably a near pathological obsession with "their" space. That said, the dominant take-away from my set on the rail was that above all else, the people that inhabit this real estate are super serious about Phish. This is a viewpoint with which I can relate. No smoking, no talking, no bullshit... just Phish. My adopted comfort zone is ~15-20 people back and I don't expect to repeat this experiment anytime soon, but it was a real treat for one set.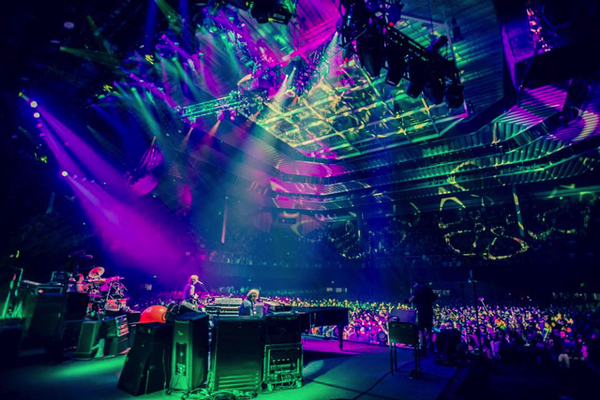 8/2/13 BGCA, San Francisco, CA. Photo by Dave Vann © Phish 2013. All Rights Reserved.
I have no "perspective" on the 8/4 first set and am not seeking one; as an in-moment experience it was a non-stop sensory extravaganza. "Divided Sky" was pure magic, the moment was almost overwhelming, so simple yet profound and touching to experience so close, so directly. During the jam in "Taste" I was lost in the music, eyes closed, and did a double-take when I opened my eyes thinking "oh, right, maybe with the band smack in front of me I should keep my eyes open!" Given the comparatively intimate observation point, I celebrated and savored every moment, even through songs that would ordinarily leave me yawning (I'm looking right at you, "My Soul"). We retreated to the balcony for the second set and in a totally different way had every bit as much fun, unleashing serious pent up dance energy with a group of great friends. The second set is among my favorite of the summer, highlighted by the final version of "Energy" in 2013, a sublime, an inspired rendition of "Runaway Jim," yet another beaming "Light" and a spirited "You Enjoy Myself." Ding!
8/30, 8/31, 9/1 – Dick's, Commerce City, CO
If there is one thing most Phish fans might agree on is that, with all our hearts, We Love Dick's! That sentiment seems so obvious now given the strength of the 2011 and 2012 summer-ending gatherings, but loving Dick's was far from a given. Following years when Phish had made their summer visits to Colorado at the far more intimate and beloved confines of Red Rocks and Telluride, precisely nobody was thinking that a 26,000-capacity soccer stadium in a non-descript industrial area east of Denver would in a few short years forge a tradition dear to the hearts of so many fans.
Sure, it is a "stadium," but it is essentially a big field with permanent bleachers and a healthy smattering of creature comforts. In an important contrast to Red Rocks or Telluride (and despite the late sellout of Saturday Dick's this year), everyone who wants to go can do so, keeping the end-of-summer show tradition alive, save the Roman numeral. The holiday weekend affords a travel day on the backend, everyone gets to be with all their friends with no seating hassles, the band gets a big payday... everyone wins.
The love for Dick's, though, is all about what takes place when the lights go down. The previous two years raised a high bar for the 2013 edition of Dick's. 2012 featured the critically important 8/31/12 Fuck Your Face gig that, as great as 2013 has been, remains my personal favorite all-around two-set show since Phish's 2009 return. Was the 2013 edition of Dick's as amazing as previous years? Perhaps not… but that doesn't mean they weren't excellent shows that were full of win – The Dick's "Chalk Dust" alone was worth the price of Saturday's admission, and yet only the most obvious of a string of highlights. It is testament to the breadth and overall quality of 2013 that as much great music came out of Dick's, all of the shows are basically middle of the pack for 2013, whereas in both 2011 and 2012 Dick's was in many ways the pinnacle of the year.
"
Icculus
" –
8/30/13
, Commerce City, CO
But let's talk about the "Icculus," shall we? I won't bore you with woeful tales of "Icculus" missed over two decades of seeing Phish… but it was my white whale, the one song that had eluded me that I really wanted to hear. When I arrived at the venue and saw the plane carrying the "READ THE BOOK" banner, my first reaction was, well, cynical. Thanks a lot, you guys, no way they play it now! A few minutes before the gig began I said to a friend in all seriousness that I didn't really care one way or another if I ever heard "Icculus." I obviously hoped I would, but at the end of the day whether or not I did was trivial, the whole thing was a statistical anomaly, a joke.
Then… boom! There it was! It is clearly read-icculus for a middle-aged man to get that excited about a silly song! The "playing it cool" act wasn't going to fly with my friends in any case; it was quiet beaming smiles during the song (shhh!), then hugs and high-fives after. A fine version of "Icculus," taboot! You've just heard "Icculus" live for the first time… Where are you going next? We're going to Disney World!
Note: we deployed our crack team of researchers and have determined that most shows actually do not spell something, even backward. Nevertheless, well played, Phish. Well played.
10/25, 10/26 – The Centrum, Worcester, MA
How I stopped worrying and embraced The Arena Formerly Known As Centrum. I've dished out a heap of shit on this venue over the years. Some of it was very well deserved and still holds true. But some of those complaints were the result of my own stubborn refusal to play balls as they lie – if the bathroom situation is brutal... watch your fluid intake! If being aggressively herded into human funnels by nitrous pushers and their henchmen on shakedown doesn't float your boat… here is a bright idea, don't go to shakedown. So, in 2013 I resolved to suck it up and approach the Centrum with a much better attitude, with super positive results.
Outside of the always funky "Wolfman's" and "The Curtain With," the first set of 10/25 honestly didn't do a lot for me. The second set however spread a lot of win in an even and balanced manner through "Waves," "Carini," "Ghost" and "Down with Disease." My lasting memory of the first Worcester gig isn't the usual big jam suspect, but the simplicity and elegance of the increasingly rare "Contact" that kicked off the four-song encore. Hometown show, still a smattering of color on the fall leaves, the Red Sox are in the World Series, surrounded by some of my closest friends, with Mike standing fifty feet away singing "Contact" – at a shade over six minutes it felt like an hour, such a perfect moment. Like the finest wine, "sappy dork" ages well!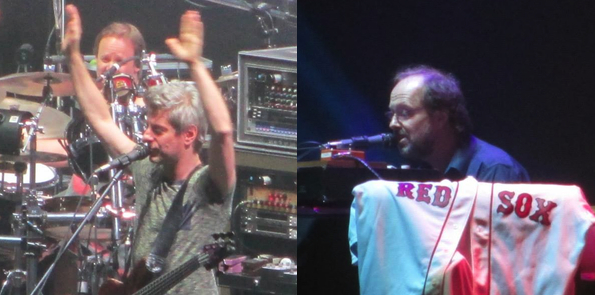 10/25, 10/26/13, The Centrum, Worcester, MA. Photos by Scott Marks.
The Saturday Worcester gig was the total package, bringing it all together from beginning to end. The first set offered more than its fair share of awesome: "Party Time," "BOTT," "Gin" "Stash," and "Bowie" all made for one of my favorite first sets of the year. The second set has it all – brilliant, expansive jamming in both modest and massive doses, an ease and balance in flow with zero down time, expert setlist construction with a perfect balance of old and new, original and cover, and novelty to spare as drummer and Berklee College of Music professor Kenwood Dennard (George Clinton, Chick Corea, Herbie Hancock) not only joined in but actually replaced Fish on drums for the encore.
If you were to pack a time capsule with only one artifact that captured the essence of Phish's 2013 fall tour sound, the Worcester "Drowned" would be a prime candidate. It is amazing to think how far the band has come since their Halloween 1995 cover of Quadrophenia, with "Drowned" playing a central role in so many epic shows (12/31/95, Big Cypress, 6/29/00 Holmdel, 9/14/00 Darien Lake, 6/20/04 SPAC, even Coventry). Going to the "hose" analogy, during earlier points in Phish's career, sometimes the hose was more of an out of control fire hydrant – everyone got plenty wet, but it left a bit of a mess!
The Worcester "Drowned" was a sustainable hose that could seemingly go on forever with ease and calm and patience and grace, effortlessly gliding and sailing along in a ship that meets no drag. While rooted in deep respect for the legacy of one of their most important influences, this "Drowned" is a shining example of a transcendent sound that is entirely of Phish's own making.
Phish, "
Drowned
" –
10/26/13
, Worcester, MA
10/27 – Hartford Civic Center, Hartford, CT
The anticipation of Sunday's show in Hartford was tempered as we learned the devastating news of the passing of rock and roll pioneer Lou Reed at the age of 71. In the wake of Reed's passing Trey called him "the true father of rock and roll" and the band paid tribute in the most appropriate way possible in the moment, opening the show with a blistering version of "Rock and Roll."
The "never miss a Sunday show" rule was in full effect in Hartford, punctuating a weekend where musical excellence seemed routine. The balance of the first set was mostly straight-forward but delivered strong versions of "Halfway to the Moon," "Fee," Maze" and "Walls of the Cave." Cast a line into practically any segment of the second set and you're going to catch a big one, with extended jamming on both "Tweezer" and "Golden Age" and a classic ending trio of "2001," "Fluffhead" and "Slave." The "Tweezer" and "Golden Age" rightfully get the lion's share of attention in this set, but don't sleep on Trey's playing in the "Birds of a Feather:" silky, precise and controlled, crisp and forceful yet delightfully melodic, assertive without dominating.
10/31, 11/1, 11/2 – Boardwalk Hall, Atlantic City, NJ
Cut to the chase: I loved the Wingsuit set. I didn't love every minute of it, but I embraced it conceptually on every level. The letter from the band members and piece by writer Josh Baron in the Phishbill is a must read, as it so eloquently articulates the inward orientation that brought about this break with the cover album tradition.
Whatever one thinks of the overall quality of Phish in the four years between the release of Joy in 2009 and the performance of Wingsuit in 2013, they represented something of a drought in the output of new original material. 2010 brought a smattering of original songs played only a handful of times (some perhaps for the best, "Dr. Gabel" and "Summer of '89"), and a few imports from both Mike ("Idea," "Susskind Hotel" and "What Things Seem") and Trey's ("Show of Life") solo projects. For Phish originals that actually stuck around, 2010 gave us "Halfway to the Moon," 2011 offered "Steam" and… that was it. This isn't said as a criticism, or without an understanding that band members have other artistic projects that command their attention, and knowing that the prodigious, near constant stream of new material that has been a hallmark of Phish throughout their career was likely impossible to sustain.
"Wombat" –
10/31/13
, Atlantic City, NJ
The crux for me is that the collaborative development of new songs by the four members of Phish – or lack thereof – represents a critically important barometer of the future health of the band. Phish was not in any imminent danger of becoming the dreaded "nostalgia act." Even if they were, they've certainly earned whatever path they wish to take in this life. Certainly they could have been forgiven if they entered their fourth decade as a band by celebrating their vast catalog and looking to the past more than to the future. That said, the one thing about Phish that was always constant has been change, often at blinding speeds. The last few years have witnessed less of that perpetual motion; the lack of new songs wasn't nearly a crisis, but let's say it was a modest concern.
So when word finally hit the boardwalk that the Halloween set was to contain not a cover album but thirteen Phish originals never before played (excepting Trey and Tom's "Winterqueen" performed by TAB on 10/1/11), I was ecstatic. As with every batch of new songs, Wingsuit (or whatever it is called) will contain songs that become fixtures in the repertoire and others that will fall by the wayside; songs will grow and evolve, as will our reaction to them. "Fuego," "Wombat," "555" and "The Line" seem pregnant with possibility and poised for great things out of the gate, while others may need some time to simmer as they find their comfort zone. It will be fascinating to watch the progression of the songs from the "sneak peak" of Halloween to the album itself. That Phish invited us in to the process was a true gift.
The legacy of this night and of this collection of songs will play out over the coming years, but as a set of music where other than song title nobody in the audience had any clue what was to come next, it was a truly unique Phish experience that was a privilege to witness. Not all fans had the same positive and accepting reaction to Wingsuit. That's OK, too, of course. My calculus is that they did exactly what so many fans had been clamouring for them to do by producing an entire batch of new songs to breathe fresh energy into the repertoire. That they did so on a night when they were expected to cover an album by another artist represents a break with the Halloween tradition, yes, but it was quintessentially Phish in spirit.
"
Carini
" –
10/31/13
, Atlantic City, NJ
Wingsuit was of course only one of seven sets performed in Atlantic City. Whatever one may have thought about Wingsuit, there was plenty to love about the balance of the run: the half hour+ "Ghost" > "Carini" that anchored 10/31 III, arguably among the best third sets the band has ever played; the entire second set of 11/1 was pure molten bliss that offered hysterics ("bush" and "kush" running through "Makisupa," "Meatstick" and "Boogie On"), huge jams (the 21-minute "Twist" being the obvious place to start but by no means end, with exceptional versions of "Sand," "Possum," "Jibboo" and "Light"), and punctuated in very different ways by "Slave" and the powerhouse "Sneakin' Sally" encore; and the out-of-nowhere funk explosion of the "Theme" as well as visits to second set jam workhorses "Down with Disease" and "Tweezer" from 11/2. Set your DVRs to extend the recording because this highlight reel is definitely running long!
12/28, 12/29, 12/30, 12/31 – Madison Square Garden, New York, NY
Over the last few years, a little of the MSG luster and mystique forged through their string of groundbreaking shows there in the 90s had worn off. First were all the renovations to the room itself, which improved some facilities but brought homogeny to what was one of the great character arenas in history. More importantly the quality of shows over the last few years were uneven, at best. 2012-13 was certainly an upgrade on the low-point 2011-12 run, but overall in the 3.0 era, great shows at MSG were increasingly the exception rather than the rule. Outside of the NYE gag, what the previous few MSG runs lacked was a sense of distinctiveness: there was nothing thematically that tied the shows together and no real sense of anything special, just another set of shows that happened to be at MSG in December.
That said, on the heels of arguably the most satisfying and accomplished tour of the post-breakup era, to say that anticipation was riding high coming in to MSG wasn't the half of it.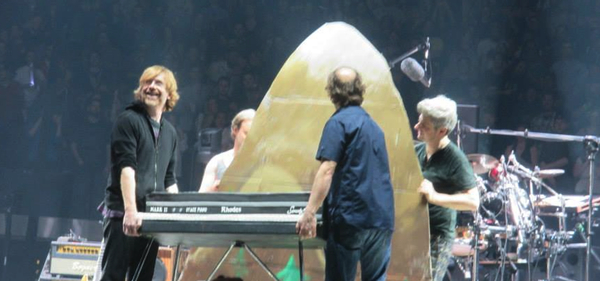 12/31/13, Madison Square Garden, New York, NY. Photo by Scott Marks.
The run kicked off in earnest for me at about the four minute mark of "Wolfman's" on 12/28 as our bubbly energy pocket on the floor broke through into the heart of the funk. It is generally a fool's errand to highlight any one version of "Wolfman's" over another since they all bring the heat, and this one is yet another winner. I'm especially fond of the segment around 6:30 when Mike goes to town on the fight bell, Trey goes deep with the dirty low growls, then Page leads a mini breakdown before Fish brings it all home. Schwing! In case anyone still hadn't shaken off the jitters, the "Wilson" fake out and "Page Says No" followed by the Simpsons signal loosened everyone up. I had a neat déjà vu moment in the "Seven Below" when I caught myself involuntarily looking up toward the rafters, and realized I was standing not more than ten feet from where I had been on 12/31/02 when the "Seven Below" 'snow' started falling from the 'sky'. The driving "Sand" and the dripping-sexy "Steam" are the clear highlights of the 12/28 second set and the first show – all originals – was an unqualified winner.
Sunday's (12/29) first set started slow but had an upward trajectory with an excellent "Stash," the second "555" and heapings of extra mustard with bonus jams appended to the end of "It's Ice" and "Gumbo." The bulk of attention to 12/29 falls to the 33-minute opening combo of "Down with Disease" > "Carini" and rightfully so: viewed as a coherent section you can stack this up against the best half-hours of the entire year. The execution-style murder of the "Carini" by way of "woo" was tragic, yes, but could hardly douse the fire that still burned bright throughout the subsequent "Waves" > "Twist." The second set shined through perfect setlist construction, no down-time, exceptional flow and energy and, again, was an all Phish original show.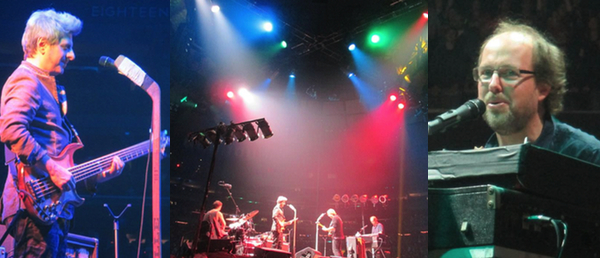 12/31/13, Madison Square Garden, New York, NY. Photos by Scott Marks.
Monday's (12/30) gig was highlighted by a blistering 18-minute unfinished "Chalk Dust" that ranks among the best jams of the year. "Mike's Song" was followed by "Devotion to a Dream" which was unexpected and a bit of a head-scratcher, but any questions about that choice were quickly erased by only the second "Ghost" within a Mike's Groove. The silky segue into "Weekapaug" and unexpected placement of "Simple" (skyscrapers!) outside the Groove made for a highly entertaining segment. The 12/30 gig – all original – was my least favorite among the four MSG gigs yet I have zero complaints, it was all win.
The one thing we knew going in to New Year's Eve was that a big part of the traditional NYE "gag" wasn't a gag at all – the entire four-show run would, in addition to not containing any repeats, be composed entirely of original Phish songs. Many fans take their massive original repertoire for granted, but it is worth a moment to reflect on what an incredible achievement this represents. Further, they didn't need to dig deep into long-forgotten songs – there wasn't a single notable bust-out, these are all songs that they play on the regular. And they could have played a ten-night stand of all originals. This, in itself, would have been a perfect way to celebrate the band's 30th anniversary. But there would be more. So much more!
Truck Your Face –
12/31/13
, New York, NY
The first set is light on the jamming but deep with classic Phish compositions ("Divided Sky," "Fluffhead") and new favorites ("Ocelot," "Halfway to the Moon") and offered a balanced and thoroughly enjoyable kick-off to the evening. The end of the set brought the 30th anniversary cake, brilliantly constructed in the form of a keyboard and carried by Trey and Page, replicating the famous photo of Trey and Mike carrying Page's keyboard across a street in Telluride in 1988. My group of friends were in our spot fifty feet in front of Mike, and all of a sudden were getting directed by security to move closer toward the center (DFC to be precise) as the JEMP Truck emerged from backstage and the video began to roll. It was like Christmas morning!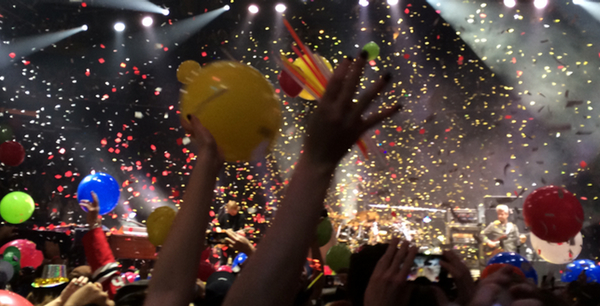 12/31/13, Madison Square Garden, New York, NY. Photo by Phillip Zerbo.
The Truck Your Face setlist was straight out of Phish Fantasy Camp – "Glide," "Llama," "Colonel Forbin's Ascent" > "Fly Famous Mockingbird," "Fuck Your Face," "Reba," "Icculus," "The Lizards" > "Split Open and Melt." Mike Said Yes! The Famous Mockingbird flew through the hallowed halls of MSG! This was the first time I had seen the "Forbin's" > "Mockingbird" combo in almost twenty years, and the set had fans crossing off songs from their lifetime wish-lists in droves. I was glad to have finally caught "Icculus" at Dick's because if MSG had been my first, my head would have surely exploded on the spot! Performing the set in the center of MSG was an instant-upgrade for the majority of the assembled crowd, and was reminiscent of the first flight of the Hot Dog on 12/31/94 at Boston Garden, when the band wanted to bring themselves closer to the fans with even the worst seats in the house. Are you getting the message?
I needed to let some time pass before reflecting on the Truck Set; the "48-hour rule" just wasn't going to cut it. The Midnight-to-Sunrise set at Big Cypress will likely never be surpassed as a NYE "gag" given that it was the most amazing single performance to date in the band's history… but as a Phish experience Truck Your Face is right up there among the greatest moments in the band's mind-boggling history of unique events, brilliant in both concept and execution. The days of full performances of Gamehendge are likely long in the past, but this set was every bit as satisfying. Far beyond "unplugged," the band transported us back to a simpler time in a celebratory embrace of the band's long journey that we've all had the privilege to experience.
"
Character Zero
" > "
Auld Lang Syne
" > "
Fuego
"
12/31/13
, New York, NY
The midnight set was all bonus. The theatrics of the "gag" that usually takes place in the third set already out of the way allowed for a more traditional balloon drop to celebrate the stroke of midnight. The balloon drop was far from an afterthought, however, with Chris Kuroda creating a masterwork of brilliant color composition that engulfed the entire room. The video above was taken by a fellow standing about ten feet in front of our group and captures perfectly the experience of the spectacle from the floor. Front-loading the traditional NYE theatrics opened the door to a third set that featured more jamming than recent New Year's celebrations, with excellent versions of "Fuego," "Light" and "You Enjoy Myself." The 30-year retrospective video played during the encore break was filled with emotion for me – so many moments shared with this band, with friends, with all of you.
Phish - Official 30th Anniversary Video Montage
2013 was a year when Phish embraced their audience, their past, and their future. They honor their past without living in it, they honor the present through a relentless dedication to their craft, and as they look to the future they do so with a vitality and sense of purpose that makes clear – thirty years in to this ride – they have no intention of coasting. For the first time since they returned to the stage, I'm not only hopeful but confident that their best music is still in front of them. As the band members turn fifty (!) they seem to have worked out their "issues" and have set a sustainable path that allows for the continued evolution of Phish while also allowing for other pursuits, both personal and professional. We are so incredibly lucky to have them, and vice-versa. To Jon, Trey, Mike and Page: thank you. Sorry I didn't get you a card for your anniversary!
FYI, December 31, 2043 is a Thursday. Save the date!
If you liked this blog post, one way you could "like" it is to make a donation to The Mockingbird Foundation, the sponsor of Phish.net. Support music education for children, and you just might change the world.