Those NYC concertgoers going to the May 31 and June 1 Phish shows at the PNC Bank Arts Center in Holmdel can skip the drive, traffic and hassle and jump on the Rocks Off "Party Bus."
According to Rocks Off, "We are running an air-conditioned, bathroom-equipped, sound system & flatscreen-rockin party bus from NYC to and from the shows, so you don't need to worry about finding a ride, staying sober, dealing with the scumbags on public transportation (or the crowded-ass shuttle buses back to the NJT station after the show), or even learning where the hell "Holmdel, New Jersey" actually is. Really, all you've gotta do is buy a ticket, show up, stumble into and out of the venue, and we'll take care of the rest - don't that sound like it's worth a little money spent on your peace of mind? (And not having to draw straws to see which one of your friends has to stay sober at a Phish show)."
Tickets are $49 plus shipping (mail for only 25 cents) for each night. More information and links for online ordering is available from the Rocks Off/TicketWeb website here. The bus will run to and from the Hammerstein Ballroom - 34th Street and 8th Avenue. Boarding begins at 4:45pm, and the bus will leave at 5pm PROMPTLY.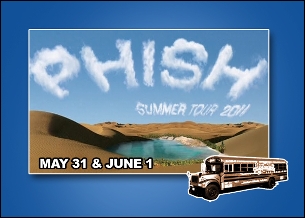 If you liked this blog post, one way you could "like" it is to make a donation to The Mockingbird Foundation, the sponsor of Phish.net. Support music education for children, and you just might change the world.