[Phish.net welcomes back guest recapper Suzy Barros for writing this recap. -Ed.]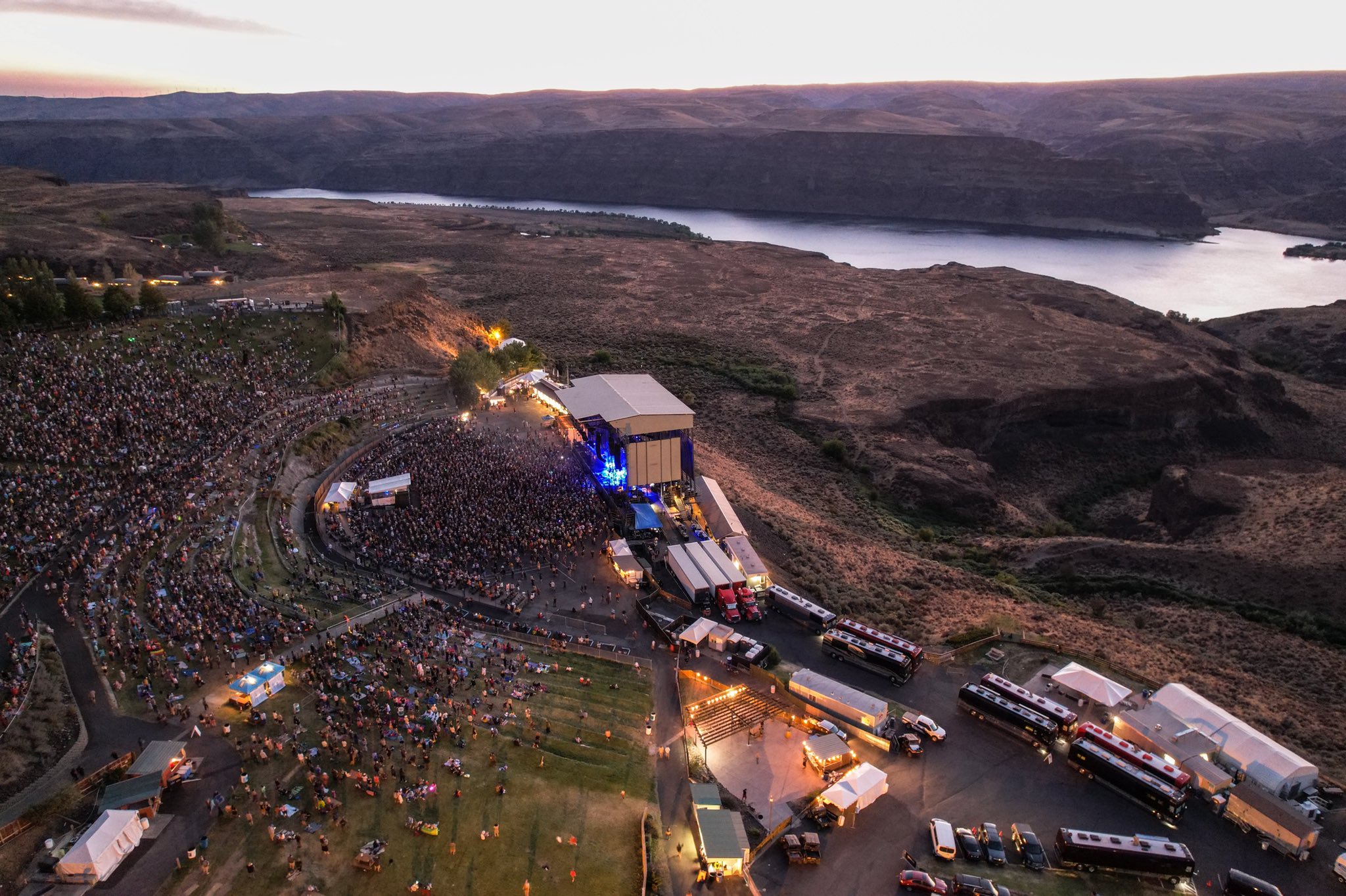 First things first---everyone needs to come see a show at the Gorge, full stop. If you have access to a private jet or can find a reasonably inexpensive airfare, come tonight. It's always been lurking there on the tour dates page, staring at me and silently judging me for bypassing it for all these other reasonably fine venues (but are they the GORGE). Its untrammeled nature at its finest and even though seeing Phish at the Gorge doesn't change the fact that we are living on planet earth in 2021, it makes it a hell of a lot more tolerable.
I'm going to leave it to all the commenters to fully assess where we're at in Phishtory as we kick off 2nd leg Summer Terr, but I'm sure the phrase "firing on all cylinders" will get thrown around and rightfully so. Each member of the band is really at peak performance right now, making the sum of the parts absolute next level. A great way of seeing how much you care about something is forcibly removing it from your life, giving you no choice. I think for Trey especially (it's no secret the man LOVES being on the road) but for each member of the band (as well as for the rest of us) the uncertainty of what the future held and still holds in regards to live music, and the ability to play it and see it, created a level of anxiety as well as a fervent wish to NEVER EVER take it for granted again. This anxiety channeled into playing music, writing music, listening to music, thinking about music, and your sound and ways of changing it via equipment and technique has undoubtedly been a huge part of how and why Phish sounds the way they do right now. And to me they sound PHENOMENAL.
A Stones cover in tribute to Charlie Watts had been bandied around my show group earlier in the day and I think "Torn and Frayed" was the only option NOT mentioned and as soon as they kicked into it was one of those OF COURSE, it's "Torn and Frayed." First of all, what a song. One of my absolute favorites. But then also lyrically, just absolutely a perfect kickoff to the run/night. I think we are all feeling a little on the torn-and-frayed side these days, but when you've got your favorite band playing against a backdrop that's basically the cover photo of an article about most beautiful places in the world, things could be worse.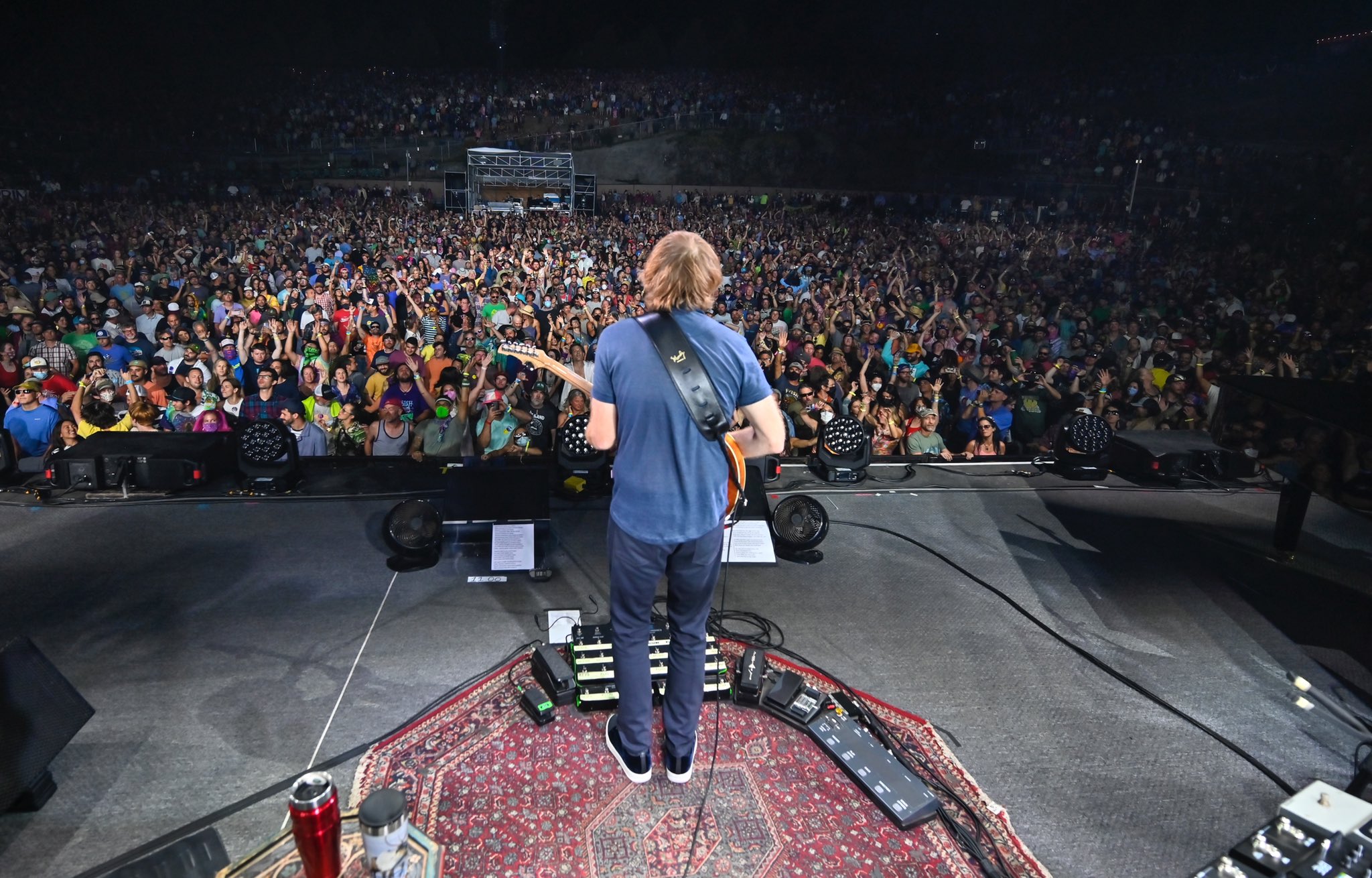 The drop into NMINML was a perfect call in my mind and even though it wasn't as stretched out as the other two versions played so far it was pretty sublime. After a five minute peaceful interlude with "Leaves," there was an extremely funny moment where Fish started up "Split Open and Melt," prompting me to have my own personal melt, as it's one of my top 5's, only to immediately cut it off. A lot of giggling ensued with him and Trey, with Fish saying that he'd thought Trey nixed it and Trey confirming the nix but then DUH YOU CAN'T JUST STOP SOAM FISH. Trey laughingly accusing him of being scared of SOAM might be one of my favorite moments of the night, just so funny and dorky. Phish humor, amirite. Unfortunately (for me at least), this wasn't the brown-acid-tinged brand from Nashville, much more dreamy swirly synth major key meandering, nothing to be scared of here Fish, at least not tonight.
I always feel slightly spastic when "Tube" starts, because, well it's "Tube" so your body immediately jerks into funk dance party before your brain, which five seconds ago was saying "I wonder what they're going to play OH GOT IT". Anyway, fun version as usual. It's been a little more than a week since AC but in this donut shaped universe of ours, time is a funny thing and it's always nice to know what Page has been up to. Where the hell did "Ha Ha Ha" come from? Who knows? Who cares? It's "Ha Ha Ha," just roll with it and stop being a cranky turd. I spent most of "Mull" doing as suggested while grooving and staring into the great divide. Was I hoping for something besides "Shade" next? I'm not going to lie, of course I was, but it's not nice to say anything mean about someone who is singing you a love song. It's MUCH easier for me to say mean things about *womp womp* "Alaska" but I can't even do that dammit! The jam got damn near incendiary, with everyone in the crowd helping wrap it up by singing in one voice the mutual desire of just wanting to stay RIGHT HERE. Please?? "Golgi" wrapped things up in an apparatus-sized bow and we all went off to our mutual corners for 15 or so minutes.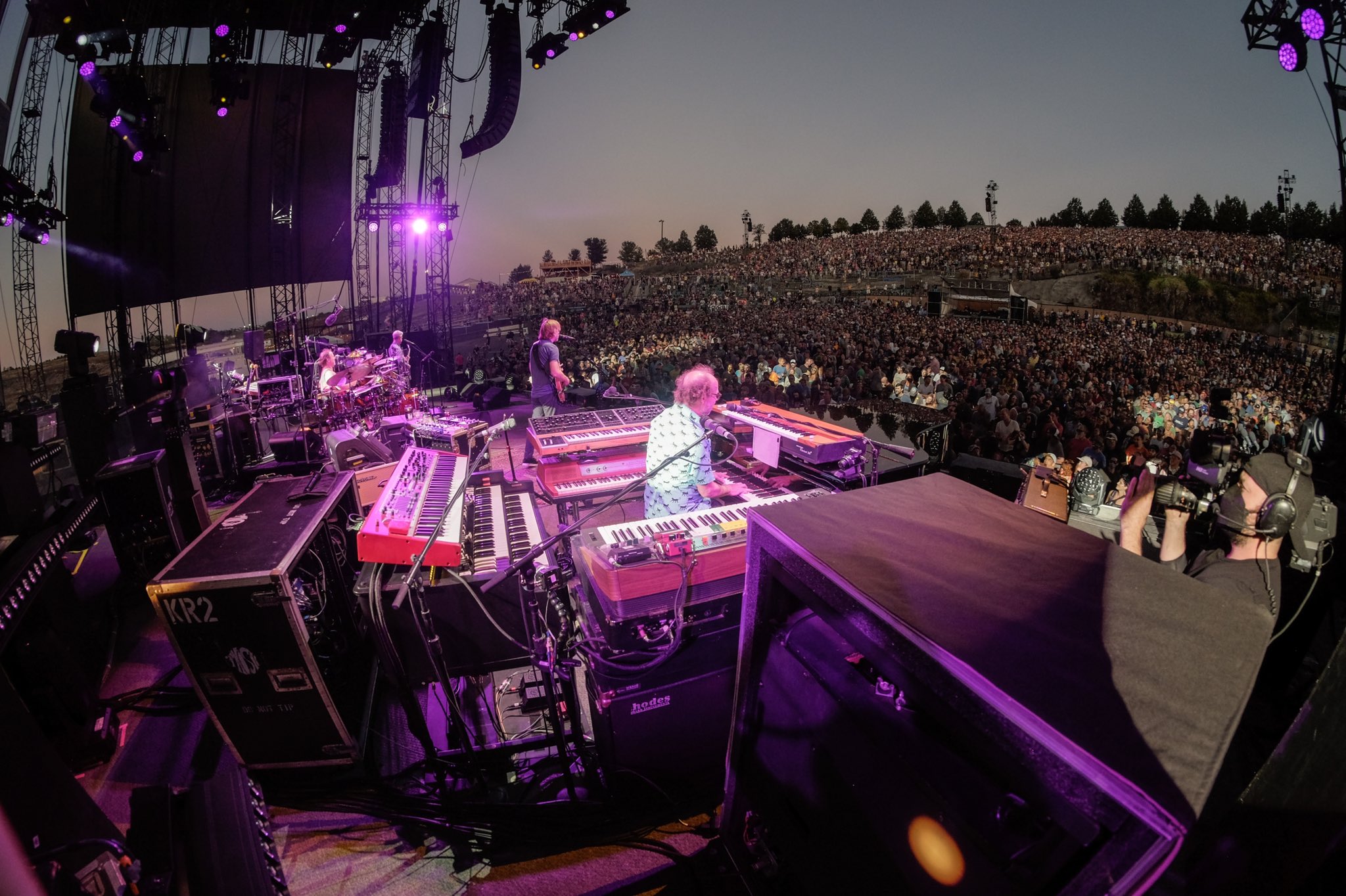 My personal FOURTH "Sigma Oasis" kicked off the second set and it was kind of awesome just to look around at my fellow show goers enjoying it and (hopefully) appreciating what a great addition to the repertoire it's become. Let's face it, you can't really judge a Phish song until you've experienced it at a show and I'd like to think it won over some converts last night of people who hadn't really gotten into it yet. "What's The Use?" Let me tell you. I don't know if it comes across in the webcast or the recording but a few hours before the show yesterday, a new phriend/seasoned Gorge attendee, made us all stop yammering for a minute and said "listen". Which we did and folks, the hair on the back of my arms stood up. There is absolute DEAD SILENCE, you have never heard (?) silence like that in your life, you have to go just to experience that itself. And if I know my Trey, I know that he knows that too and there was a 5th (well 6th after CK5) member of Phish during that performance. Hard to put it into words, but I don't know if I'll ever be able to see WTU anywhere else ever again, The Gorge has spoiled me for life.
The really unfortunately titled (for the moment) yet undeniably 4.0 MVP "Blaze On" made its fourth appearance this summer, continuing to shine in its role as Trey's new favorite kid. Its just a really versatile jam vehicle and I think it's going to be in this role of "what do I want to play now, oh I know" for a while longer, which I am totally cool with. When he started the "Lifeboy" riff, I feel like everyone's eyes misted up at the same second. I looked around me and every person was on the exact same page, what a moment, just gloriously perfect placement.
SEVENTEEN minute "Camel Walk"??? Um yes please. Just randomly deciding to do the longest version ever of one of your oldest songs, that literally NEVER gets jammed out. Sure, why the hell not. After that collective "Lifeboy" > 17 minute "Camel Walk" what-just-happened experience, "Chalk Dust" was a nice rockin return to earth. Again, I think the Gorge has ruined "Slave" for me for the rest of my show going career but I'm totally fine with that. Just the most beautiful song in the most beautiful place, NBD. Encore with a "Drift" and we all drifted out on a major collective contact buzz. This was my only show of the weekend (I KNOW) and I'm sure I'm going to be insanely jealous of what tonight and tomorrow bring, but I just feel so lucky to have finally had my first Gorge experience and thank you for indulging my fangirling out about it. #bliss. Go there but go to any shows you can right now, seriously. We are so lucky.
If you liked this blog post, one way you could "like" it is to make a donation to The Mockingbird Foundation, the sponsor of Phish.net. Support music education for children, and you just might change the world.