[Phish.net welcomes back and thanks volunteer recapper Michael Ayers (@yhgtbfkm) for writing this recap. -Ed.]
Greetings from Deer Creek Music Center Verizon Wireless Amphitheatre Klipsch Music Center Ruoff Music Center! About 20 miles north of downtown Indianapolis, Deer Creek has been a relative staple in Phish's touring repertoire, having played there 24 times starting back in 1995, the site of several notable shows including Live Phish Vol. 12 and The Phish from Vermont. With plenty of seating and an absolutely mammoth lawn with no bad sightlines, Deer Creek is one of those venues that should be on everyone's list to check out, as there's rarely a bad show there.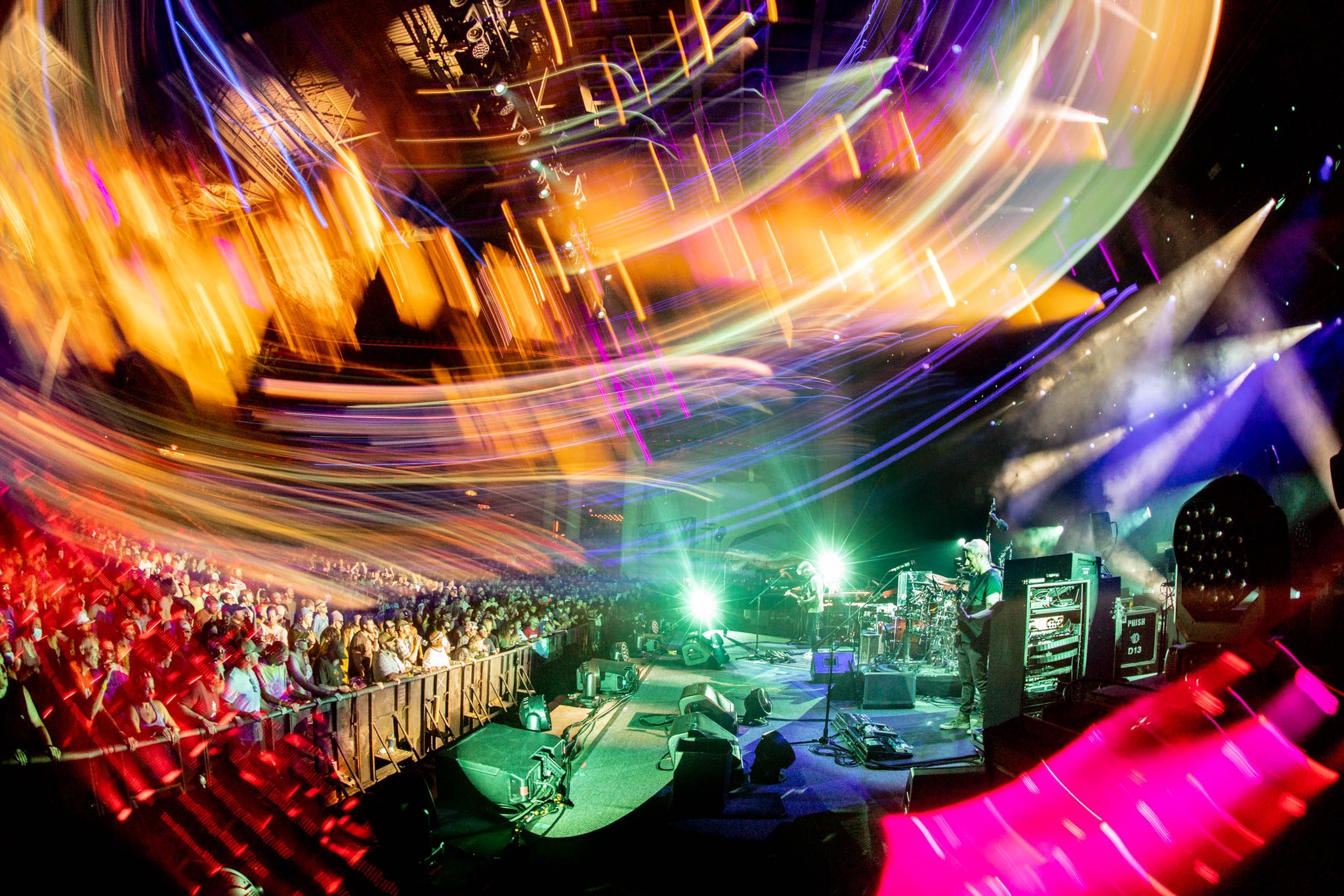 The weather for tonight's show could not have been any better. Mid 80s with a beautiful breeze blowing. I arrived at the venue around 5pm and with my trusty pint of Jack cleverly disguised as a bottle of diet root beer, I set off for Shakedown to see what goodies folks would be slinging. As usual, there were vendors selling tees, pipes and adult libations, as well as folks doing palm readings, selling handmade wooden artifacts and rocks (if you're into that sort of thing). I picked up two shirts, a pair of socks and a rather potent Jack and Coke while I took in the scenery.
Eventually I wandered into the venue and settled into my spot on the lawn; Mike side with two cans of Liquid Death. To my right was a thoroughly inebriated gentleman who regaled me with stories of seeing "The Phish" at Deer Creek in the 90s (and winking as if I didn't get the reference). To my left were two couples that discussed amongst themselves the plight of the underprivileged when it came to their treatment within the judicial system and their own experiences. In front of me was a couple who lamented missing out on some Panic shows for this run, and behind me was a guy who probably had no idea what year it was, much less where he was. Never a dull moment on the lawn.
The band comes on and immediately fires up "Crowd Control," much to the chagrin of the aforementioned inebriated gentleman who loudly yelled, "Nobody listens to Undermind!" Despite being about as far away from the band as we could possibly be and still be in the venue, Trey somehow heard his words and kicked off "Poor Heart." This was one of the better "Poor Hearts," as Trey mostly, but not quite completely, nailed the intro. "Moma Dance" comes in the third hole and gets the lawn bouncing. Nobody around me is standing still, even the dude who has no idea where he is is grooving along. "Back on the Train" continues the dance party, and even though the weather is cooperating, Trey decides to give the audience a chance to cool down and launches into "Army of One," which causes the somehow-still-drinking Inebriated Guy to yell out, "AH MAN I LOVE THIS SONG!!" Trey gives all of us another few minutes worth of breather in "Bouncing Around the Room" before launching us back into the dance party with "Ya Mar."
After a spirited rendition of "Ya Mar," the band puts on a slow tune for the couples in the audience to dance to in the way of "Roggae." Inebriated Guy and I look at each other and he just shrugs his shoulders, slams the rest of his beer and yells, "BRING BACK THE FUNK!"
This time around Trey seems to have not heard him, because the audience is treated to the first ever performance of "A Wave of Hope." I couldn't really tell you much about the debut, as Inebriated Guy spent most of the song asking me if I knew what song this was.
"Stash" follows and "Stash" is "Stash." Some people (Inebriated Guy) love it. Some people (yours truly) can do without it. I was told by (phish.net head tyrant and all around okay human, @Icculus - Ed.) that this was among one of the top versions of "Stash" in Phish history. Take their word for it, not mine.
Trey closes out set 1 with "Cavern" and remarks that they'll be back in 15 minutes. Inebriated Guy leans over to me and yells, "HE ALWAYS SAYS 15 MINUTES, BUT IT'LL BE AT LEAST 30." Good to know.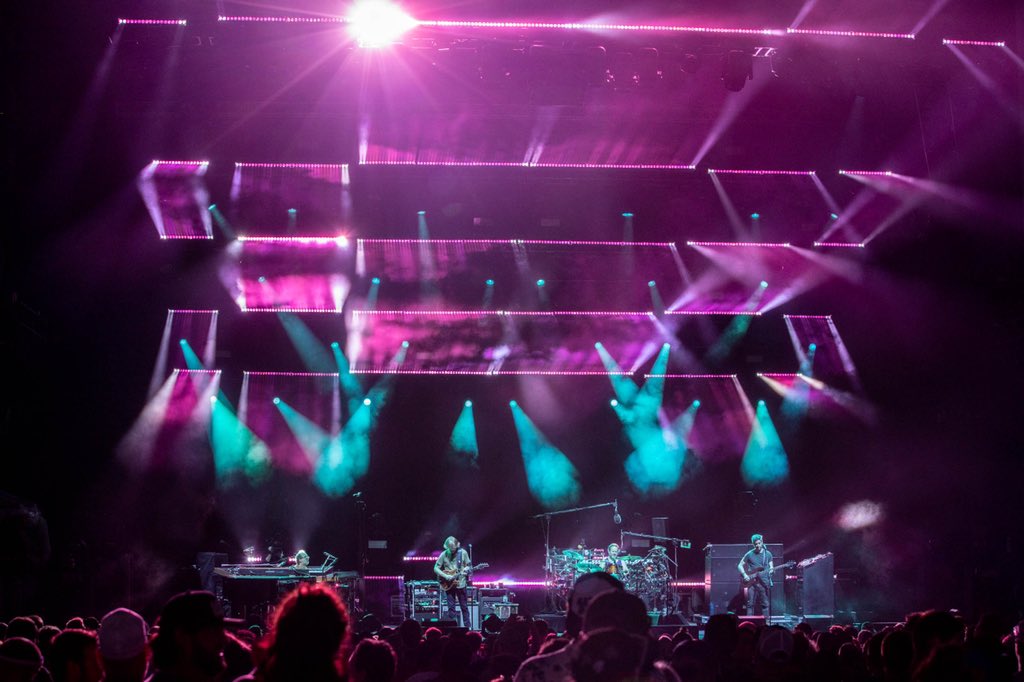 Sure enough, 15 minutes rolls by and the house lights stay on. Inebriated Guy was right. Right around 9:45 I feel a tap on my shoulder. Inebriated Guy has three Yuengling's clutched in his arm, and he hands one to me. "CHEERS BUD, LET'S DO THIS!" I don't know why he's yelling but that beer had to cost him like $15, so I kept my mouth shut and toasted him.
Almost as if it was a premonition, as soon as I take my first sip of Yuengling, the house lights go down and the band comes out and kicks off "Everything's Right," and let me tell you, it was. Clocking it at just a shade over 22 and a half minutes, "Everything's Right" releases a firehose of awesomeness all over the crowd, like a Gwar show except you don't feel compelled to burn the clothes you wore to the show once you get home.
"What's The Use" follows suit much to the delight of everyone within my vicinity (except for guy who has no idea where he is. He presumably still has no idea where he is). During the break between songs, Inebriated Guy yells, "DANCE PARTY!!!" I'm not sure who exactly he was yelling at (and even less sure if HE knew who he was yelling at), but by some miracle his cries were heard and up came "Crosseyed and Painless." Probably not the rager Inebriated Guy was hoping for, but nobody expected the "What's The Use Reprise" that capped it off.
After a brief pause, bass rumblings signal the start of "Down With Disease," and the lawn got barefoot and got down. At only 14 minutes it's not a barn burner, but it was just what we needed.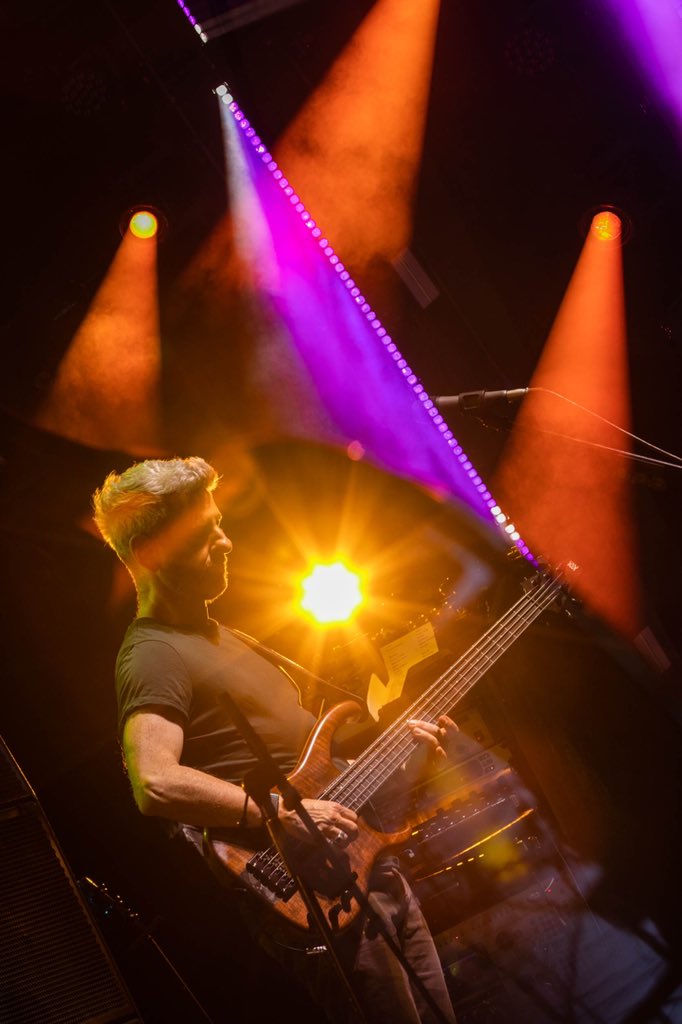 "Wading in the Velvet Sea" is next and Inebriated Guy leans over and yells in my ear, "YOU EVER HEARD THE VERSION OF THIS FROM COVENTRY? MAKE YOU CRY, BUD." If you haven't, don't.
As if sensing that our collective spirits were down and we needed one final pick-me-up before trekking back to our vehicles, Trey launches into "Possum." The crowd musters whatever energy they have left and throws every glowstick in the venue, creating this beautiful spectacle to cap off a wonderful evening.
For the encore, Trey sends all of us back home with "Drift While You're Sleeping," letting us know that love will carry us through, and when the house lights come up I glance back over at Inebriated Guy who is wiping a tear from his eye. "Love will carry us through, bud. Never forget that," he says as he bro hugs me and walks off into the night. I tip my cap to him as he disappears into the crowd, and I start to make my way towards the exit.
So all in all, it was a fine show. You might be tempted to compare this show to last night's or the rest of the shows that have happened so far, but comparing shows to other shows is like comparing apples to oranges: what's the use?
If you liked this blog post, one way you could "like" it is to make a donation to The Mockingbird Foundation, the sponsor of Phish.net. Support music education for children, and you just might change the world.