[Phish.net thanks volunteer recapper Suzy Barros for writing this recap. PhishNet depends on volunteers to recap shows, and opinions offered herein do not necessarily reflect those of PhishNet and our volunteer community. -Ed.]
Second night of tour, everybody, and for those of us who hadn't been to a show at Oak Mountain, there was that fun element to check off the Phish venue bucket list. It goes without saying that this show was INCREDIBLY HOT in all the meanings of the word. This show was ALL MEAT NO FILLER and I can't express my enthusiasm for it strongly enough, although I'm going to give it a shot.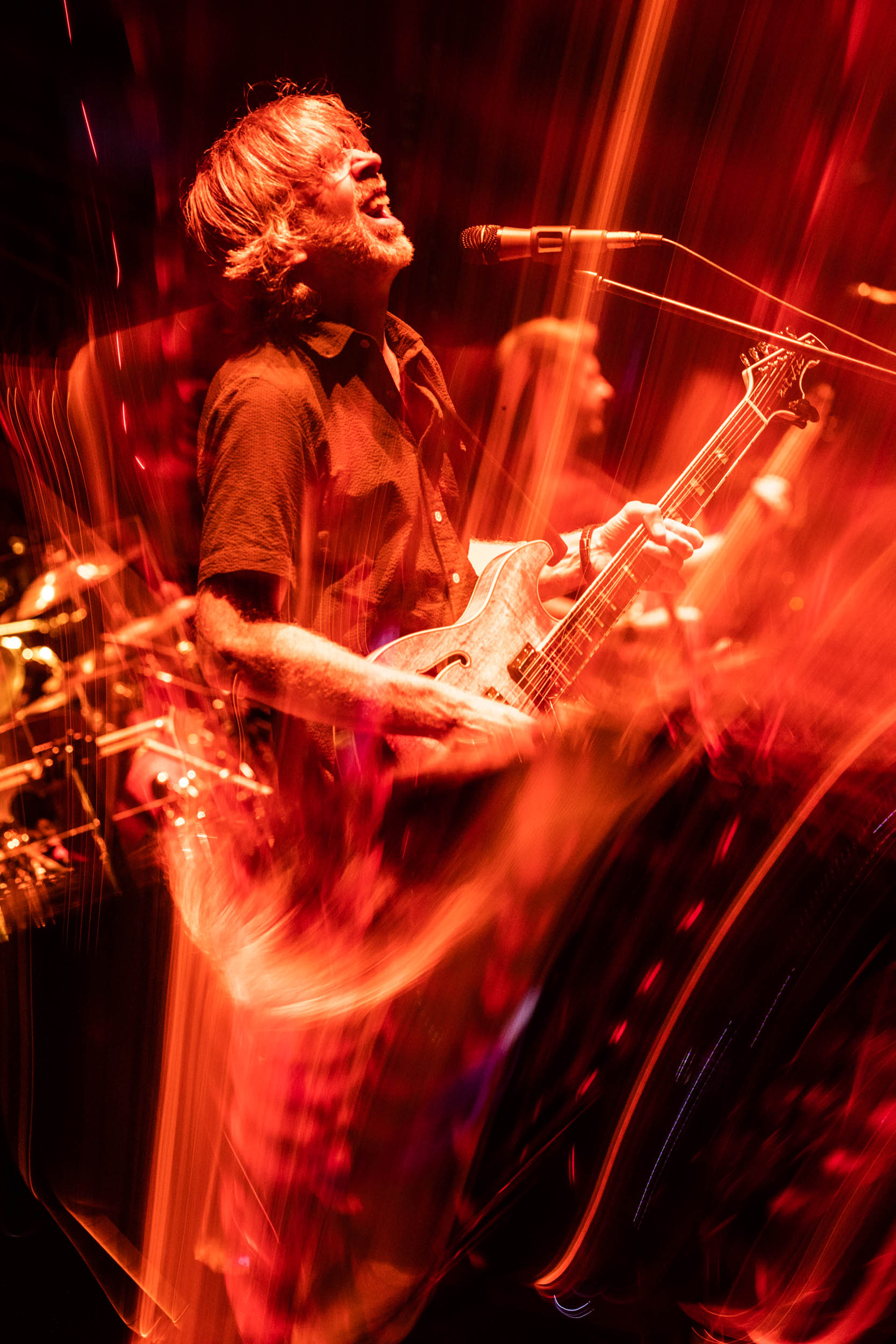 "The Moma Dance" – not an incredibly rare show opener but unexpected enough to give a little shiver of excitement for what the night has on deck and always starts immediate dance party. It had come to me earlier in the day as something that I'd love to hear, as it can be such a great hot summer night shed groove, which was exactly what this version was and more. Really tight and well-played, with everybody sounding on point and raring to go; Trey's vox sounding exceptionally strong (let Trey sing), melodically lovely.
"Sigma Oasis"– third time played (by Phish), third time I've seen it live, third time's a charm, showing itself to be an excellent set list addition, good as a set opener but I like how they used "Moma" to get everybody in an old-school happy mental place, making it that much more welcome.
"Back on the Train" can be long and jammed out, can be a 6-and-a-half minute run through the song to rock out through the song proper, give a couple rad solos and just remind everybody that we are all, finally, "BOTT" (Trey's emotional note of gratitude right before put a huge smile on everybody's faces, with the joy and determination already musically evident but hearing him put it into words made it that much more awesome). Sweet solo by Page on the Rhodes that elicited big reaction from the crowd, to me was reminiscent of Donald Fagen's solo on "Your Gold Teeth;" Page's effort seemed to inspire like-mindedly excellent one by Trey.
Seemed like Trey put the brakes on "BOTT" for specific reason of going into "Dirt," whether this was because Trey was suddenly inspired to play "Dirt" or just needed a breather, it was great placement IMO.
Next up was a slow-to-get-started but very fun "Final Hurrah" (which I thought was going to be "Blaze On" for a good two minutes), the "taste the humidity" line produced tons of laughs and cheers.
A "Funky Bitch" dance party (next to my Phunky Bitch friend Heater) was a great midset addition before YEAH BUDDY, our first extended jam of the evening, the more than always welcome
"Ghost," GREAT gorgeous dark start to jam, modulates to major around 7:00 and gets into this really beautiful blissed out section. Must hear version.
"Driver," honestly extremely needed break after the intensity of the "Ghost" for both band and audience. I also love "Driver."
"The Wedge" beloved by many, singalong, huge smiles on everyone around me.
Have you ever heard anyone scream "Walls of the Cave" at the beginning of "Walls?" That me. I love everything about "Walls" not just the ending, which of course always does an excellent job of ripping a giant boulder-sized hole of rock and roll through the crowd.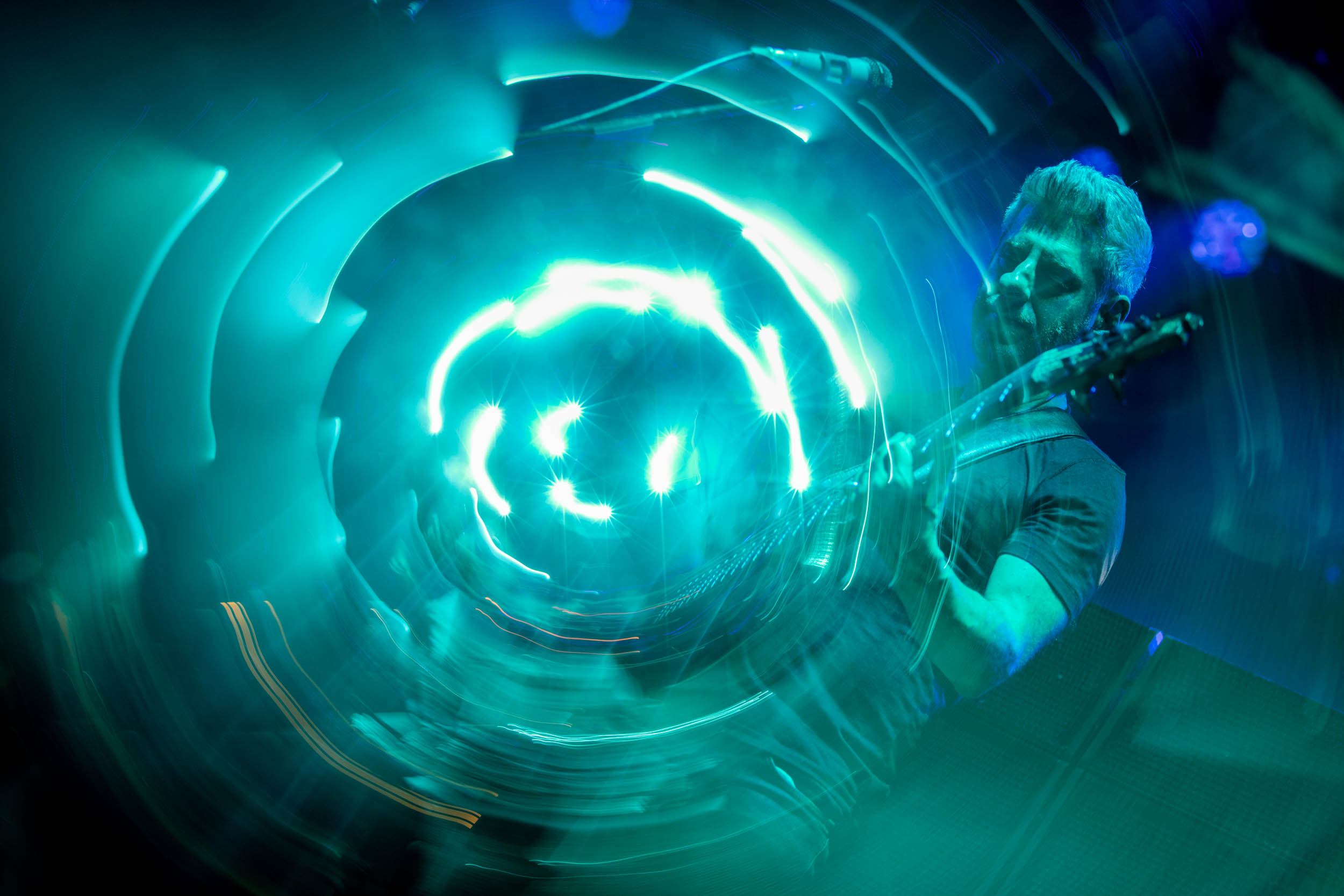 After what felt to be like one of the shortest set breaks in my show history, "Evening Song," kicked off the second set. Since hearing it for the first time I thought "Evening Song" was pleasant, mild mannered and kind of odd, nobody wants to approach the night with caution, we're all here to have fun and rock out and there's nothing to be scared of at a Phish show right? DUN NUH NUH NUH DUN NUH NUH NUH. Oh right - until it functioned as a lead-in to arguably the most evil song in the canon, "Carini."
I knew we were getting into one of the longest versions ever but was super psyched to see that I was lucky enough to get to see the, in fact, longest version ever. Listen to how amazingly well-played this is. Modulated major pretty early on which normally I wouldn't be super psyched about if it weren't for the fact that, if anything, it told me to get comfortable because we were gonna be here for a while, and were we ever. Hand over the keys to the band, they know what they're doing and they're going to make sure you're well taken care of. Just a fantastic groove.
Page tons of cool synth effects, it's a version that will demand many many relistens. Not a wasted moment or note. There are not tons of times that I'm super jealous not to have been at a show but I would have been extremely jealous to have not caught this version. The ambient weirdness that Page manifested in "Maybe We're The Visitors" has added a lot to his style. Last five minutes ramped up the energy before leading us out in a blaze of glory (apologies to Bon Jovi). 25 minutes (give or take a second). Last couple minutes Allmans-y. (good call on that to my friend Heater) although Trey's playing was so intense and amazing that a second guitar would have been gilding the lily.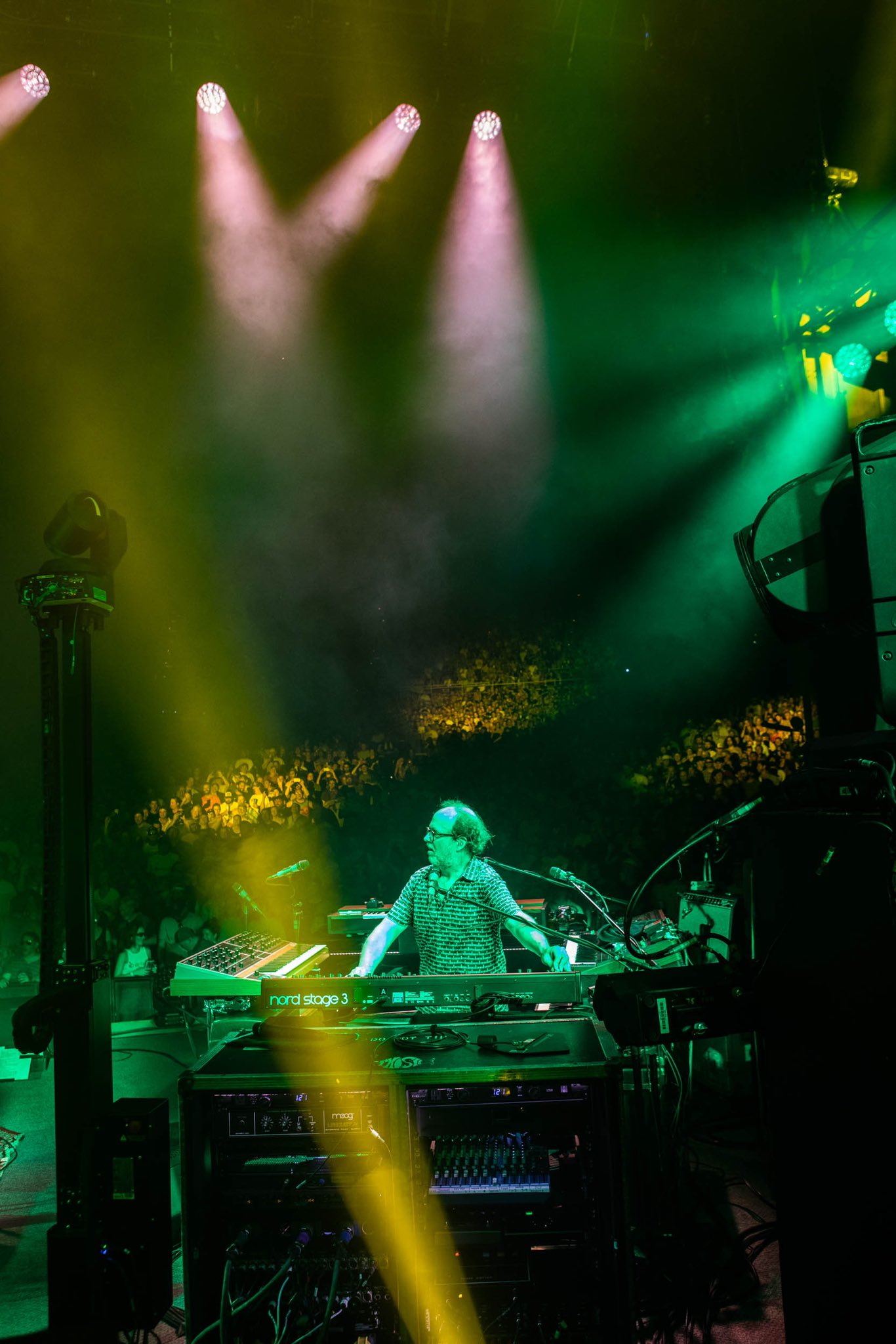 Still on such a high from the "Carini" that it took a couple minutes to really get into "Martian Monster," but it was a great funked out version before leading into an awesomely called "Golden Age," with a funky uptempo jam and the 2nd version where the Spencer Davis Group classic "I'm a Man" has reared its teasing head. Third excellent extended jam of evening.
Gorgeous "Mountains in the Mist" with the "till I'm released, awaken beast, I'm on the road again" eliciting major roar of approval.
The "Blaze On" that I expected earlier made it's appearance, excellent strong but nimble and lively version. Straightfoward, getting some "yeeahs" "cough/groans" and "cackle" effects from Fish.
"Harry Hood" we all have our reasons for loving this song, this brought the uptempo rock side of "Hood" out, no tearjerking moments unless being so happy to be seeing your favorite band rock one of their best songs makes you cry.
An awesome one two three punch of "Yarmouth Road," "Gumbo," and "Character Zero" as the encore, and we are BACK, PEOPLE! Can't wait to see what the rest of this tour brings.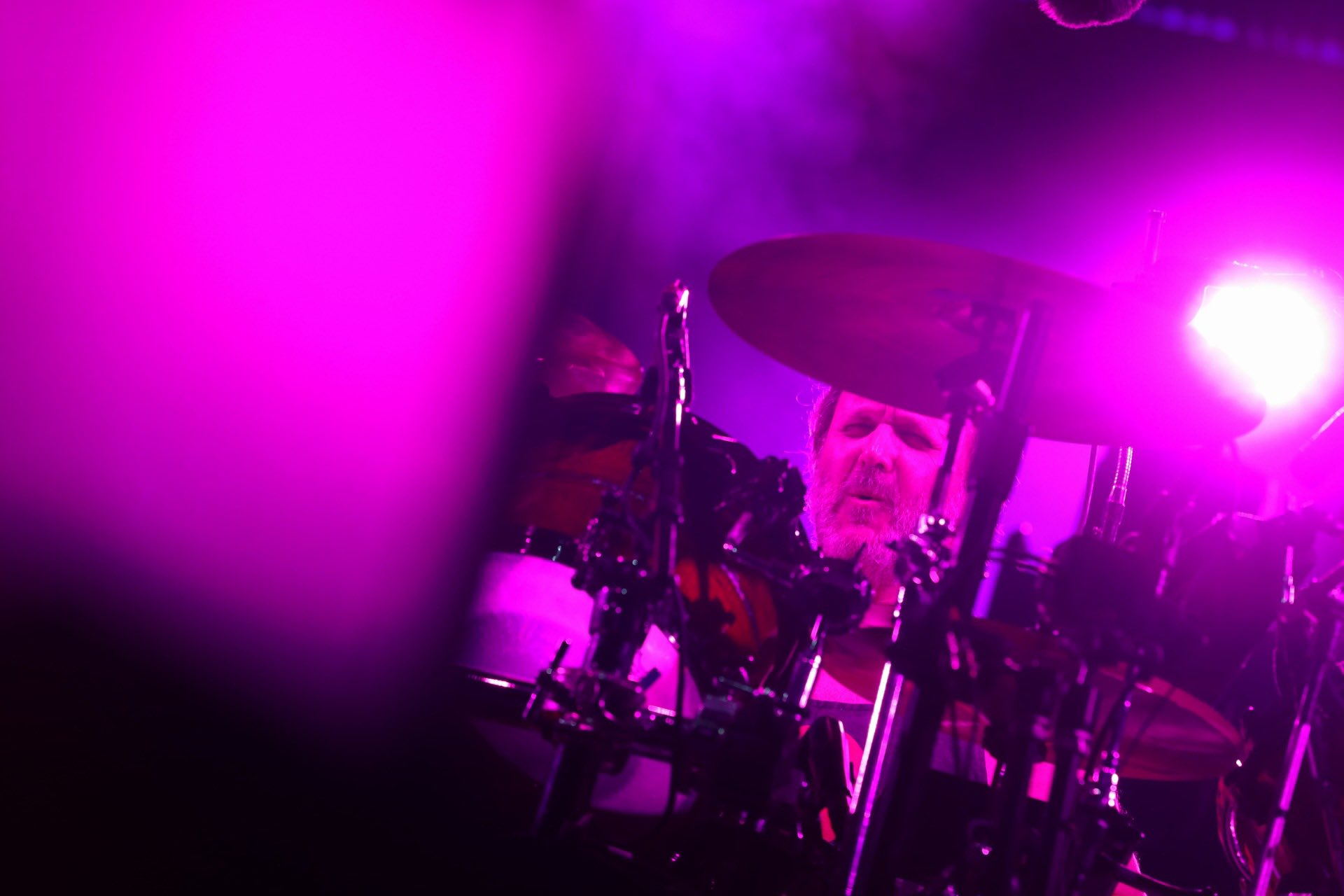 If you liked this blog post, one way you could "like" it is to make a donation to The Mockingbird Foundation, the sponsor of Phish.net. Support music education for children, and you just might change the world.