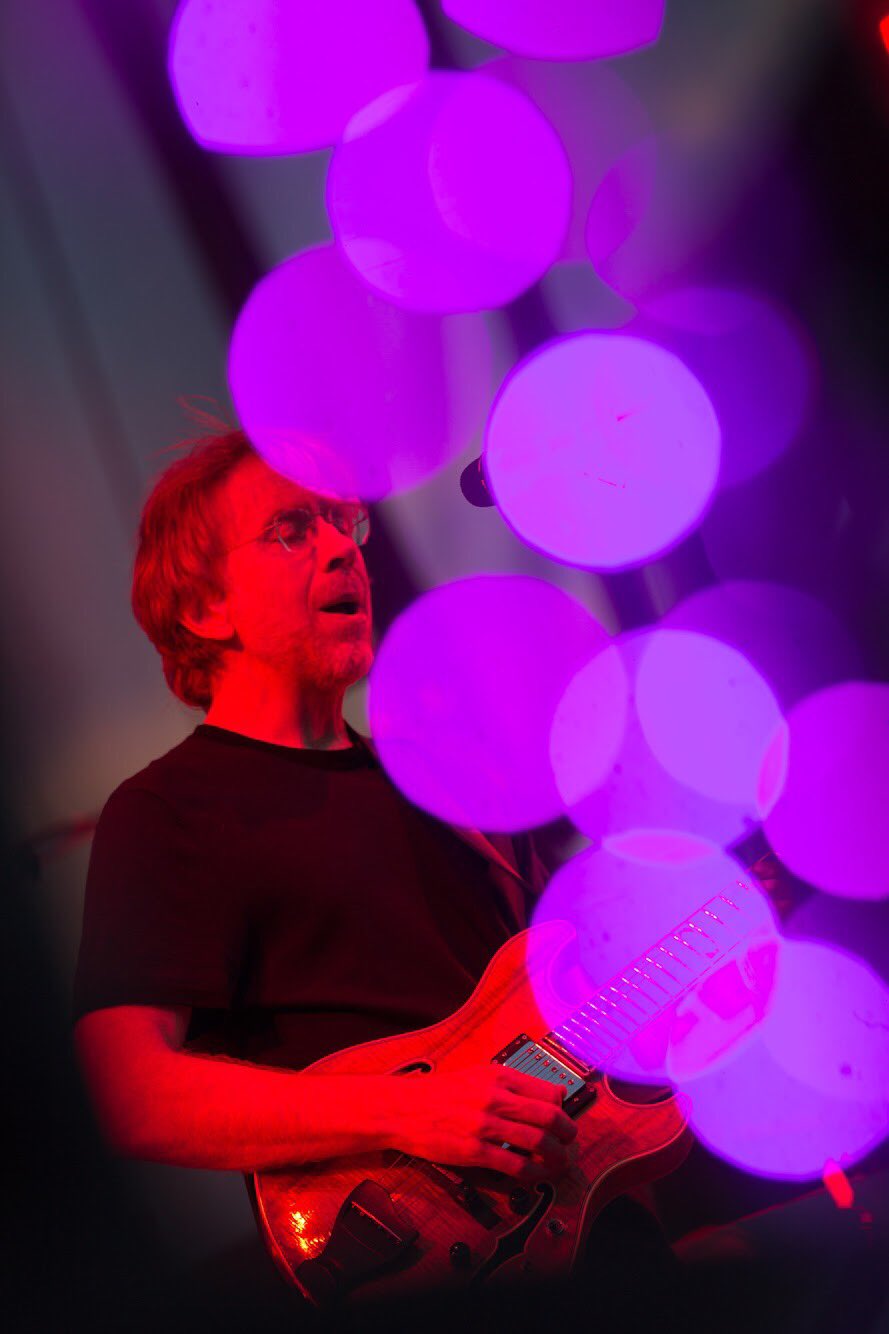 Despite a little rust during night 1, Phish came out on night 2 at Lake Tahoe Outdoor Arena completely locked in and ready to play. The playing was much tighter, and although the jams and experimentation didn't always reach the lengths we wanted or expected, this second night at Tahoe bodes extremely well for the rest of the tour.
One of the most surefire ways to get Phish fans riled up is to open a show with "AC/DC Bag," so everyone can yell in unison, "let's get this show on the road!" It worked again, and that opener helped set the stage for a sometimes meandering, sometimes hot 80-minute set. The energy continued from "AC/DC" into "Martian Monster," again using effects and humor to get the crowd engaged. And then comes "Ass Handed," a 2-minute song whose only point is humor.
The first notable jam of the night was in "Everything's Right." As Tom and I discussed on our video review of the first night of Tahoe, it seems like there's a lot of energy coming out of new tunes. This has been true forever. But it seems more notable now because the band, in its 35th year, has such a vast catalog to draw from that you might expect more experimentation from proven vehicles. Similarly to the previous night's "Soul Planet," this jam featured some of the most exploratory music the night. Even though it was only 12 minutes, this was a highlight for me. The band seemed to be completely in sync.
Then came a series of well-played but otherwise standard tunes: "555," "The Wedge," "Lawn Boy" and "Back on the Train." I'm not trying to be a jaded jerk here, but nothing really remarkable happened. Those songs were played!
"Ocelot" had a really not-"Ocelot" jam in, with Trey taking it into more of a dark and psychedelic place instead of a laid-back Southern rock place. That was fine with me. This was a good example of how well the band was playing. They were able to slip into a completely different place in a typically standard song. So that must bode well for a special second set right?
But first, "Bathtub Gin." One of the most reliable jam vehicle set closers of Phish 3.0. According to this fine website, this was the 14th time that "Gin" has closed the 1st set since 2009. This one was as high energy as any. With Mike and Fish driving an uptempo jam—well, here we go folks. One of the people I was with said, "This is what we've been waiting for." This jam built toward a really glorious peak and left us all holding our collective breath for the start of Set 2.
A funny thing happens to me when I go to Phish concerts. They play "Down with Disease." Every time, it seems like. I will begrudgingly admit, though, that this song is a dependable jam vehicle, almost always. According to ZZYZX's wonderful Phish Stats, I've seen "DWD" at 28% of the shows I've been to. That seems like a lot.
At any rate, this one, which clocked in around 13 minutes, was the beginning of a set that left us all feeling like something big was coming. People may complain about ripcording a "DWD" to go into "What's the Use?" That's not going to be me. This was a beautiful moment of the show. In some ways, this song is an exercise in actual crowd control for Phish. Can they get 7,000 people to be completely quiet? Especially these laid-back California fans, who actually seem to talk more than other fans (more on that another time). In almost every case, the answer is yes. This version was no different.
"Blaze On" came next and featured a great example of type 1 jamming for almost the entire song. It went sideways for a few minutes, but mostly remained true to the song's original structure.
"I Always Wanted It This Way" is a really fun song to hear live. It features Page's most creative use of his keyboards and pushes the band's sound in a completely different direction than almost any other tune. Part-EDM, part-Radiohead, this was only the 3rd time this song was played without Trey on the Marimba Lumina. I think it's better without it. It's nice to let Page stretch and drive a jam that's so unique.
Next came "Joy," which is always an emotional song to me, although I don't necessarily want to hear it in the middle of a second set. But the "Limb By Limb" that came next was pretty interesting, mostly because we noticed Trey using the Leslie during the jam, pushing it beyond the basic structure.
You know another awesome thing about Phish shows? 2001 peaks. Finally, we get a set closing "You Enjoy Myself." This was a great way to cap off a really good 2-night opening run. It was energetic, funky, and had a really nice jam toward the end. Some were sent off to The Gorge with another funky, high-energy encore in "Suzy Greenberg."
In less than 24 hours, Phish completely became locked in and on point. Everyone I was with agreed on this. Even if some of the jams didn't lead exactly where we expected, we see the possibility for huge things for this tour. Where will Phish be next week at BGCA, or next month at Curveball? Somewhere wonderful. I'm heading back home tonight, but those headed to The Gorge are in for some beautiful things. Thanks, Tahoe.
RJ Bee is the co-founder of Helping Friendly Podcast and Osiris Media.
If you liked this blog post, one way you could "like" it is to make a donation to The Mockingbird Foundation, the sponsor of Phish.net. Support music education for children, and you just might change the world.