​​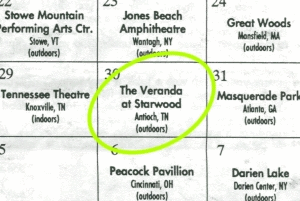 ​For nearly two decades, we and everyone else has listed the 7/30/93 show as "The Veranda at Starwood." That's what Phish called it in their newsletter the previous spring (see at left). But the space didn't even exist yet, as a performance space – and that's not how Starwood billed it. A recently unearthed flyer reveals the space's correct name – or, at least, how the venue was billed that week and that night.
Starwood Amphitheatre was a small southern outdoor amphitheatre owned successively by SFX, Clear Channel, and Live Nation, but closed in 2006 and razed in 2007. Akin to the Nissan Pavillion in Northern Virginia, it had a capacity of 17,137 -- far too big for a 1993 Phish show. It still isn't clear why or how this was the spot to play on the way from Knoxville to Atlanta. But staff roped off the concessions area – a large, flat, concrete plaza directly ahead of the entrance gates – and erected a stage along the edge.
Even with the reduction in space, the space was too big, roped off to accomodate 3,500 though fewer than 1,800 tickets were sold. The area was so restricted that attending fans never even saw the venue proper. The entrance walkway seemed to be straight ahead, through the plaza - but the stage was to the right, with a view of the skyline behind the band. That's where the flock assembled, being eyed suspiciously by the local constables, as they themselves were eyeing the skyline and discussing the Stowe "plug the PA up my ass" comment of 8 days prior. But on this night, nature and the fuzz both backed off, and the band and fans locked in.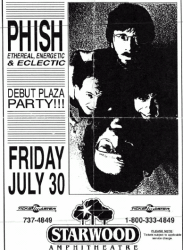 We didn't even need, or want, their mammoth "venue proper." We knew it would be special, from flyers taped (yes, actually taped) to windshields in Knoxville the night before (see to right), which promised "a stage built behind the hill in the Plaza area. By not using the usual pavilion area, the Phish family will have a close, intimate experience." They billed it "the debut plaza party," and we're not aware of any other band performing in that space. It was ours that night, and it's never belonged to anyone else. When Phish announced it, it's name apparently hadn't yet settled. But by the time they took the stage, twenty years ago last week, it was – for one night only – the Plaza at Starwood.
If you liked this blog post, one way you could "like" it is to make a donation to The Mockingbird Foundation, the sponsor of Phish.net. Support music education for children, and you just might change the world.