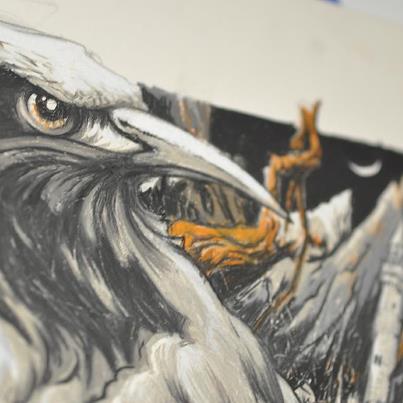 Today (March 8), as announced, we attempted to put on sale a limited edition poster. While we at Phish.net worked closely with our e-commerce partner to be ready for the sale, we did not anticipate the exceptionally high demand for this print. About five minutes before the sale time, the volume of web traffic overwhelmed our store's web, database and e-mail servers, and to many customers the store appeared unavailable.
About 30 minutes after the planned sale time, seeing that there was no quick fix for the server problems and believing no posters had been sold, Mockingbird Foundation Board President Marco Walsh made the decision to postpone the sale. We later learned that a small number of customers had been able to successfully complete an order.
Who knew selling a few posters could be so difficult? Here's what we're going to do:
On Friday, March 15, at noon EST (9am PST), the majority of prints will be sold to customers directly from artist AJ Masthay's website at www.masthaystudios.com. Purchases will be limited to one poster per person.
In addition, a very small number of print variants and artists proofs will go on sale at the same time.
Any orders for a single print that were successfully completed (with order confirmation e-mail) on 3/8 will be honored.
Any orders for two prints that were successfully completed on 3/8 will be reduced to one print, and a partial refund will be given.
Any duplicate orders by the same person will be canceled and your money refunded. We will fulfill one order for a single print.
We sincerely apologize for any frustration that this experience has caused. We will be the first to admit that, as an all-volunteer charity, selling posters is not our strong suit. While we understand that all may not be satisfied, we think the fairest solution is to limit print sales to one per person, try again to sell prints next week using a different web store, and partially honor (one print only) those few orders that were completed on 3/8.
While we trusted that adequate resources were in place for a successful sale, we were embarrassed to learn the hard way that this was not the case. Masthay Design has recently upgraded their servers specifically to support sales to highly dedicated, Internet-savvy Phish fans. Having seen him successfully hold several popular poster sales, we are fairly confident that we can sell the rest of the posters without a hitch.
Again, we sincerely apologize for any frustrations caused by today's botched attempt to sell a poster, and hope you'll bear with us as we do all we can to get this right for next week. Thank you very much for your patience and understanding, and for supporting The Mockingbird Foundation.