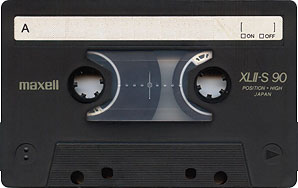 Not very long ago, Phish shows were traded almost exclusively by tape. While tapers circulated shows in DAT, those of us who weren't all digital traded in low-generation tapes. Who amongst us doesn't remember the Maxell XL IIs?
Tapes typically circulated with a hand-written liner known commonly as a "J-card", since when removed from the case, it was shaped like a J. These J-cards left only about an inch and a half to write out the contents of each side of a tape. More often that not, people would strain to write all the titles in the pre-printed lines, leaving what would today look like a 9 point font. Those who hadn't the time for such penmanship would often ignore the line on the J-card altogether and just slather the titles across the paper. Either way, you would have to be creative in your text-spacing to get longer song titles to fit.
So it's not unexpected that those who traded tapes began using abbreviations for songs, and it's even less strange that many of those abberviations still exist today. Perhaps we're not trading tapes anymore, but it's still pretty common to see people jotting down setlists while at the show, even if smart phones pointed to sites like m.phish.net are becoming more common. Abbreviations are used throughout the Phish world, and even in our own reviews and forum you'll find people refer to songs using a lingo known only to those who immerse themselves in our world. Could MMGAMOIO mean anything to anyone but a Phish head?
The Phish.net Setlist archive aims to be the gold standard for Phish setlists, but like any true reference material, it's formal and complete. Some might argue, then, that it's dry, given the way we actually speak conversationally about the material. That's why we developed "shorthand setlists J-Card Mode song nicknames" You can think of shorthand setlists as a "J-card mode" for Phish.net. Once enabled, it will display song titles in their abbreviated form: YEM for You Enjoy Myself, BEK for Black-Eyed Katy, and many more. We've enjoyed playing with this feature and think those familiar with Phish, especially those whose past is littered with J-cards, will appreciate the nostalgic fun too.
You can toggle "shorthand setlists J-Card Mode song nicknames" at the top of the setlists page.
Update: This feature has been officially renamed "J-Card Mode" at the request of our users.
Update 2: With the release of "J-Card View", we decided to simplify the system and tag this "song nicknames," which is more appropriate given what J-Card View actually does. We apologize for the contiuned waffling.
If you liked this blog post, one way you could "like" it is to make a donation to The Mockingbird Foundation, the sponsor of Phish.net. Support music education for children, and you just might change the world.