The Meatstick Dance
Phish has broken a number of records. For example, the Clifford Ball was the largest concert in North America in 1996, 1500 people were nude simultaneously for a photograph at the Great Went, and the 1996 New Year's Eve show featured the largest balloon drop ever. But their most unique effort aimed to break the record for the most people doing a dance simultaneously, with the audience doing a dance that accompanies the song "Meatstick".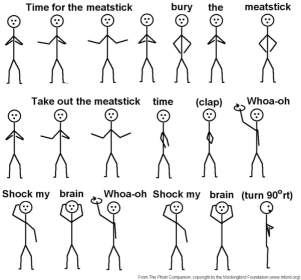 Trey announced 7/4/99 that it would be "bigger than the Macarena", which was the dance that was done for some previous records (50K at a Yankee's game in '96 and 65,000 in Kosice in '97). While some sources (including CNN) have reported that Phish actually broke the record, they did not: The current record was made by 74,000 doing the Chicken Dance () at a county fair in Akron, Ohio. Phish's first attempt was at Oswego, 7/16/99, but at around 60,000 people, that didn't suffice; nonetheless, Guiness officials were on hand to film the event (as Trey announced 7/15) and are aware of the band's intent. Trey reported during a later show that a second attempt would be made on New Year's Eve, but there is not indication that they/we have the record yet.
The Dance was introduced to the public 7/4/99, when the band was joined by about thirty crew members. Mike and Trey have also led the audience in the dance on several other occasions, sometimes joined by Page's wife Sofie, and explained the instructions on other occassions, such as 9/18/99 when four fans were invited on stage to join in the dance. Also, one of the side stages at Oswego featured Meatstick lessons. But the dance existed in early 1998: The studio version of the song has a spoken (by Mike) break in it who laughs and declares "that could be the next cha-cha"; and Page mentions, in the Phish Book, "though you won't see me doing it". The following schematic (which some fans distributed on a thousand flyers during the fall 1999 tour) details the "Meatstick dance" step by step. Lyrics to the song are above the drawings, in bold; clarifying instructions are below, in nonbold. ... And don't forget the turn!