A three-night run of Phish at the same venue breeds familiarity. A beginning, middle, and an end. By Sunday night, the end, each fan knew the quickest (or most convenient) way to get to this island in the East River. Each fan had their ticket ready at the check-points, knew which beer line was shortest, where to refill the water bottles. And for those of us who were more particular than others (pun intended), the most optimal location to enjoy the show. For our crew, it was on the pavement in front of the soundboard, "just to the right of Mike, even with the first aid tent to the west." Something to be said for being surrounded by friends, both old and new, from New York City and abroad. Smiling, familiar faces. This particular spot of ours sounded pristine, with just that extra bit of Mike. We were able to soak in some amazing breeze. It provided us with a view of that gorgeous Full Buck Moon on Saturday night. Familiar. A place to call "ours" if only for a few hours.
Phish also breeds familiarity, particularly over a run. What sort of mood is the band in, how nimble are Trey's fingers, what fashion statement will Mike offer us. With each show, fans check off songs knowing they will not return, shrinking the list of possibilities (by only so much). But with the yin of familiarity is the wonderful yang of the unknown. What keeps us coming back. Knowing that "it" could happen at any time. Well, it happened on Sunday. In such a huge way.
The pre-show music was a mixture of Al Green and some jazz. Good Sunday afternoon music. While, a bit sparser than the night before, there seemed to be a lot of chatter. It could have been due to the projected forecast of rain and lightning -- a forecast carrying enough weight such that @phish tweeted earlier in the day that the 7:00 show would start at 7:15 rather than the understood 7:20. The heavy breeze even felt as though weather was on its way. (Glad that ended up being wrong.)
"Promptly" at 7:23, the band took the stage. We should have known we were in for a unique night as "Sand" opened the show; while "Sand" had begun second sets in the past, I believe this was the first time this song was ever chosen to open a show. It started things off where "First Tube" had left us all the night before. A song with origins in Trey's Tony & Russ trio, centered around a groove. A good song to loosen up the fingers and settle in (rather than, say, a right-out-of-the gates "Buried Alive"). And yes, there was a little extra mustard thrown in there to get us all engaged.
After the eight-minute "Sand," the eighth selection off of Fuego for the run was played, "Winterqueen." I should admit I've been a fan since I heard the debut last Halloween. It was odd, though, to hear the second song of the set begin without any acknowledgment from the crowd with the exception of some polite applause. Maybe a different placement next time? (::coughWadingcough::) I quite enjoyed Page's utilization of what I would call "that calliope sounding keyboard" a few times during the song.
Aside: I should mention the transition into the closing section was a bit rough. And if I was going to criticize Trey's playing at all this past weekend, it would be centered on the lack of nimbleness in transitioning back into the ends of songs. There seemed to be small hiccups each night at these specific moments.
During the song discussion following "Winterqueen," I could pick up on some chanting in the crowd coming from in front of us, to the left (Trey side). You could see Trey leaning over that direction, giving that familiar grin and head bob. And just as soon as I made out "Reba, Reba, Reba," Trey kicked in to the opening notes. I felt this was an average-great version of a song I had been wanting to hear all weekend. I felt the composed section was successfully navigated, sailing into the expected bliss. I quite enjoyed Page's work on the Rhodes leading into the peak and the "normal" whistling. Trey afterwards: "Thanks you guys. Thanks for the suggestion." You were more than welcome, Trey.
Another aside: I should take a brief moment to comment on how Page's playing this weekend (among other shows I have heard from the tour) has really impressed me. It just seems he is picking the right instrument at the right time, the right notes and fills, leading jams when needed. Not that other band members haven't, mind you -- we benefited from standing in front of Mike all three nights -- but something about Page is standing out.
"Birds!! of a Feather" was next, despite the large green pig balloons which had appeared at the front of the crowd, with "Guyute" written on them. As Scott Marks noted at the time, Angry Birds won over Angry Pigs
First thing I heard with the opening notes of "Water In the Sky" was "Don't jinx us, Phish!" Thankfully, they didn't. I should have had more faith.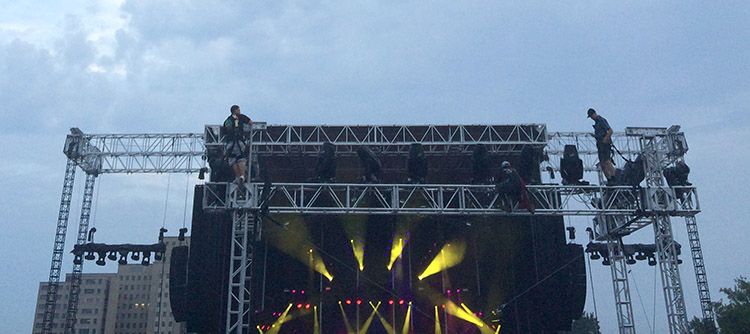 With "Water," I decided to take a walk and see how grass felt beneath my feet. I was surprised that once I left the pavement (with the exception of the beer lines), how spacious and comfortable the lawn felt. Room to walk and stroll, people walk, and run into friends. "Possum" was enjoyable enough (I had written "more organ" in my notes. I believe that was a positive thing.) "Runaway Jim" followed. As with "Reba," this was a song I was pulling for -- I have always loved "Jim." While I prefer it to be selected as an opener -- as I appreciate the "driving" nature of its structure, with Trey trilling out notes along with Page on the piano -- it still put a smile on my face (despite slight issues, again, transitioning into the ending). "Bouncing Around the Room" seemed more enjoyable on the grass than it would have on pavement. And by the time I made my way back up front, Phish was on to "Maze," where it seemed Page was conjuring more breeze with his always-full organ solo.
Aside: It would be natural to wonder about the energy of both the crowd and band alike following the three nights. If Sunday, "for the band," would be able to keep up. And it appeared to me the setlist was constructed with songs that assisted in keeping up momentum: "Sand," "Birds," "Jim," and "Maze." Each projecting forward. The closing song was also in that vein.
For some reason "Split Open and Melt" was a song completely off my radar when it started at 8:37; just one of those times when other wants and wishes took up space. But that all quickly dissipated like a "steam dream" as it plunged dark and deep. With Trey on the delay and the chanting from the band, one might compare it to early 90s versions. Strong build of tension and dissonance, accented by Kuroda's work on the lights. The background changed each evening, from a transparent mesh the first night, to a mesh with a white backdrop the second, to the all black on Sunday. It provided a great backdrop to the band, bathed in red light, with moments of color dancing around the stage in time with the music. Trey making his guitar howl as Page banged away, over and over, drawing out the evil like a guitar salve. Or something like that. Let's settle on a damn good "Split" to close the set.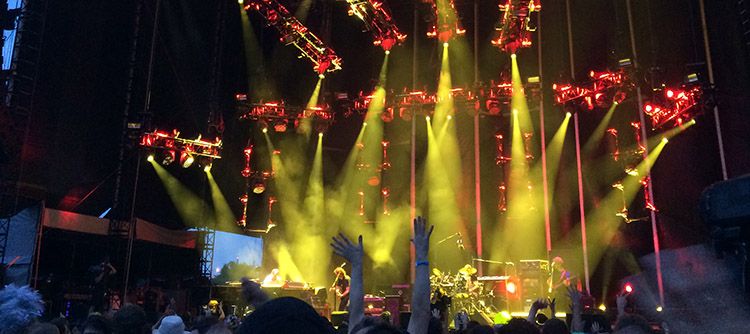 All in all, a good first as we are growing to expect them these days. A series of stand-alone songs with one or two highlights. I feel the "Bathtub Gin" from night one was the first set highlight of the run, but the "Melt" may be second if I was forced to choose. The setbreak was highlighted by the Bill Withers being played over the PA, complete with a "Lean On Me" sing-along by the crowd around us.
Down came the lights at 9:10. The opening notes of "Chalk Dust Torture" took me a little off guard. And let me say that I remained wonderfully off guard for the next 56 minutes. The opening hour of Sunday night's show may be my favorite hour of Phish since Big Cypress. Relistens may temper my hyperbole, but I am still glowing from what we all witnessed, with what Phish performed for us. While Mike Hamad illustrates the musicality of "CDT" in a way I can not even attempt to equal, I am simply going to share with you the notes I took in the moment:
Chalkdust - five minutes in starts to get stretched with this great upbeat jam led by Page "butter jam", desk flip; slowly stumbles into darkness as the rain drops fall (Mike led) but not too dark; rhythmic section, darker, then back to the "buttery" section (9:27) Baby Elephant Walk like; Page leading it another direction ; red lights mean dark CK5 :30; Trey feedback with Mike and Page banging away; whale screeches; bombs :34 rumbling bliss as Trey starts playing pretty; Mike teases? Fishman shuffling along as it slowly dies into . . .
What that all means is that you need to listen. A must-hear, hands down. Best "CDT" of 3.0? Give it a whirl and compare away. I will just say that jaws were dropped, grins were plastered, and "Wtf?" laughter all occurred. (FYI: Through the wonders of immediate relistening, it appears there were also teases of the "Piper" from Dick's '11, aka "Roadrunner Tease." Just something for you geeks to discuss.)
Fishman shuffling along as it slowly dies into "Light," twenty-eight minutes after the set began. And what a perfect choice to follow the wonder what we just experienced. "The light is growing brighter now," matched by Trey's piercing guitar that came out of the vocals. I loved how Trey popped in the tease of Sonny Rollins' "St. Thomas" (thanks, Dan) in the middle of the beautiful jamming -- sometimes teases just fit. The beautiful jamming transitioned into "Harry Hood" territory about nine minutes in. Only to be followed by a jam structured around a descending melody that immediately brought to mind "Mind Left Body" (see here or here). While it may not have been a tease, or quote, it was close enough and had the desired effect -- more joy. Building to a huge climax around ten minutes in.
To be followed by "Tweezer." Why a one-two punch when you can have a one-two-three punch? It began slow and funky, dripping like we all were. At one point, the band slid in and out of tempos, slowing down as if someone was playing with a turntable, making it even stickier than it already was. Once that was over, Page brought the jam to this soulful section, reminding me what he did with the "Down With Disease" two nights earlier. The jam really began to soar after twelve minutes, building to a huge peak -- complete with me punching the air over and over again. It was that kind of hour of music -- where you lose control of your (sober) body and let the music guide your limbs. A slow old-school Tweezer ending after about sixteen minutes.
Whew. Breather. Times for high-fives and quick exclamations of hyperbole with friends and strangers alike.
The band felt the need for a breather as well, it appears, and offered up "Wading In the Velvet Sea." Despite any internal groans I may have tried to suppress, I did find myself swaying to the music. See above re: losing control of one's body. The "Sing Monica" which followed was not what I would have selected. Sounding to me like some 60s Bay Area pop song, it would have come low on my list of song choices. But hey, I was not in a complaining mood and I did appreciate the little reprise of the melody following the vocals-only chorus.
The beauty of "Slave to the Traffic Light" was a fitting choice to wrap-up a run of music in NYC. And I always enjoy Mike's lead, ringing out so clear. Even with its proximity to "Wading," it felt right.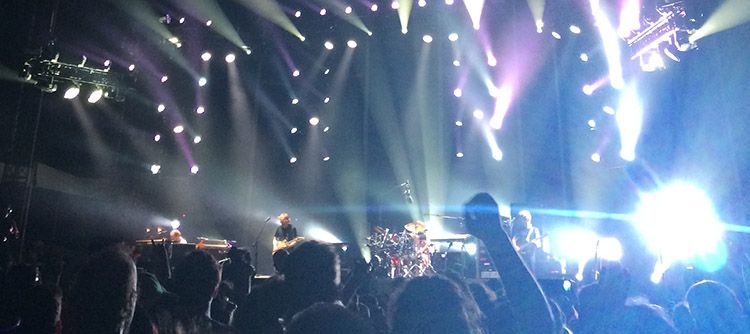 Before they began their encore, Page took a moment to thank everyone for coming out, noting that they play "for us." Sentimentality must have been flowing as the encore began with "Backwards Down the Number Line." A song about friendship and familiarity. "Do you know why we're still friends? / Laughing all these many years" -- because of the music, Trey. The expected "Tweeprise" that followed, complete with the Mike bombs, put an exclamation point on the evening, the weekend, the first of hopefully many runs on Randall's Island.
Continuing with the theme, the walk-out music was the Rolling Stones' "Waiting on a Friend."
Even before the expected "Tweeprise," superlatives were being tossed around regarding this three-night run, with many in agreement that this could have been the best run of 3.0 after Dick's '12. Another offered this evening's "Chalk Dust Torture" > "Light" as the best one-two song combination of 3.0 since the Albany '09 "Seven Below" > "Ghost." I will let those with the knowledge bases and ability to compare such things prepare a blog post. All I will say is that I am happy we can even have these discussions. That this band, after all these years and countless shows, can still create music that some of feel are "Best evers," topping previous versions. That through all our familiarity and expectations, they can surprise and fill us with such great joy.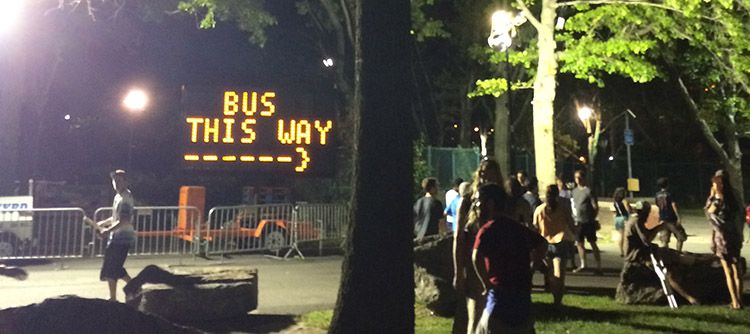 If you liked this blog post, one way you could "like" it is to make a donation to The Mockingbird Foundation, the sponsor of Phish.net. Support music education for children, and you just might change the world.