[For this recap we'd like to welcome guest bloggers @2chix1fightbell (Kristen and Kate) -PZ]
We had to be here for Phish's return to The Mann Center for the first time since 1995. There wasn't another option.
We walked into a breezy, beautiful venue tonight without the knowledge of quite the X factor on the way: storm. Big one headed directly towards us. It was so bad that the crowd on the lawn and terrace were asked to return to their cars in order to protect their own safety. This is a crowd that doesn't exactly like being told what to do. Or people getting in the way of their Phish experience. But we waited out the storm without choice, comforted by the knowledge that 'X factors' have produced great Phish shows plenty of times in this band's history. Page thanked the fan base early in the first set for riding out the storm and reminded us all that it's not their fault.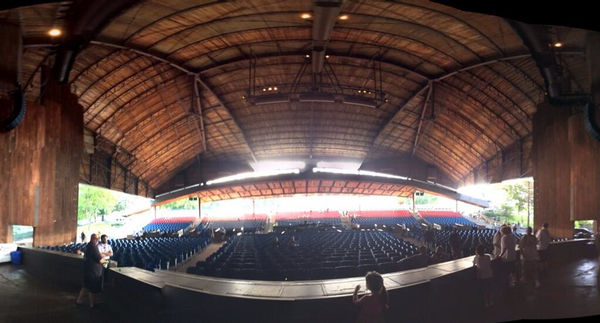 © Photo by Eliot Byron
The storm and crowd shuffling produced a bit of an eerie and uneasy vibe in the crowd. "Axilla" as the opener matched this perfectly and was a welcome release of tension. Followed by "Gumbo," Phish started simmering a pot of funk that would burble over onto us here and there throughout the first set. The first version of "Taste" since Reading '13 was welcomed. Fog that surrounds nods to the steam building in the venue. Hey speaking of "Steam"… thought we might get our first of 2014 tonight. Still waiting.
"555," the third version in first five shows of summer '14, was dark and dank. It was very appropriate for what was happening at the Mann. While it held true to form, it certainly has potential to go beyond that and be a completely unique jam vehicle. "Tube" – who doesn't get pumped as soon as this song drops and then wonder if it is going to sizzle out to a three minute set filler these days? While it hasn't made its return to the golden era, this "Tube" was highlighted by digital age playing, fueled with Trey loops & toys and just enough funk to maintain some integrity.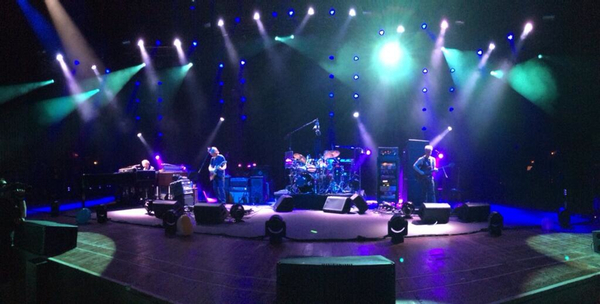 © Photo by Elliot Byron
"Halfway to the Moon" – although this song is the oldest of all the new album material, fans are still getting used to this deep Page tune. Still finding its place, it fit well with the other songs flow-wise in the set. Skip to the meat though after the lyrics and explore the deep Trey tones more… we want it, know it's there and ready. You clearly hear a fan yelling, "Camel Walk," over and over in the space between songs. To that fan's credit, Trey also hears it and obliges the request, saying that this was for him. Solid funky version that didn't stray. Do we have to talk about "Sparkle?" It's just that it's been the third one of 2014. "Halley's" was played followed by "It's Ice" that continued little song winks at the evening's storm, and also birthed a funk jam that we always welcome. Fishman is playing like a man on fire, so no one cares that he had a little mis-start in the midsection of "Walls of the Cave." This was an energetic set closer as it always is in this spot.
Skipping over the "46 Days" second set opener as we really want to talk about "Fuego" as apparently the band did as well. The second version of this song to break form brought us more highly encouraging jamming. It's great to see the crowd enthusiasm supporting this song, and Phish took the opportunity to patiently craft a deep space jam out of the initial fiery energy that the song naturally produces. The title track of Phish's newest album is primed for versions to top themselves over and over for the rest of summer tour and beyond. This "Fuego" channeled everything in the Phish catalogue from "Free" to "Two Versions of Me" to "What's the Use?" Let's throw a "Cars, Trucks Buses" tease in there for good measure.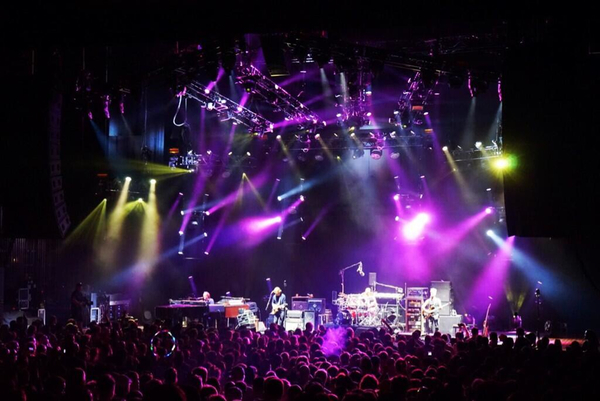 © Photo courtesy Phish From the Road
"The Line" > "Backwards Down the Number Line"... if you hate that kind of thing, you probably really hated that.
Then the the thunder was brought directly inside the venue with a "Tweezer" -> "Ghost" > "2001" > "Hood" > "Tweezer Reprise" setlist that fans dream of. The "Tweezer" was starting to go in its now-a-days, typical direction, lighting the crowd on fire, slow and steady. But it ended up a bit brief (shortest version since 2011) and churning out what became one of our highlights of the show, "Ghost." After the choppy transition, they let each other get to the meat of the jam pretty quickly, and we soon forgot that they were stepping on each other's toes for a minute there and they began to dance instead. Then we soared in unison.
"2001" was a nice little pop of more funk… completely unexpected, but very much wanted. When they dropped into "Hood" it we knew we just witnessed a second set with a lot of big players. How could this "Hood" compare to what transpired a few shows before at Great Woods? Instead of breaking form like its predecessor, this was them nailing it. When we reached full saturation point in the evening and couldn't get sweatier, goosebumps poured all over as they slowed this down to intricate, patient and building that brought tears to our eyes and of course, more sweat. "Hood" > "Tweeprise." Perfection. A "Possum" encore sent the fans home happy.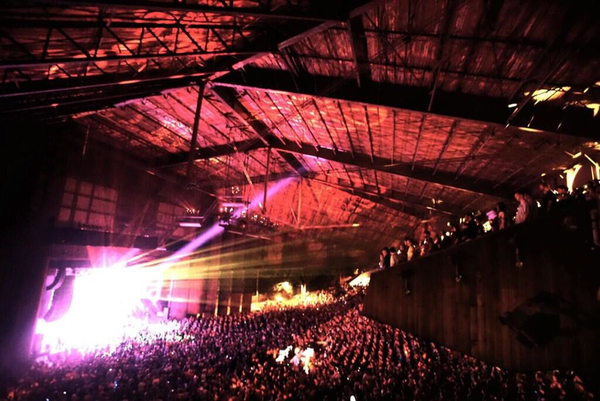 © Photo courtesy Phish From the Road
If you liked this blog post, one way you could "like" it is to make a donation to The Mockingbird Foundation, the sponsor of Phish.net. Support music education for children, and you just might change the world.