From the editors: For this installment of our fall tour recaps, phish.net staff wanted to extend an invitation to Lenny Stubbe (aka @lastubbe on twitter, and phish.net) to offer his perspective on Tuesday night's return to Rochester. Lenny is a longtime Phish fan and Deadhead from Buffalo, NY. He was an early Usenet contributor who wrote a handful of articles published in DeadBase, phish.net and The Phish Companion. Lenny also occasionally contributes to UpstateLIVE.com. Lenny is an avid taper and collector of live music with a passion for preserving audience recordings of all existing Phish and Grateful Dead shows, many of which he shares on dead-phish.com.
Has it really been 14 years since Phish has played Rochester? If you take Canandaigua out it certainly has. You would think Rochester, like Buffalo, which has also not seen the band in some time, is one of those upstate New York towns that would have seen the band a ton over the years. But Rochester has actually seen just a handful of shows: a University of Rochester cafeteria on 4/20/91; The Warehouse on 9/27/91; Auditorium Theatre on 2/9/93; and the War Memorial (now the "Blue Cross Arena") on 12/11/97, 12/5/99 and last night, 10/22/13. Amazing when you think about it, as Phish ruled the east coast early on and often.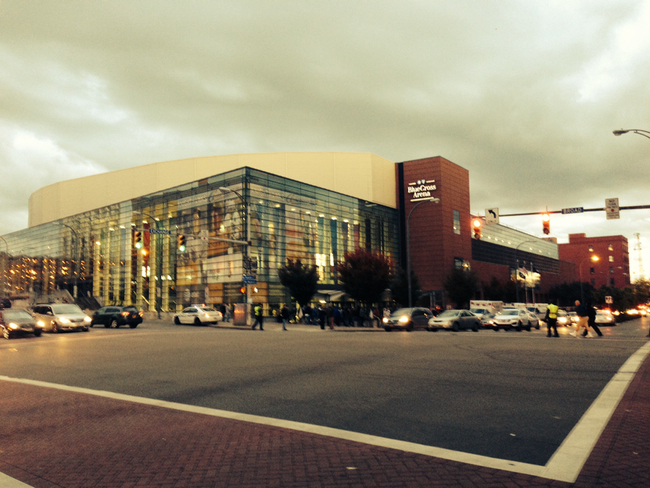 As you can imagine for everyone concerned – on both sides of the stage – the level of excitement was high for their return of this hallowed War Memorial Auditorium (I have a very hard time using the corporate sponsorship names). This venue was the site of many great concerts over the years, including a few very memorable Grateful Dead shows and the legendary Phish show on 12/11/97 immortalized in Bittersweet Motel. All of these factors made for an exciting and nostalgic trip back to the ROC.
I caution those going into these seemingly sleeper shows, particularly coming off a barnburner like 10/20/13, to be ready for the rollercoaster. Maybe it's because I've seen a few first hand, but I tend to be weary of shows coming off peak performances. Being a fluffer of '94, those always come to mind first such as the Bee Cave after the Bomb Factory, Canandaigua after Big Birch, Erie after Kent State, or MSG after Providence. The guys sometimes – deservingly so – need a little decompression, a chance to exhale after leaving it all out on the stage the previous night.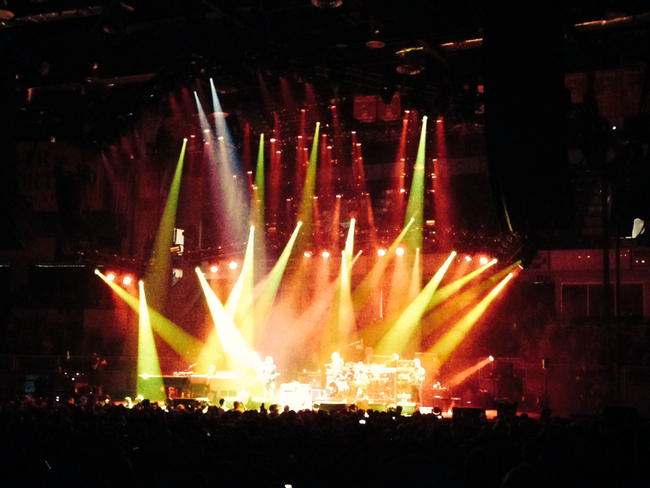 Getting into the venue as expected was, remarkably, as easy as you could want. An almost uncomfortable amount of security surprisingly left everyone alone and only seemed to deal with the exceptions throughout the night, leaving plenty of room to settle into the large, wide open general admission arena. Being a taper, I have a different routine than most, but on this night I would set my gear up and leave it with my taping brethren so I could take the show in with my wife, father and good friend in the stands. I actually stopped recording Phish shows in 97 because of the amount of wonderful music missed guarding equipment and monitoring levels. It was an easy decision to start back up for 3.0 Phish and the rewards have been incredible, but being away from the official tapers section for one evening to focus in on the music was a real treat.
"AC/DC Bag" opened the show to an amped crowd and moved its way through to that point when it really gets going, only to yield to what seems to be a regular in the two spot or early set one, "The Moma Dance." "Axilla I" kept the pace and reminded me again how much I loved "Axilla II," but also at that time really wanted to hear "Axilla I." The first surprise (and second sing along) of the night went to "Meatstick," a song that not only reminds me of 1999 but has truly grown on me since Vegas in '04. Having seen a few recently in the heart of second sets, and remembering the joyous version in the "Mike's Groove" at the last Rochester War Memorial show on 12/5/99, have all helped illustrate the many ways this song could be used in the rotation. "Kill Devil Falls" is the 3.0 "Chalk Dust Torture." It's a welcome choice for me anytime, having seen my first version opening the Chicago show in 09, and has stuck with me ever since.
"Scent of a Mule" kept the pace of the run through first set. "Scent" has truly been enhanced by Fish's work on his Marimba Lumina recently, which adds a fantastic spacey segment to a song that maybe needed a new direction in the middle section. "Timber (Jerry)" was the first warm welcome of the night and almost in the same fashion captured some of the brilliance of Trey's "Back on the Train" lead in Hampton on 10/20/13. The set continued with "My Friend, My Friend," a song I hold close but doesn't have that same punch as earlier versions. "Halfway to the Moon" kept the first set pace as a top Page choice, with the set wrapping up in a '97-like pairing with standard versions "Maze" and "Character Zero."
"Crosseyed and Painless" fired up set two and weaved us through 16-minutes of top shelf improvisation. This seems to be the trend though, and even something we have seen as far back as "1.0" Phish, with the band coming out of the gates firing only to run out of juice halfway through the second set. "Crosseyed" gave way to my personal favorite number of today's Phish, "Light." Back in '09 I had no idea what to expect of this song from Joy. While it definitely took some time for this tune to develop a life of its own, I think when we see this evolution take place over time, we find it usually yields positive results. Any number of versions from 2011-2013, have shown this song's sheer power as a second set jam vehicle and surely raised the bar of performance and improvisation for Phish. The most interesting part of the evening came next as "Golden Age" morphed out of the "Light" jam at around seven minutes, led by Trey basically singing the vocals to a shuffly low tempo Page and Mike jam. While a surprise with the one show repeat, it had me start thinking things were getting weird and potentially heading down unpaved roads. While Trey seemed anxious, and I realize we haven't been in Rochester in some time so crowd pleasers are evident, but we're definitely having a ton of fun here and just throwing it out there that we're going to call some audibles and who really cares, right? Live, in the moment and without a net, and this is the U-turn this show really needed.
Well, not to disappoint, but what we really got after this brief glimpse of rule breaking was another half a first set with "Birds of a Feather," "Halley's Comet," "Possum," "Bug," "Heavy Things," followed up with "You Enjoy Myself."
While the distractions were evident at points throughout the night, from stage banter to lack of direction, Trey was not as sharp as we are accustomed in the second half of this set, and during the early composed section before tramps on "YEM" where he just can not pull it together. This by-the-book 20-minute "YEM" wrapped up the set for a "Joy," "First Tube" double encore and the close of the show. While the band as expected held it together much of the night, really with Page earning MVP honors in a mop up effort, Trey again couldn't keep it together for "First Tube."
No pressure Glens Falls. We haven't been there in nineteen years coming off arguably one of the top five Phish shows of all time in 10/31/94. Throw in the webcast, and the roller coaster of one show to the next, it will be interesting and at the very least, a lot of fun digging into whatever is served up tomorrow night. So if history repeats itself, we should be in for something like Spartanburg, but webcast!
Safe travels everyone. And please… phriends don't let phirends talk when the band is playing, or buy taper tickets!
If you liked this blog post, one way you could "like" it is to make a donation to The Mockingbird Foundation, the sponsor of Phish.net. Support music education for children, and you just might change the world.