Last week, we unveiled J-Card Mode on Phish.net. The response was overwhelmingly positive, especially given that it was a "throwaway" feature - meant more for entertainment than utility. It didn't add anything new to the experience, it was solely intended for fun. We didn't expect to receive the amount of feedback we did, and we certainly didn't anticipate the number of requests for a true "J-Card" view of setlists.
In retrospect, it only made sense for us to follow through on the concept. We should have anticipated the demand for the throwback tape inserts. Alas, a few days later, we're delivering it. Today I'm releasing "J-Card Setlists." Yes, the name is similar to J-Card Mode and perhaps even a bit confusing. The challenge here is that some will want shorter song titles but not the altered setlist view, so we're making them optional. Starting right now, you'll see a new option on the setlist page called "Show J-Card Setlists." When you click this link, individual setlists will now display as follows: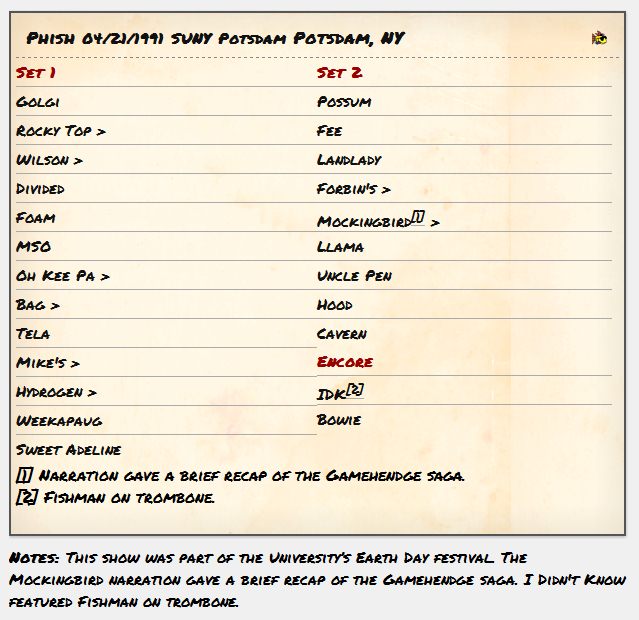 This feature is new and still in unofficial testing. It does some weird things when you're viewing incomplete sets and only approximates an actual j-card so much. But we hope you find it as entertaining as we do, if only for the novelty.
Note: This feature currently is disabled in Microsoft Internet Explorer 8 and below. The styling requires features that do not work.
If you liked this blog post, one way you could "like" it is to make a donation to The Mockingbird Foundation, the sponsor of Phish.net. Support music education for children, and you just might change the world.